Winter is such a beautiful time of year in Denver! While there is no joy like playing in the snow, many of us want other activities on our winter bucket list. However, we want to make sure that we find budget-friendly family activities to do too!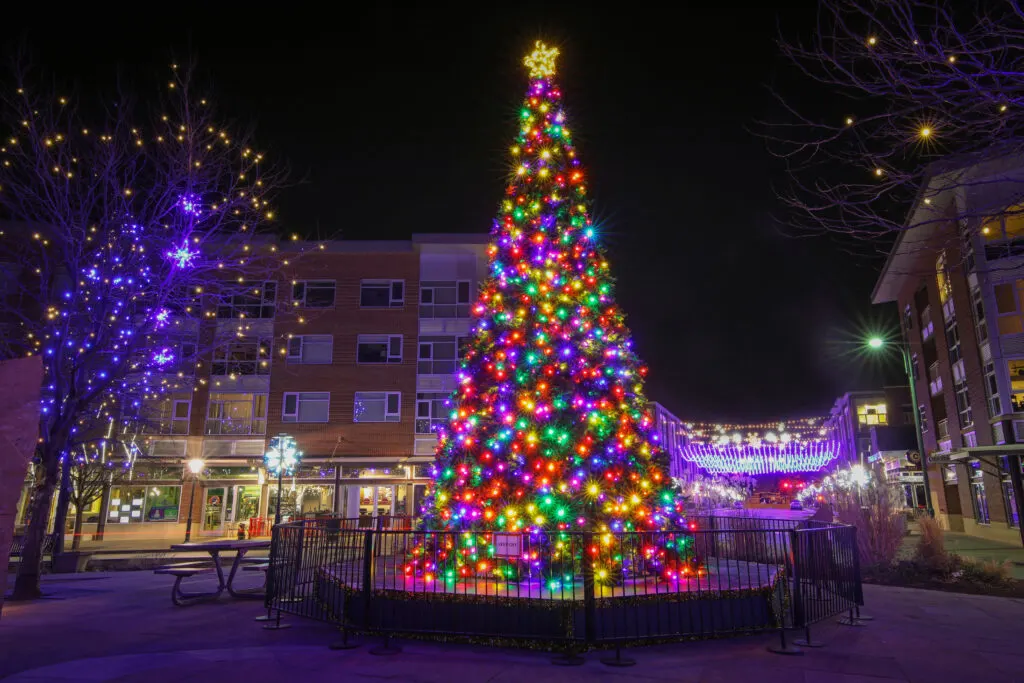 Knowing how hard it is to find the balance between going out as a family while following a budget, I created a list of free or low-cost activities for things to do in Denver, Colorado in winter for families.
As you are getting ready for winter, such as switching all the kid's clothes out to winter clothes, or figuring out what to put in their backpacks for the winter season, think about possibly creating a fun winter bucket list for the family as well. Check out the list below and let me know at the end which one is your favorite!
Free or Low-Cost Things to Do in Winter in Denver, Colorado
Everything on this list is either completely free or as reasonably priced as we could find. Let me know if there is anything else that should be on this list and I'll do my best to add it!
See how Christmas candy is made with a free tour at Hammonds Candy Factory in Denver. The candy tour is free, but reservations do need to be made online!
Go as a family to ice skate in downtown Denver! Skating is free, but skate rentals range from $7-9. Check the site before you go as there are sometimes fun discounts that can be applied. For example, last year all fourth graders were free!
Ice Skating and Denver International Airport
Denver's airport isn't just the largest airport in the country; it is the second-largest airport in the world! Due to its massive size, it is able to host events such as free ice skating in the winter. Free ice skating and skates are available from 11 am to 7 pm daily from November 18, 2022 through January 23, 2023.
The Christkindl Market is a free-entry market that is open to the public from November 18 to December 23 of this year. This German holiday market hosts live German music and shops with unique gifts and other fun market items.
The day after Thanksgiving is the Grand Illumination Ceremony, from 5-8 pm downtown. The switch is turned on at Denver Union Station, which lights the outdoor Christmas tree. You can see the spectacular lights through Christmas. You can even visit Santa there!
Go sledding!
This one may seem obvious, but it is easy to forget how much sledding can be when the whole family participates. Some of the best places to sled in Denver are Ruby Hill, Kippling Sledding Hill, Jefferson Park Bowl, and Central Park. Denver insider hint: Grab sleds the moment you see them in stores. They tend to be gone after the first big snowfall!
Whenever there is not a concert, you can actually go to the Red Rocks Amphitheatre for free. They have a visitor museum you can visit. As well, there are hiking trails nearby where you can go in and out of all of the red rock formations. Find the map here for five different trails you can try.
Open from 9 am to 5 pm daily, the Buffalo Bill Museum and Grave is in Golden, Colorado, about 30 minutes from downtown Denver. The prices are great at just $5 per adult and only $1 for kids. If your kid is 5 or under they are free! Another bonus is that pets are allowed in all the outside areas.
The Nature Center has hands-on activities for all ages, no matter the season! There is an observation room with activities for kids and volunteers to answer any questions. Hours are Friday from 11 am to 3 pm and weekends from 11 am to 4 pm.
There are 22 mountain parks and 24 conservation areas outside the Denver area alone. Find all the options here to see what works best for you and your family.
If you are looking to get your kids out of the house in wintertime, try doing the Denver Story Trek! You can use the site here or get a free map at any of the city's museums and get audio stories about different buildings in Denver's downtown area.
Looking for some inside time for when it is too cold to be outdoors? About 25 minutes outside of Denver, the Littleton Museum is a fun free activity for the whole family! This museum has multiple exhibits, including one that is specifically designed for children with interactive activities. It is also a Smithsonian-affiliated museum. Hours are Tuesday through Saturday from 9 am to 5 pm and Sunday from 11 am to 5 pm.
Try Snowshoeing!
30 miles outside of Denver is the Golden Gate State Park. There are more than 35 miles of trails to try snowshoeing with your family.
This market was ranked in the top 10 for best Christmas markets in the country and is definitely worth the drive! The streets of this town were featured in the movie The Christmas Gift starring John Denver back in the 1980s. Simply walking the streets is enough for the day, but there are plenty of vendors as well making it worth the trip.
There are few things as spectacular as seeing the lights at the zoo! Tickets will become on sale to the public on November 15 and sell out quickly!
Are you okay with a bit of a drive?
If you are looking to stay in Colorado but get out of Denver for a bit, our family has only good things to say about The Broadmoor in Colorado Springs. Find our review here!
Final Thoughts
Finding things to do in Denver, Colorado in winter for families is so much fun! The list could be never-ending. What is the most important part though is creating family memories. What winter family memories have you created? Let me know in the comments below! As well, if you are visiting the Denver area, make sure you know what to pack!