Hot chocolate bombs are really popular to make and the flavor possibilities are endless. If you're looking for different hot chocolate bomb flavors or hot cocoa bomb flavors here are over 50+ ideas. Whether you're making these at home with your family or starting a small business selling them here is a list of delicious flavors to make for your hot cocoa bombs.
Hot Chocolate bombs generally are a chocolate sphere shell and inside are things like the cocoa mix, marshmallows, crushed candy canes, and various other fillers depending on which flavor you choose. They can be used with hot water, hot milk, or even coffee.
Check out my Tips and Tricks for Making Hot Chocolate bombs!
Hot Chocolate Bombs Flavors
There are so many flavor possibilities when it comes to hot cocoa bombs. Here I'll give you flavor ideas and how to make those flavors come to life. 60+ hot cocoa bomb recipes.
Classic Flavors
Gourmet Hot Cocoa Bomb Flavors
Cookie & Cake Cocoa Bomb Flavors
Christmas Tree Cake – White chocolate shell with lorann cake batter flavoring oil added to the melted chocolate. Use white chocolate hot cocoa mix, red candy melts for a drizzle, and green sugar sprinkles as a topping. You can even add some sugar sprinkles inside the cocoa bomb. If you want a stronger cake flavor mix white cocoa mix and cake batter drink mix together in equal parts.
Chocolate Oatmeal Cookie – Chocolate shell, oatmeal cookie hot chocolate, and marshmallows.
Chocolate Chip Cookie Dough – White chocolate shell, vanilla pudding, and chocolate creme coffeemate creamer. Add some chocolate chips inside too.
Cookie Butter – White chocolate shell with cookie butter hot chocolate mix. You could even add crumbled biscoff cookies to the top of the shell or inside with the cocoa mix.
Cookies N Cream – Cookies & cream drink mix with chopped cookies n' cream Hershey chocolate & mini marshmallows in a cookies n cream shell. To make cookies and cream shells make a white chocolate shell and add in ground-up oreo cookies. You'll want to grind the cookies up into a powder.
Cinnamon Roll – White chocolate cocoa and add in some cinnamon, cinnamon twist marshmallows, white chocolate shell with cinnamon mixed in.
Gingerbread – Use your favorite chocolate shell, add cocoa, and some spices to make a gingerbread cocoa bomb. See my recipe.
Sugar Cookie – Get the recipe.
Salted Caramel Oreo – Get the recipe.
Snickerdoodle – White chocolate shell with white-hot cocoa mix. Add in a little bit of cinnamon, nutmeg, vanilla bean powder. Get my recipe.
Strawberry Crunch Cheesecake – Get my recipe
Pumpkin Cheesecake – Get my Recipe
Pumpkin Latte – Get my Recipe
Funfetti Cake Batter – White chocolate shell with colorful sprinkles added. 1tbsp vanilla pudding, sprinkles, and marshmallows. You could even use Cake Batter drink mix.
S'mores – Chocolate/graham cracker shell with cocoa mix and marshmallows. Drizzle chocolate on top and sprinkle with some graham cracker crumbs and 2 mini marshmallows. To get graham cracker dust you'll grind graham crackers in your blender device. You can also use a S'mores cocoa mix in the cocoa bomb instead of a chocolate cocoa mix.
Red Velvet – There are a few ways to do red velvet hot chocolate bombs.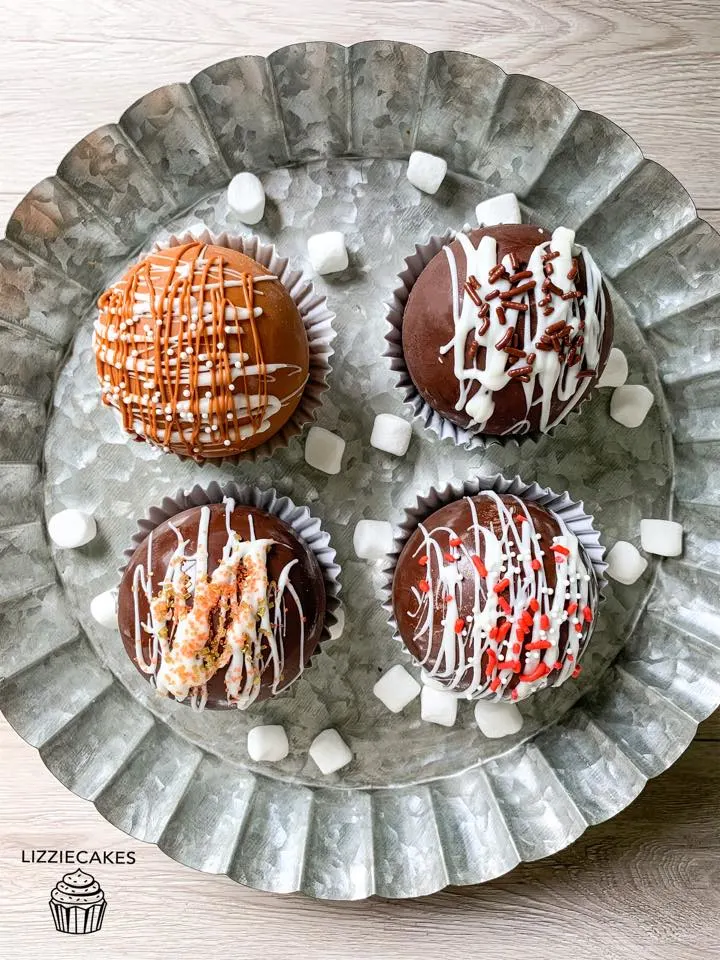 Hot Cocoa Bomb Drink Flavors
White Chocolate peppermint – white chocolate cocoa with freshly ground peppermint candies or candy canes and a peppermint chocolate shell. You can make a peppermint shell by adding peppermint candy ground into a powder mixed into the shell. To grind the peppermint candy you can use a spice grinder or something like a ninja bullet. You could even try using candy cane Hershey kisses for the shell on these!
Peppermint Bark – Similar to the White Chocolate Peppermint, but this combines dark chocolate. Get the recipe.
Pumpkin Spice – Pumpkin spice cocoa with pumpkin spice marshmallows in a cinnamon white chocolate shell or pumpkin spice shell. To make the cinnamon white chocolate shell add some cinnamon to your melted white chocolate.
Andes Mint Chocolate – Mint chocolate cocoa with chopped Andes mints & mini marshmallows in a mint chocolate shell. For the shell, melt a few Andes mint chocolates into your almond bark or chocolate and mix.
Toasted Coconut – Either white or chocolate shell and toasted coconut hot chocolate. For more coconut flavor add coconut flavoring oil to the chocolate.
Bourbon Pecan – White Chocolate or Chocolate shell with bourbon pecan hot chocolate mix. Add more bourbon flavor with bourbon flavoring oil to your chocolate shell.
French Toast – White chocolate cinnamon shell and french toast hot chocolate mix. You can add more flavor with a maple cinnamon shell. Add maple oil to your chocolate shell and cinnamon.
Maple Bacon – White chocolate shell with maple oil and bacon hot chocolate mix. Bacon Hot Chocolate on Amazon.
French Vanilla – White chocolate shell, white cocoa hot chocolate mixed with French vanilla creamer.
Hazelnut – Chocolate shell, chocolate cocoa mix, and hazelnut cream powder.
Cereal Milk Cocoa – Grind up the cereal of your choice in your blender, food processor, or ninja bullet until fine. Mix the powder with the shell chocolate. For inside use white chocolate cocoa mixed with a tiny bit of the cereal and mini marshmallows. Great cereal options include Cocoa Puffs, Lucky Charms, Cinnamon Toast Crunch, Fruit Loops, and Crunch Berries.
Salted Caramel Apple Cider – Salted caramel candy melts for the shell. Use an entire packet of instant apple cider. Add a caramel drizzle to the top of the shell. You don't use milk for these bombs, hot water only.
French Vanilla – White chocolate shell with french vanilla cocoa mix and marshmallows.
Butterbeer – Butterbeer Hot Chocolate bomb. Get my recipe
Salted Caramel or Caramel hot cocoa bomb – Salted caramel shell with cocoa mix and marshmallows. Drizzle caramel on the top of the bomb. To make the salted caramel cocoa shell you can use the Salted Caramel melts. OR you can make a chocolate shell and fill it with salted caramel hot cocoa. Inside the shell with the cocoa, you can add some ground-up caramel bits. You'll need to grind them into a powder because they do not melt in the cocoa.
Chocolate Peppermint – Chocolate shell with peppermint cocoa mix and marshmallows.
Butterscotch – Chocolate or butterscotch shell with butterscotch cocoa. To make a butterscotch shell use butterscotch chips.
Strawberry – White chocolate shell with Strawberry mix (Nesquik) and marshmallows.
Peanut butter – Chocolate shell with peanut butter nibs, peanut butter cup cocoa, and marshmallows. Get the full recipe.
Mexican Hot chocolate – Chocolate spiced shell with Mexican hot cocoa, and marshmallows. To make the chocolate spice shell pick your chocolate and add some cinnamon to it. You could also cayenne pepper too. Get my recipe.
Raspberry – Dark chocolate shell with raspberry hot cocoa mix and marshmallows inside. Drizzled with white chocolate.
Chocolate Strawberry – Chocolate sell, strawberry Nesquik, and grind up freeze-dried strawberries and add some inside the bomb. You can even use them as decoration on top of the bomb.
Banana – White chocolate shell and banana pudding or banana Nesquik. If you want a Bananas Foster Hot Chocolate bomb you can add a caramel drizzle on top.
Eggnog – White chocolate shell with Eggnog Drink Mix. Add a pinch of nutmeg to the Eggnog drink mix and sprinkle a little more on top of the cocoa bomb for decoration.
Horchata – White chocolate shell with horchata drink mix. Sprinkle some cinnamon on top of the cocoa bomb.
Orange Chocolate – Orange candy melts, hot chocolate mix, and a chocolate orange slice for garnish. Get the recipe.
Chocolate Cherry – Dark chocolate and add cherry flavoring to your melted chocolate, use chocolate cocoa mix, and add dried crushed cherries as a garnish on top. To use the flavoring follow the directions on their website.
Cotton Candy – Do a colorful shell with candy melts, Cotton Candy Drink Mix, White Chocolate Cocoa, add some cotton candy inside, and decorate with sprinkles.
Orange Creamsicle – White chocolate shell you could even swirl it with orange-flavored candy melts or orange colored candy melts, Orange Creme drink mix, and white chocolate cocoa. You could place a candy orange on top.
Bubblegum – Colorful shell with candy melts, Bubblegum Drink Mix, and Sprinkles.
Peach Cobbler or Peaches and Cream – White chocolate shell or Orange Colored shell, Peaches and Cream drink Mix. If you wanted to do cobbler add a pinch of brown sugar and some cinnamon to the drink mix.
In addition to Hot Chocolate Bombs, you can make bombs that are coffee-flavored or that can be added to flavor your coffee. When it comes to making a coffee hot chocolate bomb you're going to mix your bomb with hot milk if you add a coffee mix inside of it. You'll want to use instant coffee mixes for these coffee bombs. Here are some ideas.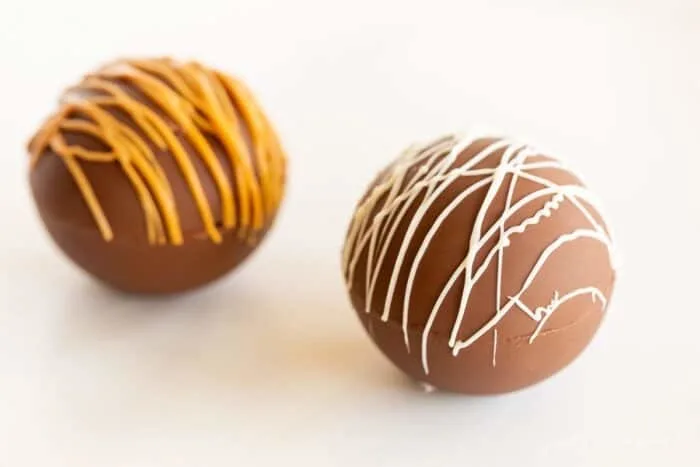 Coffee Bombs
Another idea for Coffee Bombs is making a creamer bomb (listed above) and pairing it with a k-cup. There are so many flavored coffees available in k-cups that you could offer a smaller bomb with chocolate and flavored powder creamer. Then pair it with a k-up that it would work with. Example: Chocolate bomb with a caramel creamer. Pair it with a caramel coffee k-cup. Make the k-cup how you normally would and add the creamer bomb into the hot cup of coffee.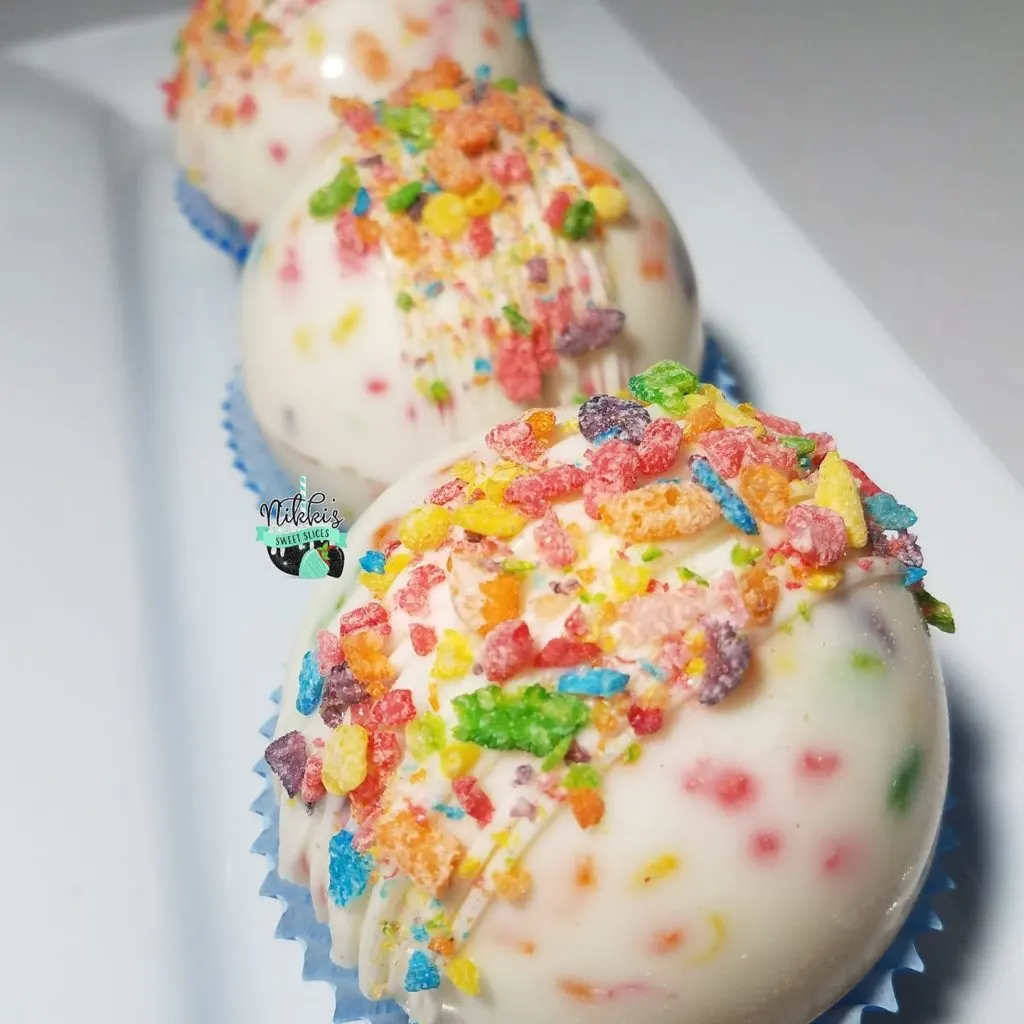 Fun Hot Chocolate Bombs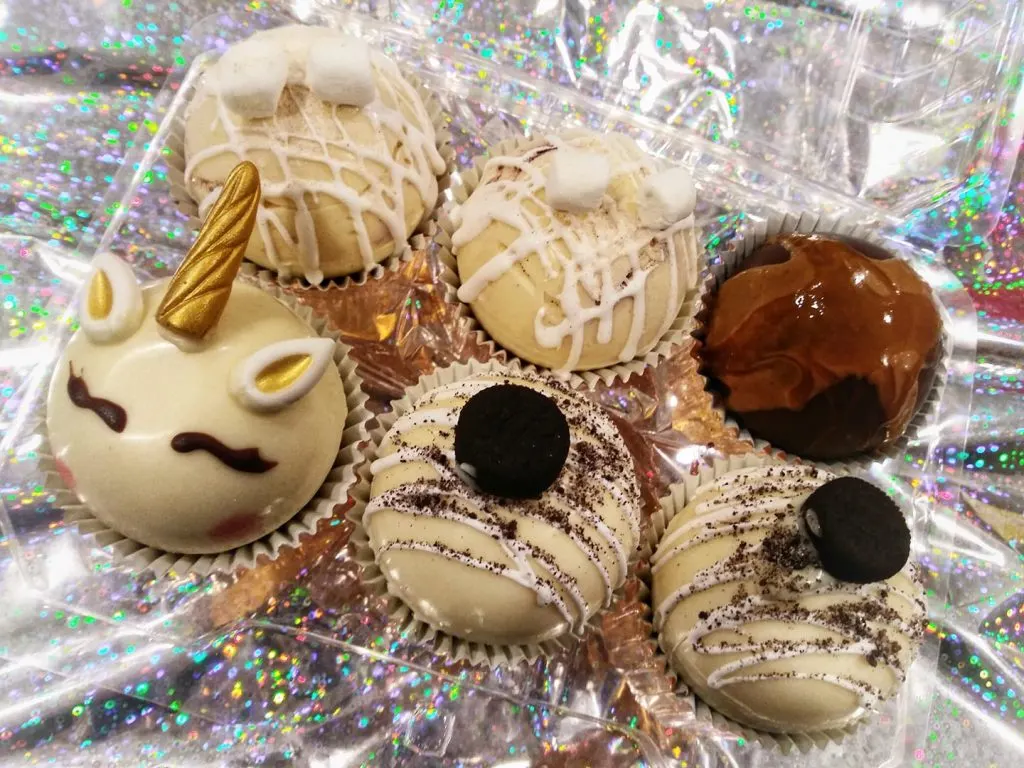 What Size Mugs to Use with Hot Cocoa Bombs
I've had a few people reach out and ask which mugs to use for hot chocolate bombs. If you're making smaller-sized bombs that are about 2 inches then a standard size coffee mug should work fine. If you're making larger-sized bombs, like the 70mm or 3-inch ones, you'll need an oversized mug. I like this 18oz oversized mug, but it keeps going out of stock. So I'll link some other oversized coffee mug suggestions below. Also, check out Target. I found some in-store there as well.
Where to Buy Hot Chocolate Bomb Molds
There are so many places selling hot chocolate bomb molds, but due to their popularity, shipping can take a few weeks on sites like Amazon. When I bought my molds on Amazon several weeks ago I received them quickly, but that has since changed and molds are taking 3+ weeks to come. Here are some other places to buy Hot Chocolate Bomb Molds:
Amazon – Lots of sellers have hot cocoa bomb molds. Make sure to check the size and get one that is about 2.5″ or close to that.
LanasMilkBombs – On Etsy! I actually purchased a mold from her because my Amazon mold was way too big. I placed my order on Friday and it shipped within 24 hours and I received it 6 days later. The 70MM is the perfect size for a hot chocolate bomb.
SweetBerrytreatsShop – Their page says molds will arrive within 1-2 weeks of ordering.
When it comes to making hot chocolate bombs you don't have to use a sphere mold. You can use shapes like a rose, heart, disc, or snowflake. You can also try to use silicone ice mold. I picked up a snowflake mold from my local Michael's store and they also had a Flat Disc Mold that would work. Just make sure the mold you're getting is big enough to make a cocoa bomb. You would follow the same steps as when you use a sphere mold.
Best Chocolate for Hot Cocoa Bombs
I really love the Ghirardelli melting wafers for making hot chocolate bombs, but Candy Melts and Merckens are also good choices. If you know how to temper chocolate you can use your favorite brand of chocolate.
Hot Chocolate Bomb Tutorials (Video)
If you're wondering how to make hot chocolate bombs check out my tutorials. There is a video available.
Hot Chocolate Bombs
A variety of different recipes to make hot chocolate bombs in delicious flavors. Customize them with the flavors of your choosing from the suggestions above.
Ingredients
Chocolate Melts, like Ghirardelli or Candy Melts
Hot Cocoa Mix
Sprinkles
Instructions
Melt your chocolate melts per the package directions. I like to start at 30 seconds, stir, and do 15-second increments until chocolate is melted.
Add 2 spoonfuls of melted chocolate to your silicone mold.
Use a spoon or basting brush to spread the melted chocolate around your silicone mold. Make sure you get up to the top rim of the mold.
Place your mold(s) into a fridge or freezer for 5-10 minutes so the chocolate can harden.
Remove molds from the fridge and apply another layer of chocolate. Make sure to fill in any thin spots you can see.
Place back into the fridge or freezer for another 5-10 minutes.
You'll only need 2 layers of chocolate, but if you take your chocolate out after the second layer and see some thin spots you can add a little chocolate to that area and chill again.
Once your chocolate has hardened gently peel the silicone mold away from your chocolate. Be careful not to touch the mold for too long or the chocolate because it can become soft or start to melt.
I like to place my chocolates onto a chilled plate while working with them, but this is totally optional.
Next, you'll fill half your molds with hot cocoa. I add 1 1/2 tablespoons of cocoa mix to my chocolate. If I am using a larger mold like the 70mm/3 inches then I'll do 2 tbsp.
Now place your marshmallows on top of the cocoa mix. You can also add crushed peppermint, sprinkles, or anything else you desire.
Place a plate in the microwave for 2 minutes to get it warm.
Take an empty chocolate piece and place it on the warm plate for a few seconds so the rim starts to melt. You'll place the melted rim piece over the piece with the cocoa mix.
Press together gently.
Let cool.
If you aren't going to use your hot cocoa bombs immediately place them into an airtight container in a cool, dry place. They do not need to be stored in the refrigerator.
To use your hot chocolate bombs heat up some milk so it's hot, about 8-10 ounces. Place your cocoa bomb into a mug and pour your hot milk over it. Watch the explosion.
Enjoy!
Notes
To add a chocolate drizzle to the top of your hot chocolate bombs melt some chocolate melts. Place your melted chocolate into a sandwich size Ziploc bag and cut off a tiny corner of the bag. You're going to use it as a piping bag. Gently squeeze the melted chocolate over the hot chocolate bomb by going back and forth.
While the chocolate drizzle is still warm add sprinkles, mini marshmallows, crushes cookies, or peppermint pieces to the top of your hot cocoa bombs for decoration.
This post contains affiliate links. All images are posted with permission from these hot chocolate bomb small businesses.