Mexican hot chocolate is one of my favorite ways to enjoy a warm cup of cocoa. The creamy, chocolaty, and cinnamon flavors combine to make the perfect cup of cocoa. Now you can make rose shaped Mexican hot chocolate bombs.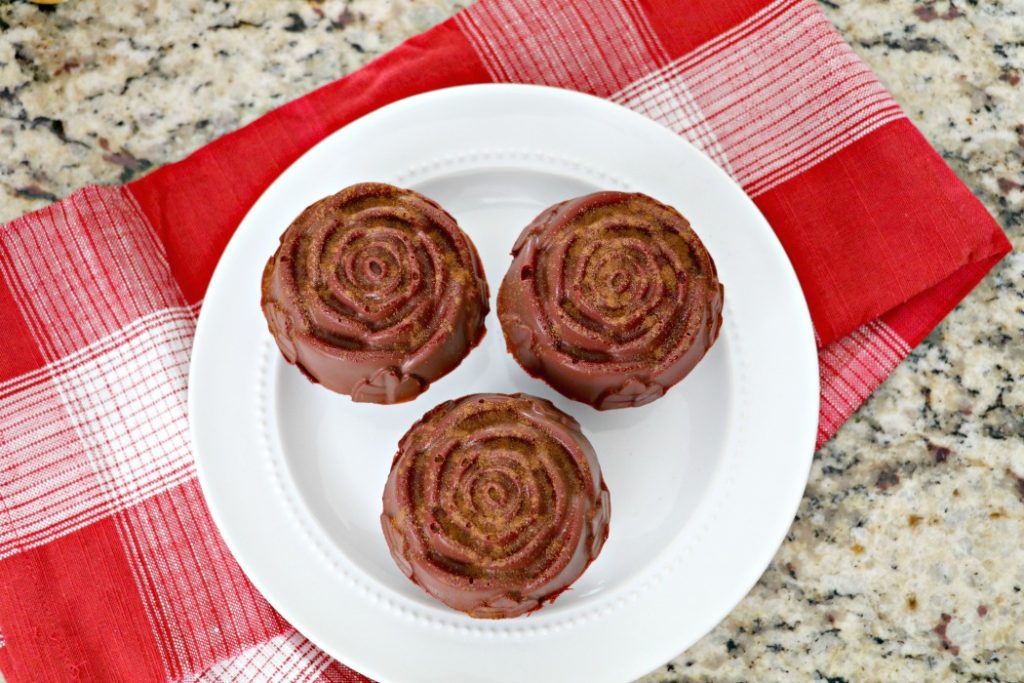 This year we're combining Mexican hot chocolate with the ever so popular Hot Chocolate Bombs. If you're looking for more hot cocoa bomb flavors check out my 25+ flavors of hot cocoa bombs.
Check out my Tips and Tricks for Making Hot Chocolate bombs!
If you're not familiar with Mexican hot chocolate it's a little bit grainier than regular hot chocolate and has spices like cinnamon and sometimes cayenne pepper. For this recipe I used Abuelita chocolate drink mix. I found it at my local Walmart, but I believe it's available at most grocery stores or you can grab it on Amazon.
How to Make Mexican Hot Chocolate Bombs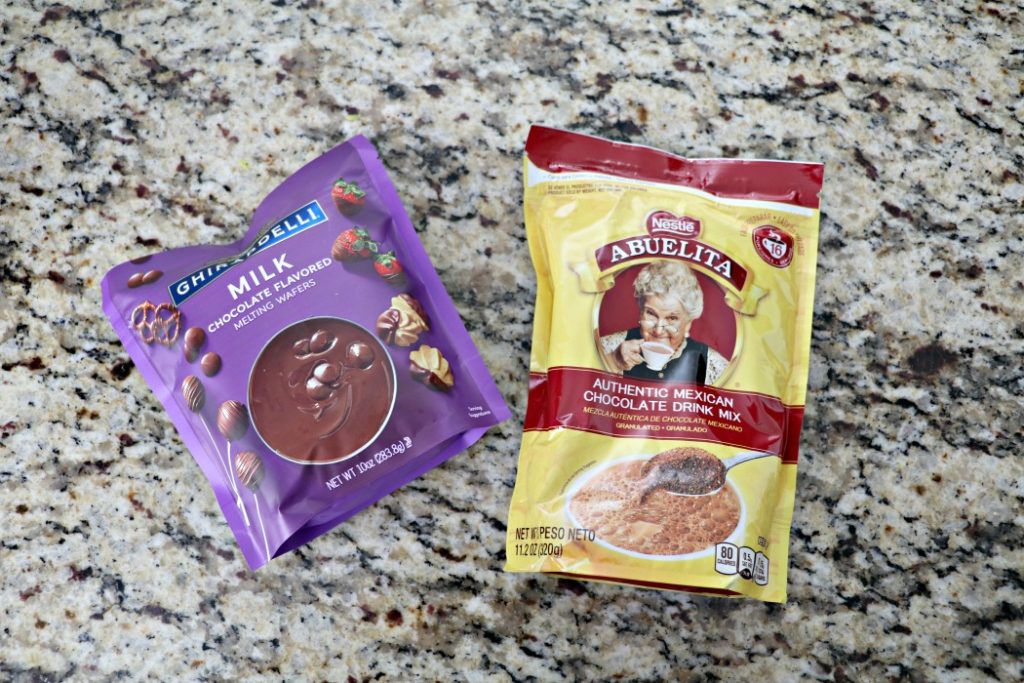 To get started you'll need to gather your ingredients. You'll need:
2 cups Ghirardelli Melting Wafers, I used milk chocolate but dark can work too
Cinnamon, for garnish
Cinnamon Marshmallows, I used Smash Mallow
Rose Silicone Mold or any silicone mold you like, a sphere works well too
Here's what you'll do:
Place chocolate candy melts and white candy melts in a microwave-safe bowl and melt in the microwave per the directions on the package.
I use the Wilton Candy Melts Melter to melt my wafers. I place it on the warm mode, single line, and let them melt that way. I find that the melting mode is too high and overheats the chocolate which can leave white streaks once it's hardened. Warm mode gets the chocolate perfect.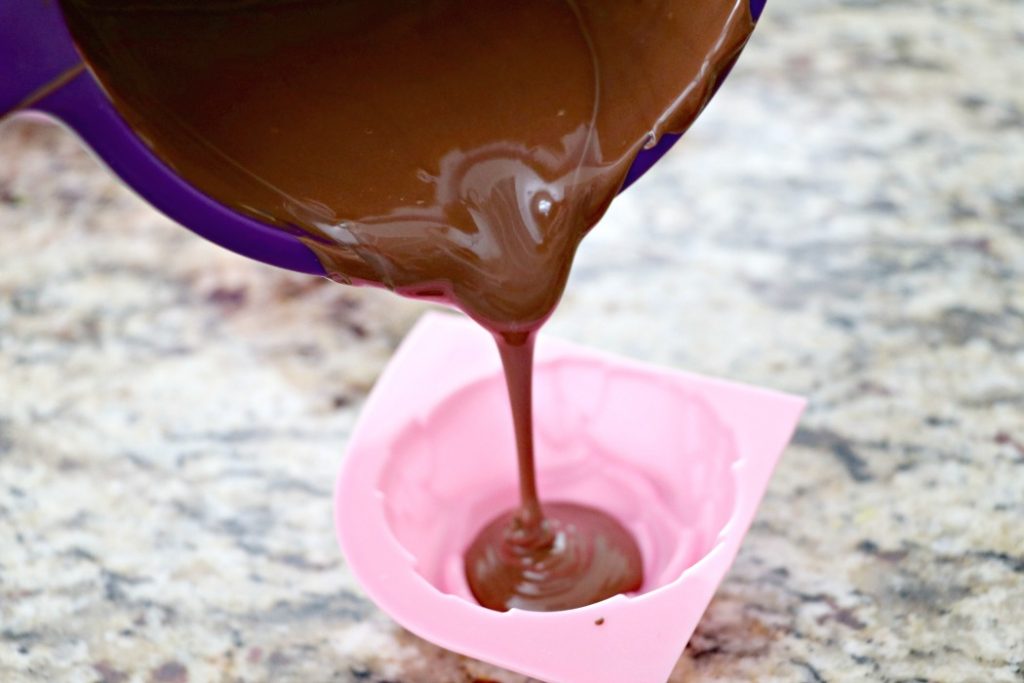 Place 2 tbsp melted candy melt into one half of a bomb mold and, using the bottom of your tablespoon measuring spoon, press the chocolate up the sides of the mold, keeping it thick but even. Repeat with 6 bomb mold halves.
Tip – Cut your mold into pieces. It makes mold making so much easier.
With the rose mold it can be a bit tricky to use a spoon to evenly distribute the chocolate so I swirled my chocolate around the mold. (see video for demonstration)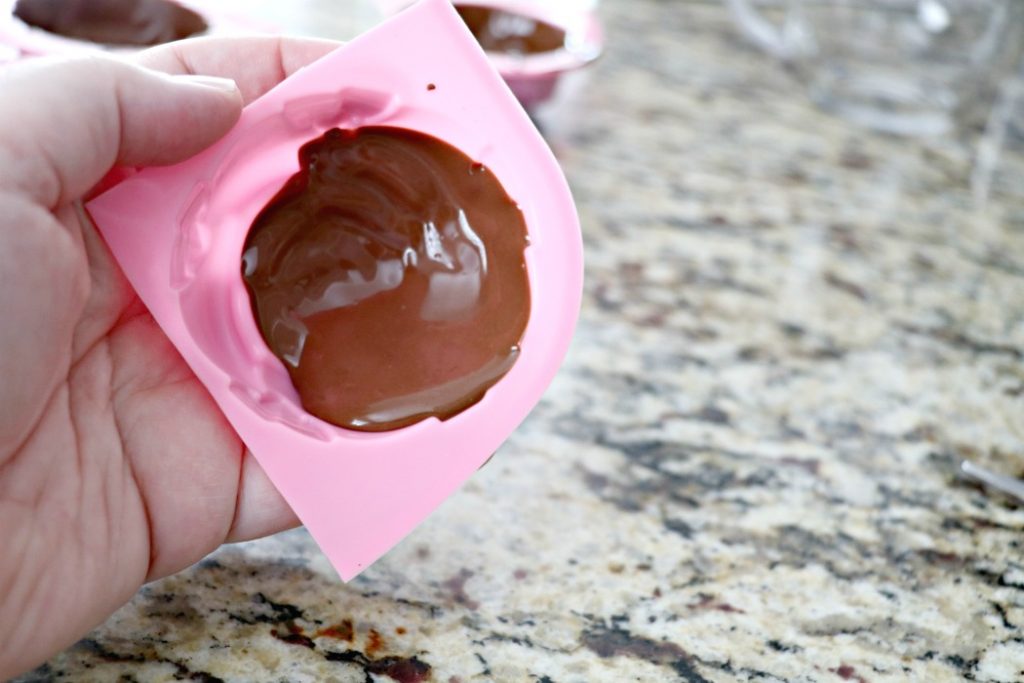 Place the chocolate filled bomb molds into the fridge or freezer for 5 minutes.
If you feel like your chocolate layer is thin add more chocolate to the mold, evenly distribute it again, and place back into the fridge or freezer for another 5 minutes.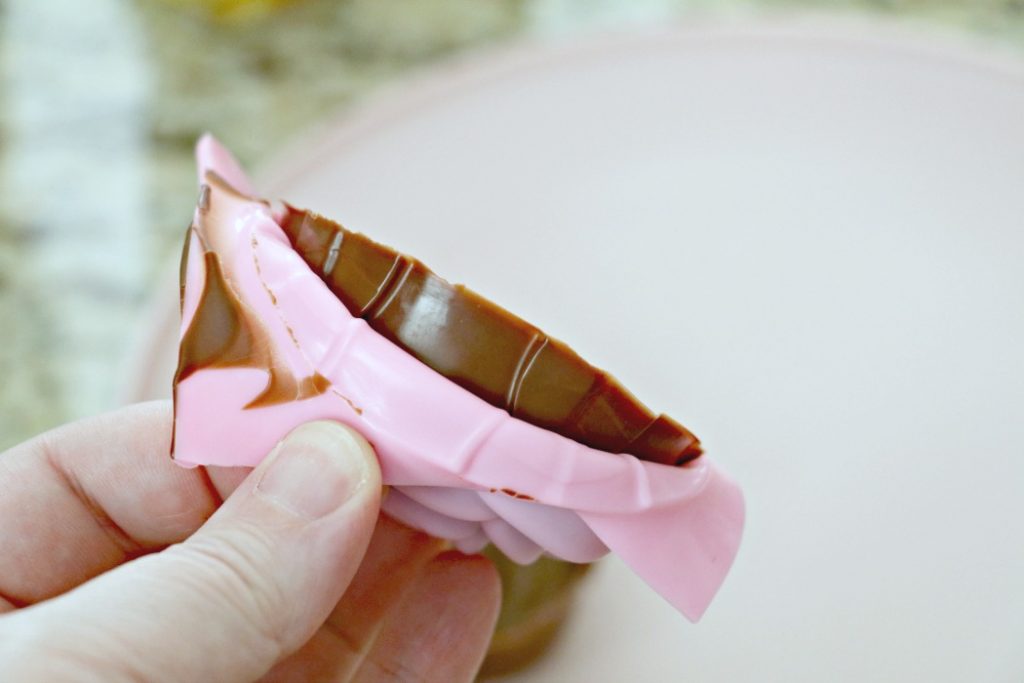 Once the chocolate has hardened gently peel the silicone mold away from the chocolate.
You'll want to be careful with how much you handle the chocolate because the warmth of your hands can melt it, think of when you eat a candy bar. I try to touch my chocolate quickly and as little as possible.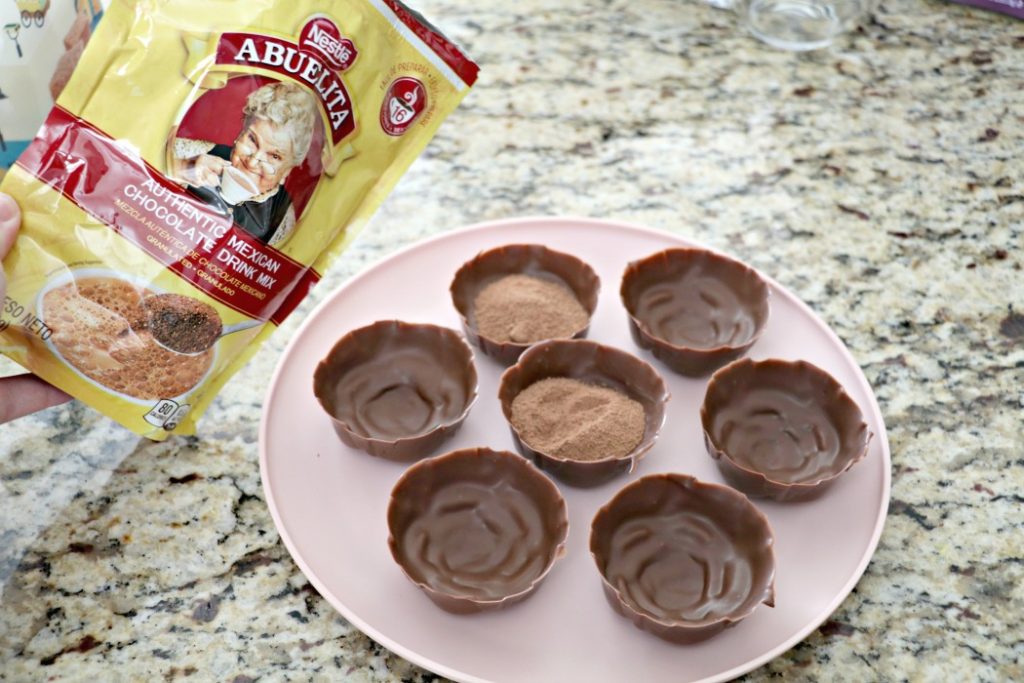 Fill 3 of the molds with 1 1/2 tbsp hot chocolate mix and 6-8 mini marshmallows or 1 Smash Mallow cut into 4 pieces. Since the Smash Mallow is big it won't fit into the mold right and needs to be cut up.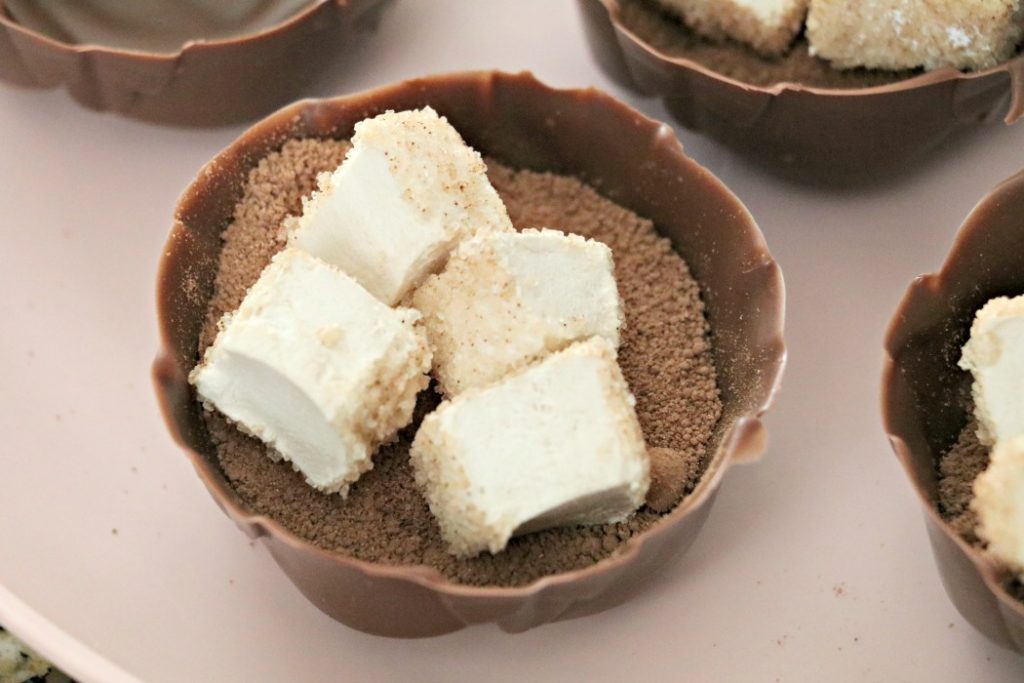 Heat a plate or a flat-bottom bowl in the microwave until the surface of the plate is warm to the touch. I do 1 1/2 – 2 minutes.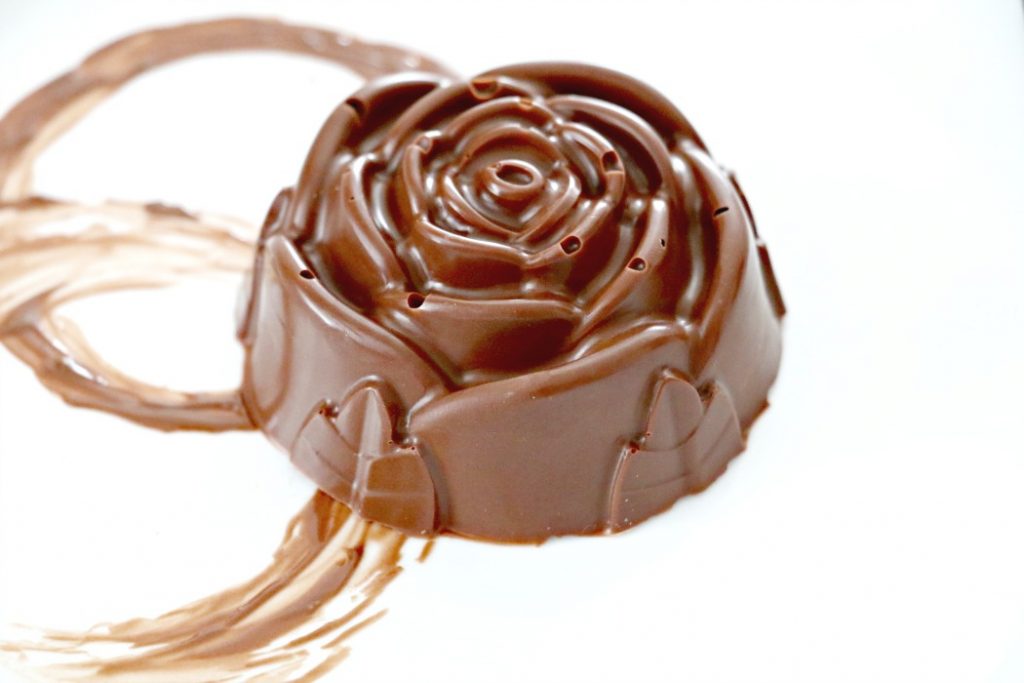 Press one of the empty chocolate bomb halves open-side-down onto the flat portion of the warm plate for about 10 seconds. This will gently melt the rim of the chocolate cup.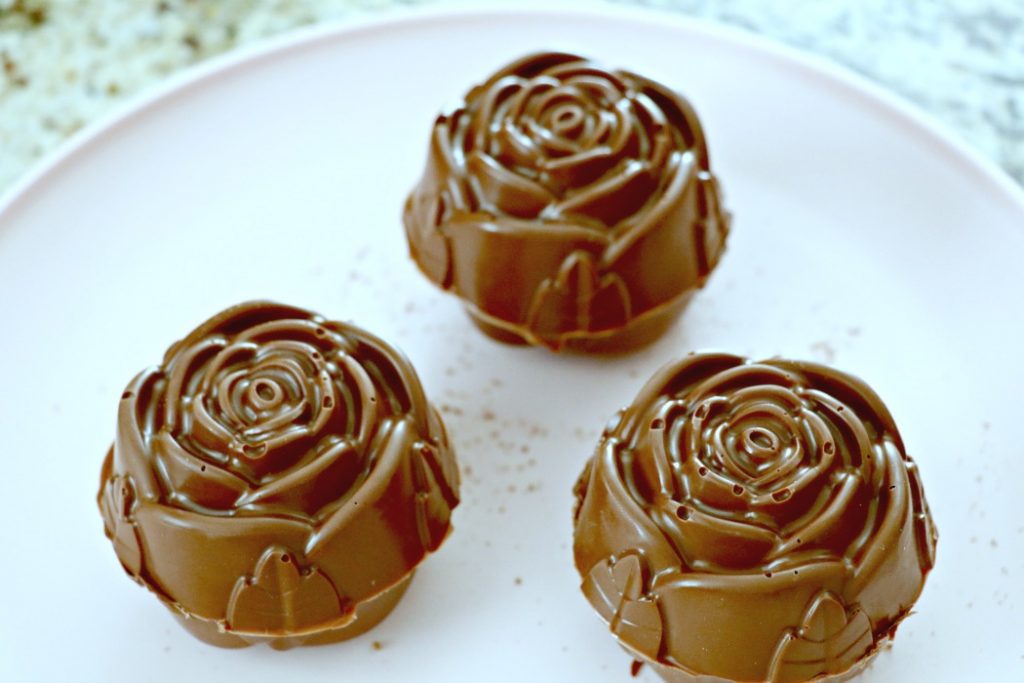 Immediately press this warmed edge chocolate cup to the top of one of the filled cups. This will join the two halves of the hot cocoa bomb.
I attempted to use Red Wilton Food Color Mist to give the roses a red color, but it didn't work out too well. However, it did turn the milk a pink color when pouring the milk over the bomb so that was fun.
Sprinkle some cinnamon on top of the roses.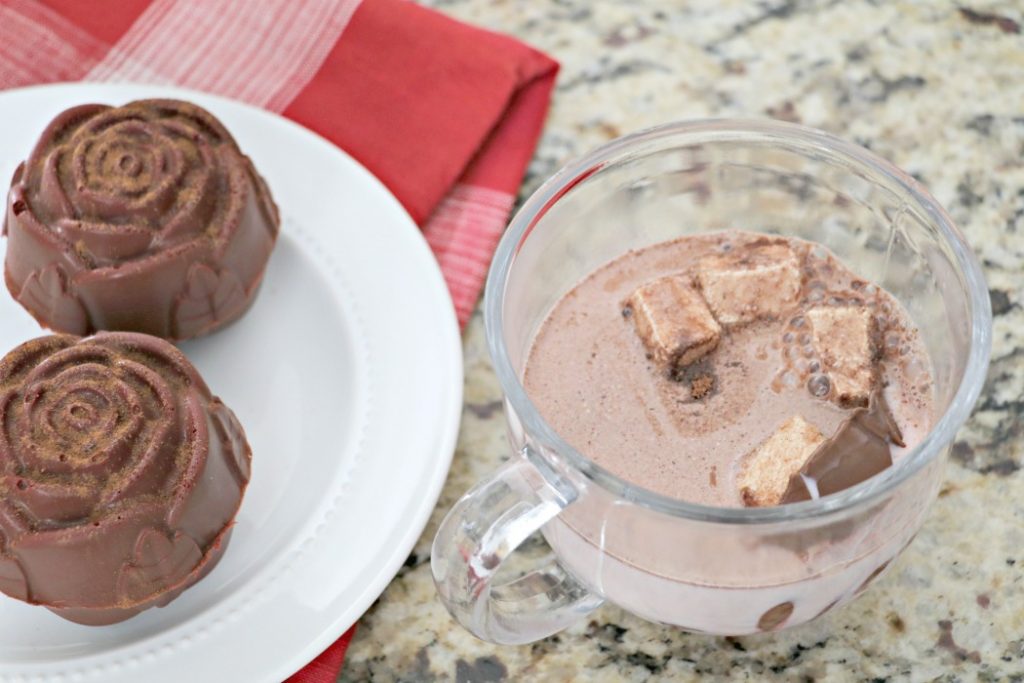 When you're ready add the Mexican hot chocolate bomb to a mug and pour 2 cups of hot milk over it.
If you aren't going to use your hot cocoa bomb immediately then place them in an airtight container in a cool, dry place.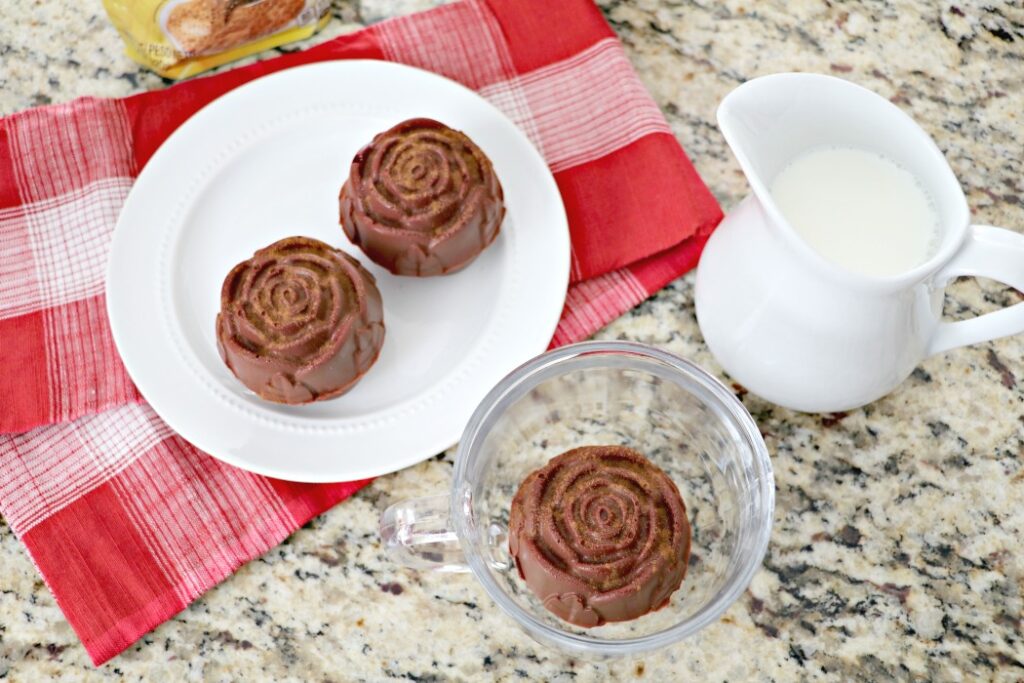 Enjoy your Mexican Hot Chocolate Bomb explosion!
This post contains affiliate links.