Snickerdoodle Hot Chocolate Bombs bring your favorite cookie into a warm cup of hot cocoa. The sweet sugary and cinnamon taste combined with white hot chocolate make a delicious hot chocolate.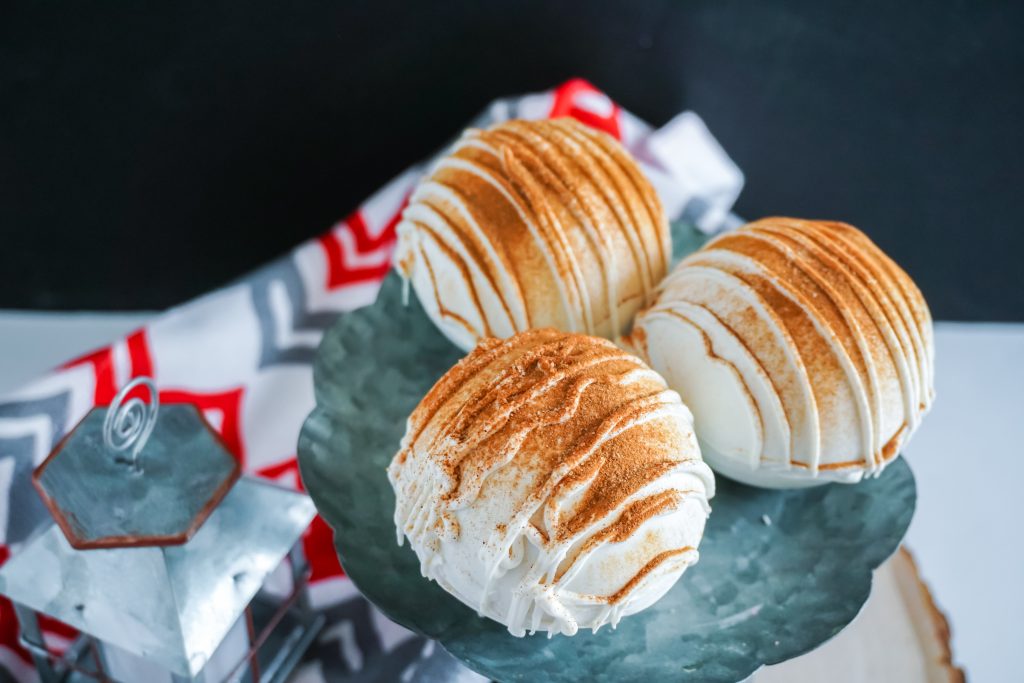 Snickerdoodles are such a yummy cookie, so why not turn them into a cup of hot chocolate or even better a Snickerdoodle Hot Chocolate Bomb! Hot Chocolate bombs are so much fun for kids and adults. They are an explosion of marshmallows and cocoa in a hot mug of milk. They're perfect on a warm night and this cinnamon and sugary cocoa will remind you of your favorite cookie.
How to Make Snickerdoodle Hot Chocolate Bombs
To make Snickerdoodle Hot Chocolate Bombs you'll need a few key ingredients.
You'll need:
2 cups White Candy Melts, I like Ghirardelli White Chocolate Wafers
2 cups Mini Marshmallows
Snickerdoodle Mix:

6 tbsp Granulated Sugar
2 tsp Ground Cinnamon
Here's what you'll do:
Place white candy melts in a microwave-safe bowl and melt in the microwave per the directions on the package.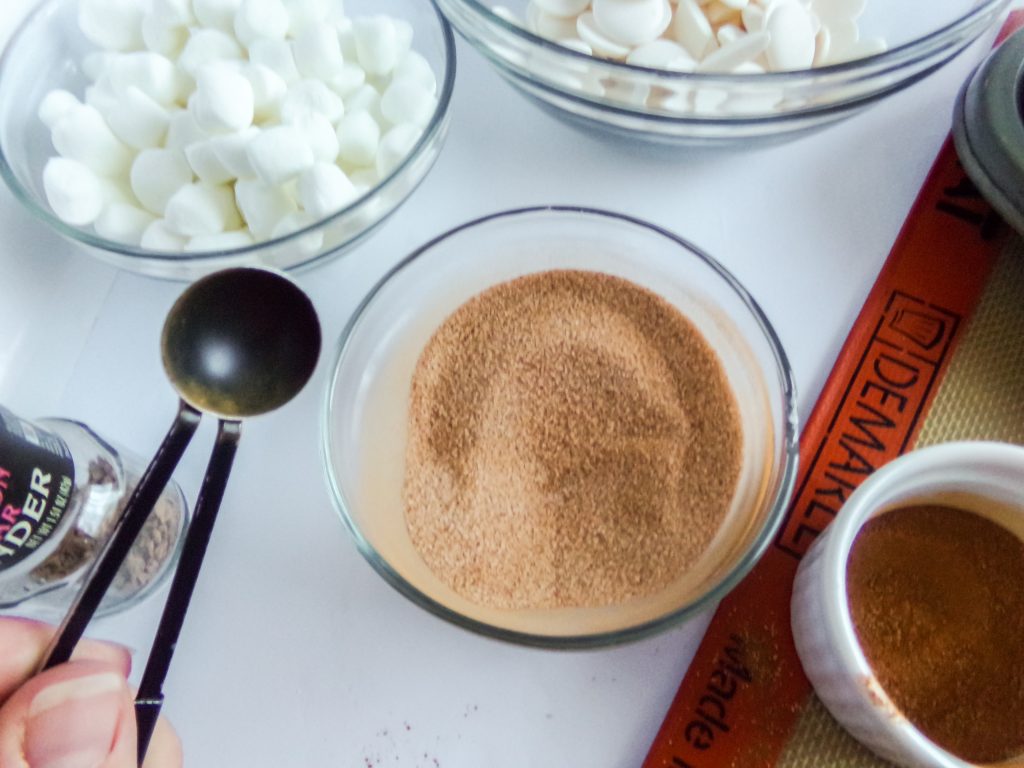 Combine all of the spices for your snickerdoodle mix and mix together well with a fork or whisk.
Place 1 tbsp melted candy melt into one half of a bomb mold and, using the bottom of your tablespoon measuring spoon, press the chocolate up the sides of the mold, keeping it thick but even. Repeat with 12 bomb mold halves.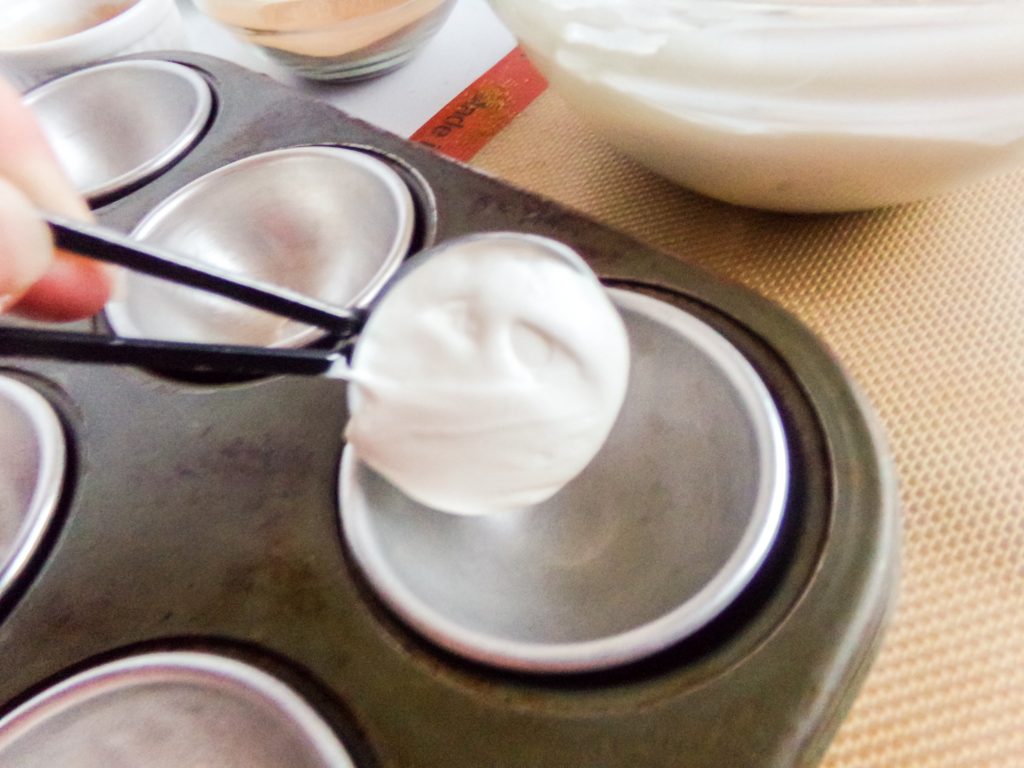 Repeat the previous step and add another layer of chocolate to your molds.
Place the chocolate filled bomb molds into the freezer for 5 minutes.
Remove molds from the freezer and gently tap the sides of the mold, pressing on one side of the chocolate to make the chocolate slide out of the mold.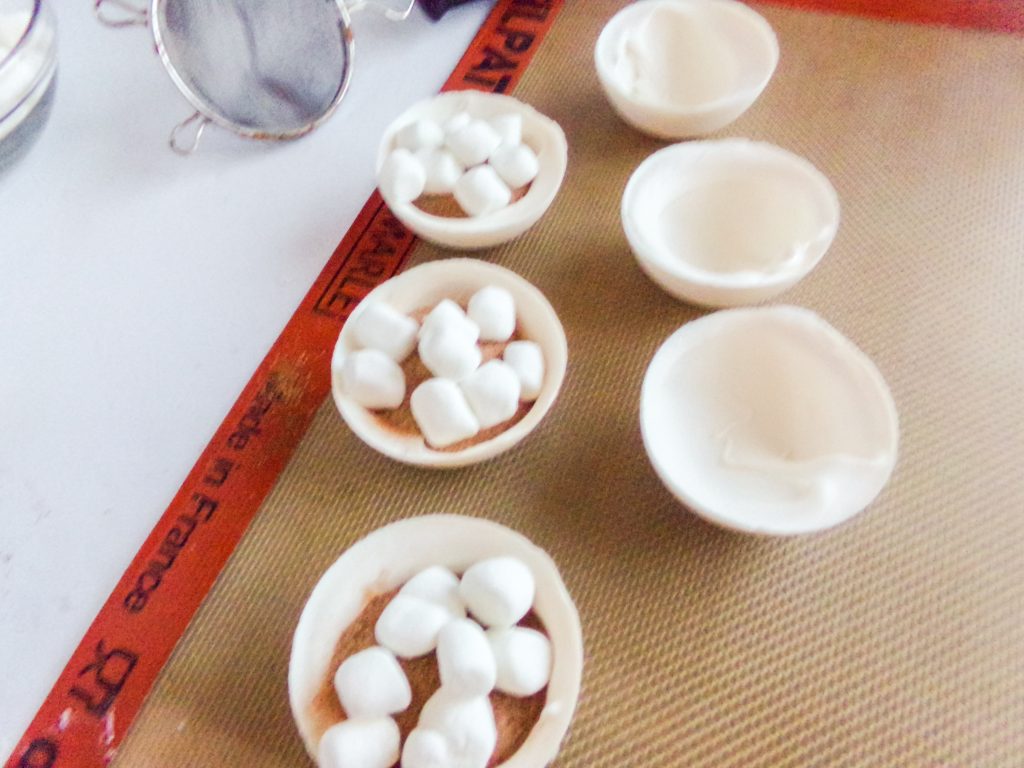 Fill 6 of the molds with 1 tbsp snickerdoodle mix, 1tbsp white hot chocolate mix, and 6-8 mini marshmallows.
Heat a plate or a flat-bottom bowl in the microwave until the surface of the plate is warm to the touch.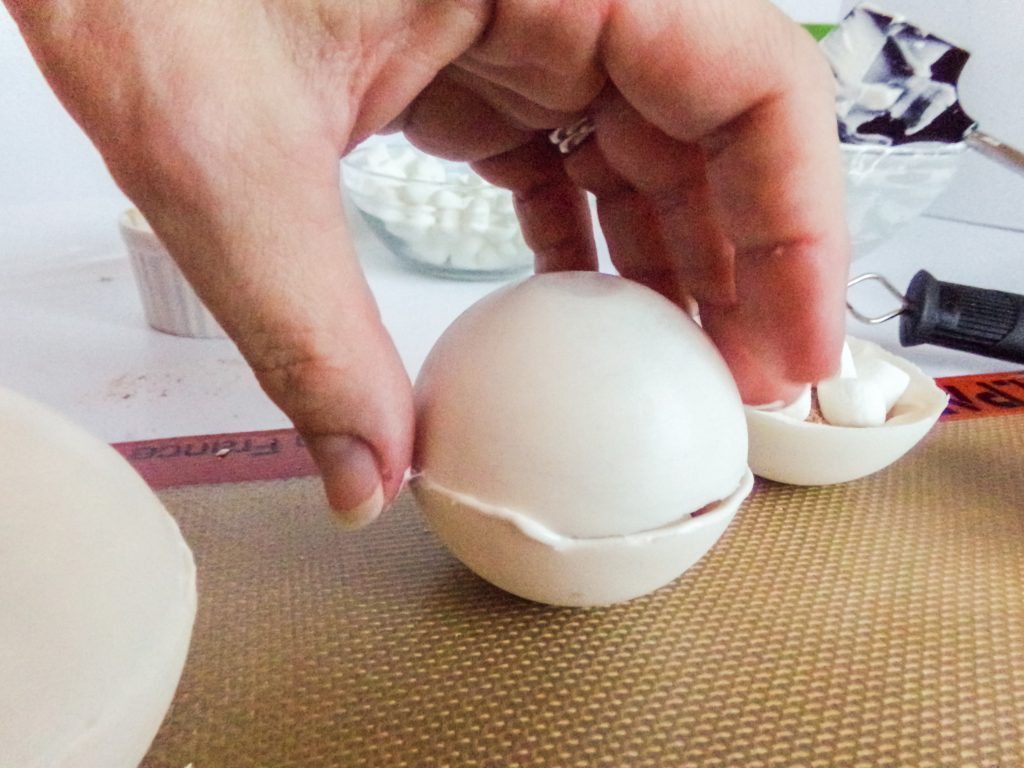 Press one of the empty cocoa bomb halves open-side-down onto the flat portion of the warm plate for about 10 seconds. This will gently melt the rim of the chocolate cup.
Immediately press this warmed edge chocolate cup to the top of one of the filled cups. This will join the two halves of the hot cocoa bomb.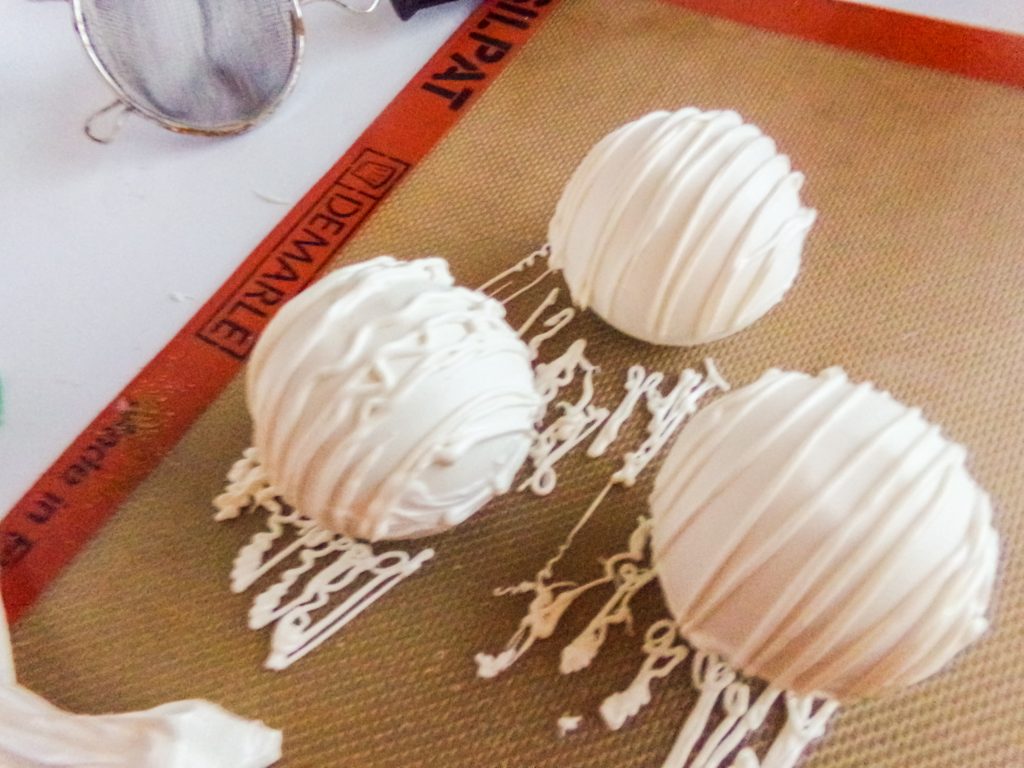 Using a piping bag or a fork, drizzle the remaining candy melts over the assembled hot cocoa bombs then immediately follow by sprinkling cinnamon over them.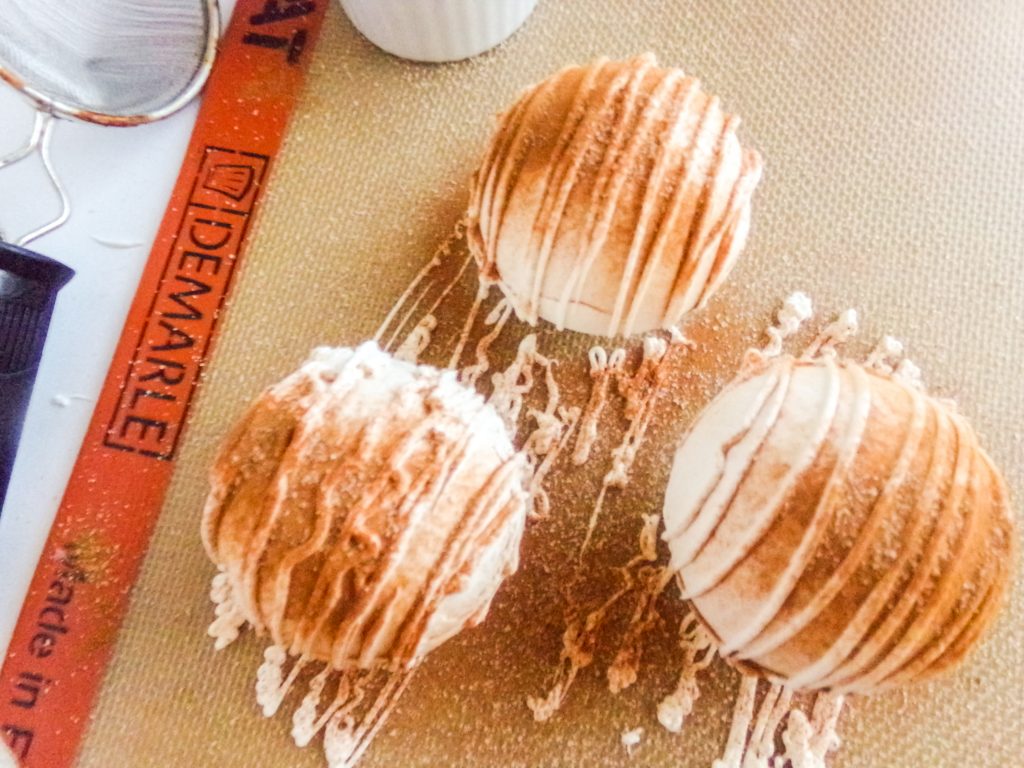 Place the hot cocoa bombs into the freezer for 5 minutes to get them to set, then remove and store in an airtight container until you're ready to use.
To use the hot cocoa bombs, place them in a mug and pour 2 cups of hot milk over the top. Stir until the hot cocoa bombs are completely melted and enjoy!
Get even more Hot Chocolate Bomb Flavors in my 37+ Hot Cocoa Bomb Flavors post!