Fun, free, and easy Christmas games for kids with Christmas Bingo. Download this free printable Christmas bingo for holiday party fun.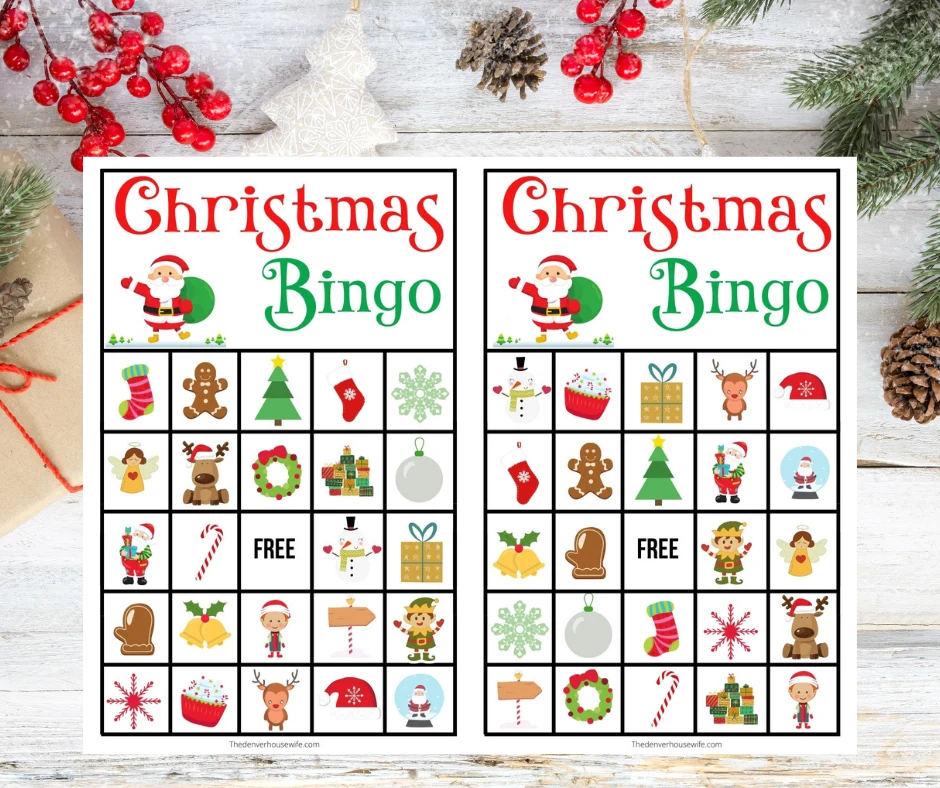 Christmas is just around the corner and it's the perfect time to start playing Christmas games with kids. Whether you need something to keep the kids entertained at home, at school, or at a holiday get together Christmas Bingo is the perfect game. It's quick to download and print and then you're on your way to playing.
The holidays are so much fun with kids and what better way to celebrate than with a classic game of Bingo? This Christmas Bingo game has fun Christmas images like a gingerbread man, Santa, snowflake, Christmas tree, reindeer, and much more festive stuff.
When it comes to printable bingo cards y'all know I love to laminate them! It means they'll be protected from stinky little hands and they'll be able to be used over and over again. Of course this is optional, but it's a great way to make sure the bingo cards don't get ruined and that they can be played for years to come.
All you need to do is Download Christmas Bingo, print it out, and cut out the sheets and calling cards. Simple and easy!
WHAT YOU NEED
a printer
Scissors
a bowl
Bingo chips – Red and Green are a must for Christmas Bingo
Christmas themed prizes (optional)
Laminator (optional)
As for Bingo Chips, I think Christmas Erasers would make such a fun and cute bingo chip for this game and the kids can keep them to use at school while drawing, or at home for homework.
The Christmas Bingo cards are ready to go. All you'll need to do is download them, print them out, and cut them out. You can print them on a home printer or use a printing service, like Office Depot.
I suggest printing them on card stock if you can so they'll be sturdier. You can also laminate them so they can be used over and over again throughout the Christmas season.
HOW TO PLAY!
Bingo is a classic party game that most people know how to play. But just in case, here's a quick recap!
Download and Print out the Christmas bingo cards.
If you're going to laminate your bingo cards and calling cards, do it now. If not, skip this step.
Cut the bingo cards in half and cut the calling cards out. Using a paper cutter will make this a lot quicker.
Give a bingo card and bingo chips to each player.
Place all the bingo callers into a bowl, mix it up, and pick them out one at a time from the bowl.
Call out the picture to the players.
If you've got that picture on your bingo card, cross it off.
The first player to cross out a whole row (horizontal, diagonal, or vertical) shouts BINGO! and wins a prize.