Encanto Easter basket is an easy-to-make tutu Easter basket that uses tulle, felt flowers, and butterflies to make an Encanto inspired Easter basket. Fill the rainbow easter basket with Encanto toys, clothes, books, and Easter candy!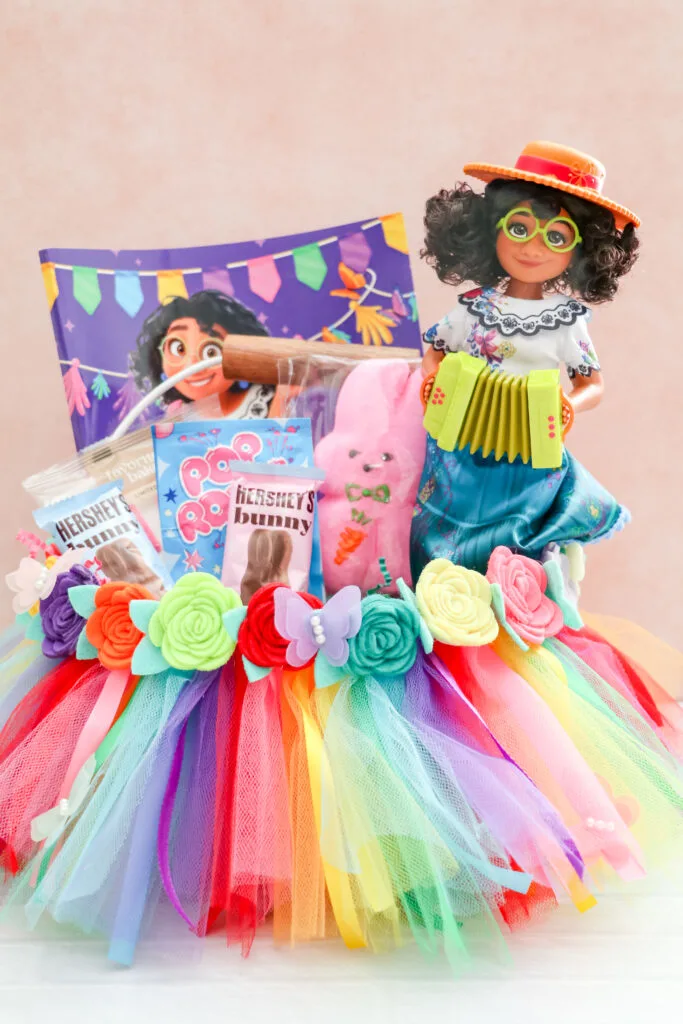 Encanto is all the rage around here with the kids constantly singing about Bruno. How could you not love Disney's newest movie with such beautiful scenery, catchy songs, and another important storyline? Of course, we had to celebrate Easter with an Encanto inspired Easter basket!
Encanto Easter Basket
I love making tutu Easter baskets, so much so that I usually do a new one each year. Looking for more DIY Easter Basket ideas? Check out these tutorials:
Moana Grass Skirt Easter Basket
Moana Easter Basket (tutu)
If you haven't seen Encanto it's filled with bright, vibrant colors. Lots of flowers, and a butterfly leading the way. So I pulled from those main elements to make our basket. Vibrant colorful tulle and ribbons, colorful flowers, and butterflies as an added touch of embellishment.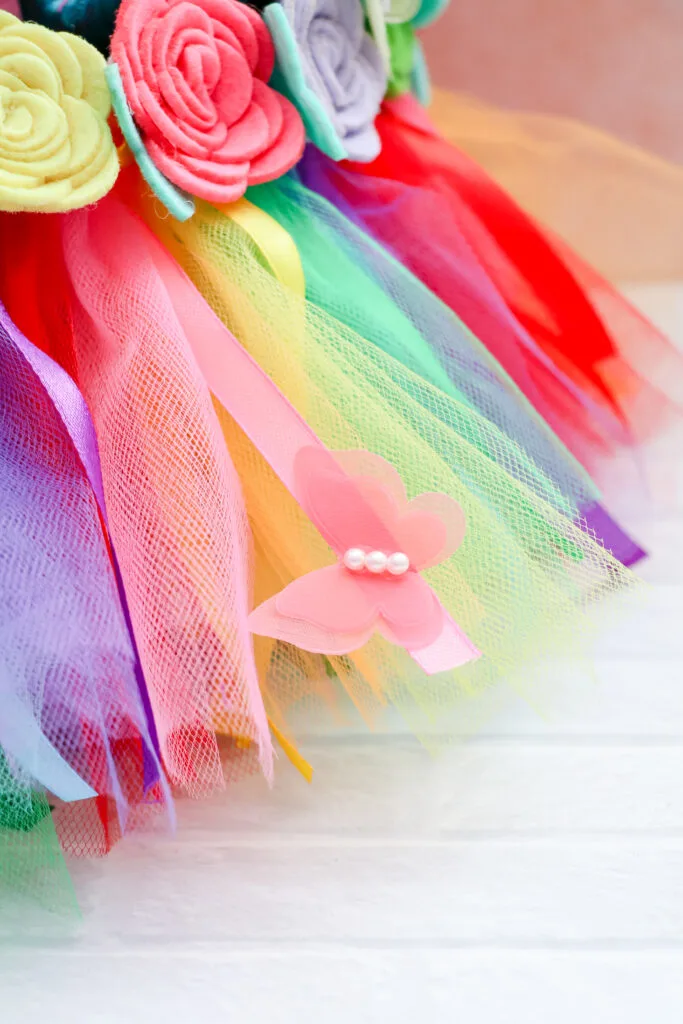 How to Make a Tutu Easter Basket
What is a Tutu Easter Basket?
It's like a tutu skirt that kids wear, but on an Easter basket. To make it you'll need tulle and a metal or wire Easter basket.
The best type of Easter basket to use for a tutu Easter basket, I have found, is a metal or wire Easter basket. You need something with a rim and spaces to loop the tulle around. I have used the wooden basket types, but it's a pain to work with. You can find metal Easter baskets usually anywhere Easter baskets are sold, but I've had the best luck at Target and Michael's.
To make your Tutu Encanto Easter Basket you'll need:
Ruler
Scissors
Metal Basket
Tulle – This is the pack I got because it came with the ribbon. Whatever tulle you use the 6in rolls are easiest to use.
Ribbon, optional
Glue Gun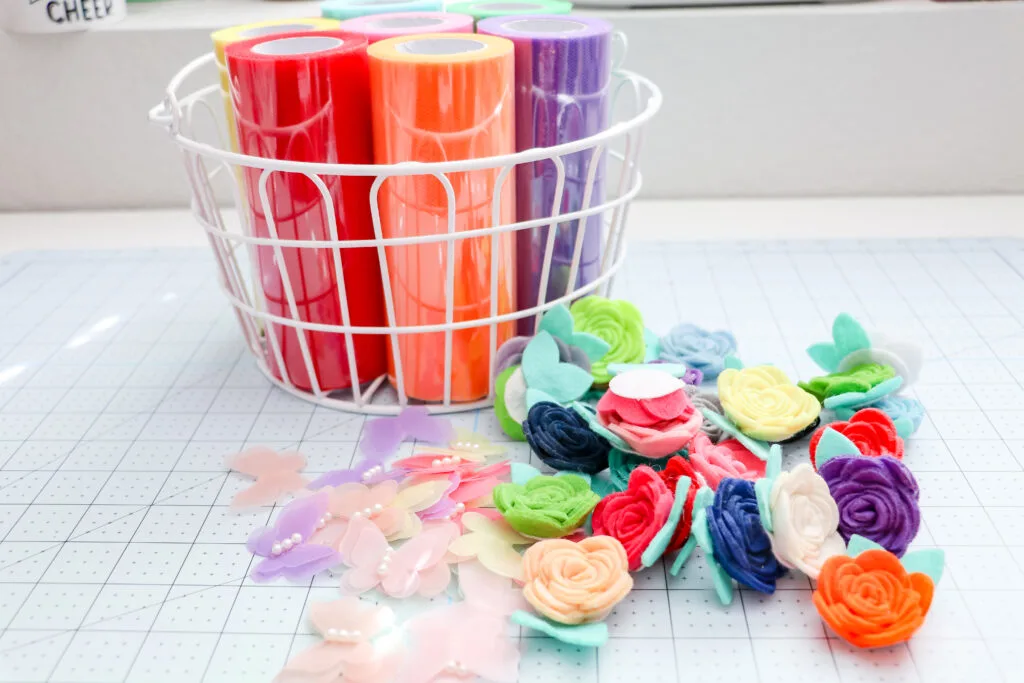 You are going to measure the height of your basket. Mine is 5 inches tall. Double that number and add 1 to account for the loop. So my strips of tulle need to be 11 inches. (5+5+1)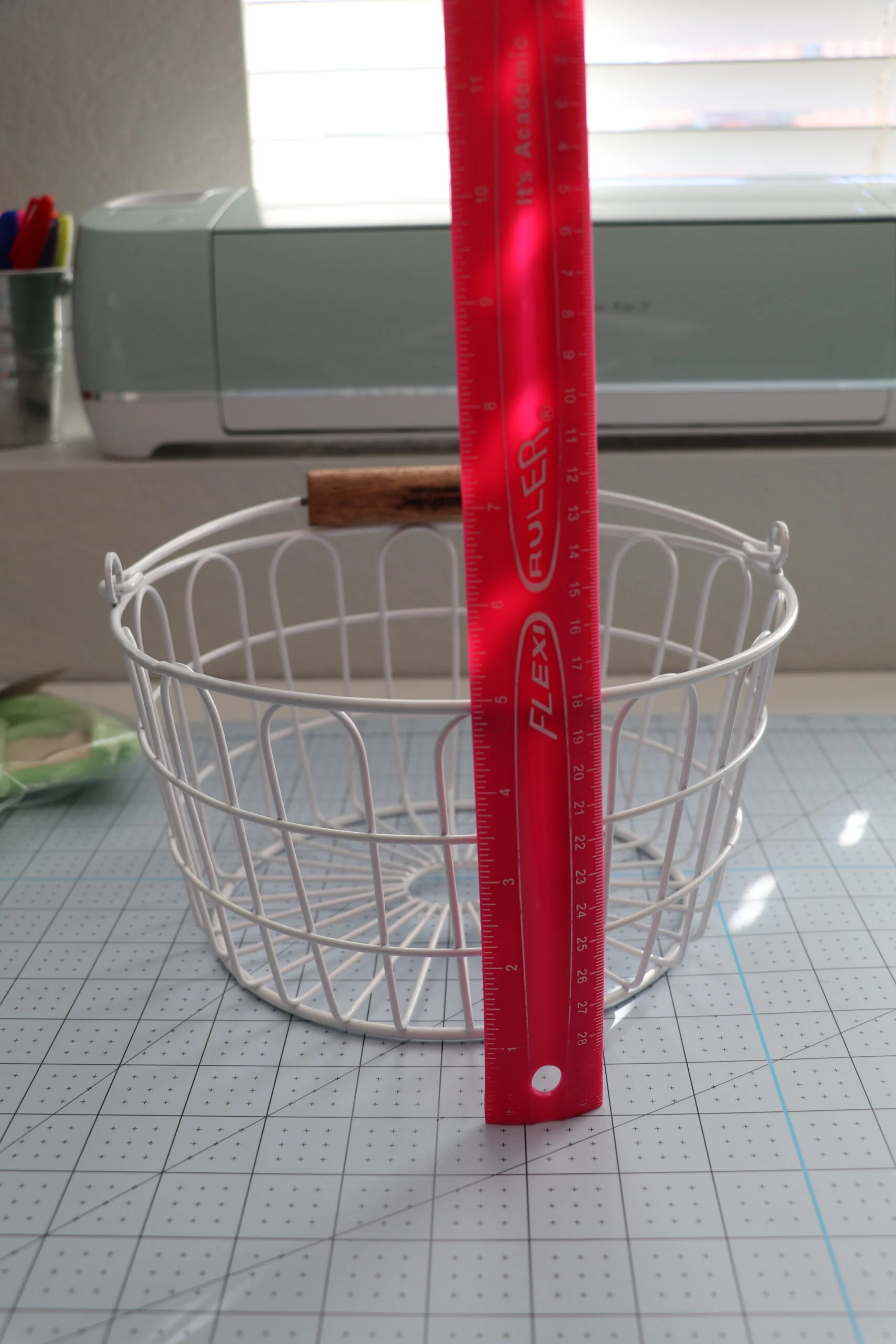 The easiest way to cut tulle instead of cutting it strip by strip is to cut a piece of cardboard to half the size of your strip. Since I need 11-inch strips I would cut a piece of cardboard to 5.5 inches in height. The width doesn't matter, but it's good to have it wider than the tulle so it easily wraps around it.
Tape the end of your tulle to the top of the piece of cardboard and wrap the tulle around it. When you're done cut ONE end of the tulle (do not cut both ends) and you should have 11-inch strips of tulle.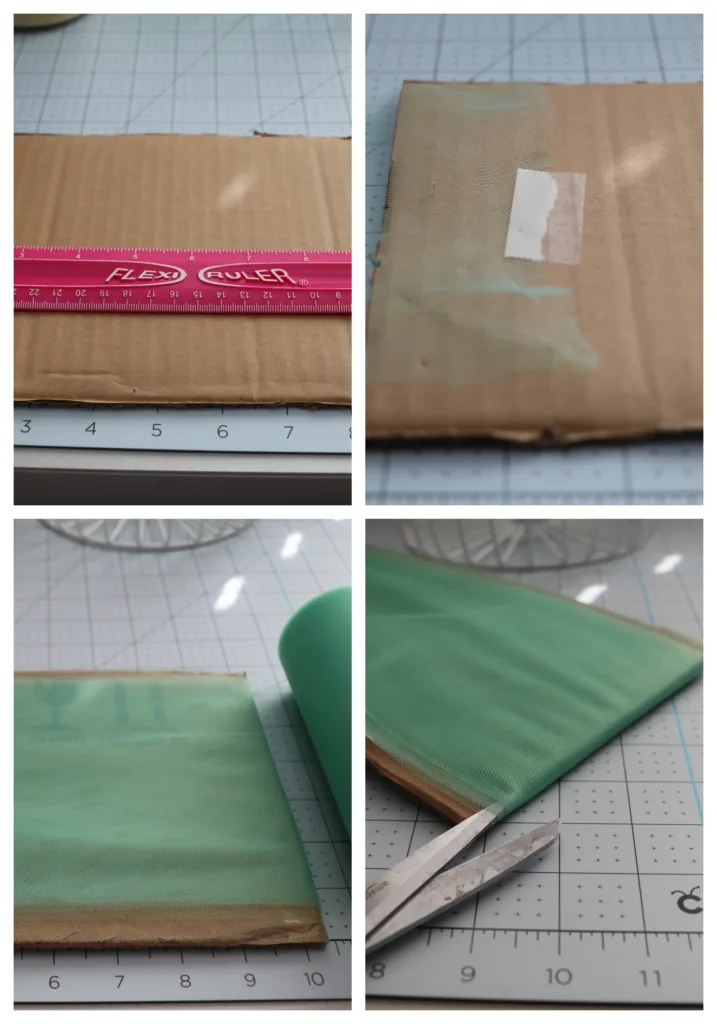 If you're adding ribbon (i loved this added touch, but it's totally optional) you'll cut 11-inch strips of each color ribbon. I find the We R Memory Keepers Ribbon cutter to be a total lifesaver. It cuts the ribbon and seals the edges so they don't fray. I set the ribbon cutter at 11 inches on my rule and would pull the ribbon down to the end of the ruler, cut, and do the next piece. It made ribbon cutting a breeze.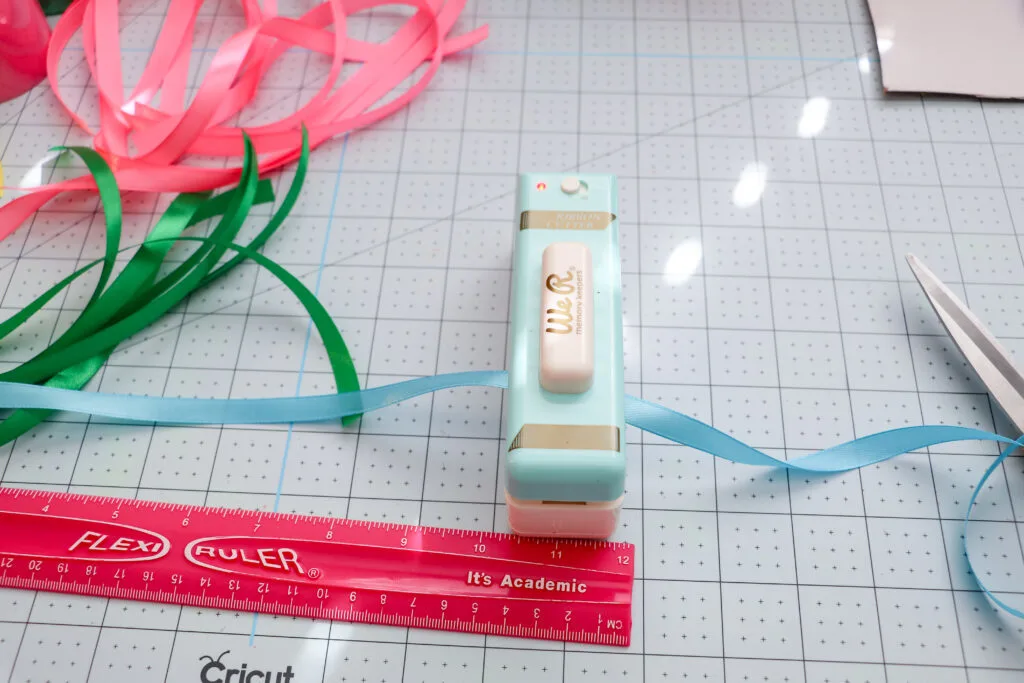 You'll do about 60 knots of tulle around the basket. If you're doing a single layer of tulle you would need 60 strips, but I do double layers to make it poufier and the colors stand out more. If you're doing double layers then you'll need 120 strips total. Since I used 7 colors I would need about 16-18 strips of each color (for a double layer).
Fold the tulle pieces in half so they are even lengths. Add the ribbon to the top of the tulle.
You will then form your tulle knot by creating a keyhole on the outside of the basket at the top rim.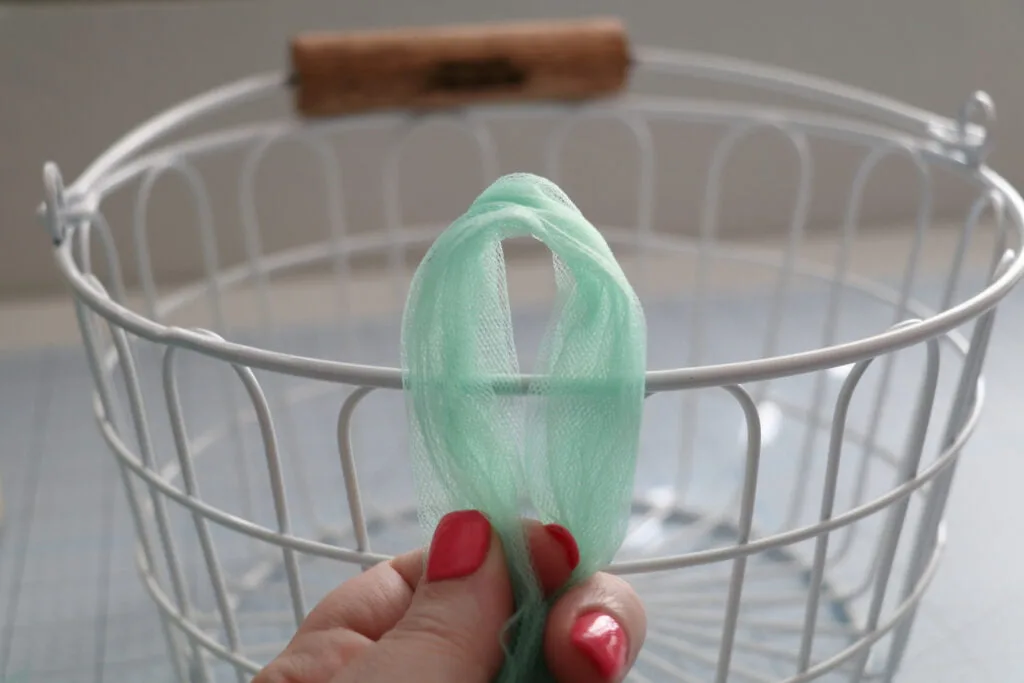 Pull the tail of the tulle inside the basket, up, and into the loop or keyhole you made. You are creating a knot around the top of the basket.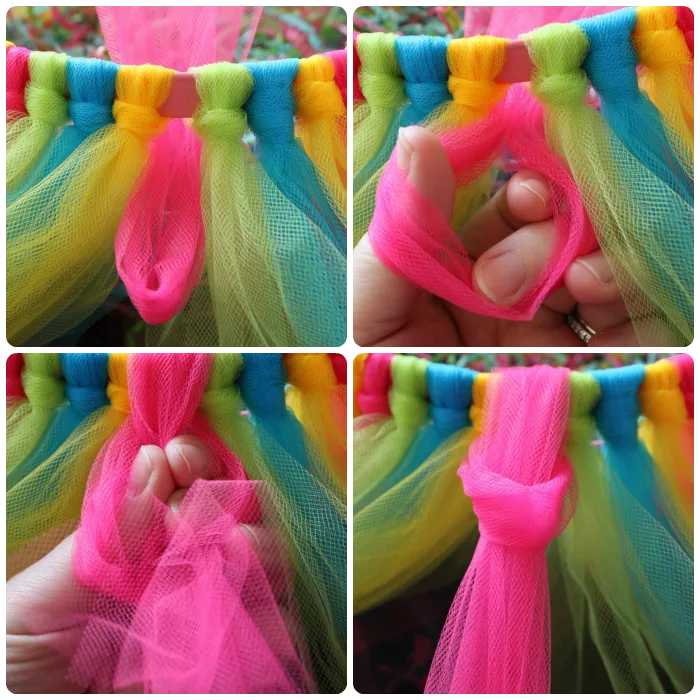 Do this around the whole basket, alternating your colors.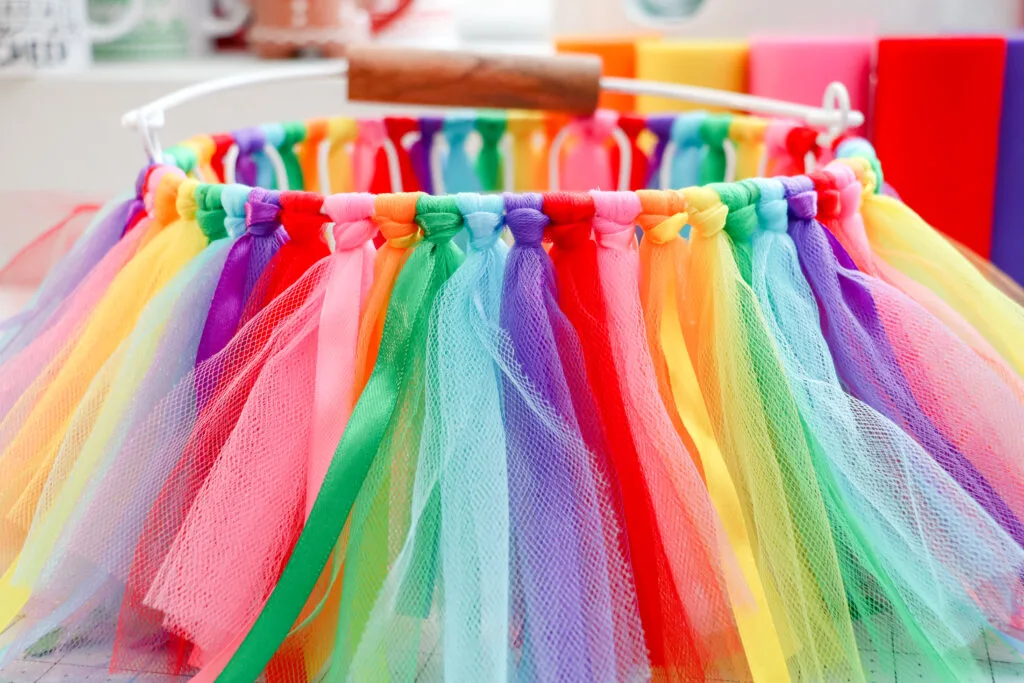 Once you are done hot glue the flowers around the top of the basket.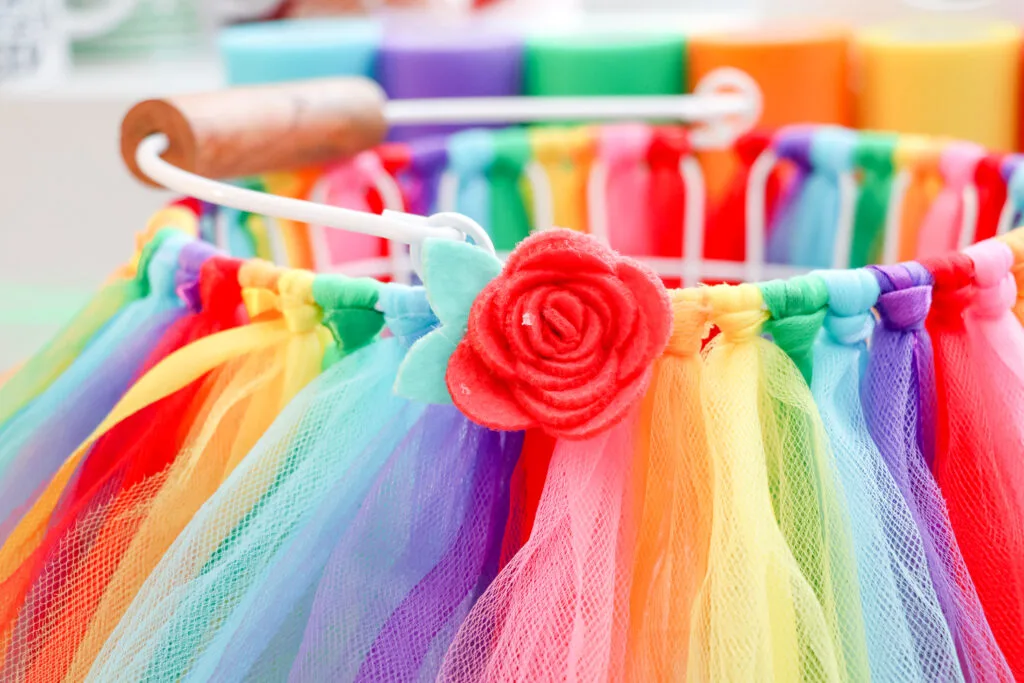 Then hot glue butterflies around the basket. You can add them to the strands of ribbon and to the flowers. Add as little or as many as you like.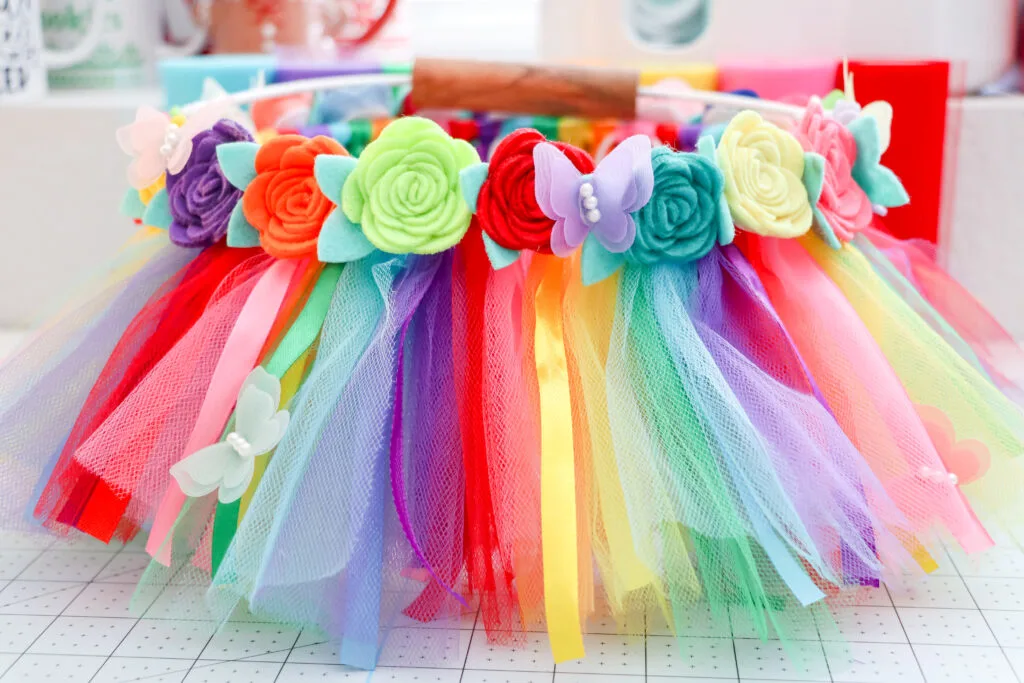 Fill your basket with Encanto toys, books, clothing, and Easter candy.