Looking for a fun, free Valentine's Day Game? Valentine Bingo can be played at home, with friends or family, or even at a classroom Valentine's Day party. Free Printable Valentines Bingo is a bingo game for kids. The free downloadable game includes a pdf file with Valentine's Day Bingo.
Valentine Bingo comes with 10 printable Valentine-themed Bingo cards in 5 fun designs.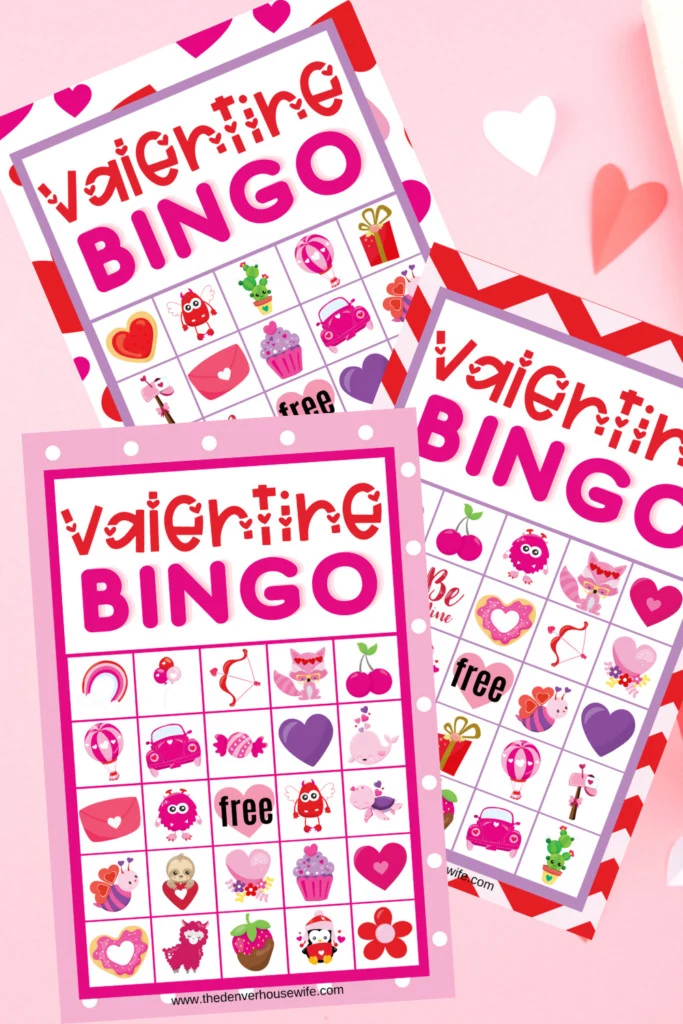 Valentines Bingo
If you love free printables make sure to check out my free printable library. I also have a Valentine Tic Tac Toe printable available.
I just love to make cute printables for families (and everyone) to enjoy and these Valentine Bingo cards are oh so adorable. The pretty pinks, reds, and purples with the Valentine images pair together perfectly. Plus I added in a variety of backgrounds to give the game some extra cuteness.
How to Play Valentine Bingo
Let's play a fun game of Valentine's Day Bingo, shall we? Here's everything you'll need to get started, how to play bingo, and tips to make your bingo experience better.
Supplies needed for Valentine's Bingo
Printer – You'll need a printer to print out your free printable Valentine day bingo game. This is an affordable printer that would be great for printing out printables. However, this is my favorite printer and it's great if you're also into crafting.
Printer Paper or Cardstock – Personally I like to print my printables out on cardstock since it's thicker and more durable, but regular printer paper works as well.
Paper Cutter or Scissors – Paper cutters save so much time and help give you straight lines with cutting. I use one all the time when cutting out printables or items that need a straight line.
Laminator – I love to laminate my printables. It makes them last longer with sticky little hands, I can wipe them clean, and it makes them so they can be enjoyed over and over again. This is the laminator I use and love. Don't forget the laminating sheets!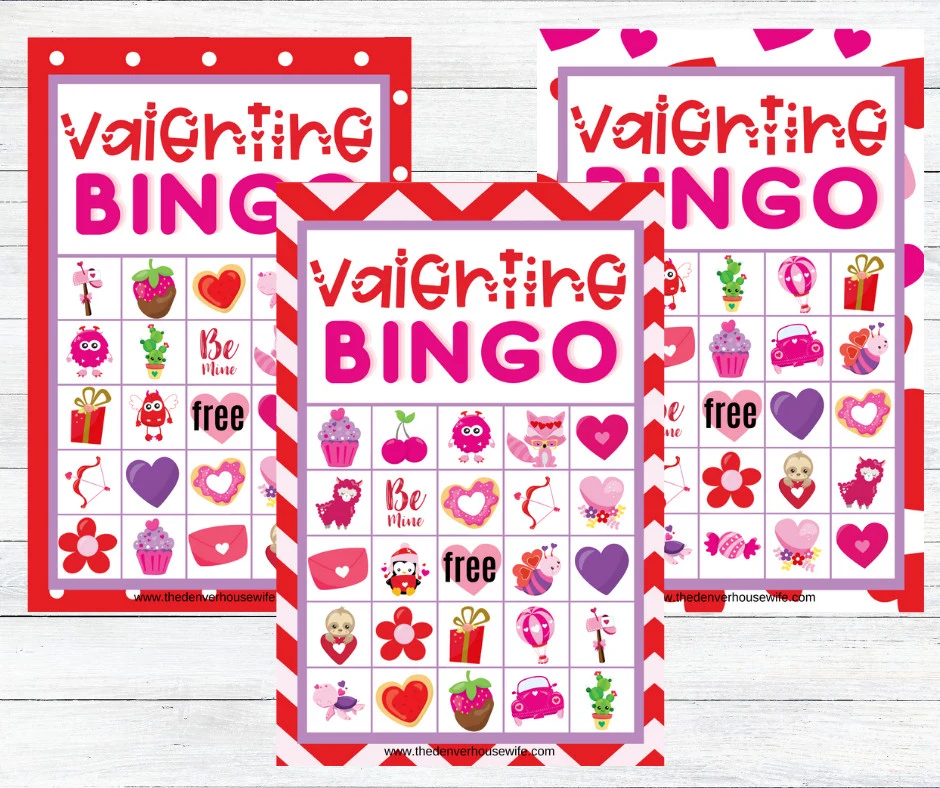 Before you get started playing Valentine's Bingo
Download the Valentine Bingo pdf file via the box at the bottom of this post. Print it out and cut the cards and calling cards out.
Place the calling cards into a large bowl, bucket, or box and mix them together very well.
You'll also need to gather some items to mark each bingo spot called. You can use M&M's, Conversation heart candies, pen or marker, or even Valentine gems.
How to Play Bingo
There are 5 pdf pages and each page has 2 bingo cards on it. In total there are 10 different Valentine Bingo cards.
Print out the bingo pages and cut them in half.
Give each player 1 bingo card. If there are more than 10 players you can print out the same bingo cards again, it will just mean that if 1 bingo card wins there will be multiple winners.
Pull one bingo calling card out and show it to the players. Each person who has that image on their card will mark it off.
Make sure everyone marks the free spot in the middle!
Repeat this until someone has Bingo.
To get bingo someone needs to have 5 in a row either horizontal, diagonal, or vertical.
The first person to get BINGO wins a prize. It could be something small like a piece of candy or something bigger like a gift or gift card.
Clean off the cards and play again!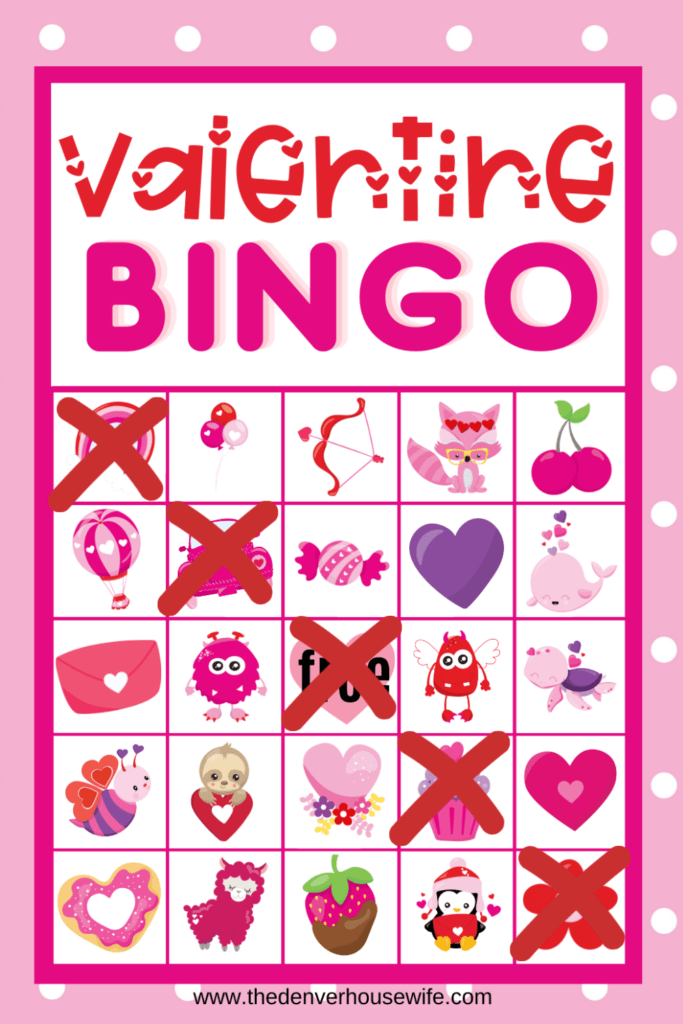 More Valentine's Day Fun
Looking for delicious Valentine's Day Recipes or more Valentine Printables? Check out these posts!
How to Make a Spotify Mixtape Playlist Valentine Card
Valentine S'more Mix with Printable Gift Tag
Valentine Coloring Cards – Great for classmates!
Edible Valentine Tic Tac Toe Game
Pop It Valentine Gift Tags – Great for classmates!
Valentine Pretzel Hugs – Pretzels and chocolate, yum!
If you have a Cricut these Valentine Tic Tac Toe bags are lots of fun!
Download Valentine Bingo!
To get your free printable Valentine Bingo cards enter your information into the box below. Once you enter your information you'll be redirected to a download page where you can download the pdf game.
Free printables on The Denver Housewife are for personal use only and cannot be sold or redistributed.