Valentine S'more Mix is a Valentine's Day Snack Mix perfect for Valentine's Day and beyond. The perfect Valentine's Day snack for kids or for a Valentine classroom party snack. S'more snack mix is easy to make, affordable, and oh so delicious. Included is a free printable "Love you S'more" gift tag printable.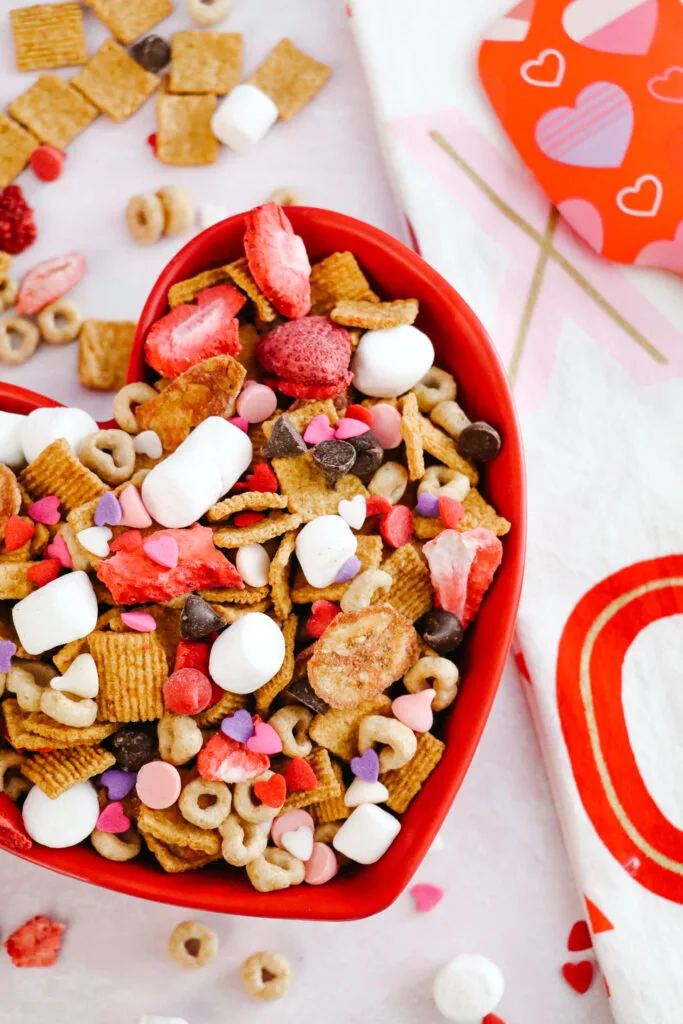 S'mores are one of our favorite snacks and turning s'mores into a mess-free and travel-friendly snack mix is a delicious way to enjoy a classic treat. While we used classic ingredients like golden grahams, chocolate chips, and mini marshmallows we also added in some new items like strawberries, bananas, and heart-shaped cheerios.
Valentine S'more Snack Mix
Valentine snack mix is so easy to make even kids can help with measuring, pouring, mixing, and packaging. You can even customize it with different snack options like adding peanuts and M&M's for a valentine trail mix. Looking for more mix in options? Here are some additional snack items to add to your smore mix.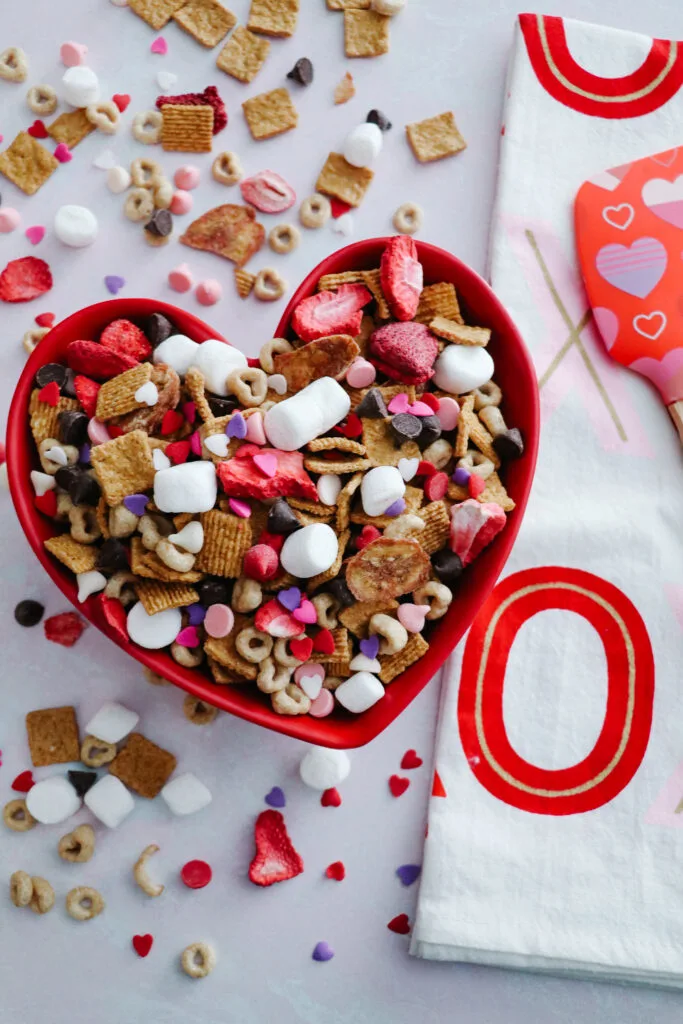 What to add to a snack mix:
Popcorn
Pretzels – they even have Valentine's shaped ones
Peanuts
M&M's
Chex or Muddy Buddies
Raisins
Yogurt covered fruit like cranberries or blueberries
Coversation Hearts candy
Fruit Snacks
Dried fruit
Granola
Sprinkles
Dried Cereal – Cheerios, Fruity Cereal, Mini Wheats, Chocolate Cereal
Nuts
Anything your heart desires can be added to a snack mix.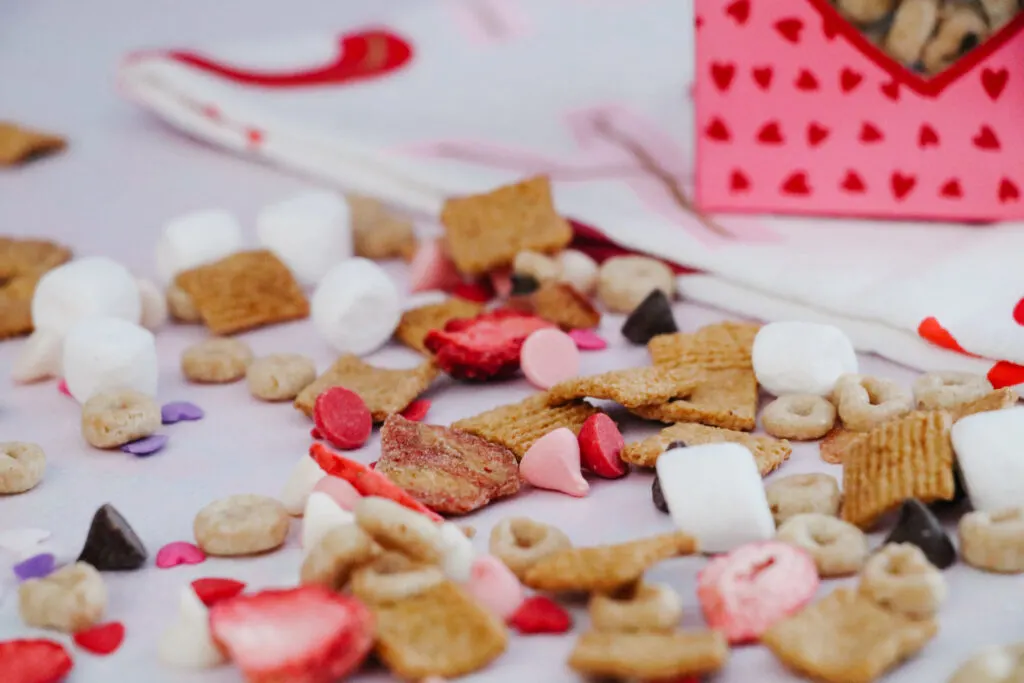 How to Make Valentine S'more Snack Mix Recipe
For your smore mix you're going to need:
Golden Grahams Cereal
Honey Nut Cheerios Cereal (optional) – We used the heart shapes that come out in Jan/Feb
Chocolate Chips – We used a mix of chocolate chips and valentine baking chips, but if you can't find the Valentine colors strawberry baking chips would work too. Or you could use all chocolate or a mix of chocolate and white chocolate chips.
Dried Strawberries
Banana Chips
Mini Marshmallows
Heart Sprinkles (optional)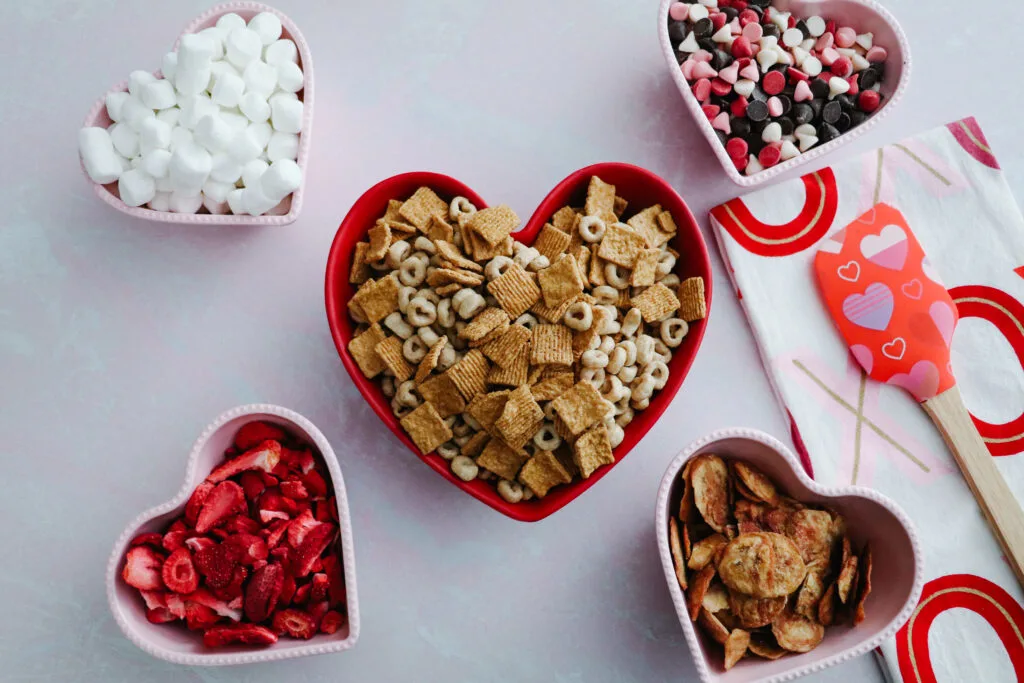 How to make S'more snack mix recipe
Pour all of your ingredients into a bowl and gently mix them together.
You can even add it all to a large Ziploc bag and gently shake it up.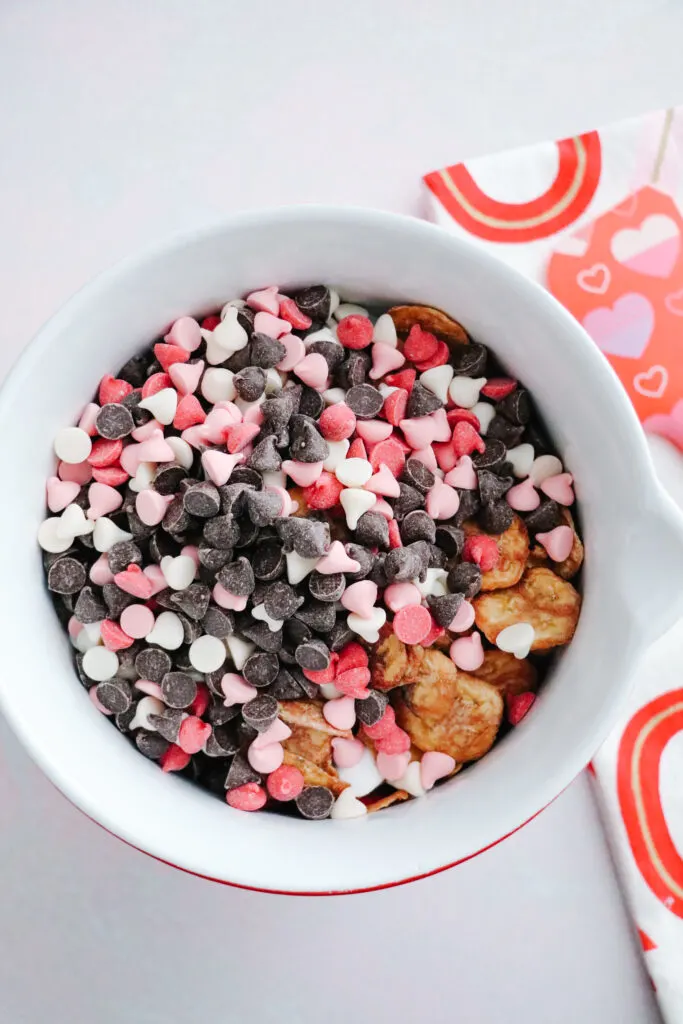 I will leave measurements in the recipe card below, but you don't have to measure ingredients. You can just pour ingredients in until you reached your desired amount for that item.
Store in an airtight container for 1-2 weeks and enjoy!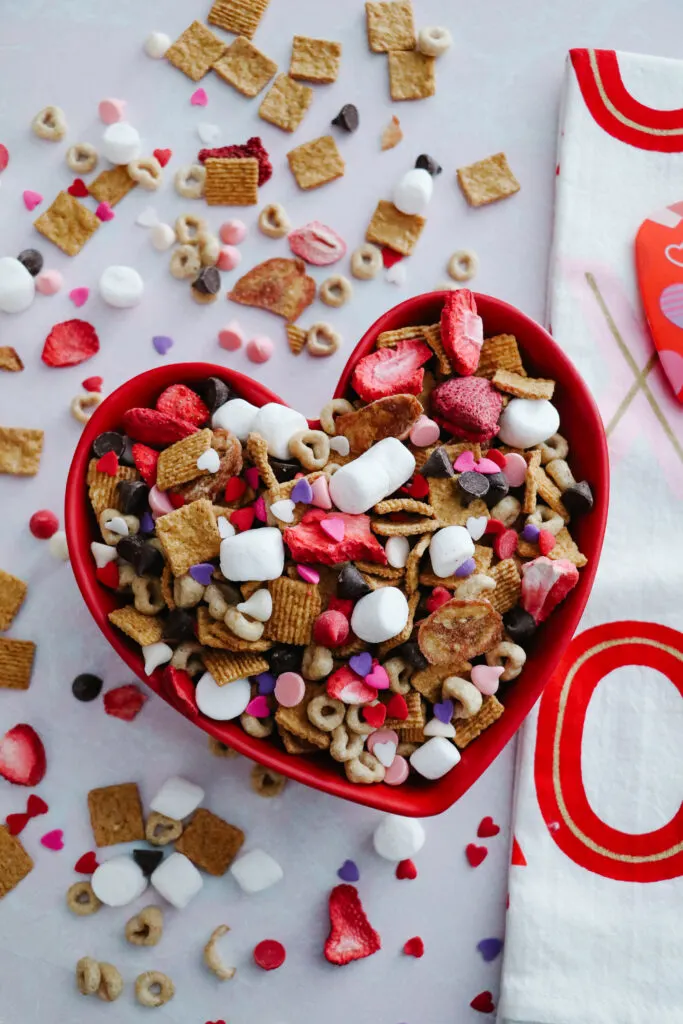 Valentine Love you S'more Free Printable Gift Tag
To go with our delicious snack mix I made a cute Valentine gift tag. You can print it on cardstock or printer paper to make it into a gift tag or label if you give the snack mix as a gift.
To download the Love you S'more gift tag enter your information into the box below. You'll be redirected to a download page. Download the PDF file, print it out, cut it out, and attach to your packaging. This can be used with a s'more snack mix or ingredients to make traditional s'mores.
Free printables on The Denver Housewife are for personal use only. Files cannot be sold or redistributed.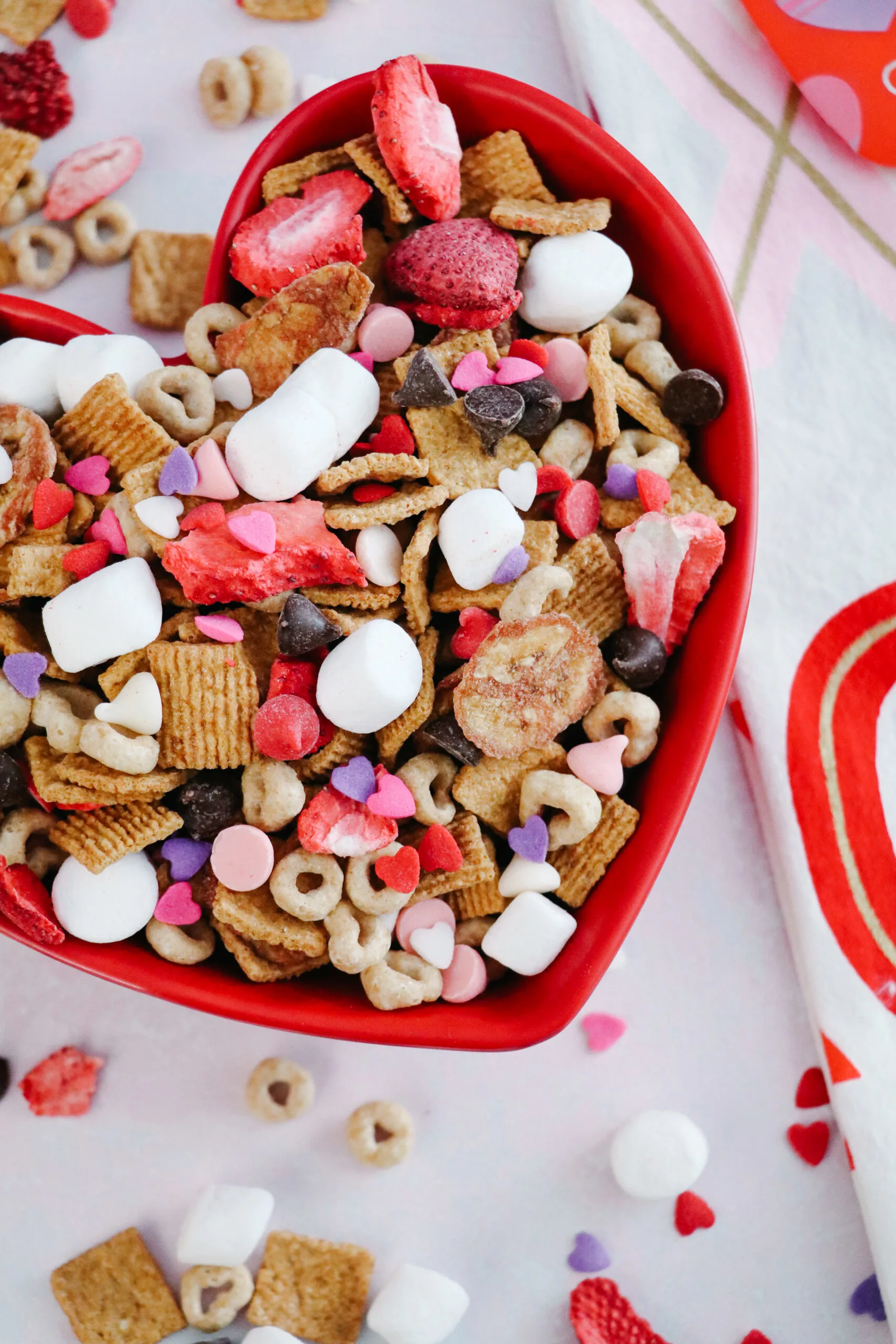 Valentine S'more Snack Mix
An easy and delicious Valentine's Day S'more Snack Mix. A great Valentine snack mix for kids.
Ingredients
2 cups Golden Grahams
2 cups Honey Nut Cheerios
1 1/2 cups of chocolate chips
1 oz bag of dried strawberries
2 oz bag of banana chips
1 cup of mini marshmallows
Instructions
Pour everything into a bowl or ziploc bag and mix well.
Store in an airtight container for 1-2 weeks.