Long gone are the days of giving your friend, crush, or loved one a mixed tape, but now you can send them a mixtape playlist through Spotify with this cute Valentine's Day card printable. Spotify Playlist Valentine's Day Card is a cute and fun Valentine's Day gift for your Valentine.
Want to give your Valentine a Personalized Valentine's Spotify Playlist Card? Then look no further. With just a few simple steps you can easily give someone special a personalized Valentine's Day card filled with your favorite songs on Spotify that they can listen to on repeat.
How to Make a Personalized Valentine's Spotify Playlist Card
To make your personalized Spotify Valentine's Day card there are a few steps you need to follow. The first one is downloading the Free Printable Valentine's Day card at the bottom of this post. Download the card and print it out.
There are 3 steps to making this personalized valentine's day card: Printing out the card, Creating a playlist, Generating your QR code, and then putting the QR code on the card.
How to Create a Playlist on Spotify
Open Spotify® (on your phone or computer browser).
Under "Your Library" create a new playlist, and name it accordingly
Search for songs to add to the playlist.
When you are done, click on the playlist, click the three dots near the top and choose share.
Click "Copy Link".
How to Make a QR Code
Go to a free QR code generator, for example, www.qrcode-monkey.com
Choose the URL option.
Add the Spotify® playlist link to "Your URL".
You can change the colors if you would like.
Click on "Generate QR Code".
Click on "Download PNG".
How to Make a QR Code Mixtape Card in Canva
Canva is free to use. If you don't have Canva go to Canva.com and create a free account.
Go to Canva.com
Create a new design – US Letter Size (8.5 x 11 inches). (purple button, top right of the screen)
Click on "Uploads", then "Upload Media".
Select the "Mixtape Valentine" graphic.
Add it to the page and size correctly.
Click on "Uploads", then "Upload Media".
Select the QR code PNG and add it to the page.
Resize it and position it over the white square.
You can now download the design as a PDF or JPG to print.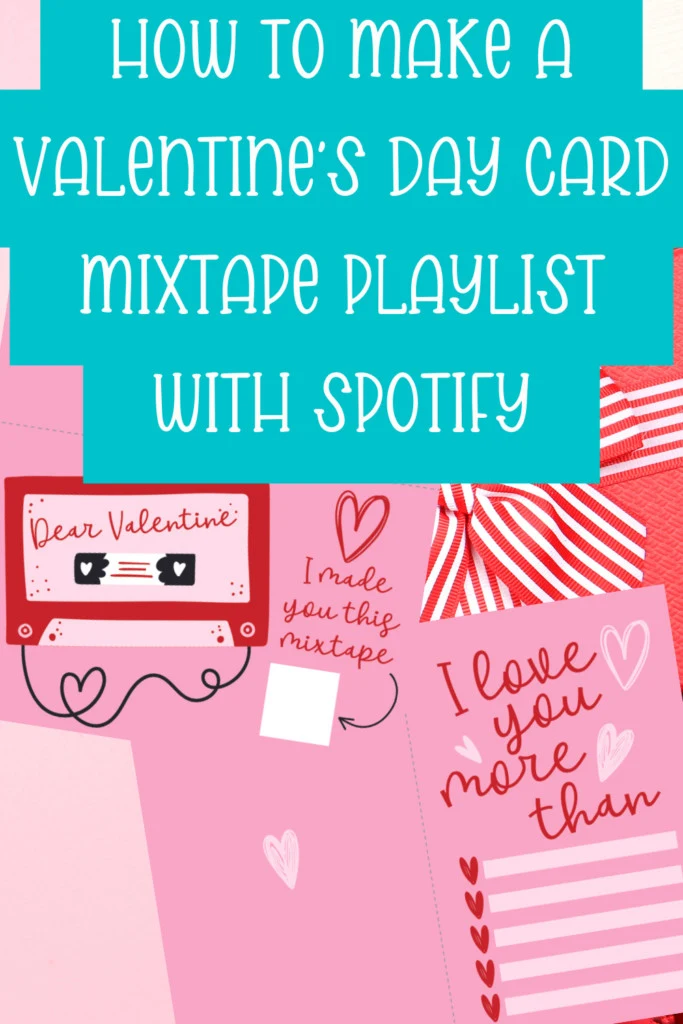 How to Print Personalized Spotify Mixtape Playlist Valentine's Day Card
Once you have finished editing your card in Canva you can download the file. I suggest saving the file as a PDF because that gives out a better print quality. Download the file to your device.
When printing out your card I highly suggest using cardstock, but regular printer paper works as well. If you don't have a printer you can print the card somewhere like Walgreens or Office Depot. They have online printing services where you upload the file and they print it for you and it should be a couple of dollars at most.
Download Free Valentine's Day Spotify Playlist Card
First, you're going to need your Valentine's Day Card, right? You can download it via the box below. All you have to do is enter your information and you'll be redirected to a download page. The pdf file includes both a vertical and horizontal Valentine's Day Card plus pdf instructions on how to create your Spotify Valentine's Day card.
Free Printables via The Denver Housewife are for personal use only and cannot be redistributed or sold.
This post contains affiliate links.