Pop It Easter Basket for kids filled with Easter pop its, popping candy, bubbles, popcorn, and more. Things that pop for kids are into a fun Pop It Easter Basket.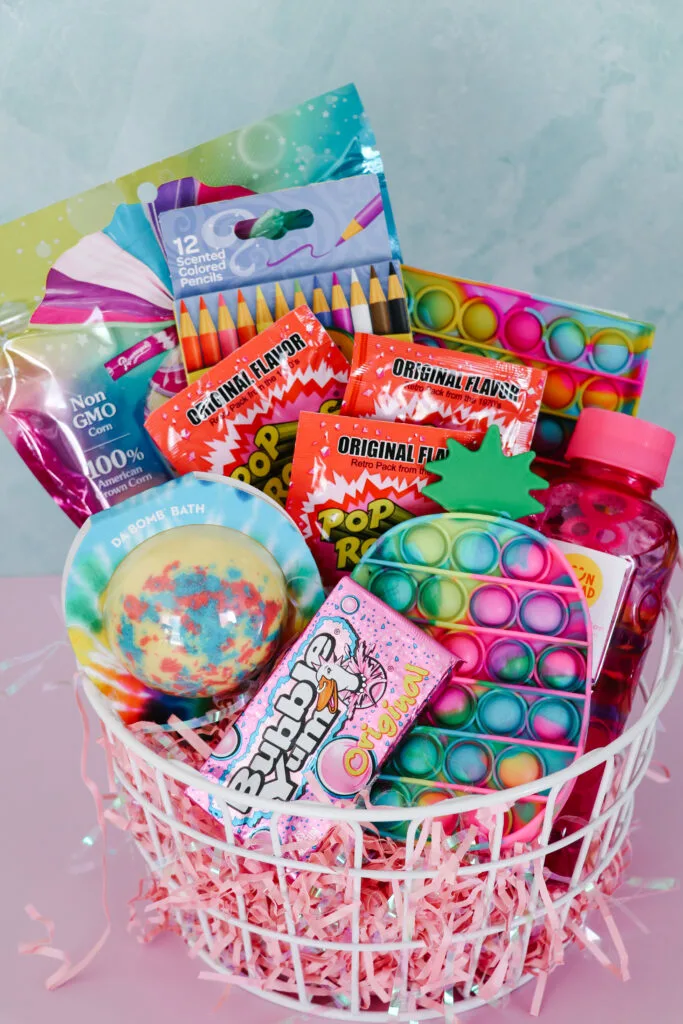 Pop Its is all the rage with kids. They're one of the "IT" toys and my kids are obsessed. So much so that we're giving Pop Its to their friends for Valentine's Day and there are Pop Its all over our house.
If you're looking for more Pop It ideas check out these Easter Pop It Gift Tags!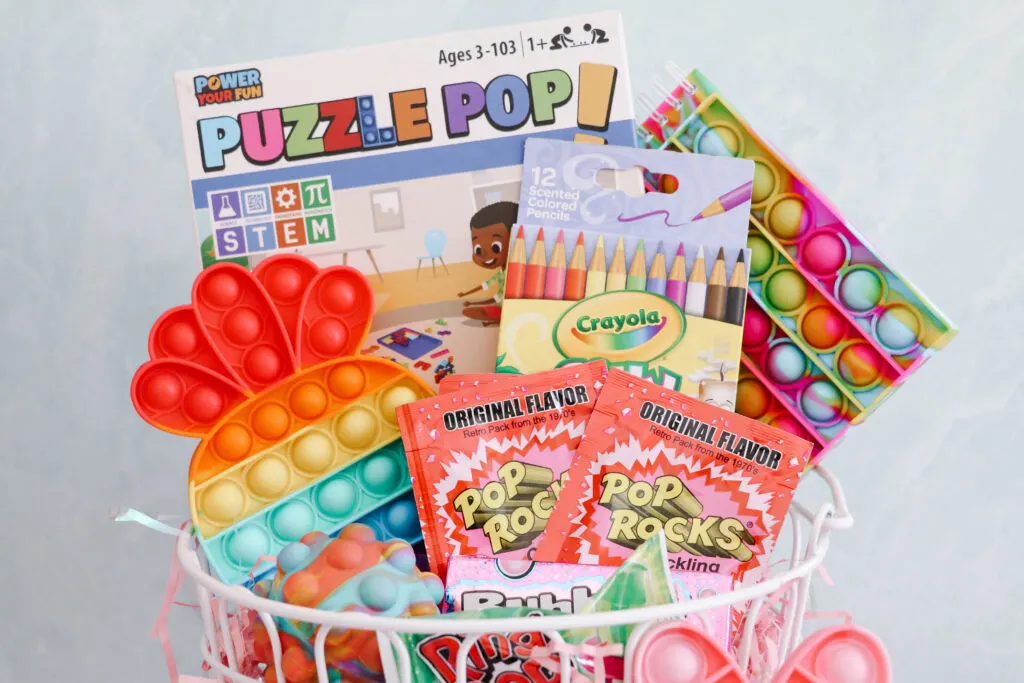 Pop It Easter Basket for Kids
My youngest daughter, who is 6, loves Pop Its the most and I thought it would be fun to put together a Pop It Easter Basket for her. My son likes them, but not as much so he'll get a Pop It or two added to his Easter Basket, but our daughter's Easter basket is all things that go pop!
What to Put in a Pop It Easter Basket
I wanted to stick with the theme of things that go POP! or have pop in the name when it comes to the Easter basket. It's such a cute theme and there are some fun items to place inside of an Easter Basket. This is my Pop It Easter Basket for girls.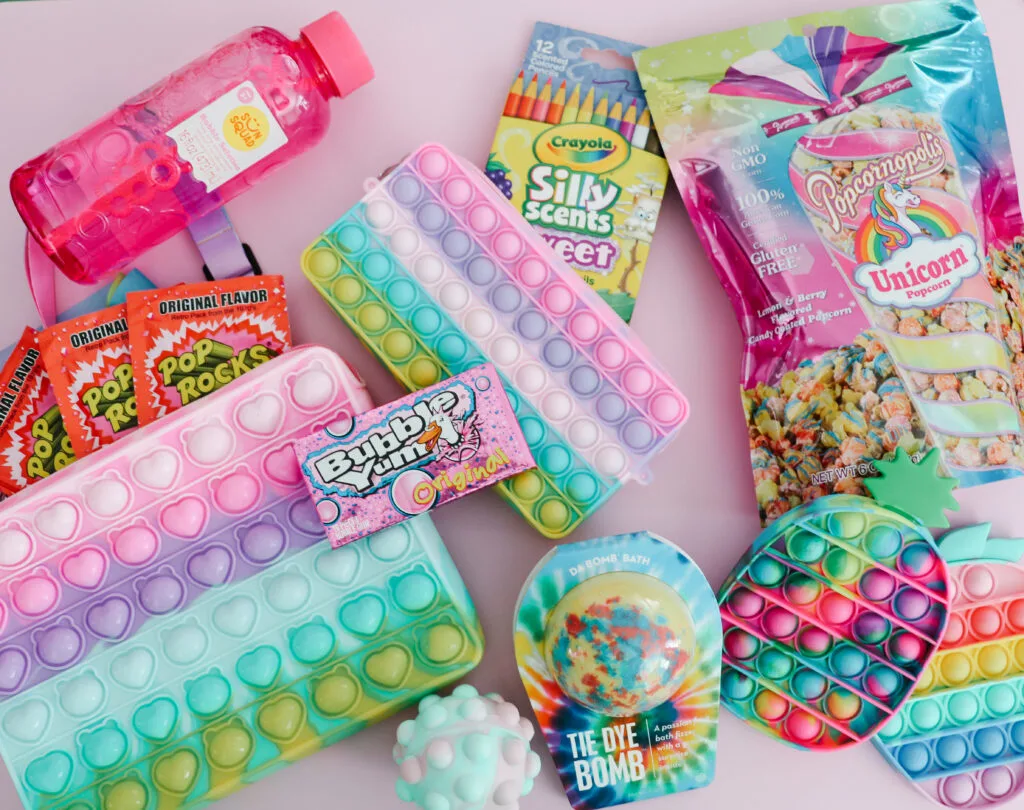 Here is what I am putting in our Pop It Easter Basket:
Popcorn – You could do a bag or box of microwave popcorn or buy fun flavors/colors of popcorn. I got some Unicorn Popcorn from our local grocery store.
Ring Pops – Ring Pops are another fun thing that kids love and they're perfect for the POP! theme. You could also use Blow Pops.
Bubbles – I always place bubbles in their Easter baskets, but bubbles fit the POP! theme perfectly.
Pop Rocks – Another fun kid candy that goes pop!
Bubble Gum – Only give this if your child is old enough/responsible enough to have bubble gum.
Bath Bomb – While bath bombs don't go POP, they do fizz up and that's similar. Plus, my kids love them. I grabbed this fun Tie-Dye color one (which reminds me of an Easter Egg) from Target.
Pop Its – There are SO many pop it items to add to an Easter basket from Toys to Games. I added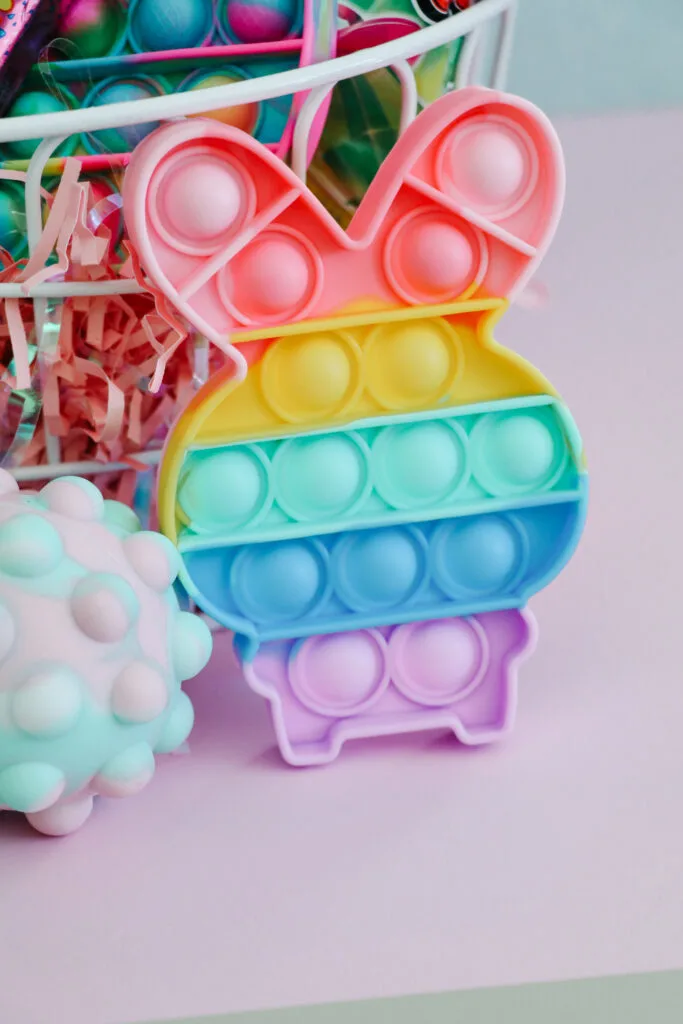 Other Pop It Easter Basket Items
Here are some other items that would be fun to add to a Pop It Easter Basket
Soda Pop – Add a bottle or can of soda
Pop Tarts
Pop Socket (for their phone)
Popems Donuts
Corn Pops Cereal
Poppables Chips
Funko Pop
Candy Pop Popcorn
Tootsie Pop
Ice Pops
Push Pop
Pop It Easter Basket it for Boys
I know my Easter Basket is pink and girl and not all boys will like that, so here are some boy-friendly options for the ones who don't like pink and rainbows.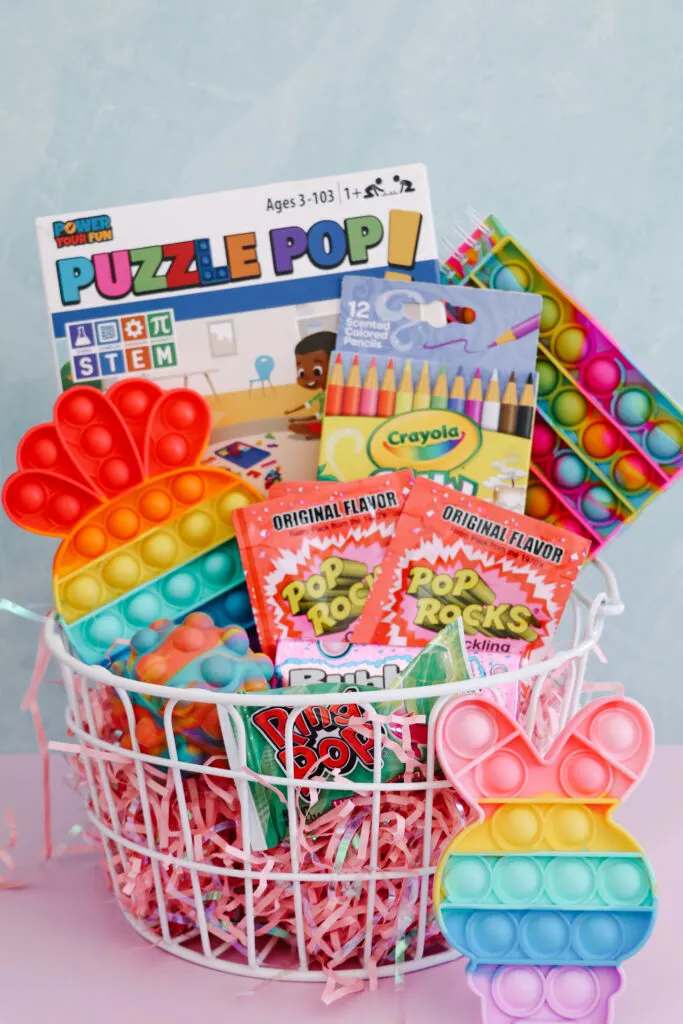 Pop It Easter Basket
I couldn't find any pop it easter baskets, so I used a regular Easter Basket. You could also place items into a pop it purse or pop it backpack.
Assembly of your Pop It Easter Basket is simple. Figure out what you're using for a basket, add some Easter Grass or Paper Shred, and add your Pop It Items.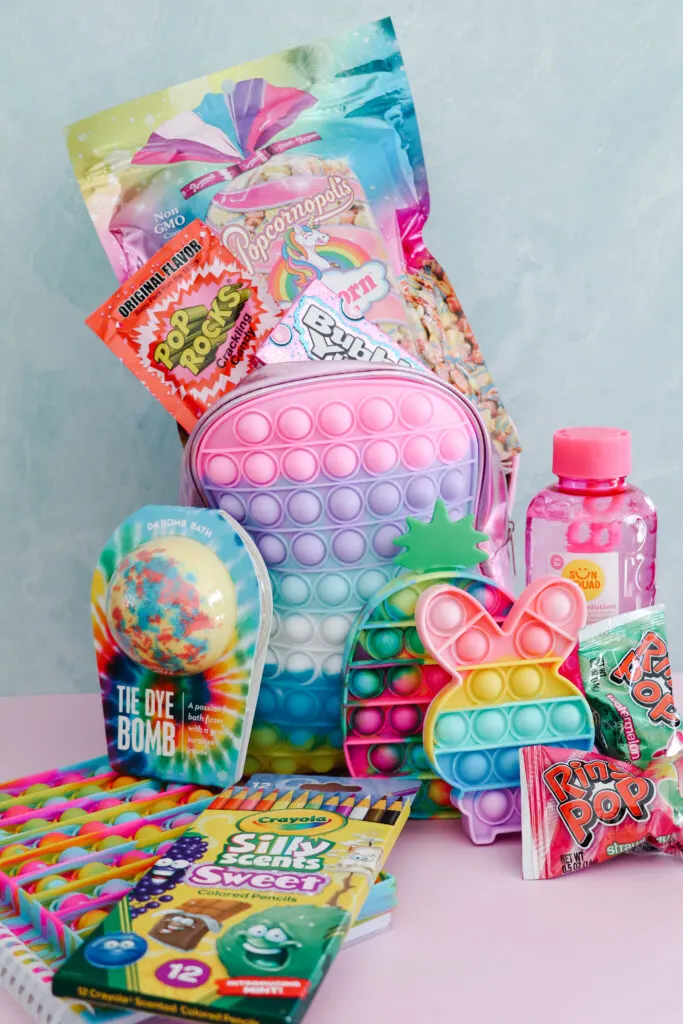 We hope you have a Poppin' Easter. If you're looking for more fun Easter ideas check out my other Easter Basket posts!
Check out these delicious Easter Fruit Kabobs!