Free Printable Easter Pop It Tags are a downloadable Easter Pop It Tag pdf file that can be used for Easter Pop Its. Pop Its are so popular with kids right now and they make great holiday gifts. If you're putting together a Pop It Easter Basket you can add in some Easter Pop Its. Easter Pop Its also make great classroom, church, and friend Easter gifts.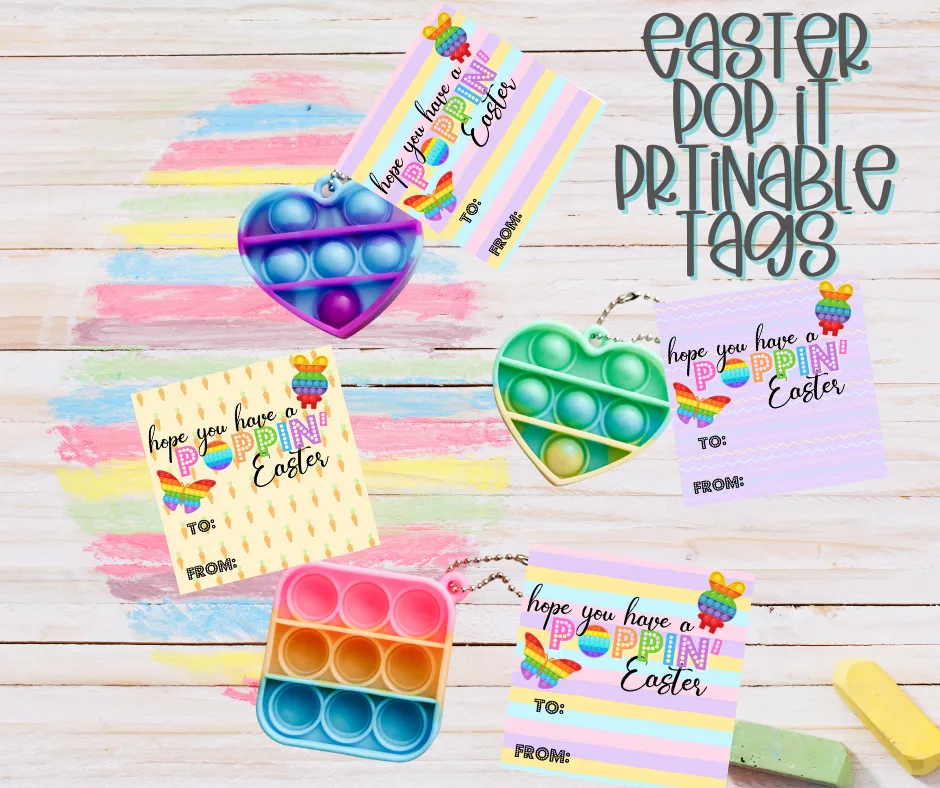 Easter Pop Its Printable Gift Tag
If your kids and their friends are into Pop Its they're going to love some Easter Pop Its. There are some cute and fun designs available like bunny rabbits, carrots, and more. You can find a full list of Easter Pop It below.
Looking for more Pop It ideas? Make sure to check out my Pop It Valentine printables for kids and my Pop It Easter Basket ideas. Pop It Easter printable free can be downloaded at the bottom of this post via the box below.
Where to Buy Pop Its for Easter
Pop Its are popping up in stores all over. You can find them at places like Target, Walmart, and more. I got my bulk Pop Its from Amazon. They had good prices, quick shipping, and I was able to find the keychain sized Pop Its.
When it comes to Easter I found the best selction on Amazon, but as of writing this post it's still a little early for Easter items to hit stores. Hopefully stores will get Easter Pop Its in the coming weeks, but you can always use colorful Pop Its for Easter since they'll be reminescent of a colorful Easter Egg.
Easter Pop Its
There aren't a lot of Easter Pop It options available, but here are some I have found that are Easter-themed or would work nicely for Easter.
Flowers and Easter Color Pop Its
Easter Pop It Keychains – These do say they take a month to arrive. Easter is in April this year so they should be here in time for Easter if you order during Feb.
Pop It Bracelets – These look like fun Easter colors.
Pop It Keychains – These give me pastel/spring vibes and would be cute for Easter.
Easter Bunny Pop It & Carrot Pop It – This is a cute set with an Easter bunny and carrot.
Big Easter Bunny Pop It – This one is a bigger size at almost 8×8 inches.
More bunnies and carrots – These have a 3ish week delivery time. Order accordingly.
Bunny, Pineapple, and more – This set has a bunny and some other shapes.
Bunny, Egg, and Carrot – This is a cute Easter Pop It set but has a 3-4 week delivery time.
Pop It Balls – Another Easter vibes set. This one has Pop It balls and bracelets.
Easter Egg Pop Its – Easter egg shapes, but has a 3-4 week delivery time.
For the bigger pop its I like to use an 8×10 size cellophane bag. I even adjusted the size of the topper to fit those size bags since for Easter there are only really bigger sizes available.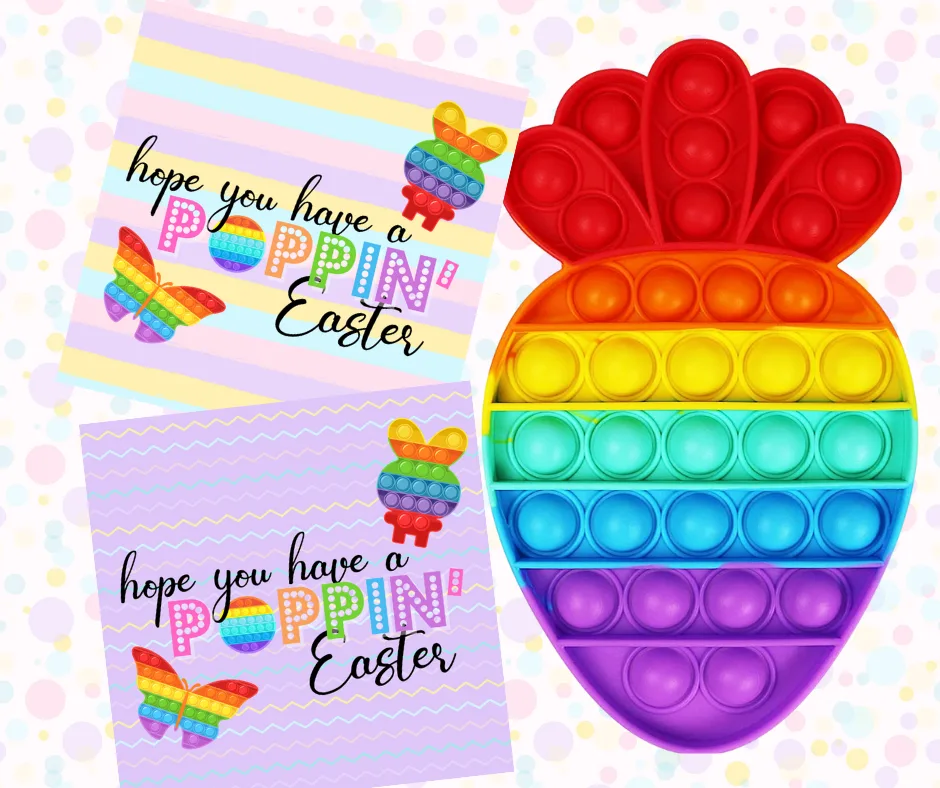 Here's what you'll need for Pop It Easter gifts
Free Printable Gift Tags (download via the box below)
Pen or Marker – to write names (if giving as gifts to other kids)
Hole Punch – if using the gift tags.
Cellophane Bags – If using the bag topper.
Scissors or a Paper Cutter
Stapler or double sided tape – for cellophane bags.
Cardstock or regular printer paper
How to Make Pop Its for Easter for Kids
To make your Easter Pop Its you're going to download the free Pop It gift tags. You can download the Pop It gift tag PDFs via the box below.
I like to print mine on cardstock since the paper is sturdier and thicker, but regular printer paper works too.
Once you have printed out your tags cut them out.
If you are using the Bag Toppers you will fold them in half horizontally. Place your Pop it in your cellophane bag and seal it closed. Place the bag topper on top and staple it to the cellophane bag. Instead of staples, you can use double-sided tape.
If you are using the gift tags you'll punch a hole in the top corner and place the keychain ring through the hole.
Add names to the tags/toppers.
Simple, Easy, and Fun!
Free Printable Valentine Pop It Gift Tags and Bag Toppers
There are 3 size options available for gift tags and bag toppers and 3 designs available. All designs come in the PDF file.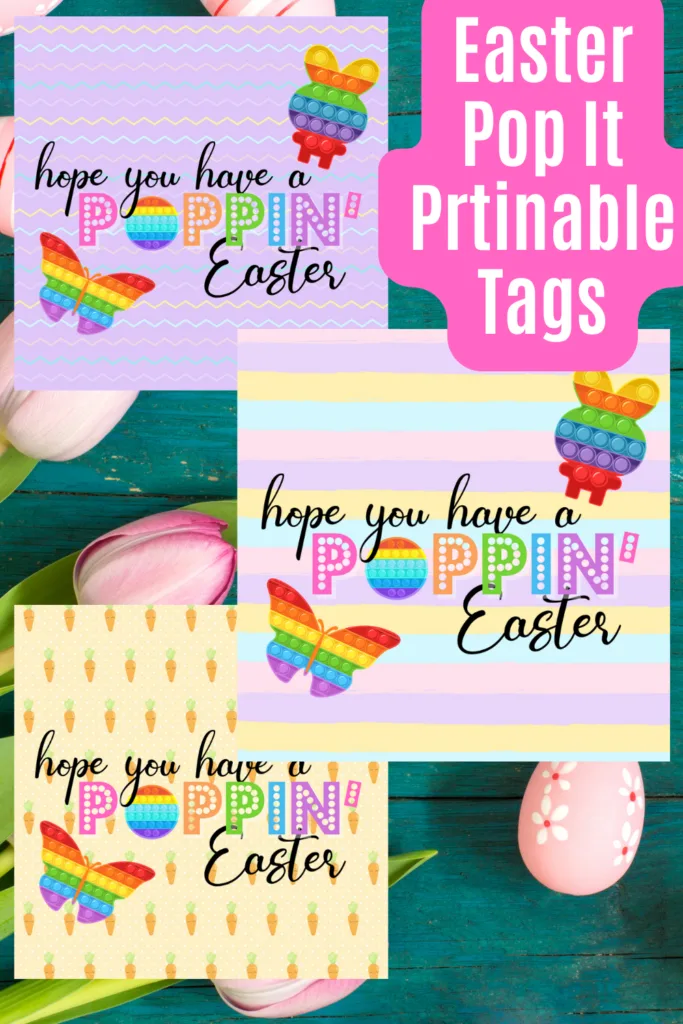 Gift Bag Pop It Toppers – The Pop It cellophane bag toppers are sized to fit a 4×6 inch or an 8×10 inch cellophane bag. There are 2 toppers per pdf page. Print out as many copies as you'll need.
Gift Tag Pop It Toppers – The Pop It gift tags come with 6 tags per page and are sized 3×3 inches. Print out as many copies of each page as you'll need.
Pop It Gift Tags and Toppers free printables are for personal use only and can not be altered, sold, or redistributed.