Pop It Valentine Printable. Pop Its are one of the hot kid's toys. They're all the rage with elementary-aged kids and tweens. Pop Its fidget toys for kids are fun to play with, come in a variety of shapes and sizes, and Pop Its make the perfect Valentine's Day gift for kids. Pop It Valentines are easy to put together, affordable, and a nice candy-free and allergy-friendly class valentine option!
Pop It Valentines for Kids
Are your kids into Pop Its? My younger 2 are and so are a lot of the kids in their school. So giving out Pop Its for Valentine's Day to the class seems like a fun, simple, and easy gift to give. Plus it lets the kids who don't have one finally get one.
Pop Its are also great if you're avoiding candy or treats and they work when there are allergies in the classroom. Besides, Pop Its are just fun, and what kid doesn't want something fun to play with at home? Valentine Pop Its are the way to go!
Where to Buy Pop Its for Valentine's Day
Pop Its are popping up in stores all over. You can find them at places like Target, Walmart, and more. I got my bulk Pop Its from Amazon. They had good prices, quick shipping, and I was able to find the keychain sized Pop Its.
What Pop Its to Use for Valentine's Day
In honor of Valentine's Day we went with Heart Pop Its, but they come in so many different shapes and sizes that are perfect for giving on Valentine's Day. Here are some fun shapes available in keychain sizes for Pop Its.
Pop It Valentines for Classrooms
Once you pick out which Pop Its your kid(s) will be giving out you'll need to decide how to package them. I am offering 2 types of Free Printable Pop It Valentine Gift Tags. I have a gift tag option which you just need to punch a hole in or you can use the treat bag topper. For the treat bag topper you'll need 4×6 cellophane bags. In the treat bags you could also add a couple pieces of candy. I like to get the self-sealing cellophane bags.
Here's what you'll need for Pop It Valentine gifts
Free Printable Gift Tags (download via the box below)
Pen or Marker – to write names
Hole Punch – if using the gift tags. You can even get fancy and use a heart shape hole punch.
Cellophane Bags – If using the bag topper.
Scissors or a Paper Cutter
Stapler or double sided tape – for cellophane bags.
Cardstock or regular printer paper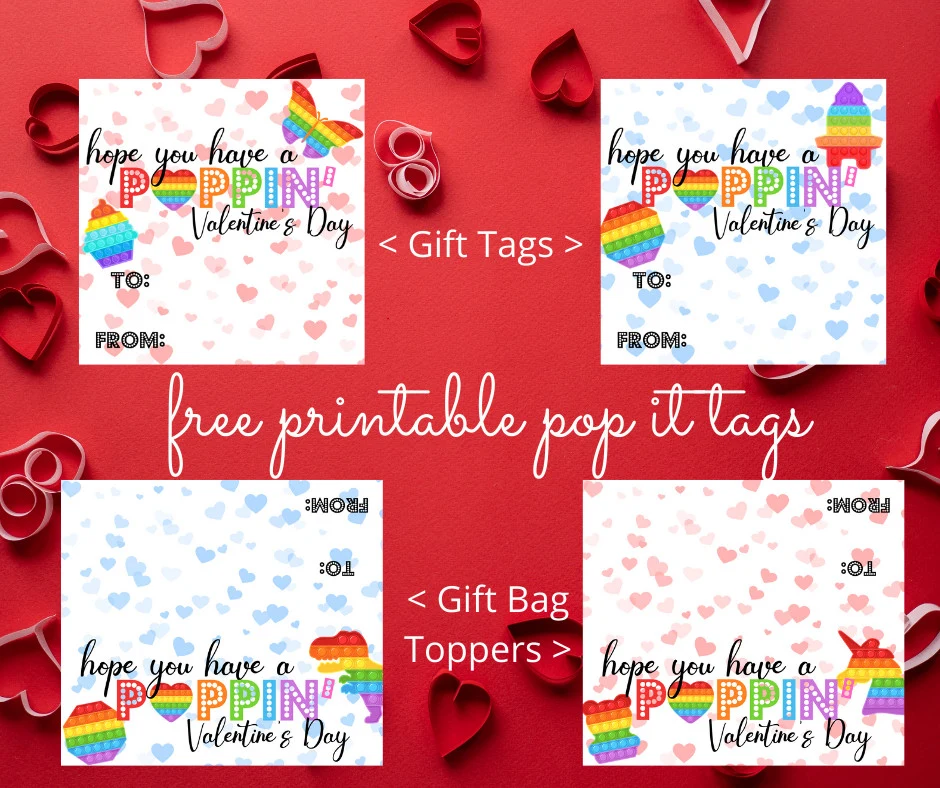 How to Make Pop It Valentines for Kids
To make your Valentine Pop Its you're going to download the free Pop It gift tags. You can download the Pop It gift tag PDFs via the box below.
I like to print mine on cardstock since the paper is sturdier and thicker, but regular printer paper works too.
Once you have printed out your tags cut them out.
If you are using the Bag Toppers you will fold them in half horizontally. Place your Pop it in your cellophane bag and seal it closed. Place the bag topper on top and staple it to the cellophane bag. Instead of staples, you can use double-sided tape.
If you are using the gift tags you'll punch a hole in the top corner and place the keychain ring through the hole.
Add names to the tags/toppers.
Simple, Easy, and Fun!
Free Printable Valentine Pop It Gift Tags and Bag Toppers
There are 2 options available for gift tags and bag toppers. Some with a blue heart's background and some with a pink/red heart's background. Both colors come in the PDF file.
Gift Bag Pop It Toppers – The Pop It cellophane bag toppers are sized to fit a 4×6 inch cellophane bag. There are 2 toppers per pdf page. Print out as many copies as you'll need.
Gift Tag Pop It Toppers – The Pop It gift tags come with 6 tags per page and are sized 3×3 inches. Print out as many copies of each page as you'll need.
Pop It Gift Tags and Toppers free printables are for personal use only and can not be altered, sold, or redistributed.