The holiday season is upon us and it's my favorite time of year because of all the Christmas traditions for kids. Fun holiday traditions for kids are a must and there are so many great ones to start doing with your kids. Traditions look different for every family, but they bring joy, love, and happiness into your home and it's something for everyone to look forward to each year. Here's your guide to fun family holiday traditions.
So if you're looking for family traditions for kids look no further because here are some new ones your family could fall in love with.
39 Fun Family Holiday Traditions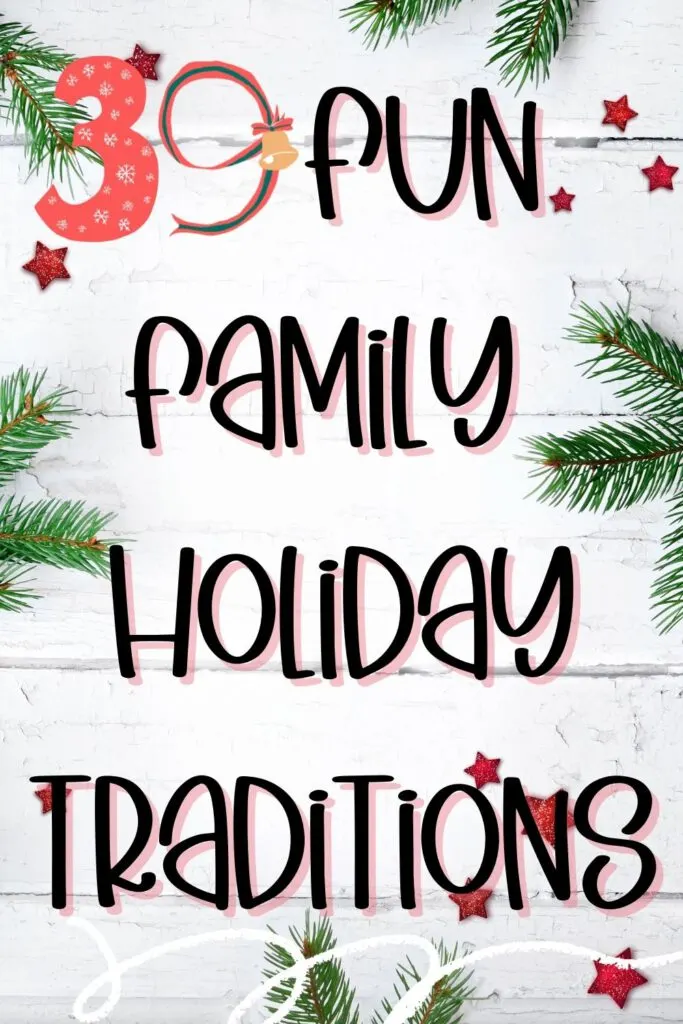 4 Gifts Rule
Have you seen your child lose the sparkle in their eye as they open gift after gift during the holidays? Gift burnout is so common with children! Or do you have a pile of gifts that were only used once? This year, avoid that by only doing a maximum of four gifts per child. Do one gift in each of the following:
Making the four-gift rule will help your child learn that sometimes less is more. They will be more grateful for what they received and use each item more than if they had more gifts. This is one way to have a minimalist Christmas!
Secret Santa
This is one way to teach your child that not everyone is fortunate during the holiday season. Have your child observe their classroom or group of friends and find one family who is struggling this year. Then have your child come up with a gift or two ideas for each member of the family. Put the gifts on the doorstep and run away!
Have your child complete every step during this entire process, so they truly learn how to give and help those in need. This will build empathy and compassion in your child, along with a love for service.
Elf on the Shelf
My kids have grown to love the Elf on the Shelf tradition we started a few years ago and they look forward to it each year now. Learn more about Elf on the Shelf and fun things to do with it here.
Christmas Eve Boxes
Christmas Eve Boxes are another fun thing I like to do for my kids. They can be done anytime during the month of December, but I like to give them out on Christmas Eve as an early Christmas gift. Learn more about Christmas Eve Boxes here.
Random Acts of Kindness
Instead of receiving gifts during the 24 days of Christmas, give your child random acts of kindness each day. This will show them how much you love them.
You can also have your child get in on the action too! Have your child complete the random acts of kindness for the people in their lives and enjoy watching your child light up as they serve others.
Homemade Gifts
To help your child improve and find their talents, have all the gifts this year be homemade! This will help your child to focus on each person and make personalized gifts. You will be amazed at what they come up with, and they will be proud of their accomplishments!
Cooking Activities
Part of what everyone loves about Christmas and the holiday season is the wonderful dishes and desserts. This year, let your child in on the action! They will love to help out and learn all about cooking. Plus, it will prepare them for when they move out and live on their own! One of the ways we cook together during the holidays is making treats for neighbors and Christmas Eve cookies.
Experience Gift
Instead of physical gifts, get your child some type of experience! You could sign them up for a sport they want to play or get them piano lessons. Or take a family trip somewhere as your gift! Children will learn it is not about the presents they get but the time together as a family. Most often, these experiences are remembered way more than the physical gifts they receive.
Advent Book Calendar
Advent calendars are so much fun during the holidays. Growing up we would get the ones with the chocolate in them and I couldn't wait to get mine each year. In addition to those, we love to do the advent book calendar. You can use books you have around the house already or add new books to the pile, but you wrap 24 books and each night you unwrap one and read it together on the 24 days leading up to Christmas. Learn more about Advent Book Calendars here.
Cookie Decorating Competition
Make a lot of cookies and invite friends and family over. Each person gets one cookie to decorate. In the end, line them up and have everyone vote for their favorite one. The cookie with the most votes wins! It is a friendly competition to get into the holiday spirit.
Volunteer
Choose a charity or event that takes volunteers and go with your child. Some examples include:
Soup kitchen
Food bank
Toys for Tots
Church event
Salvation Army
Make a Wish
Holiday Lights
Decorate your house together as a family. If you are brave, make the lights twinkle to the beat of some fun Christmas music too! Let your child get creative and design the whole thing. Not only will they feel important, but you will draw closer as a family.
Holiday Lights Competition
Drive around neighborhoods in your area and look at all the pretty Christmas lights. Pick a favorite house, by voting together, and leave them a nice card saying how much you enjoyed their light display. You could even add a small gift card to somewhere local as a winning prize.
Forest Tree
This year go get a Christmas tree on the mountain! Make sure it is a Christmas tree farm where you can cut a tree. Let your kid pick out the tree and work together to cut it down. Your child will feel so proud of your Christmas tree.
Sleepover by the Tree
One night before Christmas, have a sleepover out by the Christmas tree. Leave the lights on if you can! Your child will have so much fun being out by the tree all night long with you and their siblings.
Declutter Toys
Have your child declutter their toys and clothes before Christmas time. This year, let your child take the lead. Let them choose what to keep and what to donate. This will teach them to learn how to let things go and be okay with things changing.
Caroling at the Senior Homes
Many senior citizens don't get many visitors, especially during the holiday season. Take your kids caroling at the senior homes this year. Interact with the seniors if you can and watch as your kids learn to care for their elders.
White Elephant Service Exchange
Instead of doing gag gifts that don't last, have a white elephant service exchange. Have each person write down a service they will give someone. Exchange like you would normally, then enjoy the service you receive!
New Ornament
Get your child a new ornament each year. Then, when they become an adult and move out, they will already have their own set of ornaments. Enjoy finding unique and decorative ones! They will be wonderful memories to pass down through the family. You can even have your Elf on a Shelf bring the ornament close to Christmas.
Do Something Local
There are a few local events we love to head to each year like Santa's Arrival Breakfast at a local mall, Christmas shows, and events, and much more. Find a new local event to check out and turn it into a yearly tradition. Or make the tradition that you try out a new event each year. If you're local to Denver, Colorado check out my list of must-visit local events for families at Christmas.
Visit Santa
Visit Santa and get a new family picture. If you're local to Denver we love the Santa's at Cherry Creek Mall, Park Meadows, and Flatiron Crossings.
Make Christmas Cards
Make Christmas cards and send them to troops overseas, hand them out at a local nursing home, or drop them off at a local hospital for patients.
Decorate a Gingerbread House
Whether you make the gingerbread house from scratch or buy a store-bought kit it's such a fun tradition to do. You could even turn it into a competition to who decorates the best gingerbread house.
Make a Christmas Bucket List
Make a bucket list of things you want to do together as a family over the holiday season. Each member of the family can add something to the list or you can use this free printable Christmas Bucket List.
Have a Family Game Night
Make holiday snacks, drink cocoa, and play family games together. Get a Free Printable Christmas Bingo.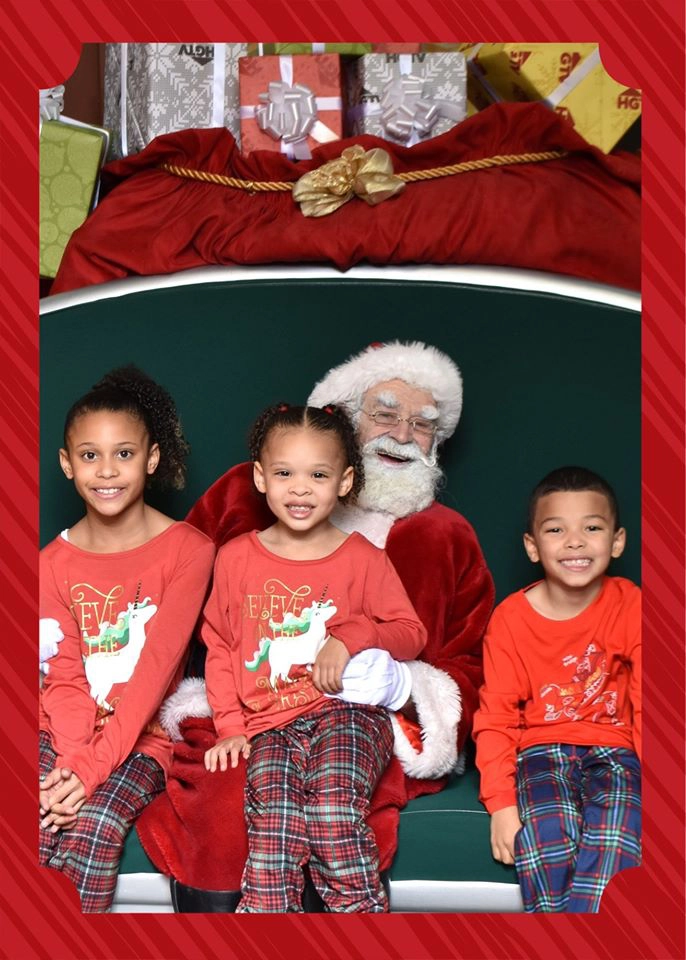 Have an Ugly Christmas Sweater Party
Use an old sweater or buy some cheap plain sweaters and decorate them. You can use things you find around the house, from the craft store, or from the dollar store. See who can make the ugliest sweater.
Christmas Movie Marathon
Have a Christmas movie marathon with each person picking a movie to watch.
Write Letters to Santa
Spend time writing letters to Santa and then drop them off at a local Santa Dropbox (check your local mall).
Holiday Crafts
Do a holiday craft together. Make paper snowflakes to hang around the house, popcorn garland, paper chains, and so much more.
Take a Trip to the Snow
Do you live within driving distance to a snowy area? Take a day or weekend trip to the snow and go sledding, build snowmen, and enjoy a weekend in the snow (if you don't live where it snows).
If you live where it snows spend some time out in the snow sledding, having snowball fights, and building snowmen.
Have a Snowball Fight
Whether you live where it snows or not you can have a fun family snowball fight. Indoor snowball fights are becoming more popular with many retailers selling indoor snowballs now. Make your own snowball fight buckets or buy just the snowballs.
Cultural or Religious Traditions
If you don't have any cultural or religious traditions or know what they are look into them and start doing some of them. This can include foods, ways to celebrate, sharing stories, ect.
Start a Holiday Village
Start a Holiday village and each year add a new piece or 2 that you pick out together as a family.
Christmas Pickle
Here's how a Christmas Pickle works. You buy a Christmas Pickle ornament and it gets hidden in the Christmas tree. The person who finds it is supposed to get an extra gift, but you could also make it to where they get to pick the family movie, pick dinner, ect. Make it your own fun tradition.
Make Reindeer Food
Make Reindeer food together on Christmas Eve and sprinkle it on the lawn. It's supposed to help the reindeer find your house better. Reindeer food is dry oats and candy sprinkles mixed together.
Matching Pajamas
This is one of my favorite traditions for our family. We all get matching pajamas for the year and wear them on Christmas Eve/Christmas Day.
Christmas Eve Dinner
Pick a meal and serve it each year on Christmas Eve. It can be anything your family likes. Growing up for us it was McDonald's. My mom's car broke down at a Mcdonald's on Christmas Eve when we were little and we went inside to wait and have dinner. After that, we had it every year. You could order delivery, cook, etc. It could even be a dinner of snack-type foods!
Get a Letter from Santa
Have Santa send your kids a letter. We've used Santa Letters before.
Make Ornaments
Make new ornaments each year together. Salt dough ornaments are easy and fun.
Traditions are so much fun, especially during the holiday seasons, but it is always exciting to create new traditions every now and again. Try one of these fun holiday traditions this year and watch as your child lights up! What are your favorite family holiday traditions? Will you be picking up a new holiday tradition this year?