If you're looking for fast, quick, easy, and simple elf on the shelf ideas this post is filled with lots of easy Elf on the Shelf Ideas. 36 cheap, quick and easy Elf on the Shelf ideas.
The Elf on the Shelf will be making a return to many households on the 1st December and with that comes the immediate panic and overwhelm for all parents. While the Elf on the Shelf is a great tradition to have during the festive period, it does add an extra thing for parents to do. Some, of course, like to have big setups with the elf and be a little more elaborate, whereas others simply move the elf about. However you choose to embrace this tradition, there are a few things that we can all have in common.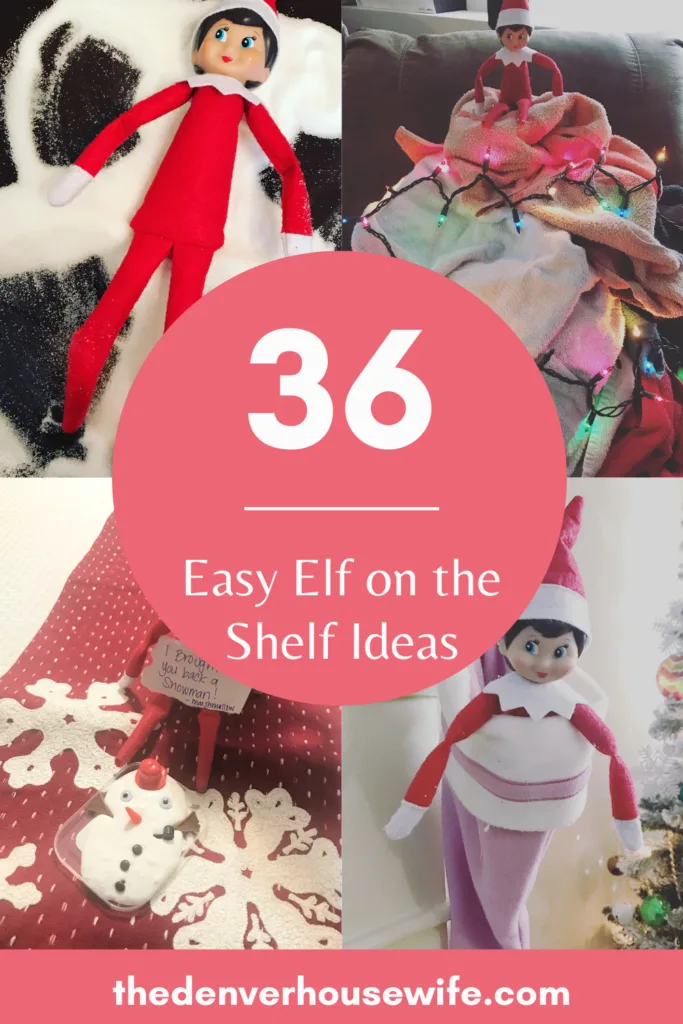 The moment when you wake up and realize your elf hasn't moved from the day before. Or being organized and doing it in the evening but finding yourself a little short on time. Relax! I have found some excellent options to consider. So without further ado, here are some of the elf on the shelf ideas for when you are short on time.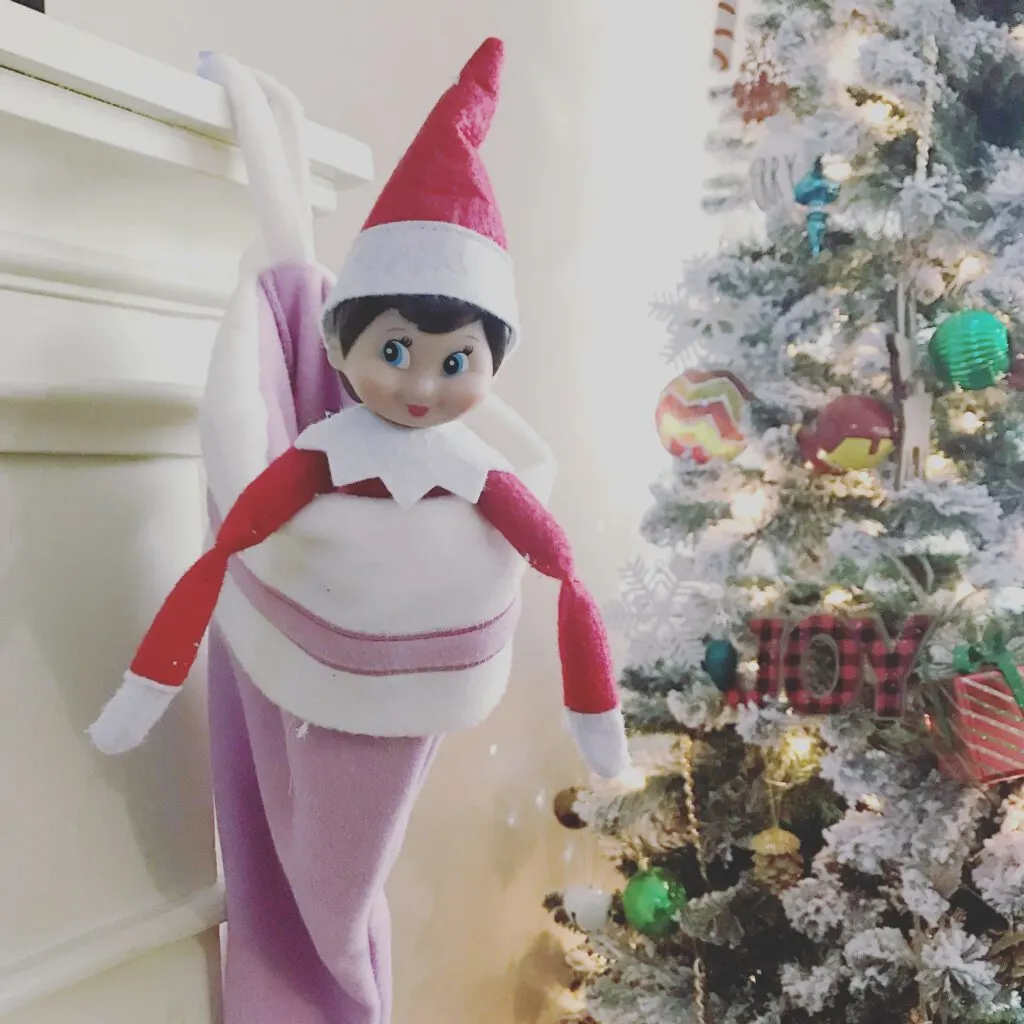 The kitchen has an abundance of options
First of all, think about using the kitchen. This is a place with cupboards, a refrigerator, a freezer, and plenty of drawers where your elf can hide or be sat waiting to be discovered. Lay your elf down in the silverware drawer where your child or children can open it up to get some cutlery to eat their breakfast and discover the elf. Maybe they could be sitting in the freezer or hugging the milk carton in the refrigerator. You could also set them with the cookie jar. Crumble a cookie around them and it looks like they have been up to no good. The kitchen is a great resource if you are short on time.
Have the elf attempt to make breakfast
Sticking with the kitchen for a moment you could take it one step further and have your elf preparing breakfast for your child or children. They could spill the cereal on the countertop, spill some milk or attempt an elf breakfast which is full of sweets and sugary treats. This one is a real crowd pleaser and takes little time to set up. The kids think the elf has been up to no good and will likely find the whole scenario funny.
Drawing all over the fruit
Another easy option to consider in your kitchen is to draw funny faces on the fruit. If you have any googly eyes stickers these will be great to use at this time. If not a sharpie is just as good. Draw minion faces on bananas or get a little creative. Do it on fruit where you don't tend to eat the skin such as oranges or bananas. Even lemons and limes can get in on the action.
Send them for a nap
Sometimes the simple ones are very effective, so why not send the elf for a nap? Place them inside a tissue box and use a few tissues folded over like a pillow. You could even leave a quick note to say that they are tired from all the traveling and that your child or children need to be quiet and good while he gets some rest.
Trap the elf in a glass
This is by far one of the most simple options to consider. Get a glass and trap your elf inside it. Write a little note that says help and stuff it inside so that your child or children can see. If you want, you could also get a little more creative and use some toys as if they have trapped the elf in the glass. Or vice versa, trap a toy in the glass and pin the blame on the elf. Again a simple scenario that your children will really get on board with.
Setups with toys
Another great option is to grab some toys and a game and set up the elf playing with the toys. A board game is a great prop for this. They could be mid-game, with some counters set across the board. You could even stick a dice to the elf's hand if you have an extra few minutes to spare. If you don't have time to put a board game out then grab a book and set up the elf reading to some of the other toys. This is a lovely one for younger children as it may even encourage them to do some reading themselves. Lastly, setting up the elf with a games console and switching the console on with a game paused is another quick and easy option to consider if you are short on time.
Easy Elf on the Shelf Ideas
Place Elf in the Fridge with a straw sticking out of a drink.
Place Elf in the Christmas Tree.
Wrap the Christmas Tree in toilet paper with the Elf holding the roll.
Place googly eyes on family pictures.
Color a pet with a washable marker and have the Elf holding a marker.
Have the Elf leave a sugary breakfast. You can have items delivered or with grocery pickup. Chocolate milk, donuts, sugary cereal, ect. Elf on the Shelf brand has a few branded foods like cereal, cake, and cookies.
Order new ornaments via Target or Walmart pick-up or Amazon and have the Elf bring new ornaments.
Use an Elf on the Shelf costume.
Draw funny faces on fruit like bananas and oranges.
Have the Elf bring a fun game like Candy Cane Hunt which is a free printable.
Leave notes like these suggestions from Skip to my Lou.
Leave out ingredients to make fake snow.
Swap out the big elf for a mini elf for one day.
Have your elf play an elf sized game. Worlds Smallest has a great selection of elf on the shelf size games.
Place your elf in a bowl of mini marshmallows. It will look like s/he's taking a bubble bath.
Tape your Elf to the wall.
Leave a movie and popcorn out for a movie night, the Elf on the Shelf movie is always a hit.
Place some flour on the counter or table and have your elf make a snow angel in it. Move the elf's legs and arms back and forth like you would.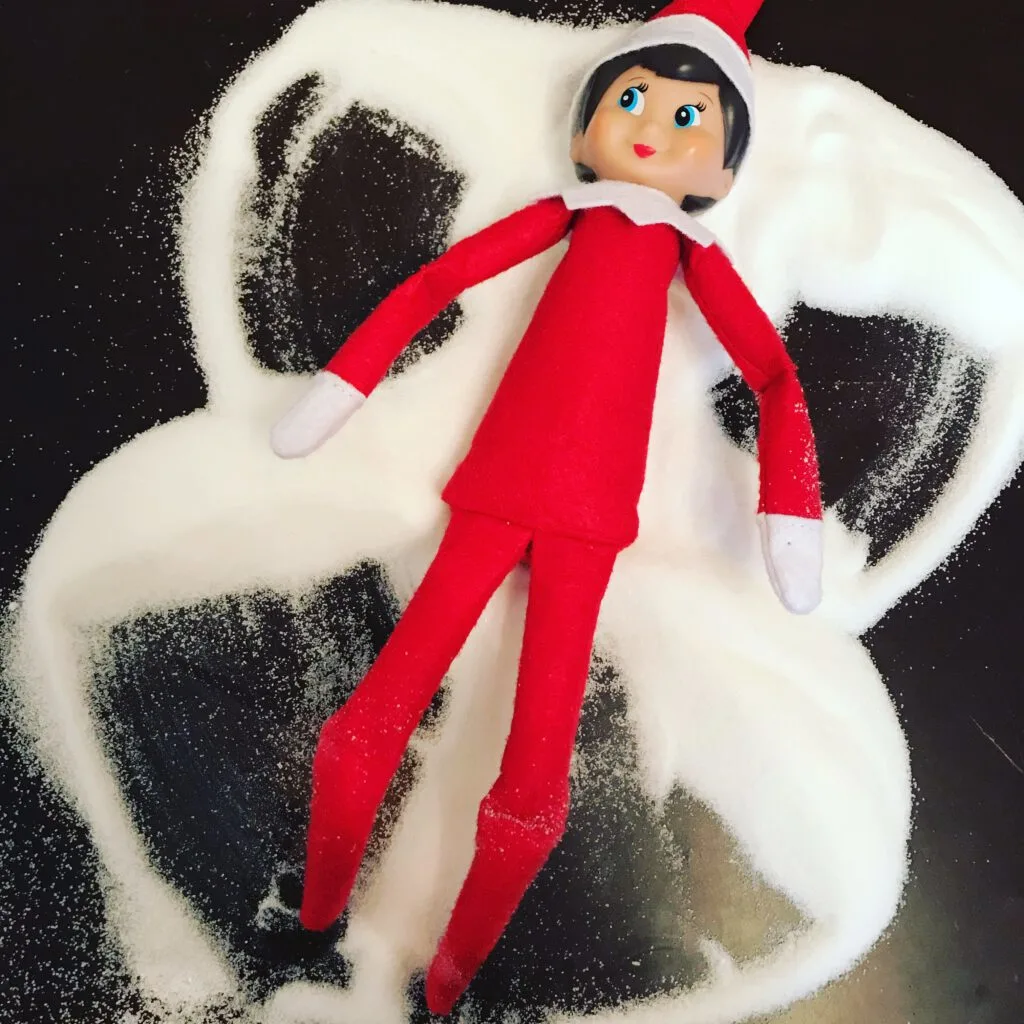 Have the elf draw funny faces on framed pictures. You can use a dry erase marker on the glass.
Check your local Target Dollar Spot, Dollar Tree, ect for cheap and easy props to use like sleighs, snacks, books, games, coloring items, or small gifts your elf can bring your child.
Have your elf bring hot cocoa bombs back from the North Pole.
Have your Elf bring supplies to write letters to Santa like this Santa Letters Kit.
Set your Elf in a pile of toys.
Set your Elf on a pile of clean laundry. You could even toss some Christmas lights on it.
Place the elf in a stocking.
Place your elf in your child's favorite cereal box.
Have your Elf play a video game with a mini Nintendo Switch.
Place your Elf in a dollhouse.
Have your Elf bring gingerbread house kits.
Have your Elf bring back a snowman from the North Pole. This melting snowman is so much fun!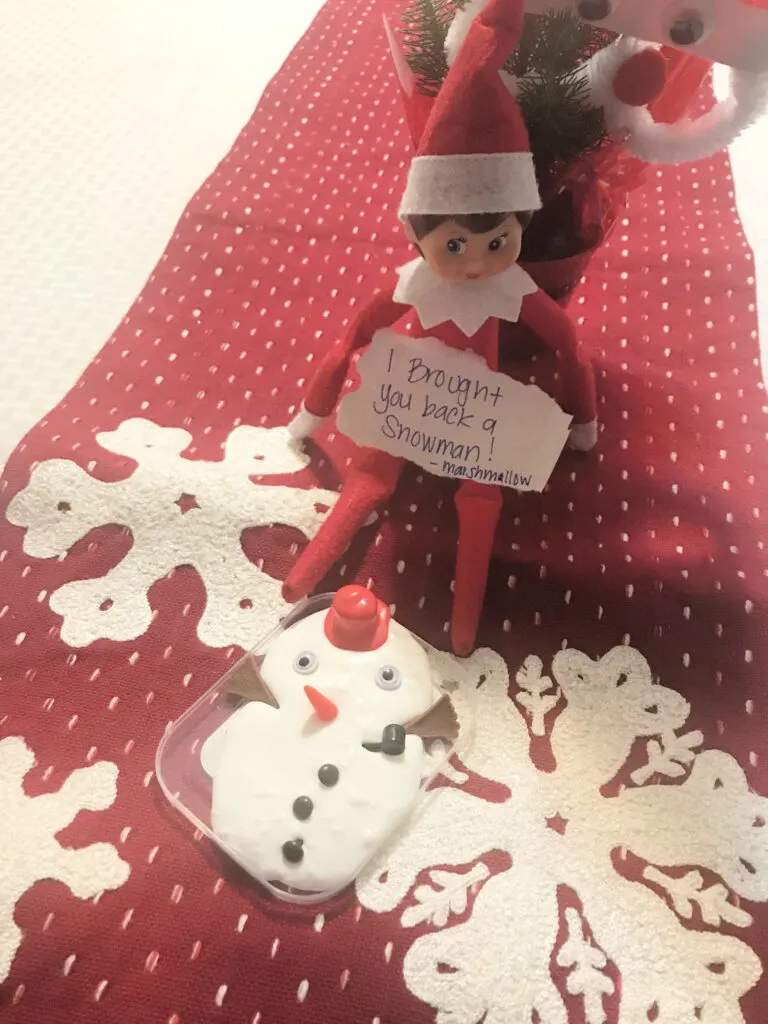 If you have some free time walk around your local Target or Walmart and look for cheap things to place your elf in. You can use ornaments as props, doll house items, and so much more. Here are some of the items I found at Target to help with our easy elf shenanigans:
The best part about using ornaments as props is you can add them to your tree for more decoration.
This post contains affiliate links which means I earn a small comission from links in this post.