Whether you're into Elf on the Shelf or not this 2 ingredient fake snow will give your kids something fun to play with that is easy to make, fun, and can be scented in a variety of ways. Elf on the Shelf snow is the perfect fun sensory activity to bring your kids for the holidays.
The Elf on the Shelf is always getting itself into tricky, silly, and fun situations. This time around it has brought back snow from the north pole that kids can enjoy. This snow can be used in a few ways like in a sensory bin, with cookie cutters, like play dough, and more.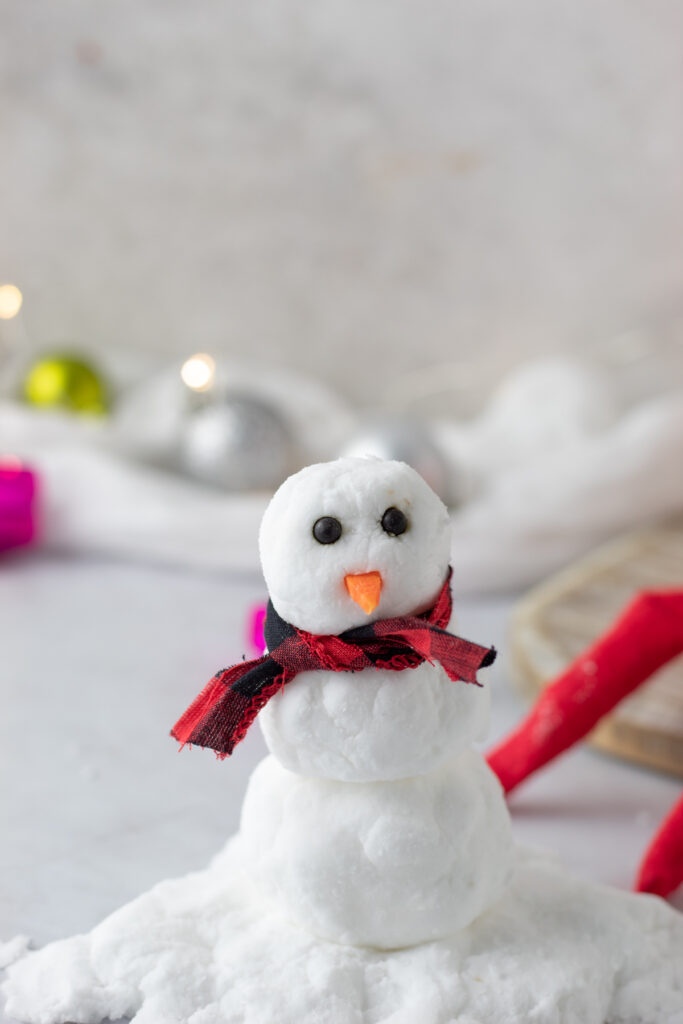 Elf on The Shelf Snow
Elf on the Shelf Snow is fake snow that your elf brings back from the North Pole for kids to enjoy. It's made with just 2 simple ingredients and provides hours of fun for kids. You can even make a variety of different types of snow with different colors and scents using food coloring and essential oils or scented hair conditioner.
2 ingredient play dough snow uses 2 common household items: hair conditioner and baking soda or corn starch. You could also add in white glitter and essential oils for some extra fun.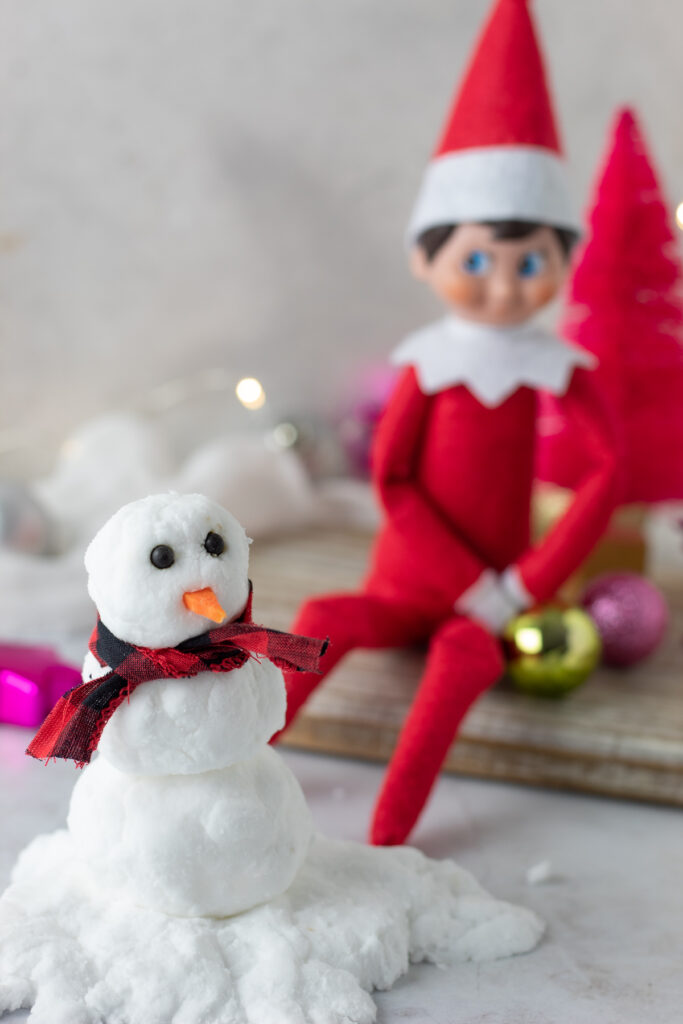 How to Make Scented Play Dough
To make your dough different scents you are going to use an unscented hair conditioner and mix about 10 drops of essential oil into your conditioner. Then maker per the directions below.
Peppermint, Candy Cane, Sugar Cookie, and Gingerbread would be my top picks for making holiday-scented fake snow. This holiday pack of essential oils is perfect and you can use this same recipe to make different colors and scents of 2 ingredient Christmas play dough.
You can also use a scented hair conditioner. Just make sure the conditioner is white.
Holiday Scented Hair Conditioner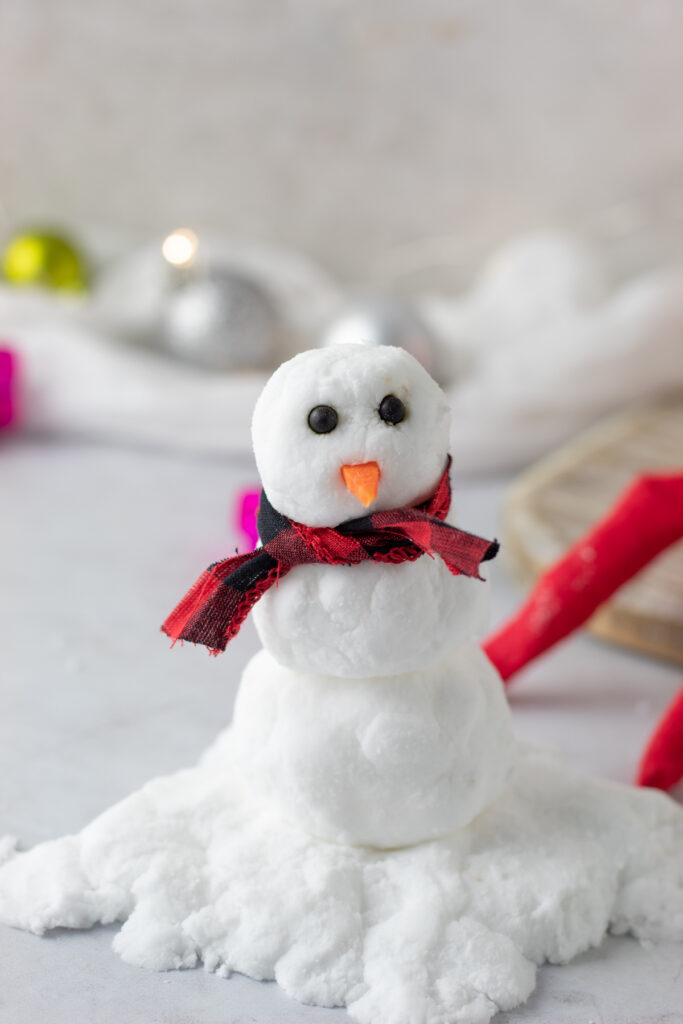 How to Make 2 Ingredient Fake Snow
To make 2 ingredient fake snow you're going to need:
5 Cups of Baking Soda
1 Cup of White Conditioner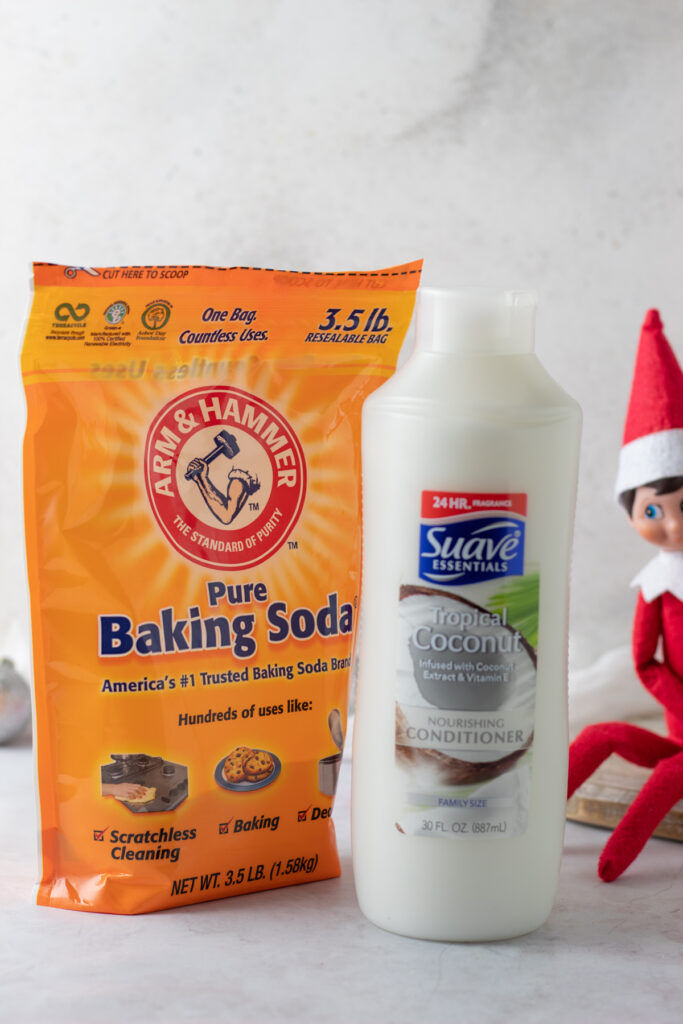 Here's How to Make Elf on the Shelf Snow
This activity takes all of 10 minutes to set up from start to finish.
Measure out your baking soda in a large mixing bowl.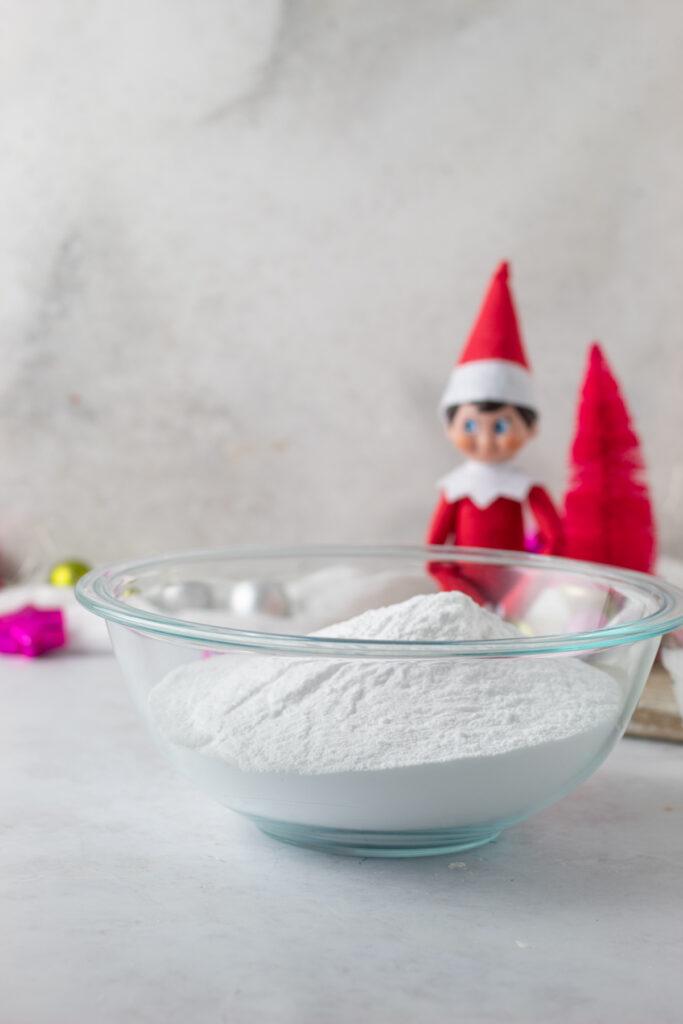 Add in the white conditioner and mix with a fork or your hands until well blended and the mixture holds its shape.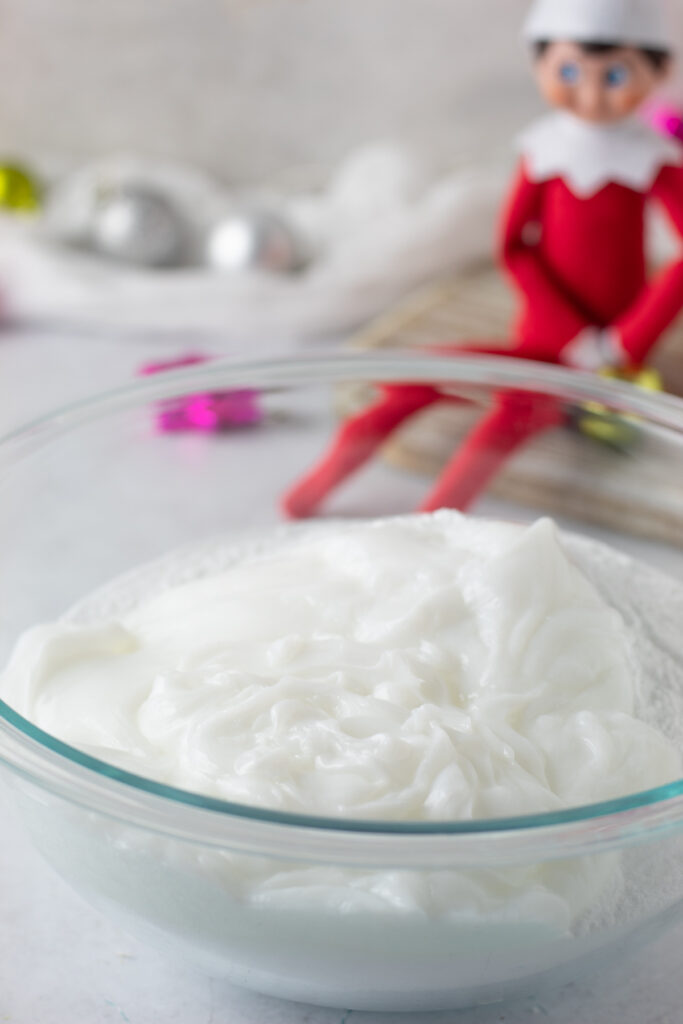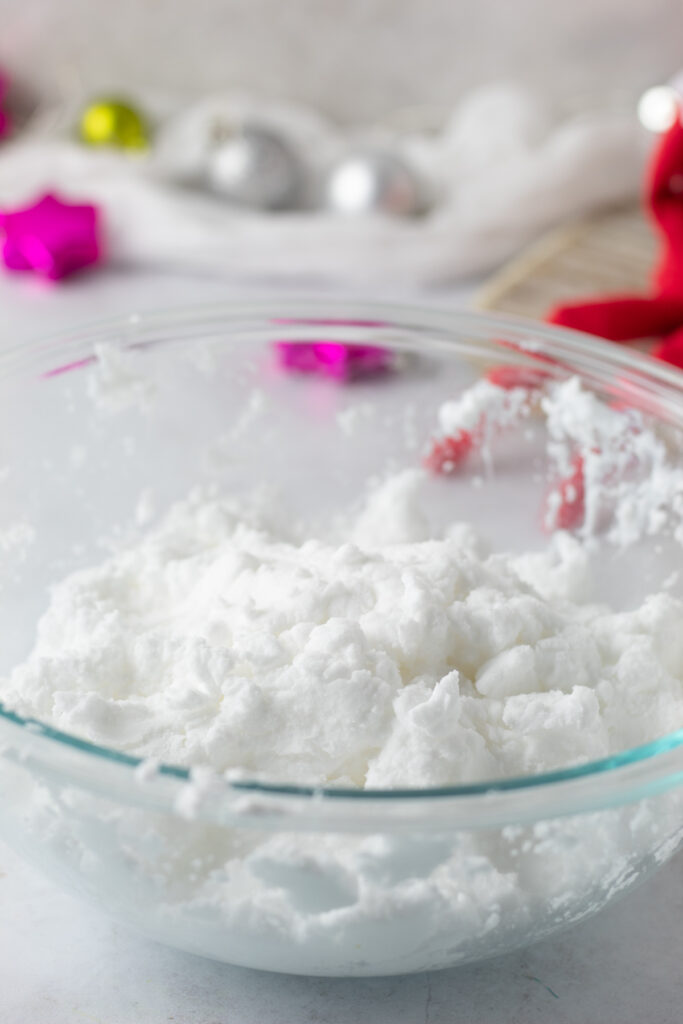 I test it by making a "snowball."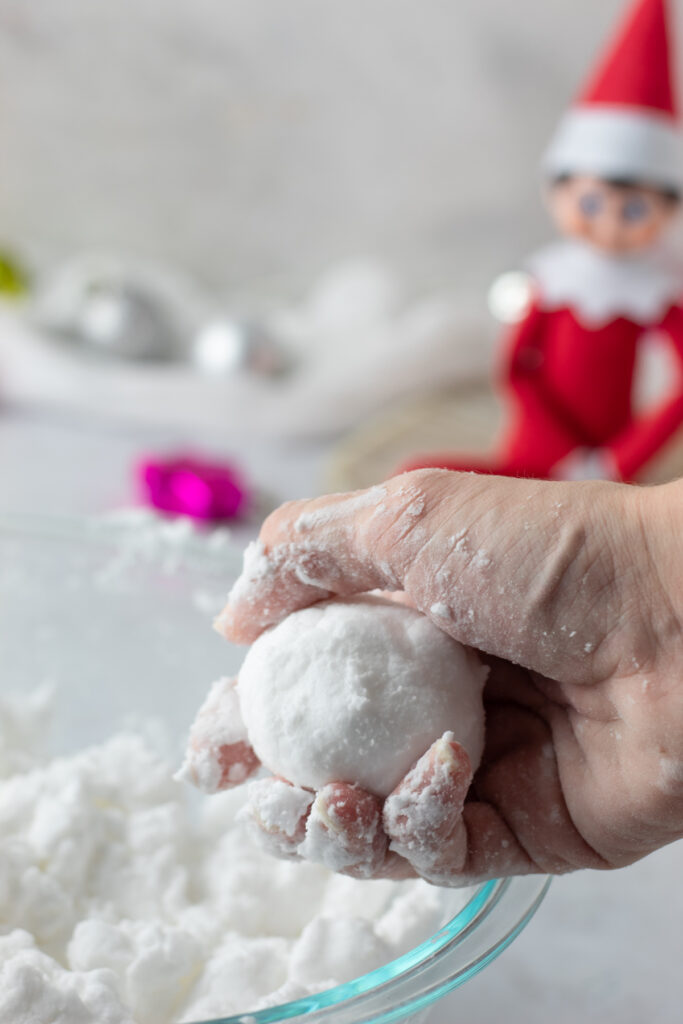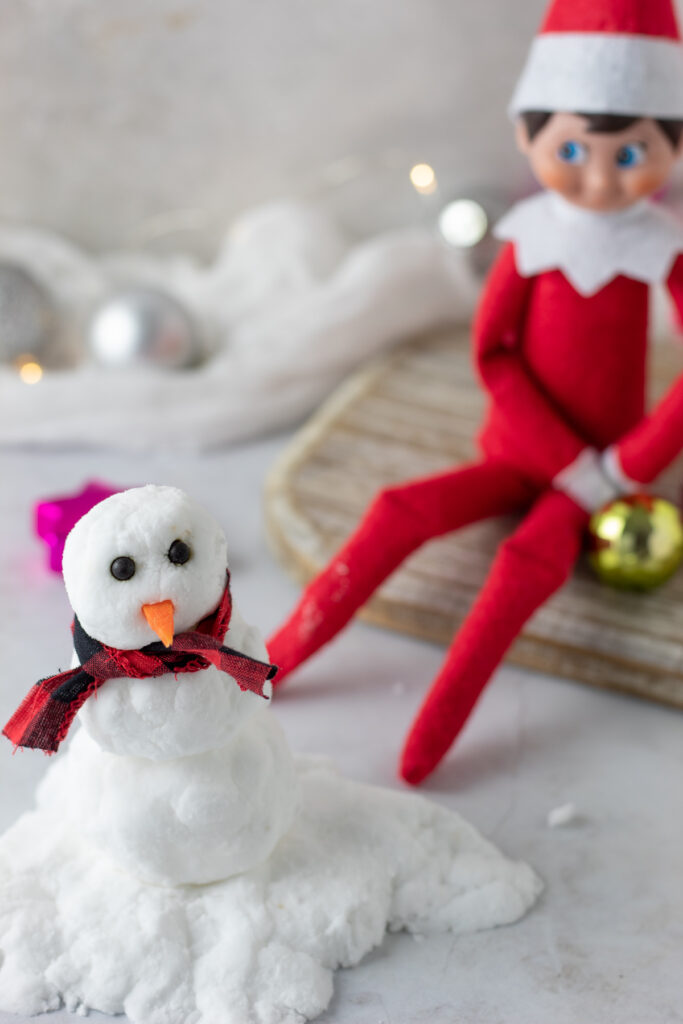 How to Setup your Elf on the Shelf
To set up our elf, we created a fun little snowman next to him. I simply used the snow to create 3 balls, large, medium, and small, and stacked them on top of each other in a typical snowman fashion.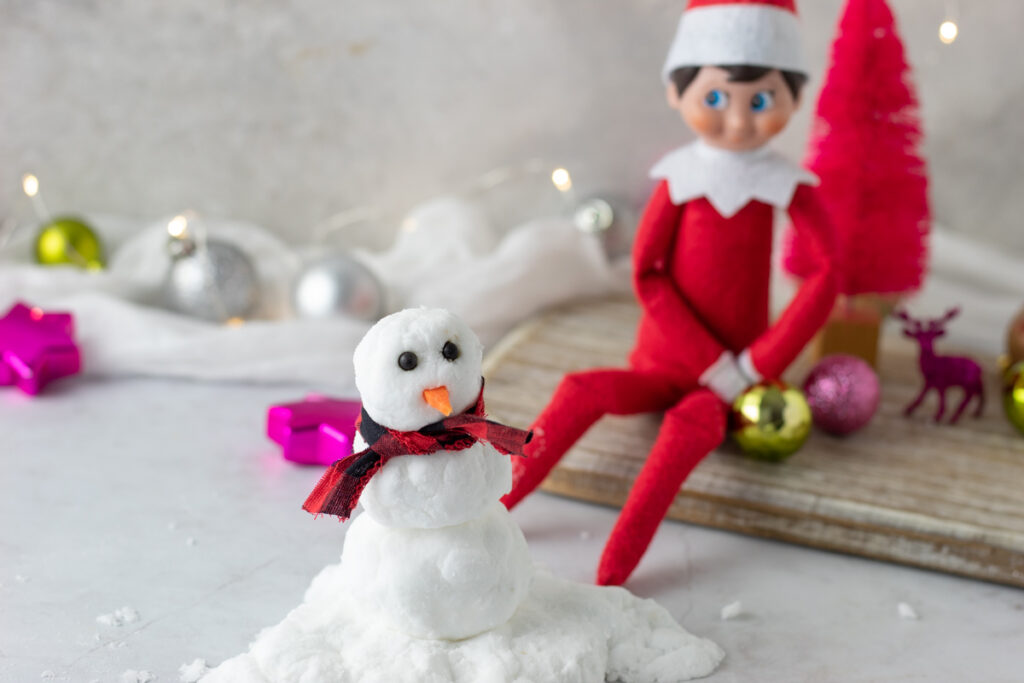 To create the face, I cut a small slice of carrot into a triangle and used two black sprinkles for the eyes. Then we used a piece of fabric to cut a small scarf and you've got yourself an adorable little elf-made snowman.
We then put the rest of the fake snow in a 40qt bin so the kids could play with it while keeping it contained (somewhat) then we added a few fun ornaments, a couple of trees made with pipe cleaners, and a couple of gold spoons which my kids are obsessed with. They also asked to play with the elf's snowman, So I used a flat cutting board to slide him onto and placed him into their bin.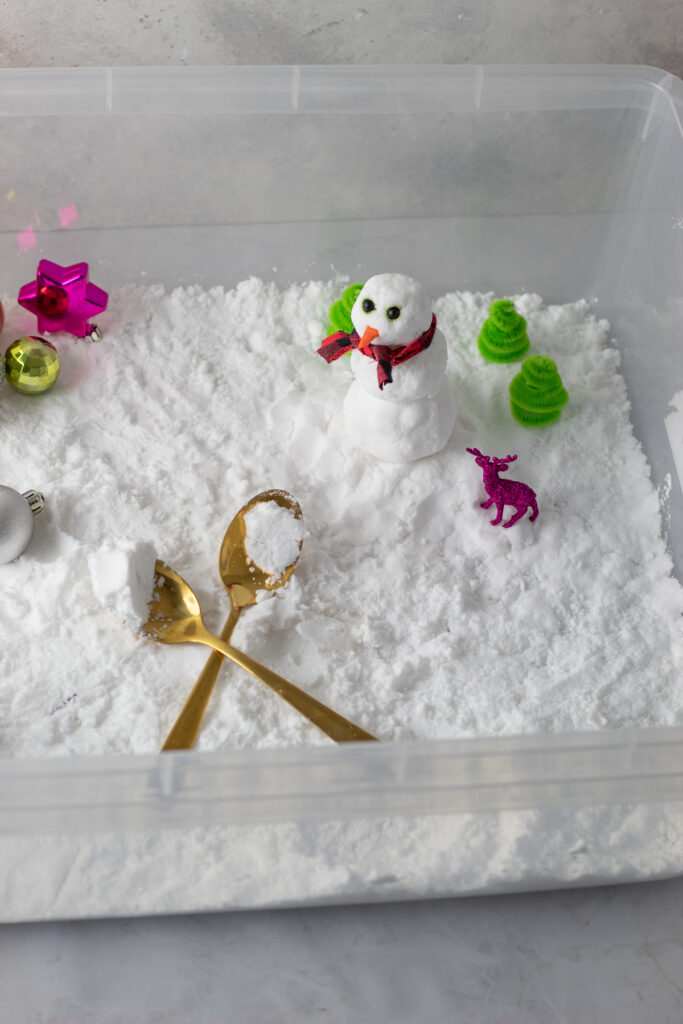 Although we used the sprinkles for eyes, I would suggest beads or buttons instead. I found that after a few hours the sprinkles started to bleed into the snowman's face, creating a little bit of a creepy appearance. Since I had made him overnight, I simply tossed the head and started again with a fresh snowman head which lasted long enough for the play activity.
The snow will dry out after a day or so if left in the open. If placed in a secure bin with a lid it should be good for 3-4 days if kept somewhat clean.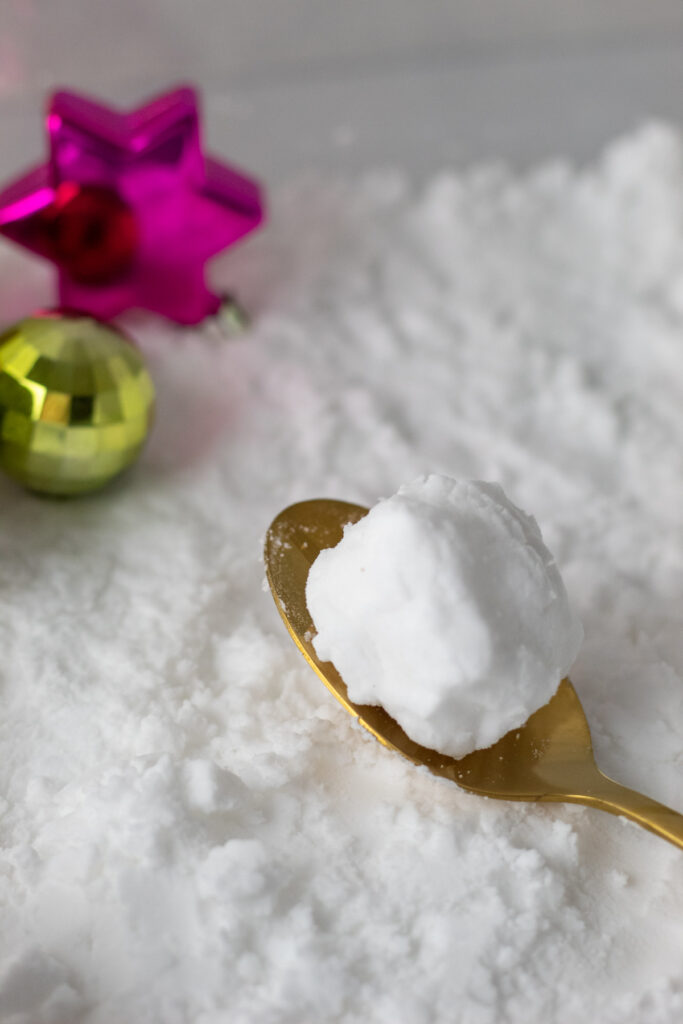 This is a messy activity, but placing a sheet down before play helps minimize the mess, although it's very easy to vacuum and sweep up.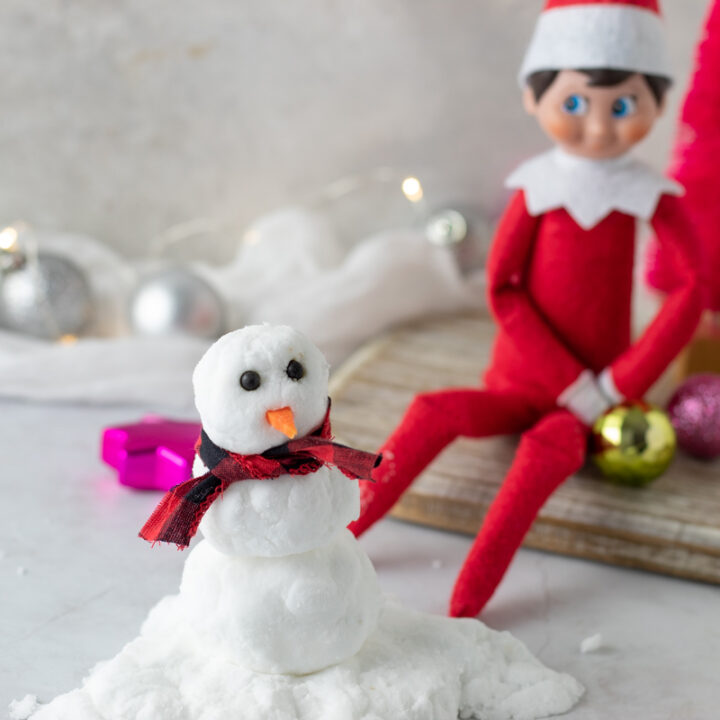 Elf on The Shelf Snow: 2 Ingredient Fake Snow Tutorial
Easy 2 ingredient fake snow for kids to play with.
Instructions
Measure out your baking soda in a large mixing bowl.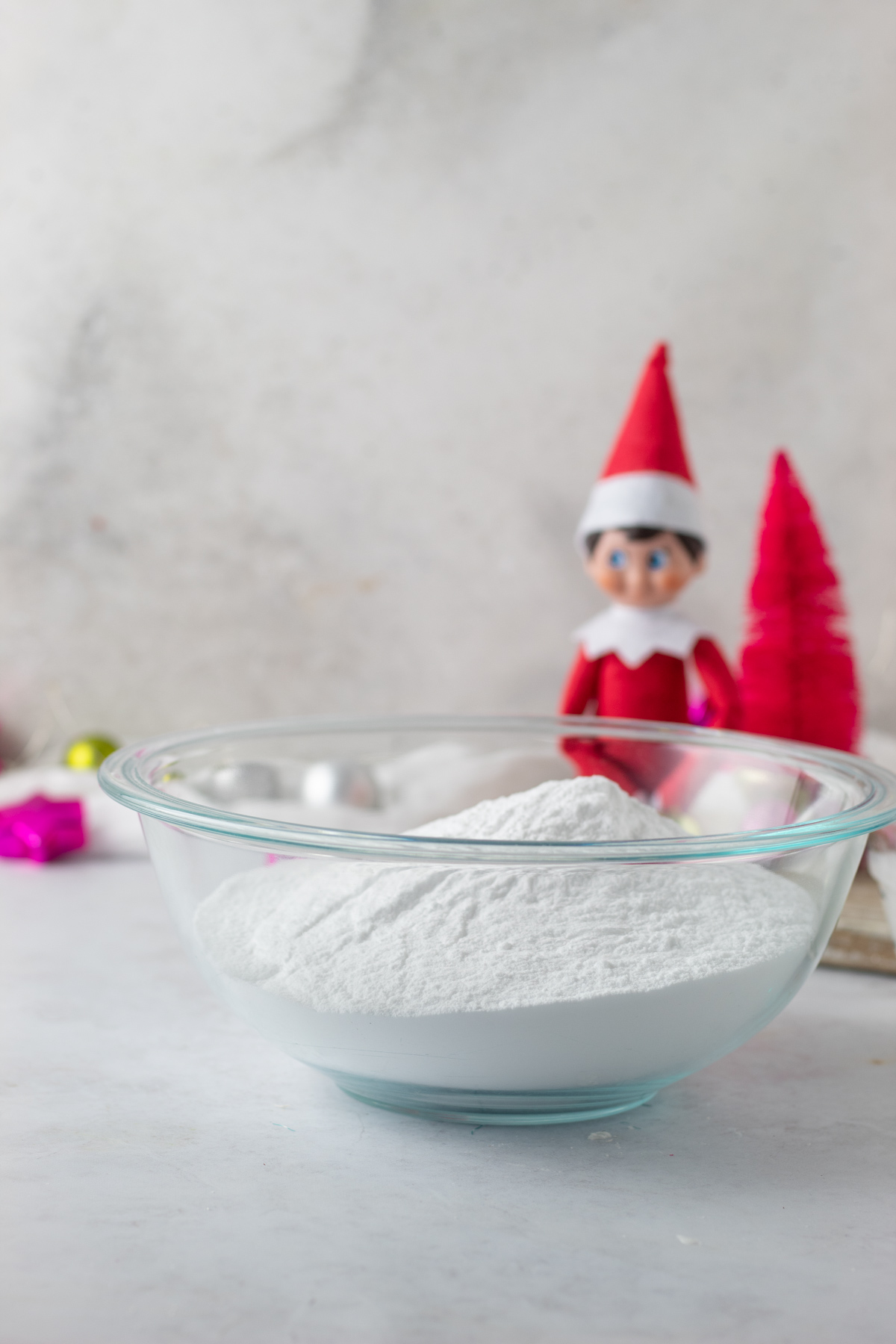 Add in the white conditioner and mix with a fork or your hands until well blended and the mixture holds its shape.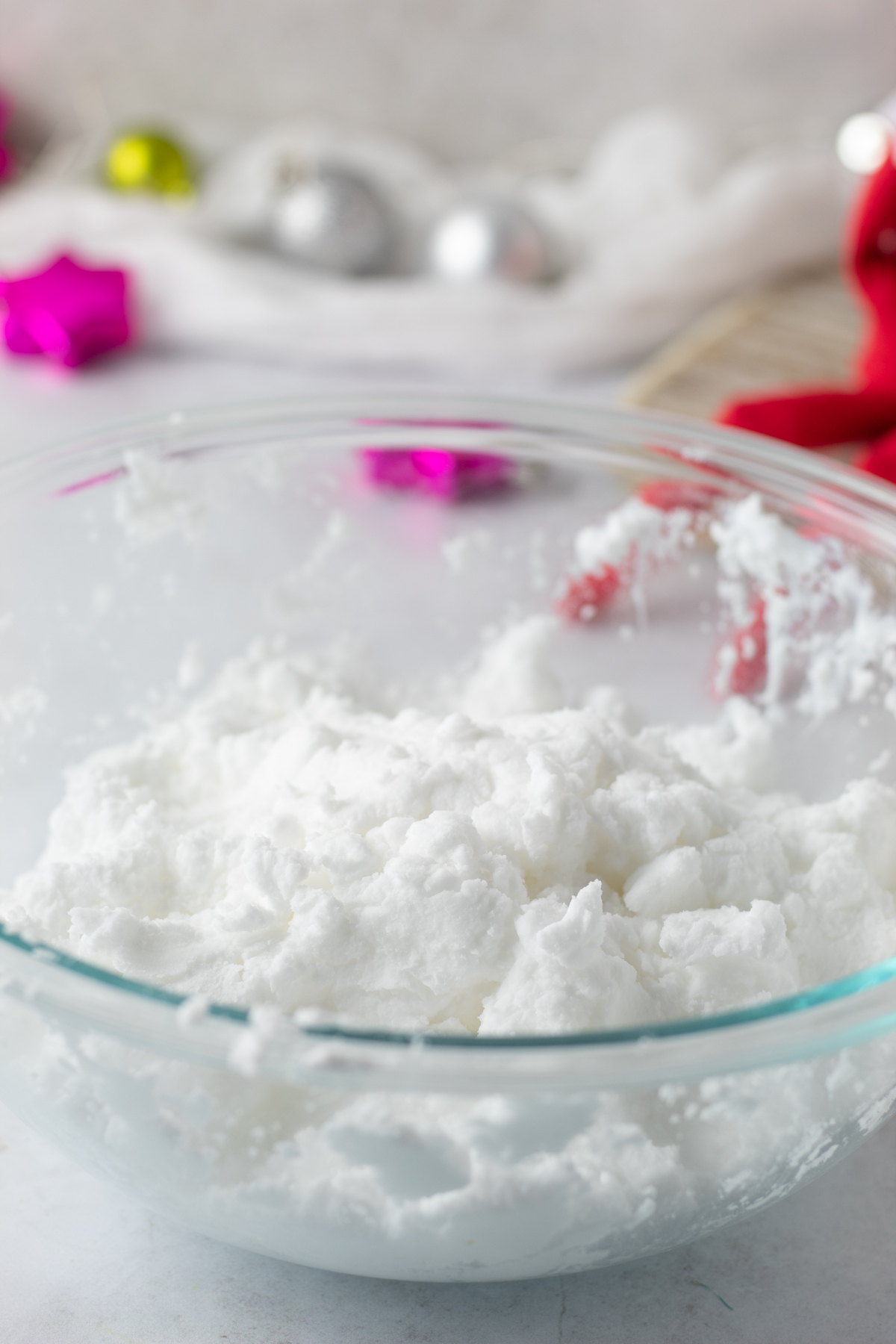 I test it by making a "snowball."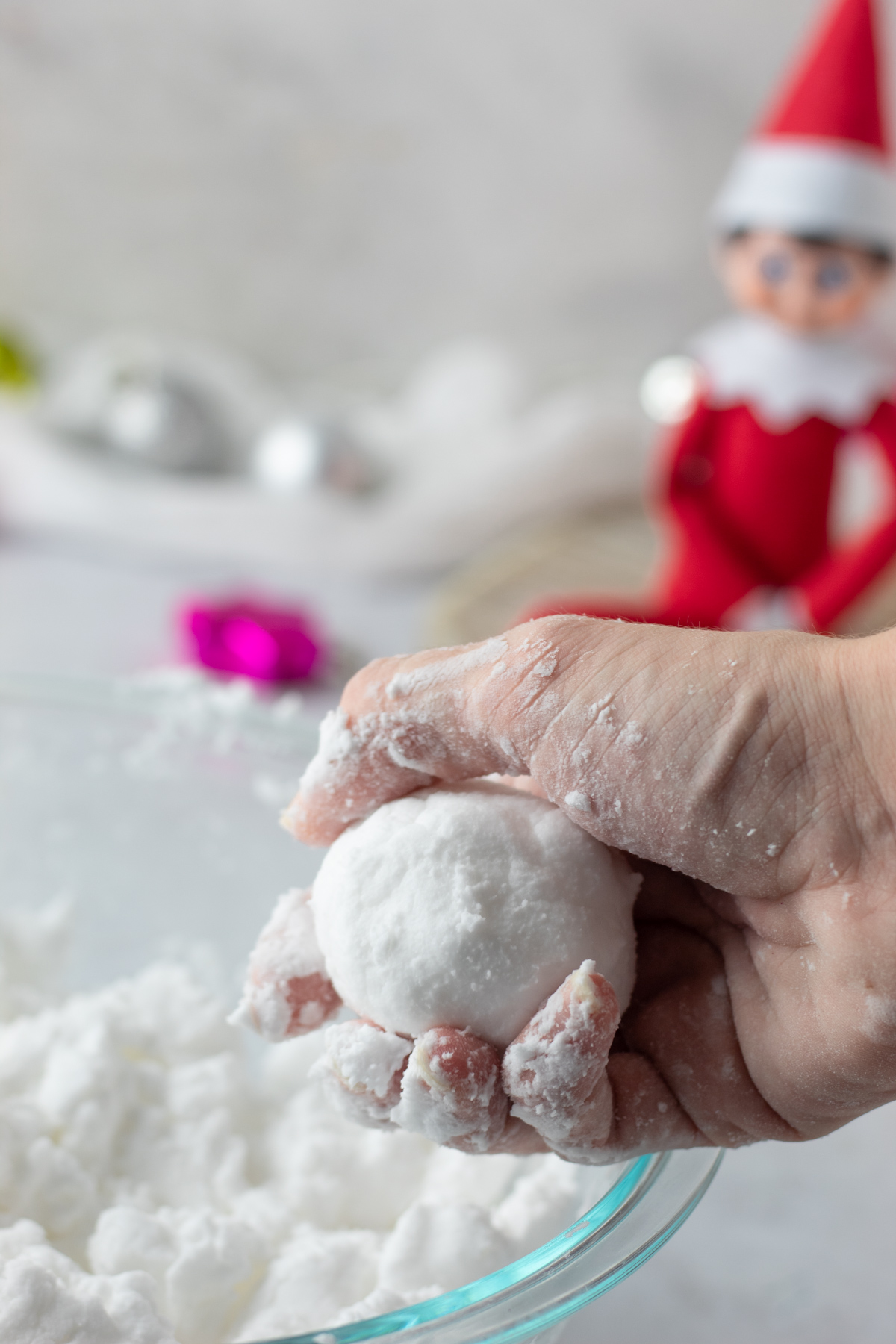 Notes
You can use corn starch instead of baking soda.
Use a white hair conditioner so your snow stays white. You can use any scented conditioner, but a holiday scented conditioner would be a nice surprise.
You can make your own scented conditioner with an unscented conditioner and 10-12 drops of essential oils. Sugar Cookie, Candy Cane, and gingerbread would be fun scents for fake snow.
Store in an air-tight container.