It's pumpkin season in Denver! If you're looking for a pumpkin patch near Denver, free pumpkin patches in Denver, or the best pumpkin patch in Denver check out our guide to Denver pumpkin picking.
If you are looking for the best pumpkin patches in Denver, I have the list for you. I have included the most fun pumpkin patches around and what they include.
Looking for more fall fun in Denver? Check out our list of the Denver Fall Festivals – Denver Haunted Houses – Best Halloween Events for Kids in Denver.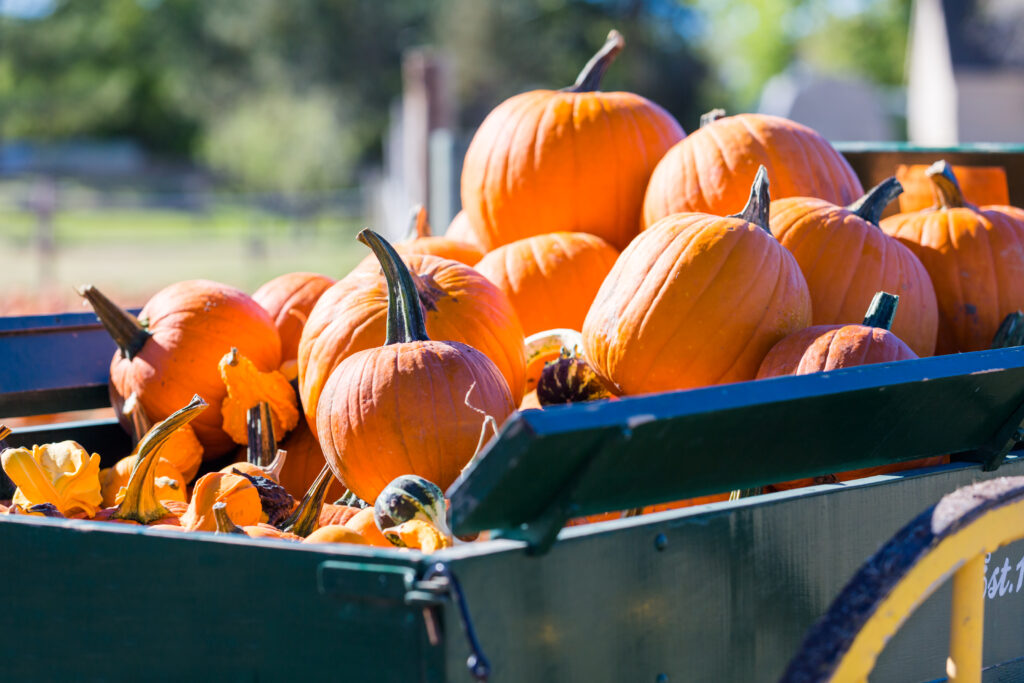 Have fun on the farm with Fall Festival weekdays or weekends at Anderson Farm! This farm is not only a pumpkin patch. Also included are pedal karts, farm animals, jump pads, a barrel train, and more! Its largest feature is a 25-acre corn maze.
Open: September 22-October 31, 2022
Location: 6728 County Rd 3 1/4, Erie, CO 80516
Hours:
Monday & Wednesday: 10am – 6pm
Closed on Tuesdays
Thursday: 10am – 10pm
Friday:10am -11pm
Saturday: 9am – 11pm
Sunday: 9am – 10pm
Prices: $15 per person on weekdays, $23 per person on weekends- kids 3 and under are free
Important Notes: The last wagon for the pumpkin patch leaves at 5:30 pm as the pumpkin patch does not have lighting. Tickets can be purchased on the website.
This family farm is perfect for pumpkin picking and more. Wagon rides are available Saturday and Sunday to and from the patch. You can borrow a red wagon for pumpkin picking or bring your own!
Open: September 24th-October 31
Location: 10600 Isabelle Rd, Lafayette, CO 80026
Hours: Every day from 10 am to 6 pm
Prices: $5 per person, but those 5 and under or 65 and older are free
Important Notes: The website recommends buying prepaid tickets on their website here.
This farm offers more than just a pumpkin patch. There is also a maze through seven acres of corn. The maze can even be seen from a 15-foot tall bridge. There is also a mini-maze for the younger ones as well.
Open: September 16- October 31
Location: 8500 W Deer Creek Canyon Rd, Littleton, CO 80128
Hours: Fridays, Saturdays, and Sundays from 9 am to 5 pm
Prices: $15 per adult, $13 for students, seniors, military, and children ages 3-15, free for two and under. *Note: members are $13 per adult and $10 per child*
Important Notes: Tickets will not be available on location and will need to be bought in advance online. If you are visiting on October 8-10, you will be required to buy a ticket to the pumpkin festival to use the corn maze.
Chatfield Pumpkin Festival
When: Oct 7-9 9am – 4pm
Location: 8500 W Deer Creek Canyon Rd, Littleton, CO 80128
Pricing and info are available via the website.
This is a great pumpkin patch, but Flat Acres Farm Pumpkin Patch will be closed for the 2022 season! Fingers crossed they come back for 2023.
This great location has a pumpkin patch and a corn maze. There is also sand art, barrel rides, a playground, and plenty of photo opportunities.
Open: September 24- October 31
Location: 10451 McKay Rd Unit 1, Thornton, CO 80233
Hours: Saturday and Sunday 9 am to 7 pm
Prices: Admission is free. However, tickets to the maize itself as well as other attraction tickets can be purchased on arrival. The corn maze is $12 for adults, $9 for kids, and $5 for the mini maze.
Important Notes: The corn maze includes a smartphone trivia game, so make sure you don't leave it in the car when you come in!
A great reason to choose this pumpkin patch is that the admission includes one pumpkin with every purchase. This is also a great place to go with little ones since the corn maze is scare-free. There is also a petting zoo.
Open: October 1-31
Location: 24120 Co Rd 8, Hudson, CO 80642
Hours: Weekends 10 am to 5 pm
Prices: $14 per person, under 2 are free
Important Notes: You can also make your own scarecrow here! Costs are $40 per scarecrow.
Come to Mile High Farms for tons of fall fun! On top of buying pumpkins, there is also face painting, baked goods, and Kona Ice available.
Open: October 1-31
Location: 11 Cavanaugh Rd, Bennett, CO 80102
Hours: weekends 10 am to 6 pm
Prices: $16 ages 13-59, $10 for ages 60+ and military service people, $10 ages 5-12, 4 and under free
Important Notes: can be purchased online or in-person, pumpkins are $0.88 per pound.
100+ acres of pumpkin patches are available here at Rock Creek Farm. You can also explore the corn mazes at night- bring a flashlight for a "haunt-free" evening of family fun. There are also farm animals, and three corn mazes to choose from.
Open: October 1st – October 31st, 2022
Location: 2005 South 112th Street, Broomfield, CO 80020
Hours: 9 am to 6 pm (extended hours to 10 pm on weekends)
Prices: $7 per person, ages 4 and up
Other Information: Corn maze tickets, pumpkins, decorations, and baked goods are an additional charge. Tickets need to be purchased in advance.
This pumpkin patch offers two types of pumpkin picking. You can choose to go on the weekday when the focus is on the pumpkins. Or, you can go on the weekends during their "fall festivals". Weekends involve kiddie rides, a petting zoo, face painting, and a food truck.
Open: October 1-31
Location: 9059 Ute Hwy, Longmont, CO 80503
Hours: 10 am to 5 pm daily, festivals on weekends
Prices: Free admission
Other Information: Although admission is free, there are costs per activity so make sure to bring cash.
When you go to Miller Farms, you can expect a full day of fun. Along with pumpkin picking, you can do a corn maze, a hay pyramid, farm animals, and a "giant Croc-pit", with thousands of chopped-up Crocs in a pile.
Open: Labor Day through mid-November
Location: 13912 Co Rd 19, Platteville, CO 80651
Hours: 9 am to 6 pm
Prices: $25 per person, ages 14 and up, $15 per person ages 4-14, under 4 free
Other Information: For an additional $40, you can load a wagon with pumpkins, gourds, squash, and anything else available for the day.
Games, a tractor ride through the tunnel of terror, a small corn maze, photo opportunities, an inflatable obstacle course, storytime with a Giant pumpkin, a train ride, and so much more. Make sure to check out the market with fresh kettle corn, get some fresh roasted green chilies, and pick up some mums. If you visit on the weekends there is a cafe with food and drinks. The giant pumpkin weigh-off is October 2nd.
Open: The first week of October through Halloween.
Location: 2001 S Chambers Rd, Aurora, CO 80014
Hours: 8 am to 6 pm and Sunday 9 am to 5 pm
Prices: Free admission, but tickets to activities and pumpkins can be purchased when you arrive.
Other Information: Nick's garden center is open year-round for your gardening needs.
Fritzler pumpkin patch is located about an hour outside Denver, but it is too cute not to share. Pumpkin Patch, Pedal Go-Carts, Barrel Train, Corn Maze, Pumpkin Cannons, Slides, and so much more.
Open: Sept 18 – Oct 30
Hours: Fridays: 4-10pm. Saturdays: 11am-10pm. Sundays: 12-5pm
Location: 20861 CR 33 LaSalle, CO 80645
Price: Ages 2 and under Free. Fun Pass $19.95. Ultimate Fun Pass $31.95 includes paintball and pumpkin cannon.
Which pumpkin patch in Denver is your favorite? Let me know below!