Looking for Denver Halloween Events for Kids? Check out this list of Halloween & Fall events for kids to enjoy around the Denver metro!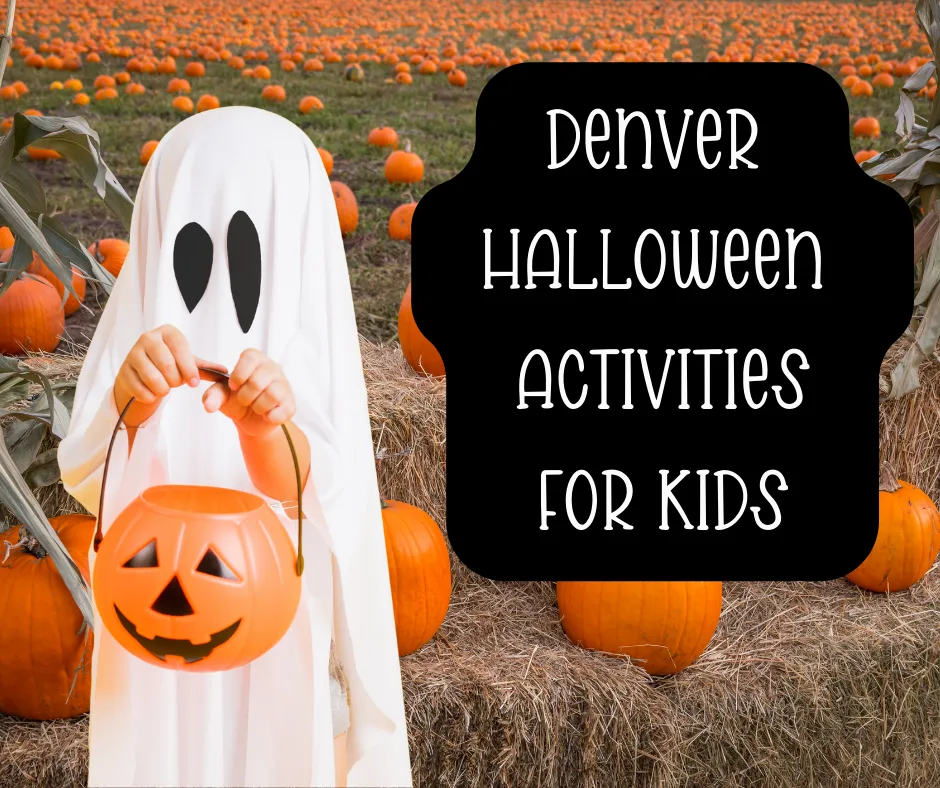 Looking for more Denver Fall Fun? Check out our lists of:
Pumpkin Patch
Visit one of the amazing Pumpkin Patches Denver has to offer. Check out my guide on the best Denver pumpkin patches.
Fall Festivals for Families
Looking to spend the afternoon at a fall festival? Check out my guide to family-friendly fall festivals around Denver. They're going on every weekend during the month of October!
Have you been to Christmas in Color? Well, they're back and for Halloween! This drive-through Halloween light show will have millions of lights perfectly synchronized to popular Halloween music that you'll hear right through your radio. Drive by giant pumpkins, through a spooky graveyard, arched pathways, and more. Take your time enjoying this lighting extravaganza – we won't judge you if you join the kids with your face pressed against the window!
When: October 14 – October 31 • 7pm – 9pm
Where: Water World Parking Lot 8801 N Pecos St, Federal Heights, CO 80260
Price: $30 per car.
Buy tickets online via FrightLights.com use code DENVERHOUSEWIFE15 to save 15% off your ticket price!
The Denver Butterfly Pavilion has a lot of fun fall additions during the month of October.
Spiders From Around the World
During the month of October Denver's Butterfly Pavilion has a special spider exhibit with spiders from around the world. You'll learn about the spiders of Denver and other spiders. Spiders from Around the World runs from October 7th – October 31st and is included with your Butterfly Pavilion admission.
Bug-a-Boo
In addition to the spiders from around the world exhibit, the Butterfly Pavilion has its Bug-a-Boo trick-or-treat event. Kids can trick or treat around the museum while visiting all the exhibits. There are crafts, candy, and lots of fun. This is the perfect event for toddlers and smaller kids, but all ages are welcome!
Flashlight Tours
After dark, you can tour the Butterfly Pavilion by flashlight and learn all about the creepy crawlers of the museum. This event is for ages 5+. Reservations must be made! This event runs on: Oct. 22 & 23 at 7:00PM- 8:00PM & Oct. 29 & 30 8:30 PM – 9:30 PM
The Denver Zoo has some new events for fall since Boo at the Zoo is gone.
Wild Fall
Wild Fall transforms the zoo into Halloween fun. There are roaming costumed characters like Big Foot, carved pumpkins throughout the zoo, festive food and drinks, and creepy crawly animal meet and greets. Wild Fall is included with regular-priced admission and is during normal zoo hours.
Trick-or-Treat Trail
Visit the Zoo after dark and take part in the Trick-or-Treat Trail.
Trick-or-Treat Trail experience with 8 candy stations
Reusable trick-or-treat bag + 30–40 pieces of candy
Monster Mash Dance Party
Festive photo ops with characters + sets
Special spooky cocktails + festive autumnal eats
Exclusive animal demos with creepy-crawly critters
Dates: October 7, 14, 21, and 28–31
Times: 5:30–8:30 p.m.
Price: $20
Ages: All Ages Welcome
Located at the Adams County Fair Grounds Pumpkin Nights ventures you along a half-mile walking path, where you'll discover the Forbidden City, a Pirate's Cove, and more fantastical lands built using over 5,000 hand-carved real and artificial pumpkins. The celebration continues with entertainment and games in The Village, their festival area.
Pumpkin Nights runs from October 17th – November 3rd from 5:30pm to 10:30 pm nightly at the Adams County Fairgrounds.
The Magic of the Jack O' Lanterns in Denver, Colorado delights all ages on a glowing trail of over 7,000 magnificent, hand-carved pumpkins. A magical light show illuminates larger-than-life displays. A nautical sea-scape, a pirate ship, dinosaurs, dragons, and much more, all softly aglow throughout the event. You'll find magic around every corner!
Located at The Hudson Gardens 6115 S SANTA FE DR. LITTLETON, COLORADO
Runs: Wed-Sun from September 30th – October 31st. Gates open at 7pm.
Price: Adults (12+ yrs) are $19.99 and Kids (3-12 yrs old) are $14.99. Kids 2 and under are free.
There is still a Boo at the Zoo if you head down to Cheyenne Mountain Zoo in Colorado Springs. Boo at the Zoo has trick-or-treating, a lighted pumpkin patch, a haunted house, food, views, and animal exhibits!
When: Friday, Saturday & Sunday, October 21-23, and Friday, Saturday, Sunday & Monday, October 28-31 from 4 – 8:30 p.m.
Price: $24.75 for ages 3-64. $19.75 for Zoo members*. $22.75 Military** and 65+***. 75¢ for ages 2 and under
SOLD OUT for 2022.
Glow at the Gardens is a popular Halloween/Fall Event. You can wander the Denver Botanic Gardens at night and view all the spooky and illuminated landscape. The gardens are brought to spooky life with real pumpkins carved by local artists.
This event always sells out quickly, so plan accordingly to get your tickets.
When: Oct. 18-23, 6-9 p.m.
Price: Kids $21 & Adults $25, discounts available for members, students, and military.
Where: Denver Botanic Gardens 1007 York Street Denver, CO 80206
The Broncos are holding their annual Trick-or-Treat celebration on Saturday, October 29, 2022 at Empower Field at Mile High! Join Miles the Mascot on his time-traveling adventure through the haunted halls of the stadium with candy, treasures, and Miles' Fall Fest.
Tickets are required and must be purchased online. Tickets are $10 per person.
When: Saturday October 29th at 9:30am, 11:30am, and 1:30pm.
Costumes are encouraged. The event is suggested for families and kids ages 4-12 years old.
Get Local
There are so many amazing events going on locally that I can't list them all. Check with local schools, churches, libraries, parks, and shopping centers. Almost all of them are doing trick-or-treat events, special story times, parties, and more. Halloween around the Denver Metro is so much fun!