Looking for an easy Halloween snack mix? This Halloween s'more snack mix is super easy to make, requires no baking, and can be made with whatever your favorite Halloween candies are. Caramel Corn, mini marshmallows, Halloween M&M's, and more are combined into a delicious Halloween snack mix for kids or adults.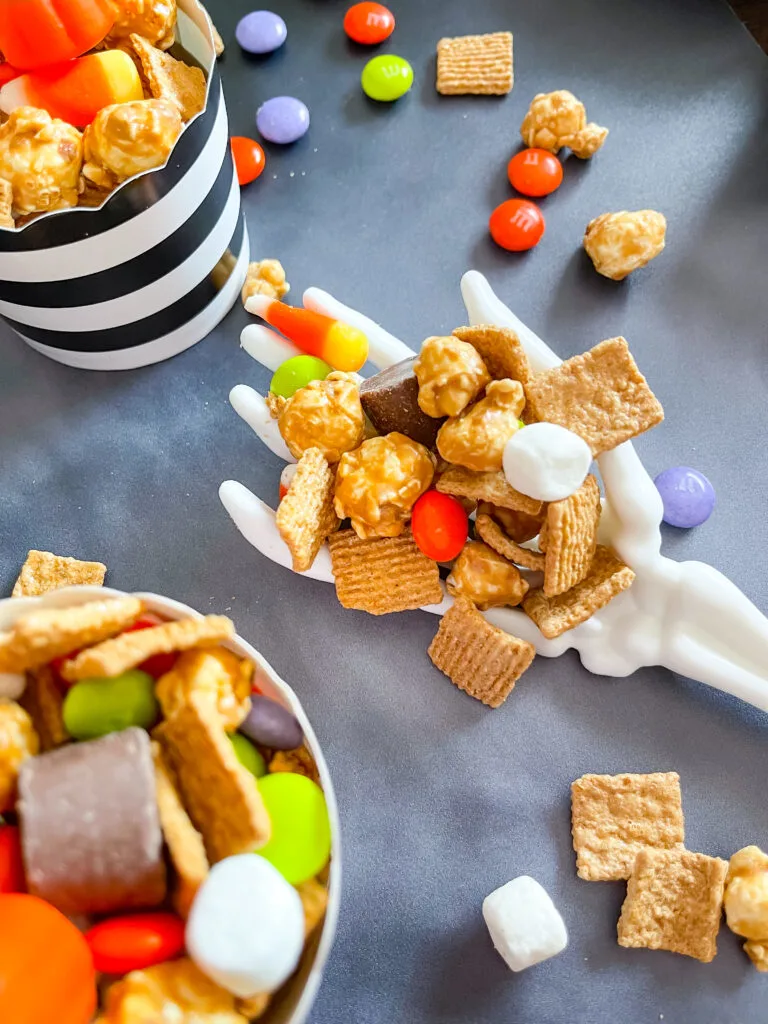 Want to make a Halloween trail mix instead? Substitute some of the candy for mixed nuts!
Halloween S'more Snack Mix
Looking for more Halloween Snacks? Check out these delicious recipes!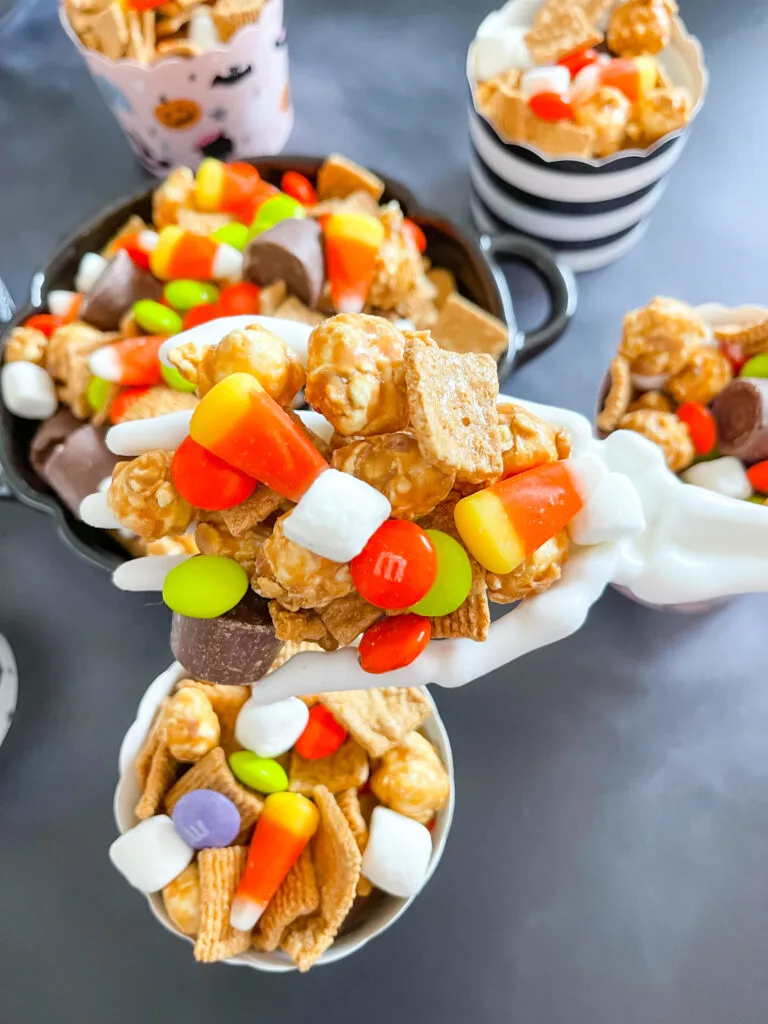 Easy Halloween Snack Mix Ingredients
Golden Grahams Cereal – The base for any s'more snack mix! This is a great replacement for graham crackers. You can substitute this with Chex, Cheerios, or Cinnamon Toast Crunch.
Caramel Corn – You can't have a fall snack mix without caramel corn. It adds extra crunch and sweetness.
Mini Marshmallows – Another s'more snack mix staple!
Rolo Candy – Chocolate and caramel go together with the rest of the ingredients and it just makes sense.
Halloween M&M's – Adding them in Halloween colors gives this snack mix a pop of Halloween color.
Candy Corn – Totally optional, but how can you have Halloween without candy corn?
Mellowcreme Pumpkins – Another optional addition. I don't add these to the whole mix. Instead I add one to the top of the snack mix cups for decoration.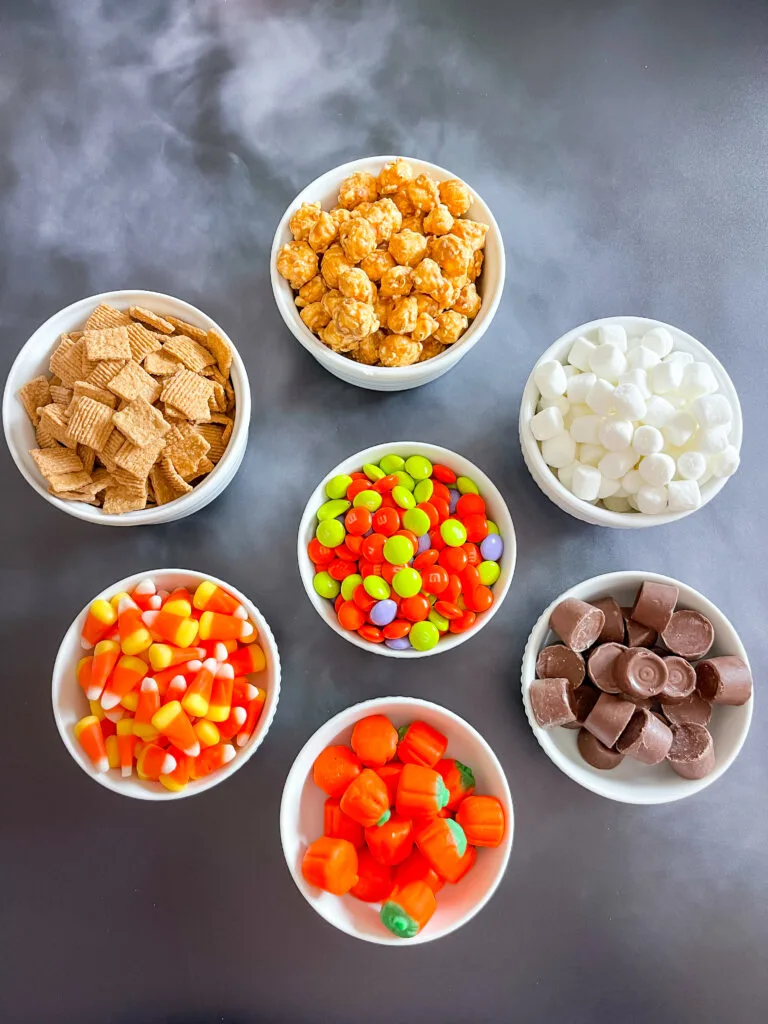 How To Make An Easy Halloween Snack Mix
You can use any ingredients that you like in the recipe and the best thing about it is that it can be customized to your likes. Don't like candy corn? Swap them for something else like a Halloween gummy candy. Want to add something that is not in the mix? Add it! Nuts would be a great option for this!
These are my favorite ingredients for a Halloween snack mix:
Golden Grahams Cereal
Caramel Corn
Mini Marshmallows
Rolo Candy
Halloween M&M's
Candy Corn
Mellowcreme Pumpkins
All you need to make this is a large bowl and something to give it a good stir, like a spatula.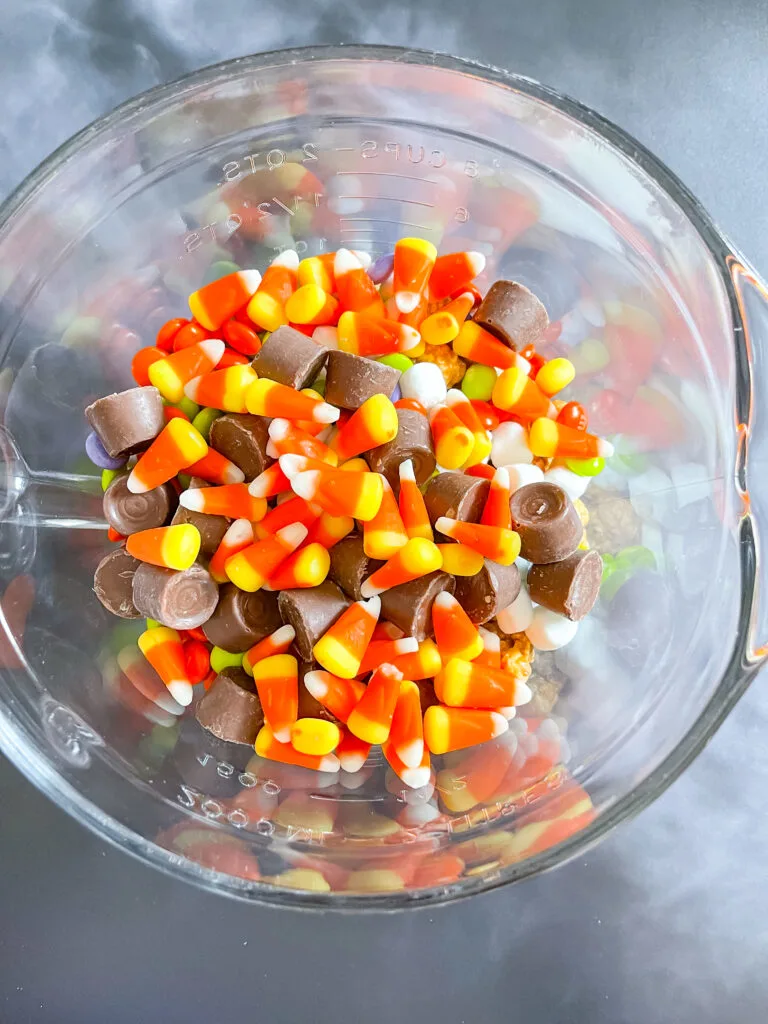 Pour all your ingredients into the bowl, mix, and serve. I don't really measure out the ingredients and instead, I eyeball it until I think the mix has a good and even mix of ingredients. Plus this allows you to make as big or small of a batch as you want.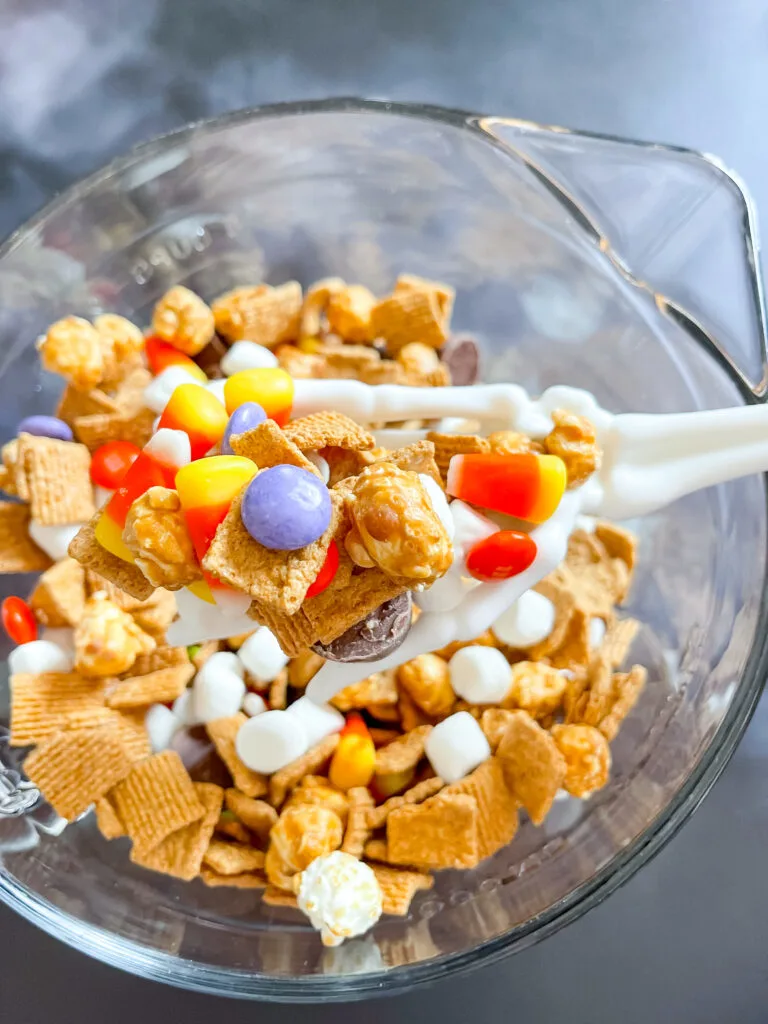 I like to serve these in cupcake cups. They make a good serving size for kids and the cup can be used as a scoop. I like to get mine from Homegoods, but you can also find them on Amazon and at other stores.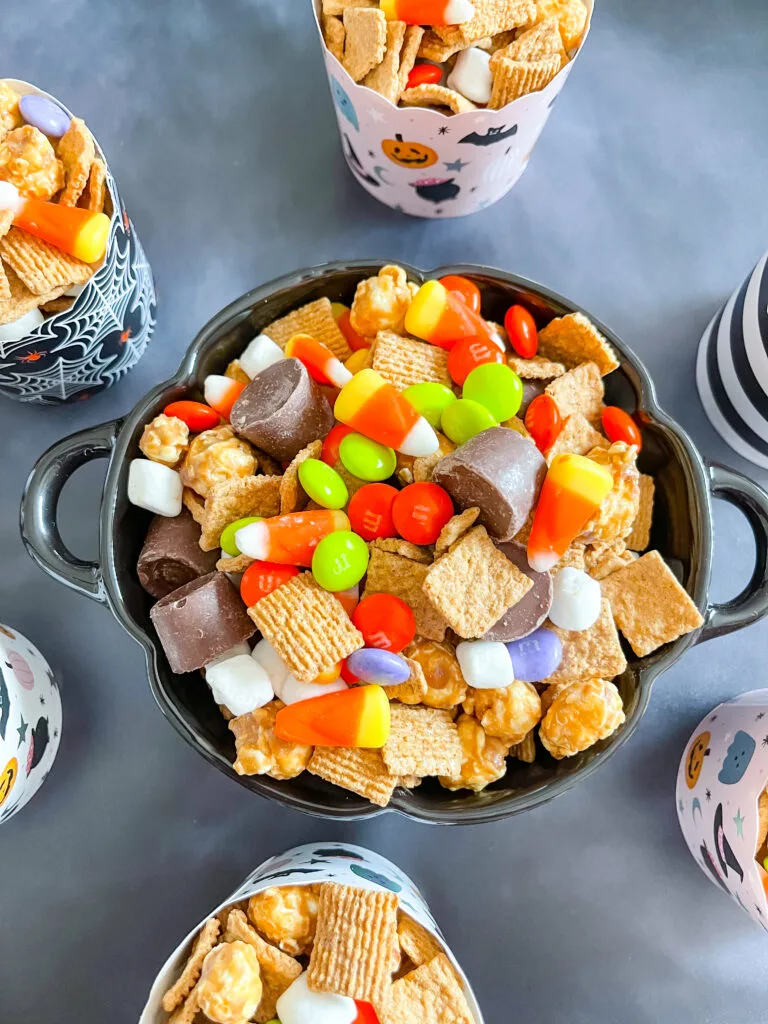 Tips & Tricks
Add these to mason jars or Halloween cellophane bags with a cute tag as a yummy treat for friends, family, or neighbors.
Store your Halloween snack mix in an airtight container for up to a few weeks.
Replace ingredients with your favorite fall treats like:
Kettle Corn or Cheddar Popcorn
Chex Mix
Chopped up Halloween candy
Pretzels
Chocolate Chips
Nuts
Raisins or Craisins or other dried fruit
Bugles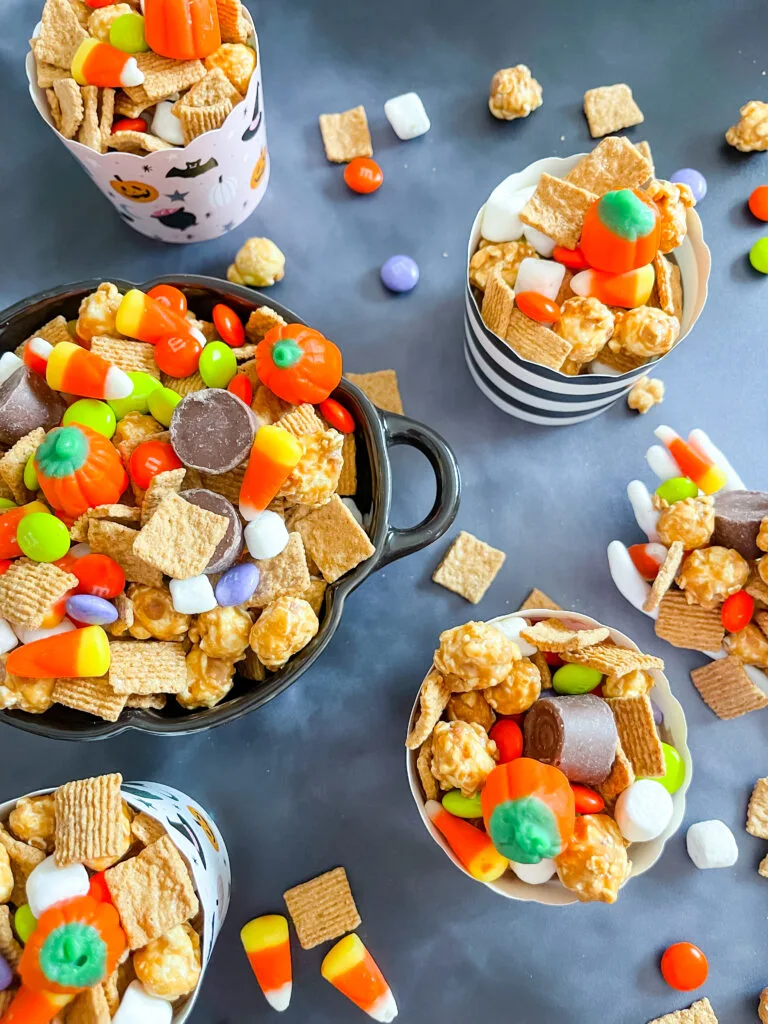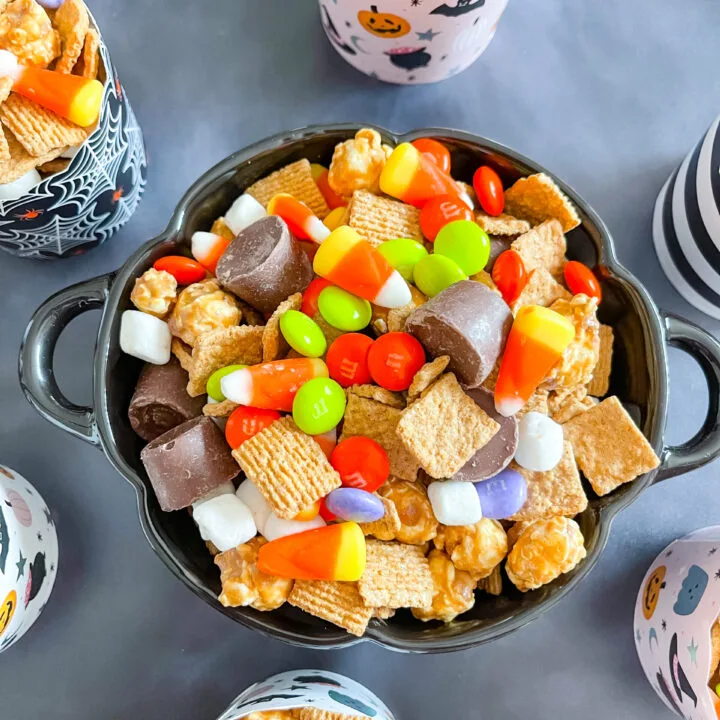 S'more Halloween Snack Mix
Halloween S'more Snack Mix combines Caramel Corn, mini marshmallows, Halloween M&M's, and more into a delicious & easy Halloween snack mix for kids or adults.
Ingredients
1 cup of Golden Grahams
1 cup of Mini Marshmallows
1 cup of Caramel Corn
1 cup of Halloween M&M's
1 cup of Rolo's
1 cup of Candy Corn
Instructions
Pour all ingredients into a large bowl and give them a good mix, until well combined.
Notes
Store in an airtight container for up to a few weeks.