Halloween fruit cups are a healthier snack for kids on Halloween. Halloween fruit cups are easy to make and ready in under 5 minutes with just 3-4 ingredients.
Halloween fruit cups combined fresh or canned fruit to make a healthy Halloween snack for kids. You can top them with Halloween sprinkles or a Halloween Peep for some added fun. Place them into a clear cup so kids can see the colorful changes. They're like healthier candy corns!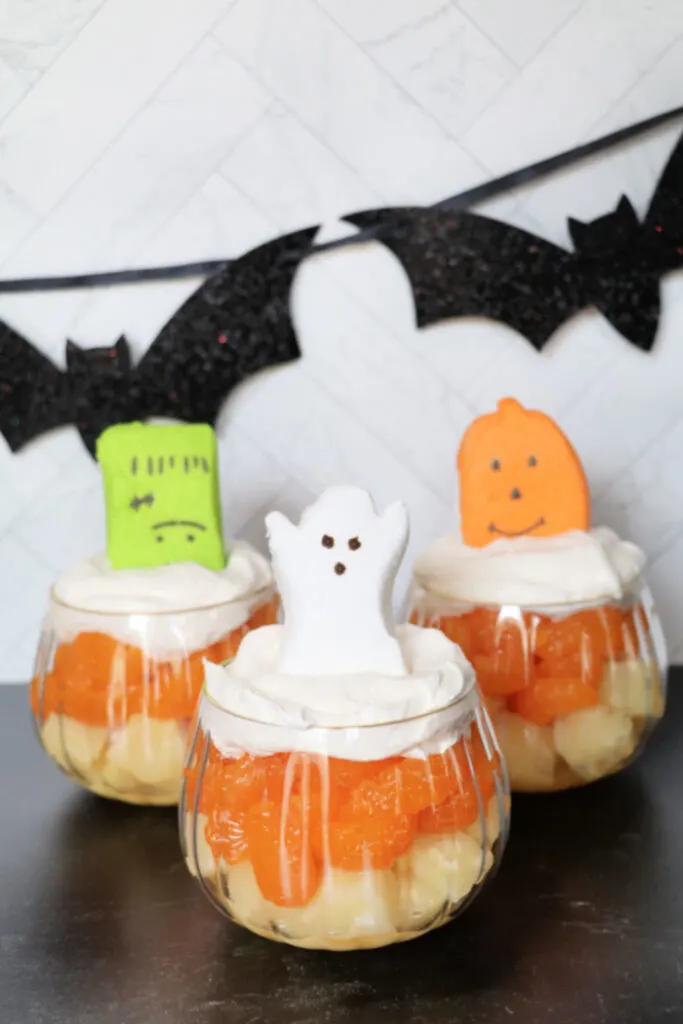 Halloween Fruit Cups with Peeps
These Halloween fruit cups are adapted from this Peeps recipe. Instead of using all ghosts, I wanted to use a variety of Halloween Peeps for more fun. I make these fruit cups for my kids every year and they love them. Their favorite fruits are combined with whip cream and a fun marshmallow.
How to Store Halloween Fruit Cups
Once you have prepared your fruit cups you can store them in the fridge until ready to serve. They'll need to be refrigerated due to the whipped cream.
What Whipped Cream to Use
You can use any whipped cream you like. I use cool whip because it holds its shape better, but canned whipped cream or fresh with also work. You can also use whipped cream alternatives like coconut whipped cream. If you're worried about the whipped cream melting you can always assemble the fruit and place the whipped cream on when you're ready to serve the fruit cups.
Halloween Peeps Alternatives
I know not everyone is a peeps fan. If you don't like Halloween Peeps you can use:
Pumpkin Spice Marshmallows
Ghost Marshmallows
Pumpkin Shape Sugar Cookies or another Halloween shape
Pumpkin Shaped Marshmallows
Halloween Shaped Candy
Sprinkles
Halloween
You can also leave any topping off and serve the fruit cups with just the fruit and whipped cream.
How to Make Halloween Fruit Cups
To make Halloween Fruit Cups you are going to need 4 simple ingredients.
Canned Pineapple
Canned Mandarin Oranges
Cool Whip
Halloween Peeps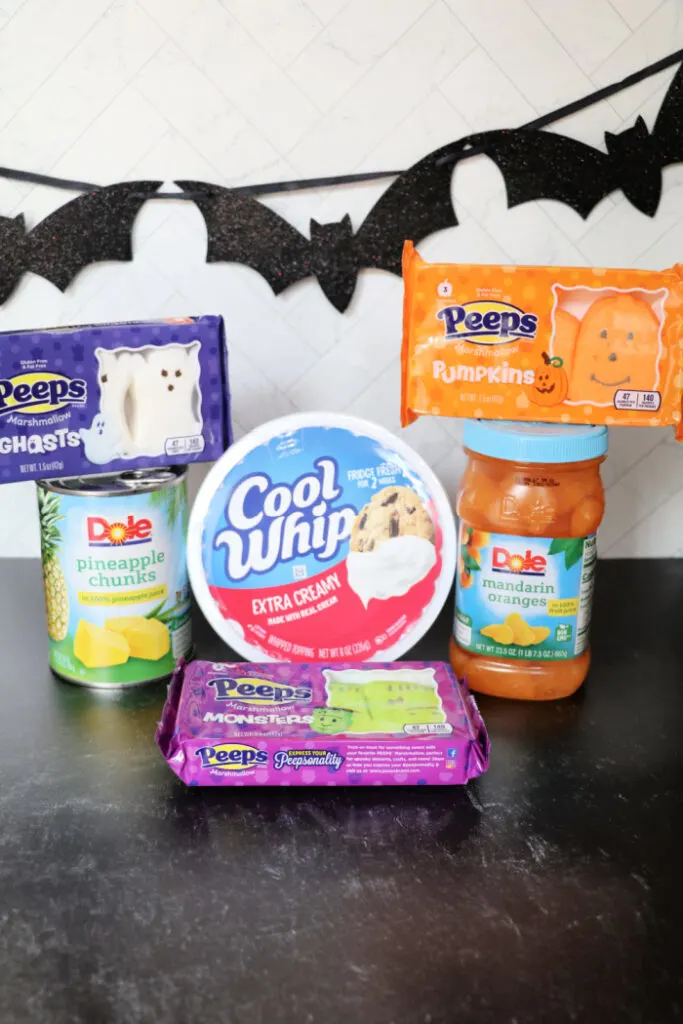 Here's how to make your Halloween Fruit Cups
Open your fruits and drain all of the juice. You'll want to drain as much out as possible. You can even place the fruit in a strainer and let it sit for a few minutes to help get all the juice out.
Take a clear cup and layer your fruit. I used these pumpkin tumblers, but I usually use these clear disposable ones. You can find them at any grocery store.
First, you're going to place your pineapple into the bottom of the cup. You'll want to fill the cup about 1/3 full. I don't measure, but it's usually 2-3 big spoonfuls for me.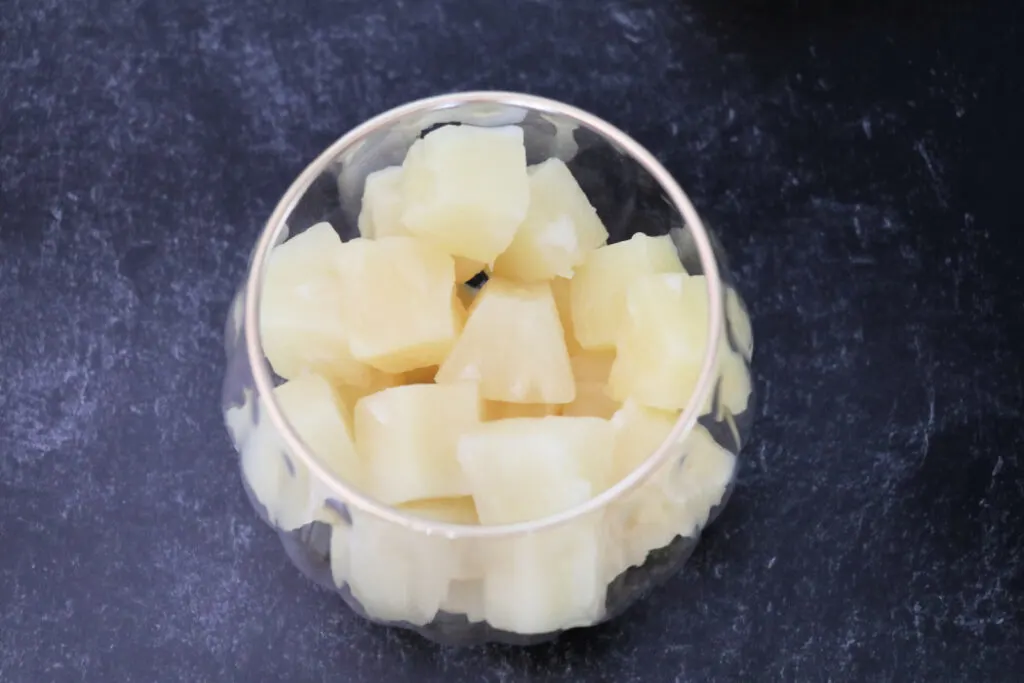 Next, you'll add your mandarin oranges. Add the same about as you did with the pineapple.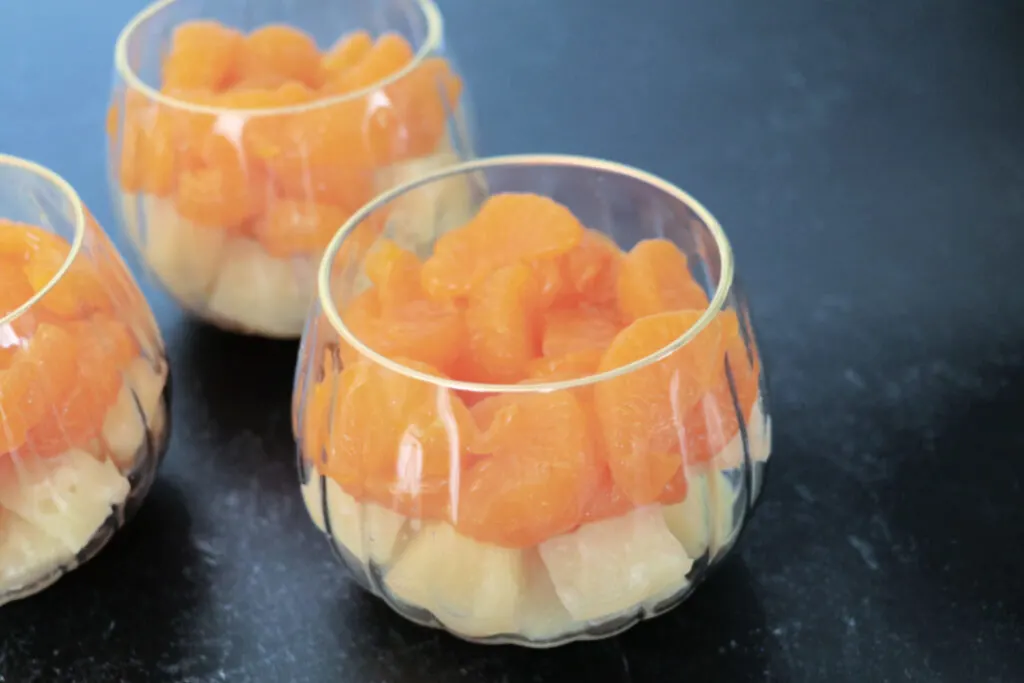 Finally, add a big spoonful or two of your whipped topping.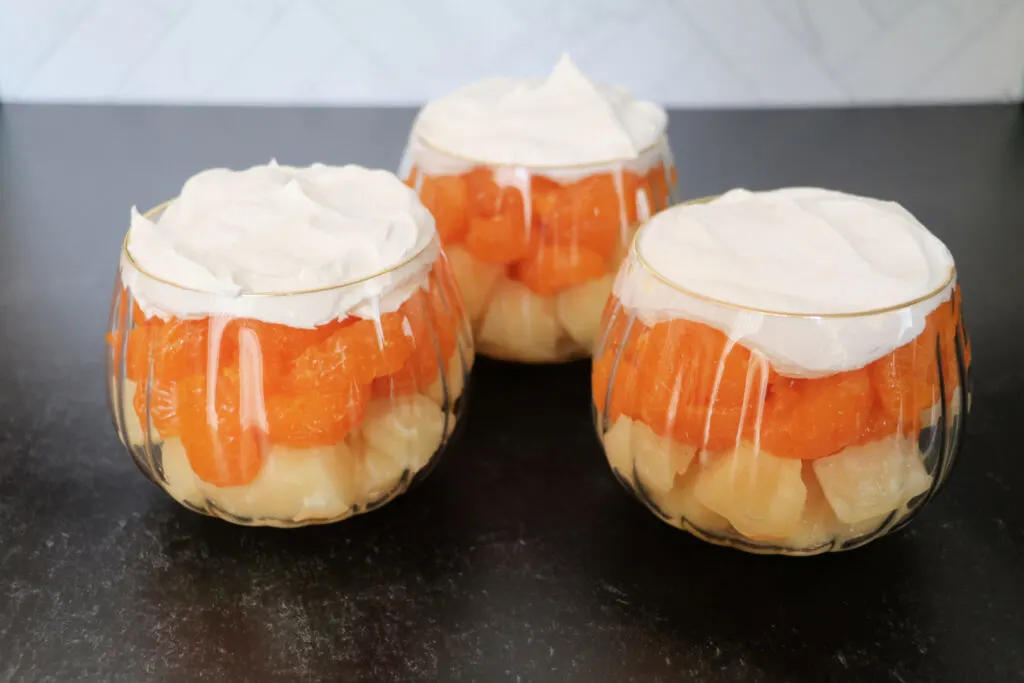 Top with a Halloween Peep or other topping of your choosing.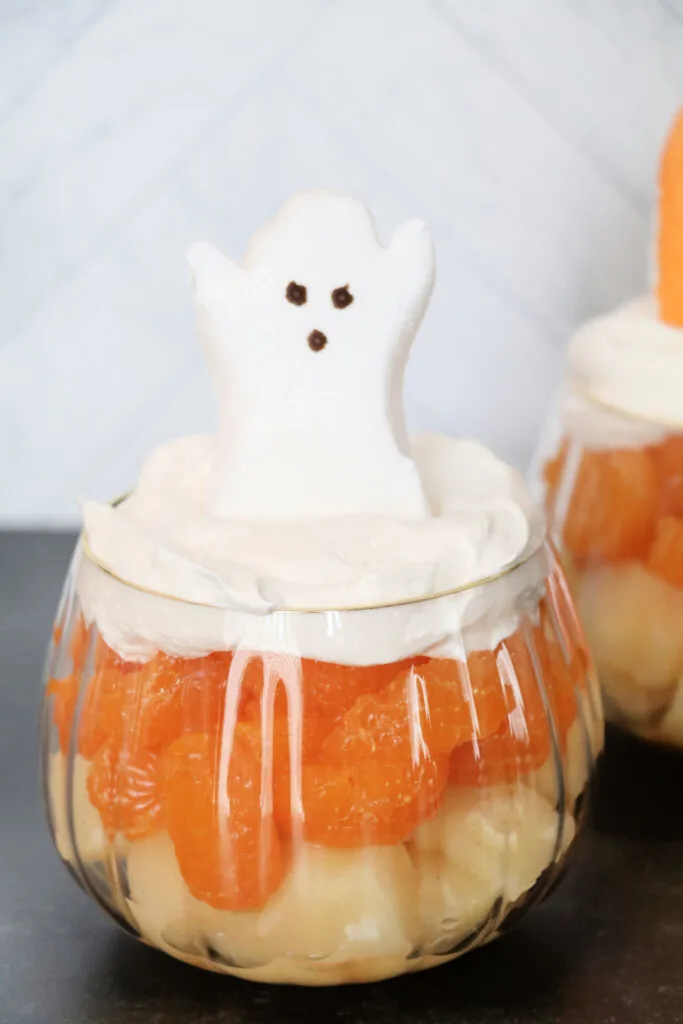 Now enjoy! The kids will love these fruit cups and they're so easy to make!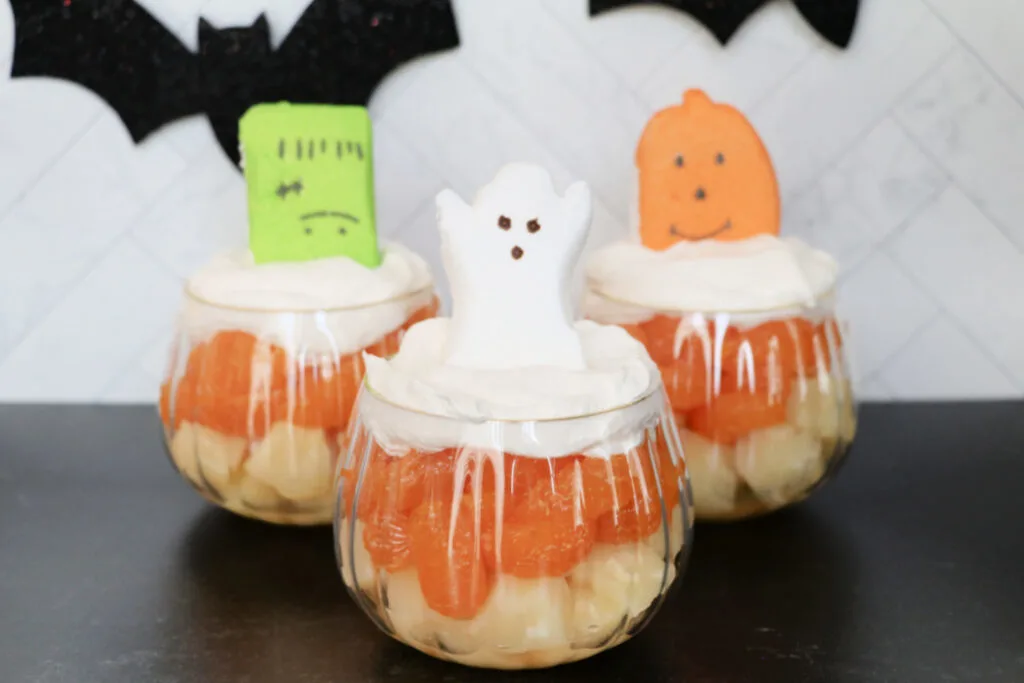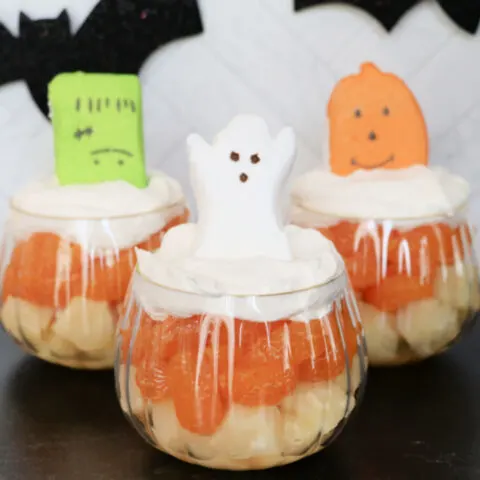 Cute Halloween Fruit Cups
A cute, easy, and healthier Halloween snack for kids.
Ingredients
1 can of Pineapple
1 can of Mandarin Oranges
1 tub of Cool Whip
Halloween Peeps, 4
Instructions
Drain all the juice from the canned fruit.
In a clear cup add pineapple to the bottom of the cup. You'll want to fill the cup 1/3 of the way.
Add Mandarin Oranges on top of the pineapple. Also, fill 1/3 of the way.
Cover fruit with whipped topping. About 2 spoonfuls.
Add a Peep or Halloween topping of your choosing.
Notes
Store in the refrigerator until ready to serve.
Some juice will accumulate at the bottom of the cup. This is normal.
Peeps can be skipped and just the fruit and whipped topping enjoyed.