Are you looking for quick, easy, and delicious Halloween snacks or treats for your kids? These Halloween Monster Cookie Pudding Cups are the perfect snack!
During the month of October I love to bring all things Halloween into the home. We decorate, watch movies, and eat Halloween treats. These Monster Pudding Cookie Cups are so easy to make and the kids love them!
Halloween Monster Pudding Cookie Cups are similar to dirt cups that you would make with gummy works, but instead, you use white chocolate or vanilla pudding and color it with food dye. While this recipe doesn't call for worms, you could always add them in and give these cookie cups a creepy look.
To make your cookie cups you'll need food coloring, pudding mix, and oreo cookies. You'll use clear cups and use a Sharpie to draw on the faces to the outside of the cups. Make the pudding per the directions and then add in a few drops of food coloring. Add the pudding to the cup, crush up some Oreo cookies, and sprinkle them on top of the pudding.
Then you're done. In total this takes about 15 minutes to make and the longest part is letting the pudding set/thicken up. The kids will love it and it makes a delicious Halloween snack.
Looking for more Halloween Family Fun? Check out these other Halloween related posts.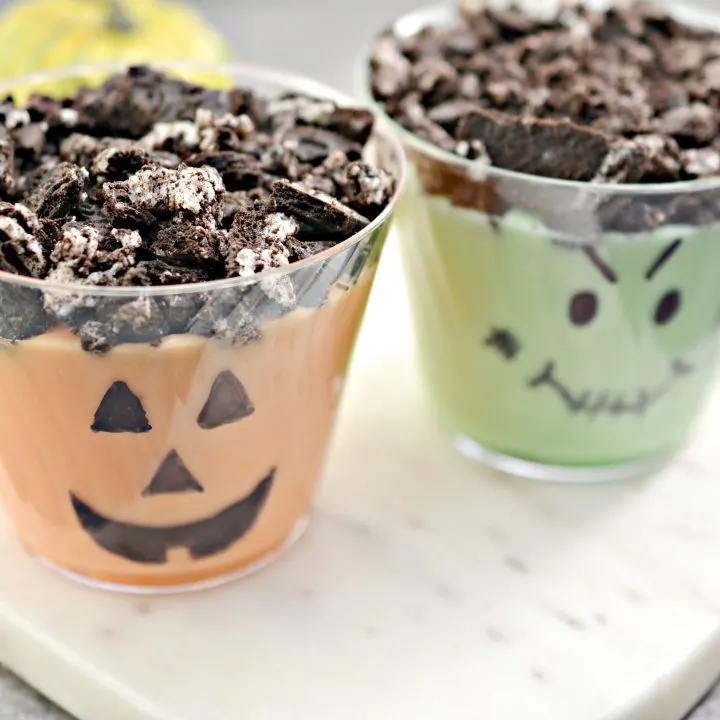 Halloween Cookie Pudding Cups
These Halloween Monster Cookie Pudding Cups are an easy and delicious snack for kids to enjoy!
Ingredients
2 Boxes of white chocolate instant pudding
4 cups of Milk
Orange food coloring
Green food coloring
Clear plastic cups
10 oreo cookies
Sharpie marker
Instructions
Place one box of instant pudding mix into a mixing bowl.
Whisk in 2 cups of milk, and let the mixture set for a few minutes.
Once set, add in orange food coloring, and whisk to combine.
Fill 2-4 clear plastic cups with the orange pudding mixture. Fill the cups so that an inch or two of space is left empty at the top.
Place 5 Oreo cookies into a food processor, and chop lightly.
Sprinkle the cookie crumbs on top of each filled pudding cup.
Use the Sharpie marker to draw a jack-o-lantern face on the front of each of the cups.
Repeat steps 1-7 with the green food coloring and another box of pudding mix. Use the Sharpie to draw a Frankenstein face on the front of each of the green pudding filled cups.