Halloween this year is going to be a little bit different and cities around the country are already starting to cancel Trick or Treating for this year. Halloween is finally on a weekend and we won't get able to go to any fun events or out trick-or-treating and it's such a big bummer. However, I am a big believer in making the best out of shitty situations and Halloween can still be saved this year.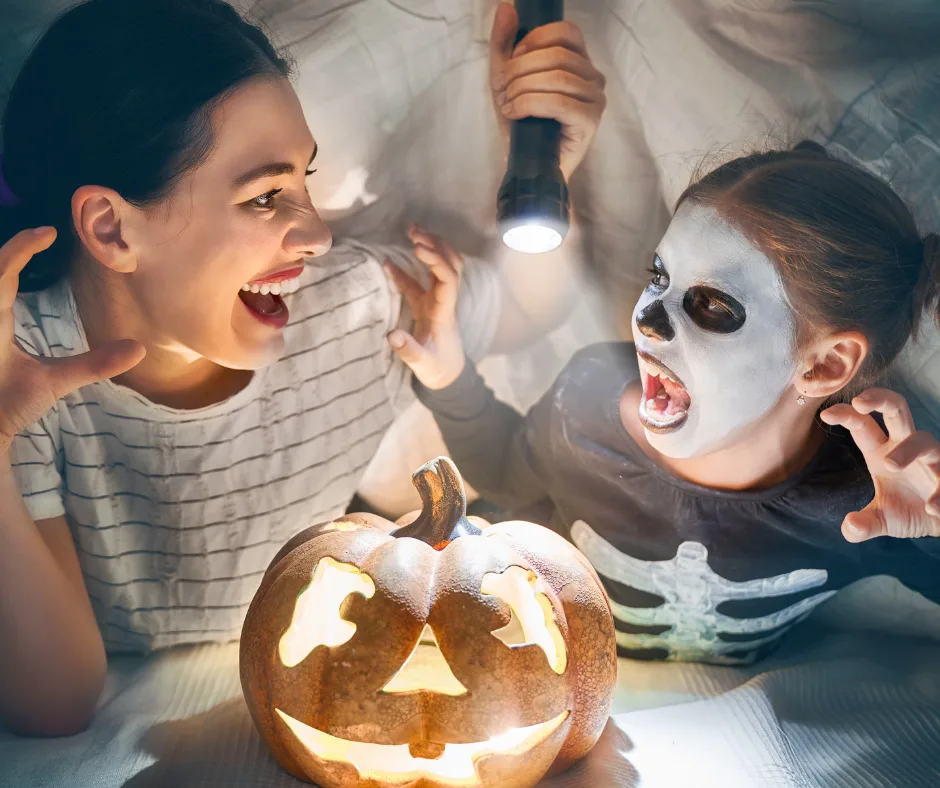 While Halloween will look different this year there are still many ways you can make it fun for your kids at home. Bonus: If you're in Colorado this means you won't have to be bundled up with winter jackets over your costume and cold while walking door to door.
Quarantine Trick-or-Treating Ideas
Last year we got some snow on Halloween and to prepare I had shared some ways to enjoy Halloween at home. Those fun ideas are perfect for this year, but I am adding to that list with even more fun ideas for 2020.
Halloween Pajama Buckets make a great end of Trick-or-Treating prize.
Flash Light Trick-or-Treating aka Haunted House Trick or Treating – Hide candy around your house, give your kids flashlights, turn off the lights, and let them roam around the house looking for candy with just the light from their flashlight.
Graveyard Trick-or-Treating – This doesn't involve going to an actual graveyard, but you can make one in your yard with tombstones and candy. Fill your yard with tombstones, skeletons, and spider webs and hide candy at each tombstone and around the yard. Let the kids run around and collect it. This idea comes from Oriental Trading and sounds so fun. You can also get all of your spooky graveyard items from them. Make sure to use code SpookSquad20 to get free shipping on orders $39+. Hide Easter eggs with mini glow sticks in them (glow in the dark eggs), fill mini cauldrons with candy, and even add in some mini pumpkins filled with treats.
Scavenger Hunt – Create a Scavenger Hunt around your house or backyard and hide small cauldrons with candy, small toys, or treats at each new clue location. At the end, kids can get a bigger bucket filled with candy and prizes. Check out this Halloween Scavenger Hunt from Stuffed Suitcase.
You've Been Booed – Set up a You've Been Booed drop off with local friends and family. Each of you could put together a Halloween bucket filled with candy and treats and leave them on friend's and family's doorsteps for Halloween.
Have a Drive-thru Trick-or-Treat Event or Parade– Put together an event with your neighbors, you can reach out to them via next door. People can decorate their yards with inflatables, lights, and other Halloween decor. Kids can stand on the curb of their house and cars can drive by and throw out candy or walk while throwing out candy.
Glow in the Dark Egg Hunt – Do you still have leftover Easter Eggs? Fill them with candy and small glow sticks for a Glow in the Dark Egg Hunt. Or use Glow in the Dark Easter Eggs!
Halloween Pinata – Skip Trick-or-Treating and have a Halloween Pinata instead.
Trick or Treat Game – Check out this fun alternative to Trick-or-Treating from Play Part Plan which combines trick-or-treating into a fun game.
How to Have a Quarantine Halloween
Aside from Trick-or-Treating there are a lof of other ways to celebrate Halloween.
Visit a pumpkin patch. Since they're outdoors they're a safer Halloween activity to do. Check with your local pumpkin patch and make a reservation as needed.
Attend the Drive-Ins – Many Drive-In theaters are hosting Halloween movie nights. Load of the family for a night of spooky movies.
Attend a Drive-thru Haunted House – Many haunted houses are going drive-thru. Check in your local city for some.
Decorate your house and have a spooky Halloween at home – Decorate the inside of your house, make Halloween themed foods, have Alexa play some spooky toons, and watch Halloween movies together. Don't forget the games, like Halloween Bingo and Halloween Roll the Dice!
Set-up a Zoom Call – Set-up a Zoom call with friends and family. Have everyone dress up in their costumes and have your parties all together. You can even have a pumpkin carving contest!
Looking for even more fun Indoor Halloween Ideas? Check out these 12 Things to do at Home on Halloween from AnnMarie John.
This post contains affiliate links.