Dollar Tree Crafts: Valentine's Day Felt Heart Pouches or Pockets for Kids are cheap, easy, and fun to put together for class valentine's. Grab all your supplies from your local dollar tree.
When it comes to giving call valentine's we are all about giving items other than the little cards. It's fun to give the kids something they can enjoy like Tic Tac Toe Bags or these felt heart pouches.
Valentine Felt Heart Pouches
You can grab all your supplies for this project from your local dollar tree, but you can also find them on Amazon if your Dollar Tree is out or you don't live near one.
Do I need to Use Dollar Tree Supplies?
Nope! You can use supplies you find anywhere like a local craft store, Target, or Amazon.
Can I use Different Hearts?
Yes! You can use whatever hearts that have cutouts on them. You could even make your own with foam hearts and a heart hole punch or if you have a Cricut machine you could cut out your own felt hearts. Learn how to cut felt with a Cricut here. Cricut has a design similar to these hearts in Design Space.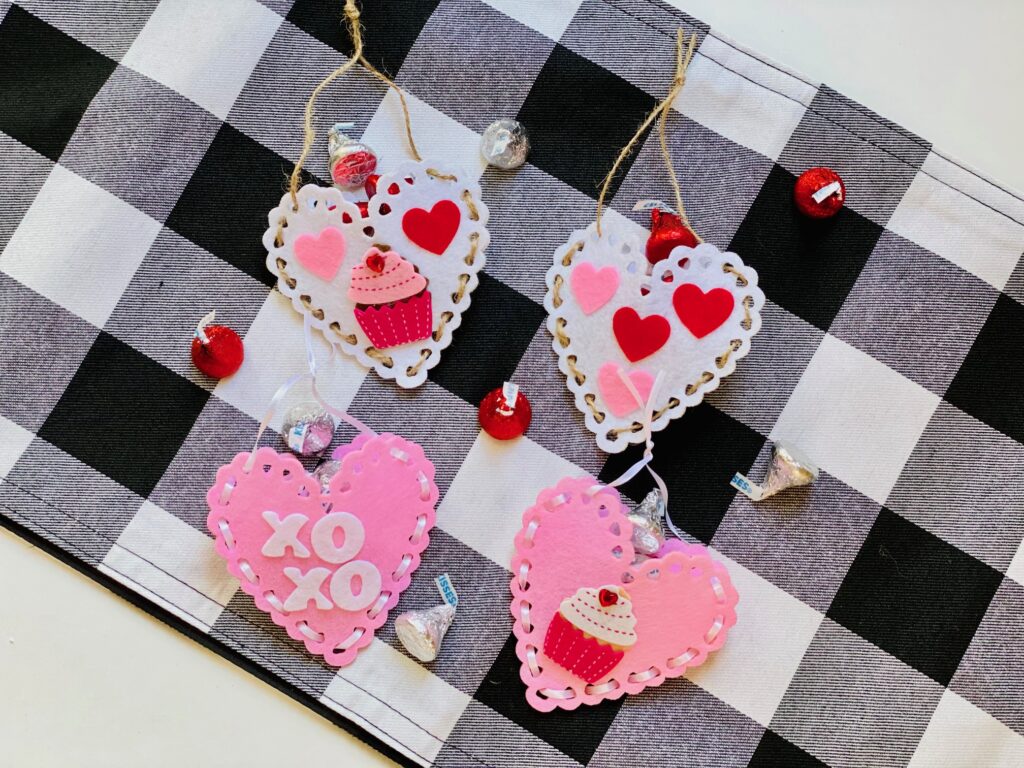 What do I fill the Hearts with?
I would keep it simple when filling up the felt heart pouches and add a few pieces of mini candy, a card or small coloring page, or a special note. The pouches are huge so they won't fit a lot of items or big items. Keep it to small items that are kid friendly.
To make Valentine Felt Pouches you'll need:
Dollar Tree Felt Hearts in Light Pink and White – Amazon
Scissors
Dollar Tree Felt Heart stickers – Amazon
Dollar Tree Felt Cupcake Stickers – Amazon
Dollar Tree Felt Letters (I used white) – Amazon
Dollar Tree Twine
Dollar Tree White Ribbon
How to assemble Valentine Felt Heart Pouches
Each pouch uses 2 of the felt hearts (I kept mine the like colors but you could mix and match them)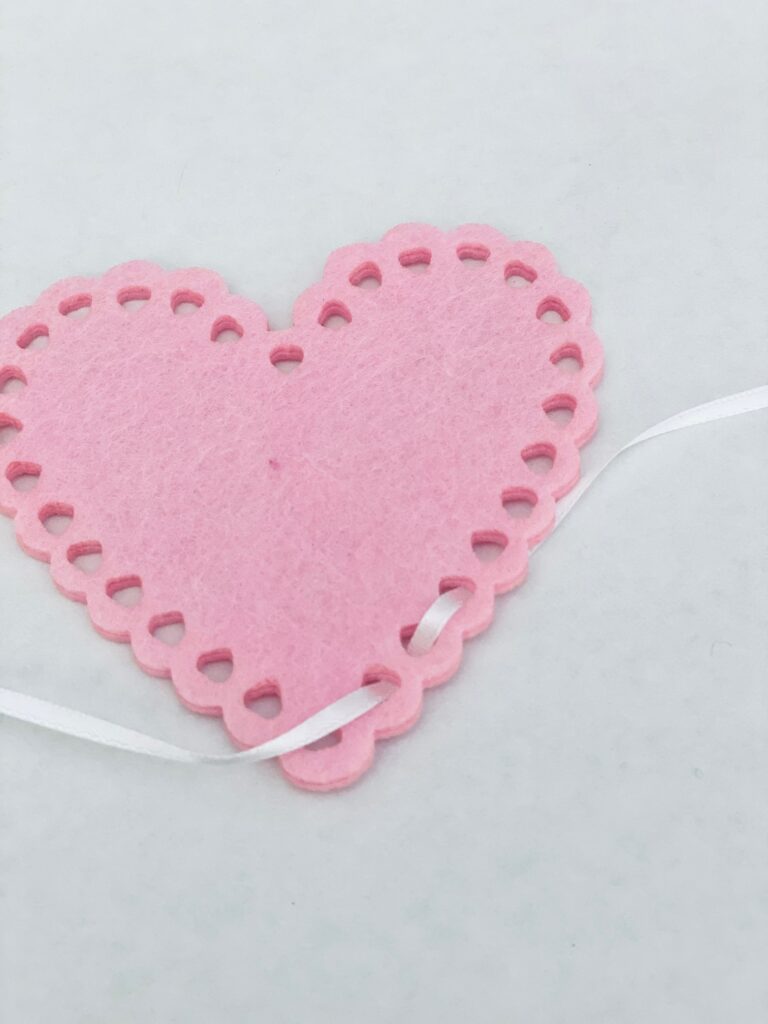 Cut 2 (20-inch pieces of ribbon and the same of the twine) you could cut less, I just eyeballed it and then measured after and that's about what they were)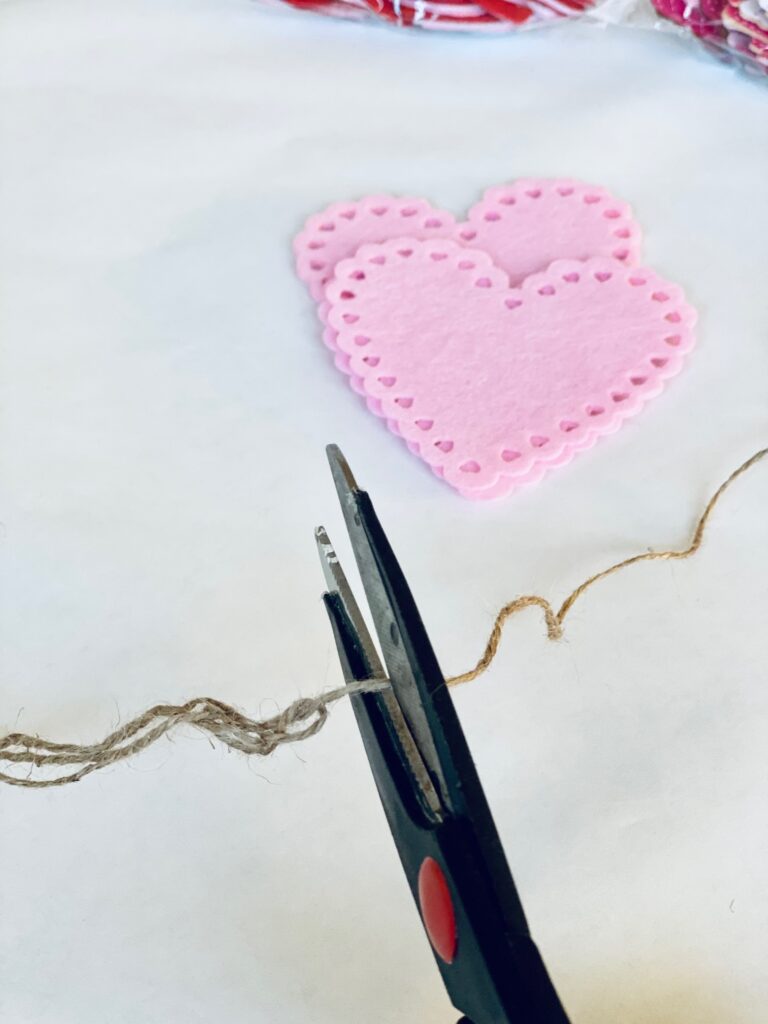 Fold the ribbon/ twine in half to make sure it is even and start at the bottom of the heart. Weave the ribbon/twine in and out of the mini hearts on the side all the way up to the top leaving a space open at the top so you can put treats in it. I then tied the ribbon/twine at the top in a knot.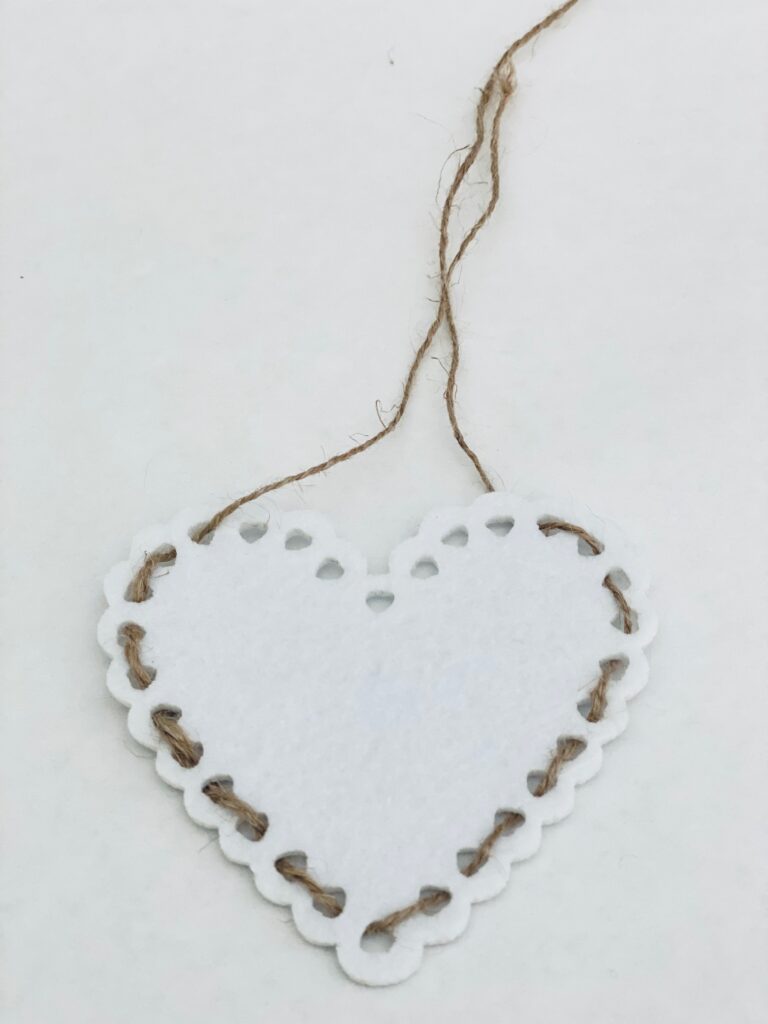 Next, apply the felt letter stickers, the felt heart stickers, and the felt cupcake stickers to decorate!