Denver is one of the most beautiful cities in America, offering plenty of exciting adventures just outside the city limits. Denver serves as a base camp and offers quick and easy access to the state's largest attraction, The Rocky Mountains, as well as other picturesque spots for enjoyable day trips.
Garden of the Gods
Garden of the Gods Visitor & Nature Center is open from 9 a.m. to 5 p.m. in the winter months and 8 a.m. to 8 p.m. Memorial Day weekend through Labor Day weekend. Both the Park and Visitor & Nature Center are free and open to the public.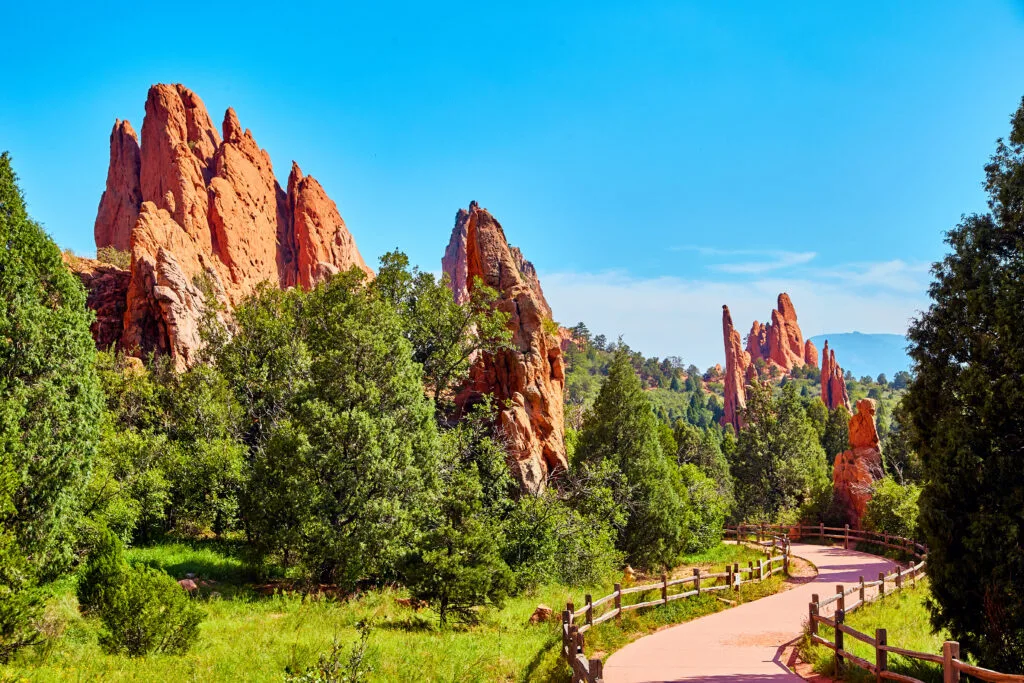 Garden of the Gods, located an hour and a half outside of Denver in Colorado Springs, is a public park offering 300′ sandstone rock formations and gorgeous views of the landscape set against the backdrop of snow-capped Pikes Peak. Take a picnic or a hike or go on a guided horseback ride through the scenic territory.
Rocky Mountain National Park
Rocky Mountain National Park is open 24 hours a day all year round. Individual entrance fees for automobiles are $20 per automobile, valid for seven consecutive days.
Located only 71 miles outside of Denver, the Rocky Mountain National Park offers 400 miles of scenic beauty, including hiking trails, lakes, waterfalls, and horseback riding. It also includes the Trail Ridge Road, the highest continuous highway in the world crossing the Continental Divide at over two miles above sea level.
Denver's Beer Triangle
Located at the base of the Rocky Mountains, the area between Denver, Boulder, and Fort Collins is often called the "Napa Valley of Beer." You'll find a variety of handcrafted beers, ales, and stouts along with the Coors Brewery, the largest single brewery in the world. Go on a tour of the Coors Brewery, or even better, go on a guided beer cruise and be driven from brewpub to microbrewery.
Breweries can also be great for families since many of them have gorgeous outdoor spaces with lawn games, music, and good eats.
Royal Gorge Bridge and Park
The Royal Gorge Bridge and Park in Canon City, Colorado, just a couple of hours outside of Denver, offers some of the best views Colorado has to offer. The park is open 365 days a year, and hours vary according to the month. Looking down instead of up, the Royal Gorge Bridge offers gorgeous natural beauty and exciting world-class attractions, including a wildlife park, cliff walk, water clock, and of course, the bridge!
Buffalo Herd Nature Preserve
Located 20 miles west of Denver at I-70 Exit 254, the Buffalo Herd Nature Preserve is a great place for an afternoon picnic. The Buffalo are direct descendants of the last wild buffalo herd left in the United States. It's a great opportunity to see the last of its kind and get a great photo op. Guests are invited to come and watch the animals, though they are still kept within their natural setting to maintain their numbers.
Pikes Peak Region
Pikes Peak Region is located about an hour south of Denver near Colorado Springs and there is so much to do. Check out my guide on 5 fun things to do near Colorado Springs.
Pikes Peak Cograil is a fun way to view Pike Peak Mountain and learn about the history of the area. I share all about our experience on it in my Colorado Springs travel guide.
Glenwood Caverns Adventure Park
Glenwood Caverns Adventure Park is a bit of a drive from Denver at about 2.5 hrs away, but this unique mountain town has a cool amusement park. Cave tours for the whole family, thrill rides like the alpine coaster and canyon swing, laser tag, and even rides for the younger kids.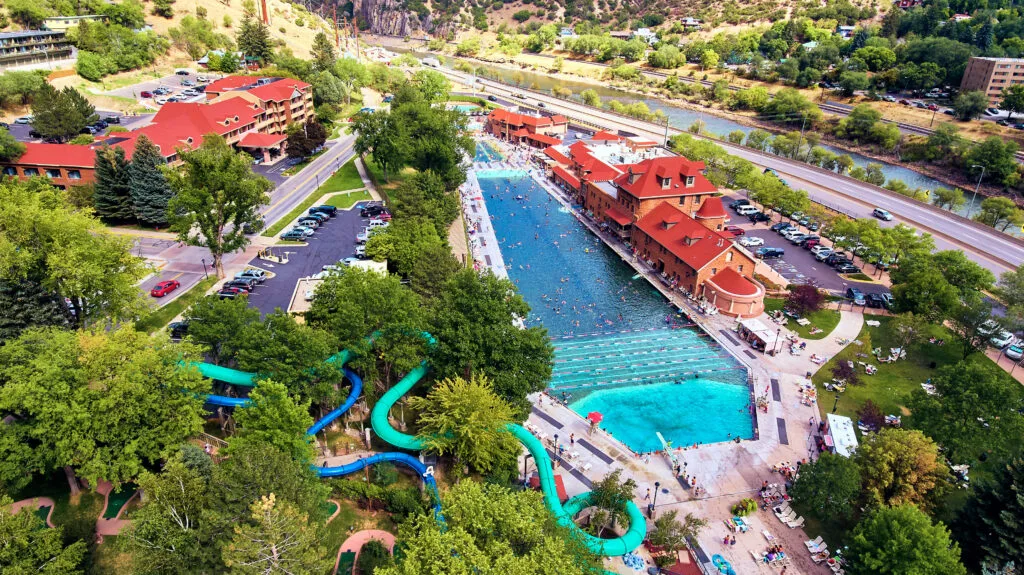 Glenwood Springs also a 2 hot springs, trails, lakes, white water rafting, and brewery, an escape room, and more. While you could make it a day trip it also makes a wonderful weekend trip for the family.
Central City
Central City is about a 45 min drive from Denver and has everything from delicious eats to legal gambling in Colorado. There are several casinos, with Black Hawk being the biggest, gold mining and panning, a nearby ghost town, a brewery, lots of historical sites from the wild wild west days, and a carousel.
Want to take a road trip from Denver? Check out my guide on 6 road trips to take from Denver!