Planning to take on a small arts and crafts project to spend your vacation? Let resin come to your rescue, read on to find out more about resin and get some resin crafts ideas.
Originating from plants, trees, and even insects, resin was primarily used as glue. Natural sources of resin include shellac and amber. It helps transfer stress between the fibers and protects the surface from external factors clasping things together.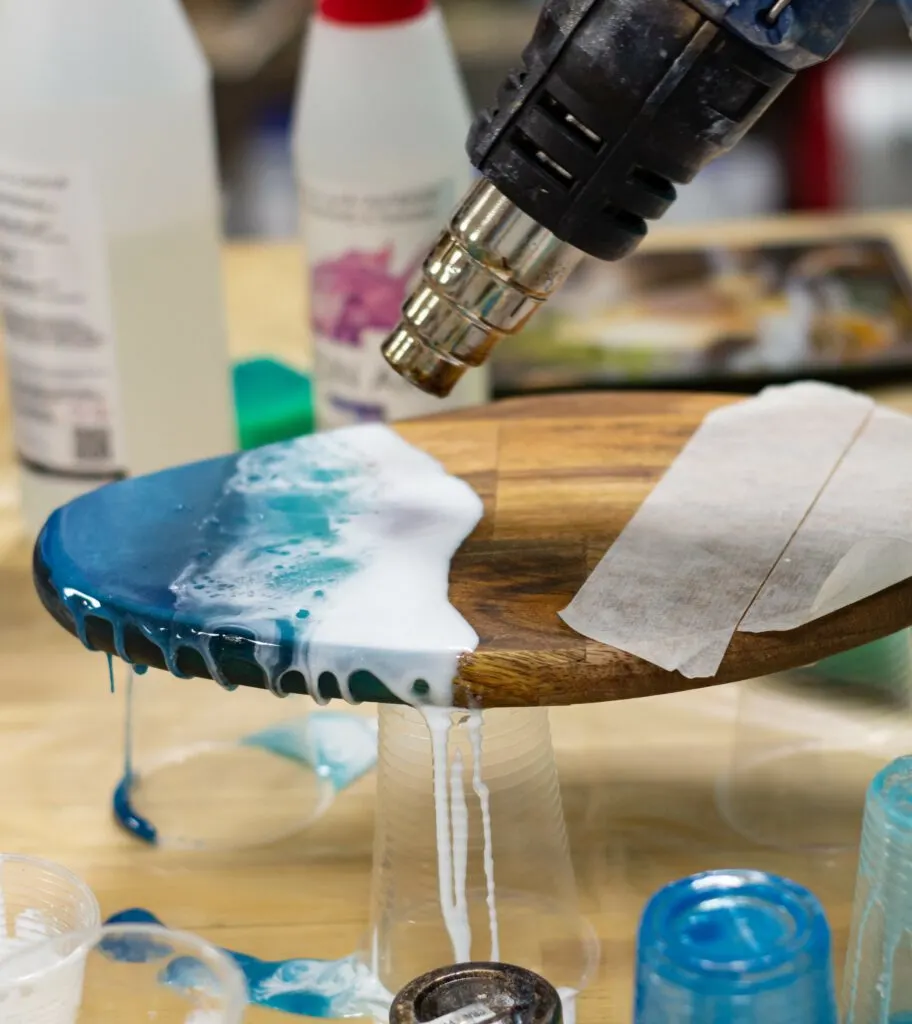 This makes a great craft material because of its shiny and clear appearance. Let's delve deeper into the know-hows of using this cool craft item.
What Is Epoxy Resin and How to Use It in Crafts and DIY Projects?
Based on the properties and costs, resin is usually of three different types. The one that is most commonly used for crafts and DIY projects is epoxy resin. Epoxy resin is a liquid adhesive that functions as a sealer and hardens to give a shiny finish. It's often used as a floor and countertop primer, as well as a component in paints and plastics.
Is There a Difference Between Resin and Epoxy Resin?
The main difference between the epoxy resin and resin is the drying time. Epoxy dries in 15-30 minutes whereas resin can take any time between 8-10 hours thus epoxy is the choice of material for most DIY projects.
Is Resin Dangerous?
Epoxy resin is generally non-toxic, nevertheless, it is a good practice to keep it away from the mouth and nose and thoroughly wash hands after using. Resin on the other hand releases fumes on curing so must be used while wearing a respirator and goggles. It can also irritate your hands so gloves are a must.
Epoxy Resin Maintenance
Another advantage of this DIY must-have product is the low maintenance. The only drawback is that it can discolor on prolonged sun exposure because the UV rays disintegrate the epoxy polymers. Moreover, epoxy resin countertops like granite countertops aren't heat resistant so don't place hot pans over them.
To reverse the dullness, clean the surface with moist linen or cotton cloth and then rub the resin surface with polish in a slow, circular motion with little pressure to restore the original shine.
How to Clean Resin if It Comes in Contact With Your Skin?
Any resin that comes in contact with your skin should be quickly removed with any of the following:
Vinegar
Acetone
Waterless citrus-based hand cleaner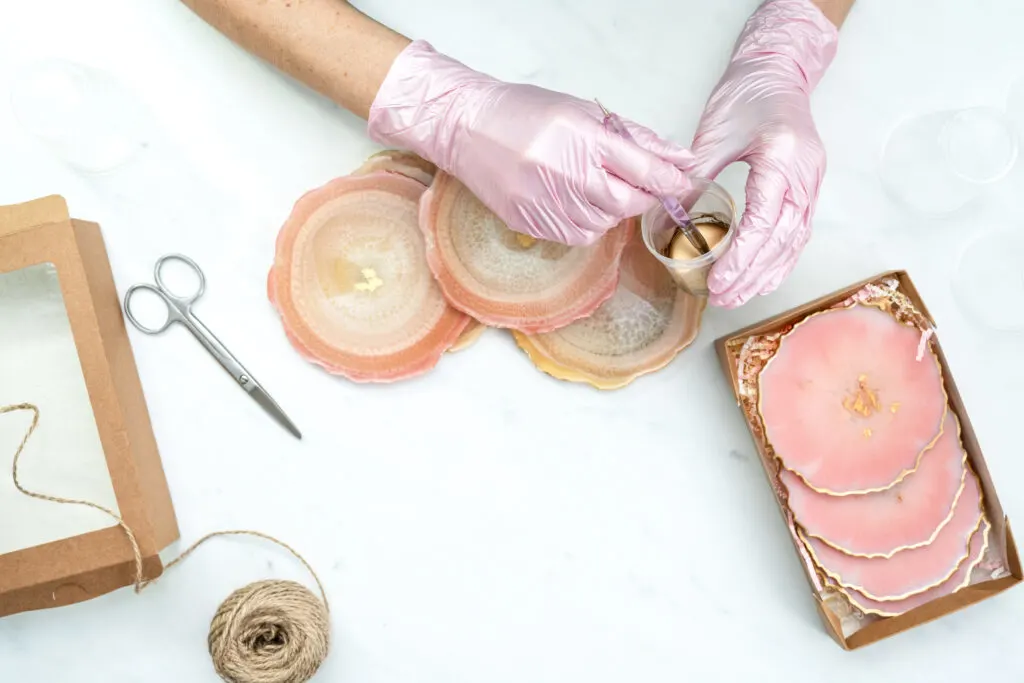 Where Can I Find Epoxy Resin?
Resin projects at Walmart, Amazon, Michaels, Hobby Lobby, Home Depot, or any home hardware store are usual places to look for your resin fix.
ArtResins gallons is the most popular one and comes in two components i.e the hardener and the resin. These should be mixed as per instructions before pouring on your project. Another great choice is Envirotech Lite.
How Much Resin Do I Need for My Project?
The area and volume of your project will help you give a rough estimate and measure the height of the project for an idea of the depth. Most resins on the market are easy to use and the 1:1 ratio works best for them. Casting resin, which is one kind of epoxy resin has a lower viscosity and helps to make better crafts. It is thinner and easier to pour. Read on for more information on how to use casting resin for beginners.
What Supplies Are Needed for Resin Projects?
The following are the typical list of materials for a DIY project:
Gloves
Spreader or plastic spoons
Plastic mixing cups
Stir stick or popsicle stick for stirring
Covered working space
Heat gun or torch
What Materials Can I Add to Epoxy Resins?
It is a commonly asked question given that most projects use different materials for making decorative pieces with resin. The most popular things that are added to epoxy resin are:
Fresh, dry flowers
Pigments and dyes
Glitter
Gold leaf
Pressed or artificial flowers
Food colors
Beads
Alcohol ink
Scrapbooking embellishments
Wood shapes
Sand and shells and whatever fuel your imagination.
What Kinds of Surfaces Can I Use to Pour Resin on?
Here are some popular surfaces to work on with resin:
Metal
Stone
Wood
Canvas
Concrete
Silicone molds
Cookie cutters
Textured tiles
Silly putty
Paper
Why Is Resin Expensive?
This is because the process of bottling the two separate parts is more intensive than bottling something like acrylic paint – this coupled with the toxic ingredients contribute to the hefty price tag. The material itself is more expensive. Fortunately, the results of the resin work more than make the price worth it.
Does Resin Break Easily?
No, it's relatively strong. However, slamming resin paperweight could potentially crack it. Once fully hardened, it's dense and there is some weight to it.
Working with resin can be a great craft for kids to work with but under adult supervision to prevent accidents. Now let's jump into some crafting ideas for your first resin DIY project.
Resin Craft Ideas
Epoxy Resin Coasters
The easiest project to try out if you are a beginner is to make coasters. Make use of all those beautiful shells you picked up at the beach and jar lids as molds. Place the shells in the lid making sure they are below the edge level and pour in resin to let it harden. Remember to pop those air bubbles.
Give an Old Table a Makeover
Tired of your old patio table and up for a bigger project over the summer break. Then proceed to clean, sand off the old paint, prime, and repaint the tabletop. Secondly, cut and glue a fabric of your choice on top followed by a generous pouring of resin. Now, you have a waterproof tabletop.
Coffee Table That Grabs Attention
Colored resin is another great way to add color and shine to an old, dull coffee table. Add a second paint over the top for a marble vein pattern.
A Mosaic Resin Tray
A fairly simple yet fun project to make use of those DVDs collecting dust in your storeroom. Cut your DVDs into small pieces without leaving any fingerprints and spread them over at the bottom of the tray. Then pour resin over them covering them fully.
Marbled Resin Wood Coasters
Once you have upgraded from beginner level and want to experiment, then mix resin with various colors in different combinations for a marble effect. Try these with some wooden coasters for marvelous results.
Turquoise Resin Inlay Cheese Board
A more ambitious project that is reminiscent of resin flowing through tables is a resin inlay cheese board. For this, you will need a plunge router of 1/16 inch and some experience with woodwork.
DIY Seashore Resin Art
A perfect project for those willing to make use of their artistic side. Resin art is a fun experience. The simple seashore design with vibrant colors evokes the sense of the seaside and adds a bit of nature to your living room.
Resin Art Wooden Chopping Boards
The kitchen is usually the last place one thinks of when planning decorative DIY projects. Nonetheless, bold colors and galaxy-inspired designs can drastically uplift the aesthetic value of your chopping board and make the cooking experience more enjoyable.
Other Resin Craft Ideas
Here are more craft ideas to give a try:
Laptop Desk with Resin
Bar Cart Makeover with Resin
Frame Made with Legos
Alcohol Ink Resin Keychains
Terrarium Waterfall Project Using Resin
Garden Projects
Resin and Wood Serving Tray
Color Block Resin Coaster
Agate Cheese Boards
Large Blue Marble Table
Conclusion
Resin may seem like a difficult craft material to work with initially. However, with enough practice, you will soon come to love using resin to try making different items. The versatility of resin makes it a popular craft ingredient. From tabletops, floors to jewelry, the possibilities stretch as far as your imagination.
So get your craft materials and start working on your next project which is sure to wow your visitors the next time you throw a party.