Crack Corn Dip or Cheddar, Bacon, and Jalapeno Corn Dip are made with ranch dressing, bacon, cheddar, jalapeno, corn, and a few other items to make a cold corn dip that is the best corn dip recipe. It's great as a party appetizer, for sports games like the Super Bowl, and much more. Crack corn dip is an easy corn dip recipe that is ready in a few minutes.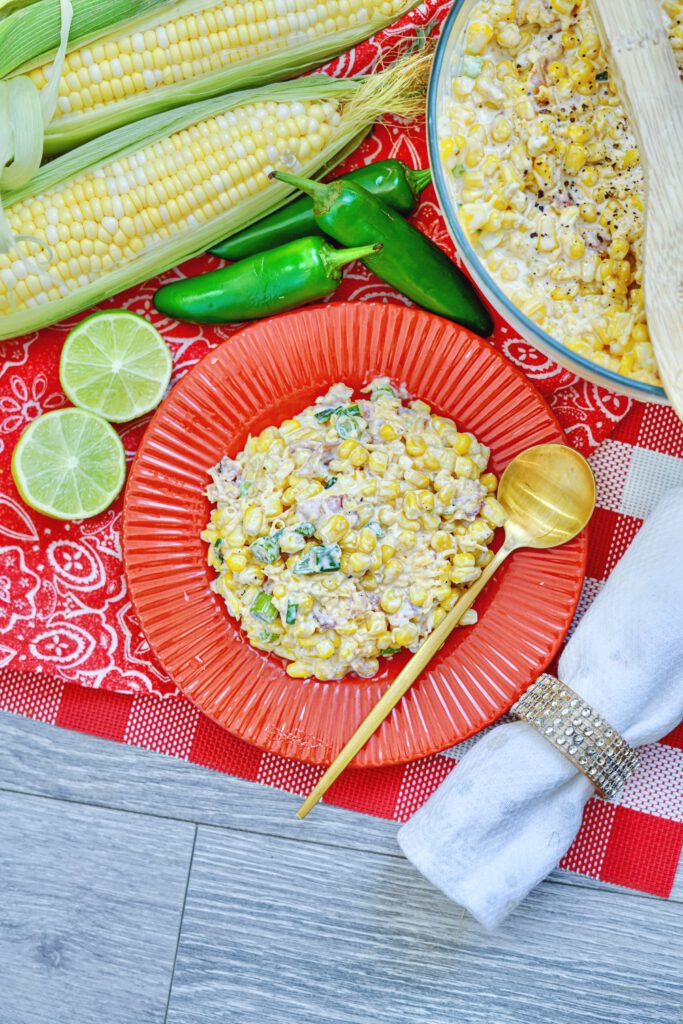 I call my dip Cheddar, Bacon, & Jalapeno Corn Dip, but it also goes by Crack Corn Dip, Ranch Corn Dip, Mexican Corn Dip, or Cowboy Crack Corn Dip. Whatever you call your corn dip recipe they all use the same ingredients of corn, bacon, cheddar cheese, jalapenos, ranch, and some spices.
The Best Corn Dip Recipe
Corn Dip is so good you just don't want to stop eating it, but aren't all dip recipes? If you love dips then you'll want to check out my Dill Pickle Dip Recipe or 19 Dip Recipes.
There are a few different ways to make corn dip and you can switch ingredients up. I'll share some variations below! Corn Dip is a crowd pleaser and will leave your guests wanting more.
Ingredients in Corn Dip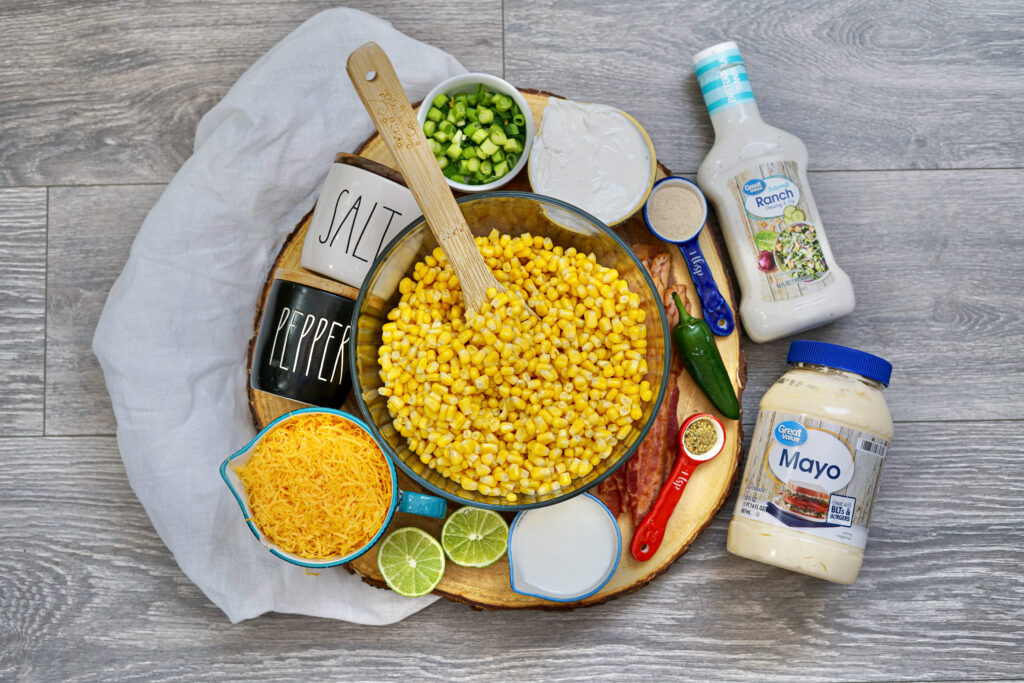 Canned Corn – While I used regular canned corn in my recipe you can also use Mexicorn. It should be in the same area as the canned corn in your grocery store. The only difference is Mexicorn has bell peppers added to it. This can give your dip more flavor.
Mayonnaise – Give your dip creaminess and is a main ingredient in corn dip.
Sour Cream – Another main ingredient that helps with creaminess.
Ranch Dressing – The third main ingredient. Gives flavor and helps to build the base of the dip. I used bottled ranch dressing for this recipe, but you can substitute a ranch packet instead. You may need to add a little more sour cream and mayonnaise if you want a creamier dip.
Cheddar Cheese – I used cheddar cheese because it pairs with the ingredients so well, but you could also use a Mexican blend of shredded cheese. I shred my own cheese because it has more flavor (in my opinion), but bagged shredded cheese is fine.
Green Onion – Optional, can be left out if you don't like them. You can substitute the green onion with red onion if you prefer.
Bacon – A delicious addition, but you can leave it out if you don't like Bacon or eat it. You can use freshly cooked bacon or the premade diced package from the grocery store.
Jalapeno – Gives your dip more flavor and a hint of spice. You can substitute canned jalapenos. If you use canned jalapenos add a little of the juice to your dip for more spice!
Garlic – For flavor.
Lime Juice – For flavor and wetness.
Onion Powder, Salt, Black Pepper – Spiced to give your dip more flavor
You could also add Cilantro and Queso Fresco Cheese for more of a Mexican Corn Dip recipe.
How to Make Crack Corn Dip
Gather all of your ingredients and measure them out.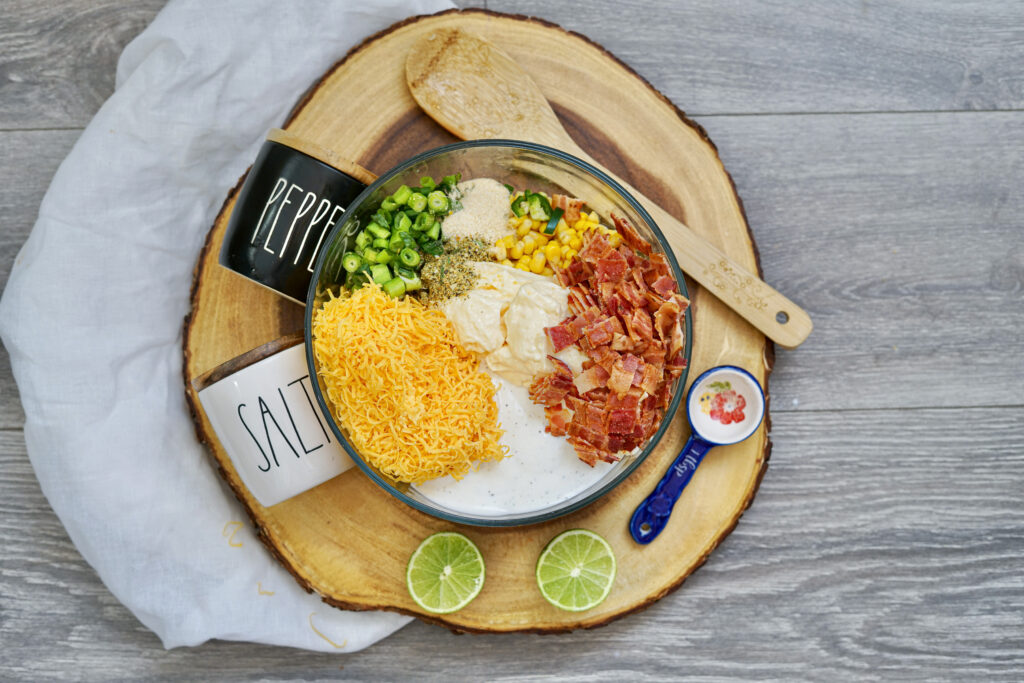 Place everything into a bowl and mix well.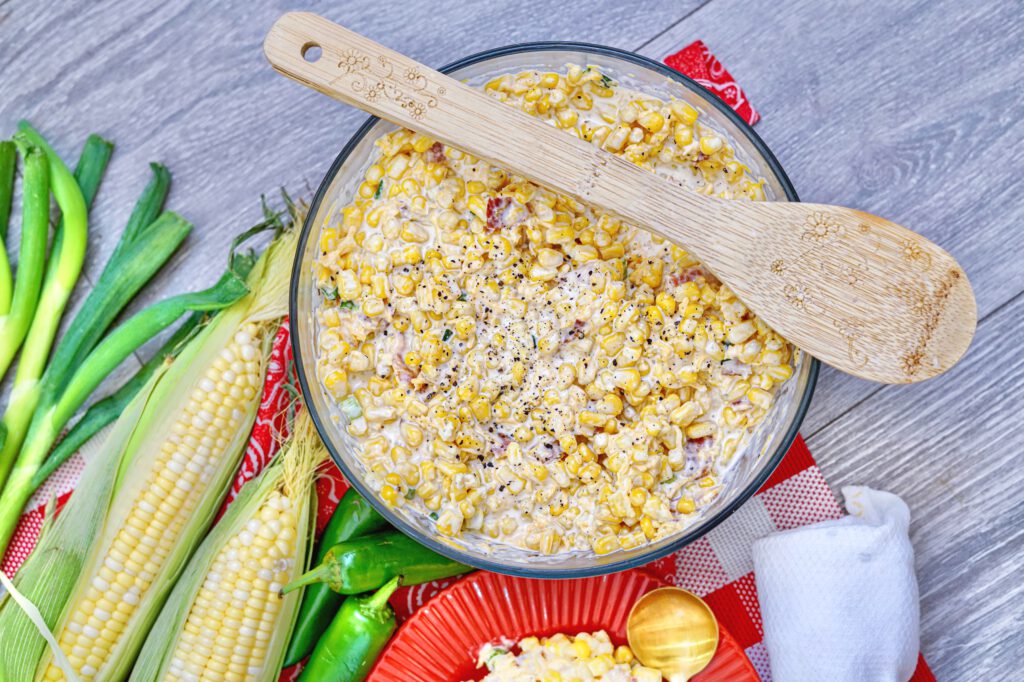 Store in the refrigerator for at least one hour. This gives the dip time to marinate together and chill. 6 hours is best or even making it the night before works.
Serve with tortilla chips, Ritz crackers, or veggies.
You can even use corn dip as a topping for tacos, nachos, or grilled chicken.
How to Store Corn Dip
Store in an airtight container in the refrigerator until ready to serve. Corn Dip can be stored for up to a few days.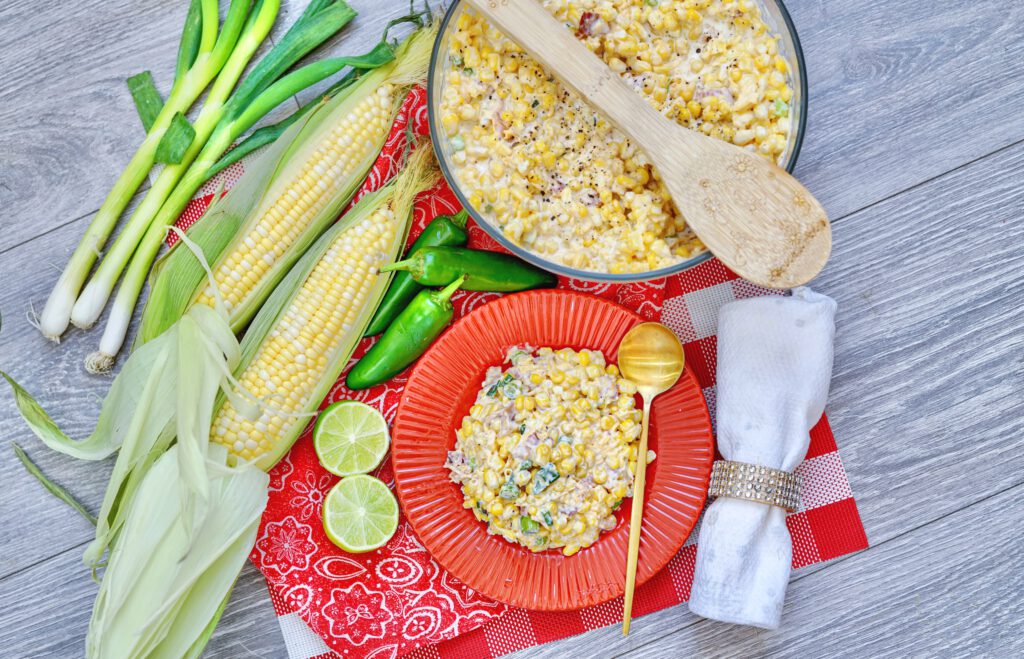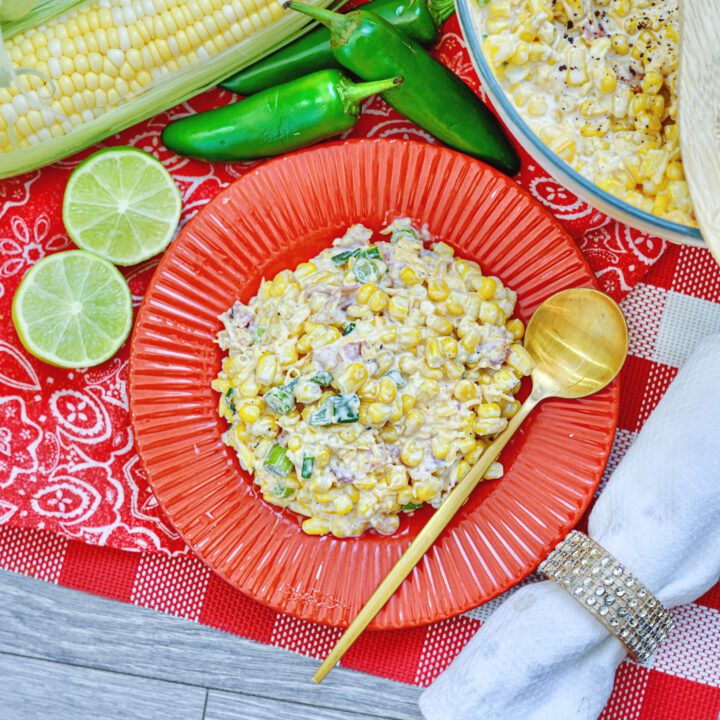 Cheddar, Bacon, & Jalapeno Corn Dip
Total Time:
1 hour
5 minutes
Simple and easy corn dip recipe that uses bacon, cheddar cheese, jalapenos, corn, and other ingredients to make the best party dip or appetizer.
Ingredients
3 Cans of Corn
1 Tbs Garlic
1 Fresh Lime (Squeezed)
1 Jalapeño (diced)
1/2 Cup Mayo
1/2 Cup Sour Cream
1/4 Cup Ranch
8oz Shredded Cheddar Cheese
1/4 Cup Green Onion
1 Tsp Onion Power
Salt & Pepper to Taste
12 Pieces Cooked Bacon (sliced)
Instructions
In a large mixing bowl, add all of the ingredients mentioned above.
Mix well.
Refrigerate for 1-6 hours. This gives the dip time to combine flavors and chill.
Serve & enjoy.