If you're looking for where to buy sublimation transfers ready to press this is a list of places you can order transfers from. These websites have sublimation mug designs that are printed and ready to press on your mug.
Are you wanting to get into sublimation, but don't have a sublimation printer? Here I will cover where you can find sublimation transfers for your Cricut Mug Press that are ready to press. This means you will buy a design and they will ship you the sublimation transfer that you can press on your own. If you're wanting to print your own sublimation transfers check out my affordable sublimation printer guide.
Where to Buy Sublimation Transfers
If you aren't familiar with what a sublimation transfer is it's an image printed with sublimation ink on sublimation paper. It will come to you ready for you to press onto your mug or other items. This is a great option for someone who doesn't have a sublimation printer or someone who wants a design that they don't have the file for.
How to Use Sublimation Transfers
To use a sublimation transfer you are going to follow the directions from the site you order your sublimation transfers from. When I've purchased mine, before getting my sublimation printer, they always came with instructions.
You'll apply the design to your mug with heat tape and press it per the directions from the company. For mugs, I would apply the transfer with heat tape and place it into my mug press until my mug press was done. I got flawless designs every time.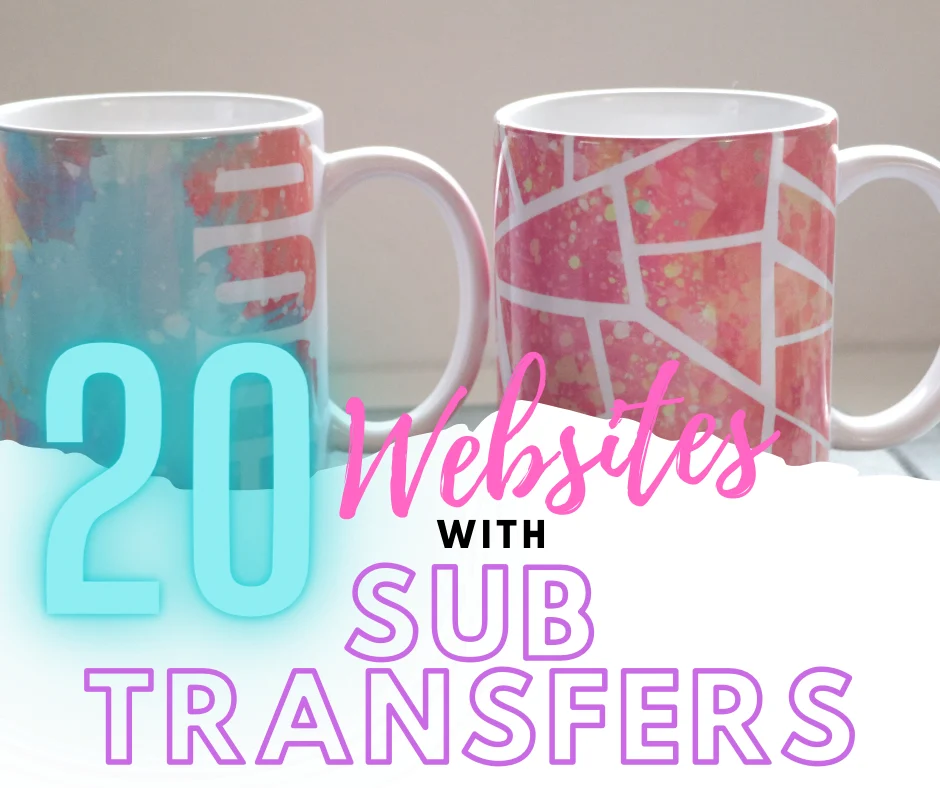 Best Sites to Buy Sublimation Transfers
Let's talk about where to buy your sublimation transfers and what sizes to look for. When buying a sublimation transfer you need to make sure you're buying a size that fits on your mug. You are going to want to buy a mug or can koozie size. Not all websites offer this size, so make sure to check the size of your transfer before buying it. However, I will only share websites that do offer this size to make it easier for you!
Atlanta Vinyl Store – Atlanta Vinyl Store does custom transfers only. Pick the size you need and then upload your image to their site.
Century Park Designs – Get their 3″ size for mugs.
Crafty Bucks – Crafty Bucks is another source for sublimation transfers. BONUS: You can send them custom designs that they'll print for you.
Creative Designs to Go – So many cute designs available.
Etsy – Etsy is a great place to buy mug sublimation transfers. You will need to make sure to read the description properly because sometimes when searching on Etsy a listing for the design will come up and it's not ready to press transfer. When searching on Etsy look for Ready to Press Sublimation Transfers or Sublimation Transfers. Make sure to find mug size decals or mug wraps. If a shop has a design you like, but not in a mug size. Message them and ask if they can make it in the size you need. Mug decals are about 4″ in size.
Ginger's Custom Creations – Ginger's Custom Creations is another site with a lot of cute items.
Green Iguana – Green Iguana has a lot of sublimation transfers that are ready to press and their mug size comes with 6 designs to a sheet.
Lor's Transfers – It looks like their 3″ transfers will work for mugs.
My Vinyl Direct – My Vinyl Direct has a lot of gorgeous options available.
NYMD Transfers – NYMD Transfers has a bunch of sublimation transfers available.
Outta Control Designs – Lots of cute stuff. Make sure to shop from the transfers list.
Peachy Keen Prints – So much cute designs.
Pretty Little Things Wholesale – Get there XS size.
Sage and Co – Get this Koozie size
Southern Graphic Co – Not all of their transfers come in a mug size. So you'll have to look through the ones you like.
Sub Zero Sublimations – Get their 3″ size for mugs.
Sugar Ink and Powder
Sunshine and Pixels – Sunshine and Pixels has so many cute designs and in mug sizes!
Trendy Transfers – I love Trendy Transfers. I started using them last year when I was making masks and used their transfers for those. They have a lot of designs in mug sizes. Trendy Transfers also has screen print transfers, similar to vinyl, so make sure you're getting the sublimation transfers.
This post contains affiliate links for Etsy.