Looking for the best affordable sublimation printer? The Epson EcoTanks are perfect sublimation printers that are affordable, easy to use, and print beautiful sublimation prints.
All About Sublimation Printing
In this guide, I am going to cover everything from what sublimation is to Epson ecotank 2720 and 2760 sublimation printer settings. If you're new to sublimation, this is the perfect place for you to be. Let's learn together!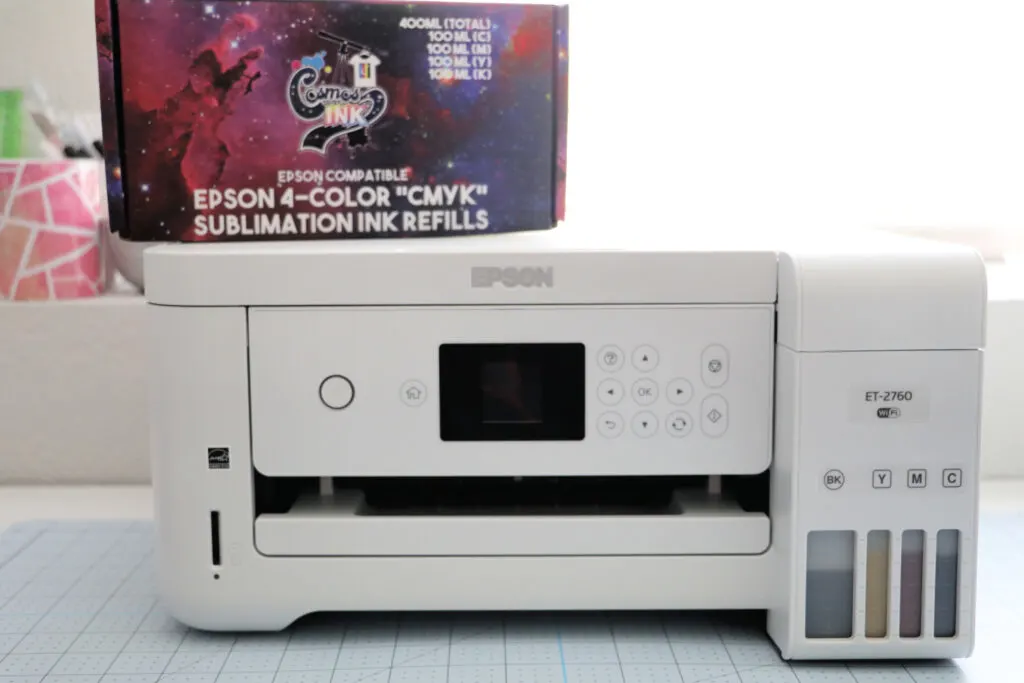 While the Epson Ecotank printers aren't true sublimation printers, they can easily be converted into a sublimation printer by adding sublimation ink to the printer. A true sublimation printer is a printer made specifically for sublimation, like sawgrass, but they can get spendy. However, due to the design of the Ecotanks they work with sublimation ink and can be used for sublimation printing. Warning: Adding sublimation ink to your Epson Ecotank printer will void its warranty.
What is Sublimation?
Let's start with the simple question of What is sublimation? Sublimation is a printing method that uses a special type of ink. It transfers a design onto a material or fabric using heat. The ink ends up being permanent on your fabric or material and you're left with a colorful and vibrant design.
Sublimation can only be used on certain materials and blanks. Shirts need to have a polyester count of 60% or higher for sublimation. The less polyester count the fabric has the duller your design will look. You'll want to aim for 100% polyester for the most vibrancy, but anything 60%+ will work. You can also use sublimation on a variety of different blanks like mugs, tumblers, puzzles, jewelry, and so much more. You'll just need to make sure you are using sublimation blanks. I order my blanks from JPPlus.com. Use JPPLUS coupon code 9POM3 to get 15% Off List Price.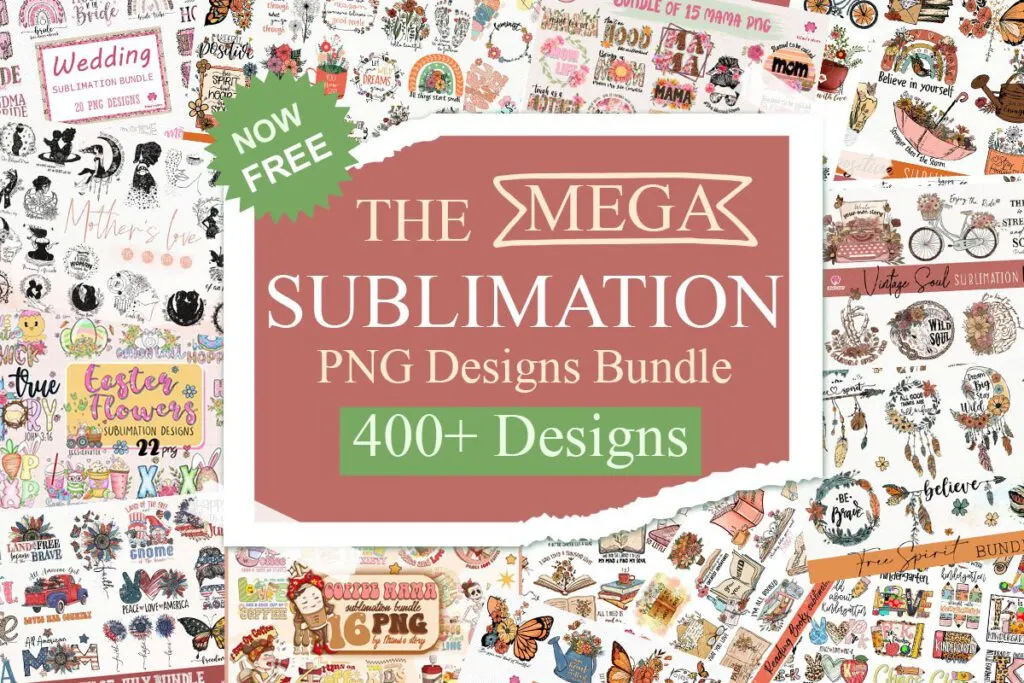 What is the Best Sublimation Printer 2022?
Before I get into something I like to join lots of Facebook groups, sit back, and watch the posts. This is a great way to learn about something before trying it out. So this is what I did with sublimation and the printer I kept seeing mentioned was an Epson Ecotank. So I went to google and read about the printer and watched several youtube videos about it. As far as I could tell the Epson Ecotank 2720 and 2760 were the highest recommendation for an affordable sublimation printer. There are a variety of Epson Ecotanks and all of them will work for sublimation printing. While the Epson Ecotank 2720 and 2760 can only print 8.5×14″ you can get larger prints with an Epson Ecotank 16500, 7750, and I think there are a few others.
Note: You will need to convert the Epson Ecotank into a sublimation printer. This means you will add sublimation ink to the printer and change some printer settings. Do not add the ink to the printer that it comes with. Sell those on Ebay or something.
Epson Ecotanks can be hard to find right now, but I found a bunch at my local Sam's Club and purchased one. I ended up going with the Epson Ecotank 2760. Side note: My Sam's Club app said Ecotanks were out of stock at the stores around me, but I checked the printer area while shopping and found like 10 of them on the shelf. So if you are struggling to find one I suggest checking the store and not relying on the app.
From what I could gather around the internet and facebook groups the Epson Ecotank 2720 and 2760 were the best affordable sublimation printers. They retail for between $200-300 and are the cheapest sublimation printer option.
What is the Different Between the Epson Ecotank 2720 and 2760?
Now that we have figured out the cheapest sublimation printer option let's talk about the differences between the Epson Ecotank 2720 and 2760 for sublimation printing. I am only going to compare them in terms of sublimation and how that works.
When it comes to the Epson Ecotank 2720 and 2760 and using them for sublimation there are no differences. The Epson Ecotank 2760 is a step up from the 2720 because it has a few added features like double-sided printing and external storage, but you won't be using those with sublimation printing. The Epson Ecotank 2720 is supposed to print slightly better image quality, but in all the work I've seen done with the printers I haven't been able to see a difference.
In regards to sublimation printing you can't go wrong with either printer and they're a great option. My advice would be to buy whichever one you can find.
Where to Buy Epson Ecotank 2720 and 2760
You can use any of the Epson Ecotank printers for sublimation printing, but the Epson Ecotank 2720 and 2760 are the cheapest options. You can find them at:
and many more retailers. Do not buy printers off of Etsy and if you find one on marketplace make sure it has never had ink added to it.
Can I use a Printer I've added ink to already?
I've seen this question a lot from people who have an Ecotank already and want to convert it into a sublimation printer. If you have been using the printer as a regular printer with regular ink it is possible to convert it to sublimation. You will need to drain all the ink from the printer. The easiest way to do this is by printing purge documents. You can use these. Once most of the ink is out of the printer you'll need to clean the printer out with a cleaning kit. This is a great youtube video on how to do it.
Best Sublimation Printer Ink and Paper
Now that we have our printer we need some sublimation ink and paper. There are a few options to choose from, but as far as the best sublimation ink Cosmos was highly recommended and that is what I chose to go with. So far I have been very happy with how my images look with Cosmos sublimation Ink. The best sublimation paper is crafting besties, but they sell out quickly. So I went with the next best paper, A Sub on Amazon.
Sublimation Ink: I went with Cosmos Ink since it was highly recommended by a lot of people. They're supposed to be the best. Get Cosmos Ink Here.
You can also use:
Printers Jack Ink on Amazon (make sure you get the sublimation ink. they also sell regular printer ink)
Both of those inks are also highly recommended and both are more budget-friendly.
Sublimation Paper: I went with A Sub 125 on Amazon, but the A Sub 120 also works great.
Some other good brands are:
Paper hack: A lot of brands keep selling out of the 8.5×11″ paper. You can buy the 8.5×17″ paper and cut it in half. You'll also get double the paper.
How to Setup Epson Ecotank 2720 and 2760 for Sublimation
Now that you have your printer take it out of the box. Do not use the ink that comes with the printer. You can sell those on marketplace or Ebay. Do not turn on your printer.
Open the quick guide instructions and remove all of the tape from around the printer. Then open up the ink case and we're going to add our sublimation ink. If you got the Cosmos Sublimation Ink they come with syringe attachments to add the ink into the ink reservoir.
You'll put the syringe together and then fill the syringe with ink and place it into the reservoir. Take the syringe tip and place it into the correct opening for the color you're adding. You'll see 2 half circles. Place the tip into the bottom half circle for the color you're adding and gently push the syringe until empty. Do not rush this process and squirt the ink out fast, this will create a mess if you do. I think I did about 3-4 syringes for each color. Fill the ink up to the top line on the ink reservoir. You might have some leftover ink. Save that for when you need to add more ink to your printer.
Once the ink is in the printer you can close it, plug it in, and turn it on. Follow the steps to set up your printer. This process takes about 10-20 minutes.
Once your printer is set up you'll need to adjust some settings. I use a PC so these are the printer settings and steps for a PC user.
Before you adjust the settings head to the canon website and download the drivers for your Ecotank model. The drivers allow you to access all of the settings. Without the driver you won't have all of these settings. Also, note that anytime your printer does an update your settings will reset. I would recommend turning off auto-updates so you don't come back to a printer that has no settings like I did.
Start
Printers & Scanners – Just type it in and it will pop up
If your printer isn't added to your computer click Add a printer or scanner. Your printer will need to be connected via wifi (I did this during the setup process). Add your printer.
Once your printer is added to your computer click on it.
Click Manage
Printing Preferences
Set your Paper Source
Set your Paper Size – I did 8.5 x 11 since that is what I generally print on.
Change Paper type to Premium Presentation Paper Matte
Change print quality to high
More Options Tab – Uncheck High Speed
Check Mirror (this means you won't have to mirror your images before printing)
Color Correction click Custom
In the Color Correction section click Advanced – Under Color Management click Color Controls- Change the color mode to Adobe RGB
Gamma 2.2
Now your printer settings are done. This will make sure the best sublimation images print. Changing these settings will also keep your images from printing with lines in the designs.
Where to buy Sublimation Blanks
When it comes to blanks that are not from Cricut you need to make sure you are buying sublimation blanks. A regular white mug from Target or the Dollar Store won't work. There is a variety of websites to buy Sublimation blanks from and I'll list them below. You can also buy sublimation blanks on Amazon, but you need to be cautious. I'll cover more of that below.
Tips when buying sublimation blanks:
Always read the description when buying sublimation blanks and make sure the description says the mug, cup, or tumbler is for sublimation use.
Buy from a reputable website or seller. Read reviews.
Where to buy sublimation blanks:
Johnson Plastic Plus coupon code gets 15% off with code 9POM3 to get 15% Off the List Price. *excludes equipment, ink, fabrication, and STB subscriptions
Etsy (read descriptions)
Sublimation Blanks on Amazon
When it comes to buying sublimation blanks on Amazon you have to read the description. Amazon sellers will add the keyword sublimation to their listing so it will show up in your search, but the item won't be for sublimation. Sellers using sublimation in their listing is confusing so here are some blanks on Amazon that are for sublimation:
Mugs:
Tumblers and Cups:
This post contains affiliate links.