Over 20+ S'mores recipes to enjoy over the summer at BBQ's, picnics, camping, and more.
If you have ever had a S'more before you know it is full of ooey-gooey goodness! If you've never had one, you can make a classic S'more at home by roasting a marshmallow over the fire or in the oven and layering it with a piece of chocolate between two pieces of graham crackers.
While traditional S'mores are delicious, why would you want to have the same thing all the time?! That is why we have found some creative ways for you to enjoy a S'more with a tasty twist.
After you check out our 25+ Scrumptious S'more Recipes, I think we will all agree that S'mores is no longer just a campfire treat!
1. Campfire Sugar Cone S'mores from Adventures Of Mel
2. Chocolate Covered Strawberry S'mores from Around My Family Table
3. Easy S'mores Fudge from The Baking Chocolatess
4. Gooey, Fudgy S'mores Brownies from A Cookie Named Desire
5. Scallion Popover S'mores from Lady and Pups
6. No Bake S'mores Cheesecake from The Recipe Rebel
7. Nutella S'mores Bars from The View From Great Island
8. Peanut Butter S'moreos from Minimalist Baker
9. Pumpkin S'more Cookies from Recipe Diaries
10. S'more Bombs from Recipe Diaries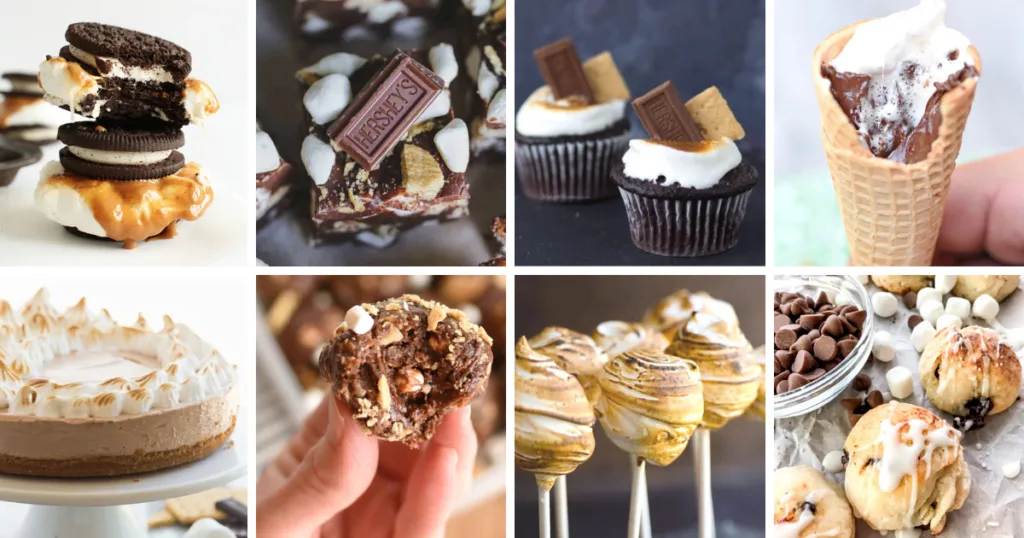 11. S'mores Brownie Bake from A Cultivated Nest
12. S'more Cookie Dough Dip from A Magical Mess
13. S'mores Cupcakes from Midget Momma
14. S'more Energy Bites from Little Dairy On The Prairie
15. S'mores Icebox Cake from Amanda's Cookin'
16. S'mores Shakes from Garnish & Glaze
17. Strawberry S'more Enchiladas with Vanilla Sauce from The Recipe Rebel
18. Toasted S'more Truffle Pops from Ashlee Marie
19. Whoopie Pie S'mores from Minimalist Baker
20. Vegan S'mores Ice Cream from Make It Dairy Free
21. Lucky Charms S'mores Dip – A Colorful rainbow s'mores dip that is made in the oven.
22. Red, White, and Blue S'mores Dip – Perfect for those Patriotic parties like 4th of July, Memorial Day, and Labor Day.
23. Peeps S'mores – Use those leftover Easter Peeps to make S'mores. Also great for holiday themed peeps.
24. Strawberry S'mores Cookie Bars – Take your S'mores up a level with strawberry s'mores cookie bars.
25. Nutella & Strawberry S'more Waffle – Take puff pastry, Nutella, strawberries, and marshmallow into a puffle s'more.