Nutella Strawberry S'more Puffle combines a few simple ingredients into a delicious waffle recipe that will leave you wanting more. Strawberries, Nutella, and Marshmallows combine into a puff pastry waffle for a delicious breakfast, dessert, or snack.
Nutella Strawberry S'more Puffle
Puffles are a TikTok food trend that turns puff pastry dough into waffles. They can either be stuffed or served on their own. In this puffle we're combining nutella, strawberries, and marshmallows for a s'more waffle or puffle.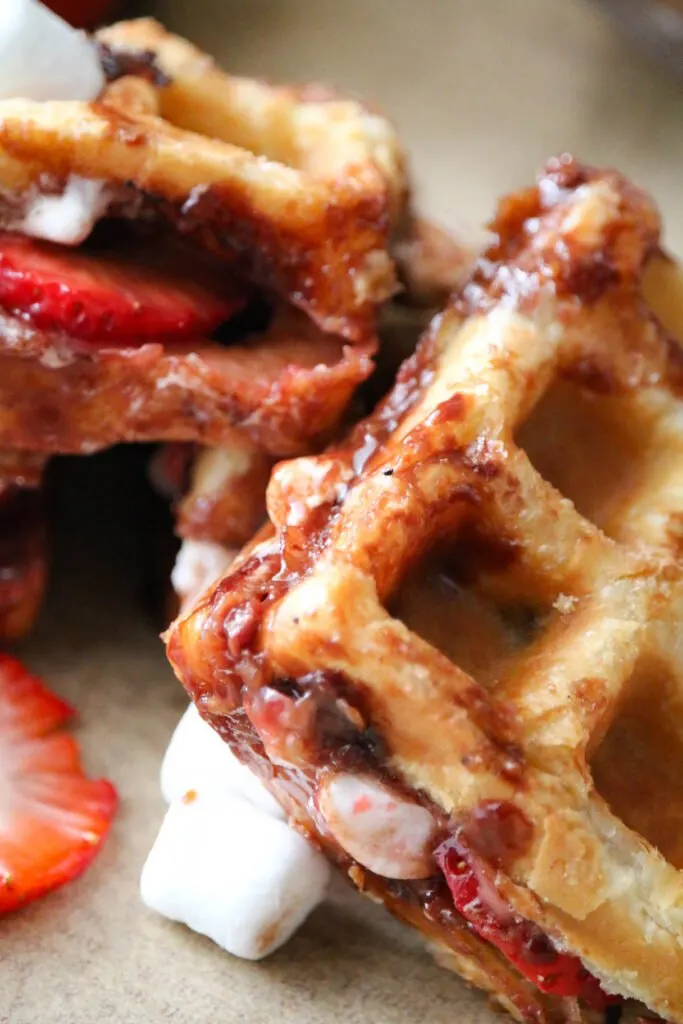 What is puff pastry?
If you're not familiar with puff pastries it's a light, airy, and flaky dough similar to a pie crust or croissant. It's a buttery dough that is versatile. You can make your own puff pastry dough, but it's work. We're getting simple with the frozen dough at your local grocery store. P.S. Puff pastry dough also makes great homemade pop tarts and pizza pockets.
WHERE TO BUY PUFF PASTRY
With this recipe you will want to used uncooked puff pastry dough. You can either make your own or buy the frozen kind. You can find frozen puff pastry dough in the freezer section of your local grocery store. It should be with the frozen desserts.
Puffle Filling Options
Today we're using nutella, strawberry, and marshmallows for our puffle, but some other puffle s'more waffle filling options could be:
Banana & Peanut Butter
Banana & Nutella
Cinnamon Apples and Caramel
Cookie Butter
The possibilities are endless for s'mores waffle recipes.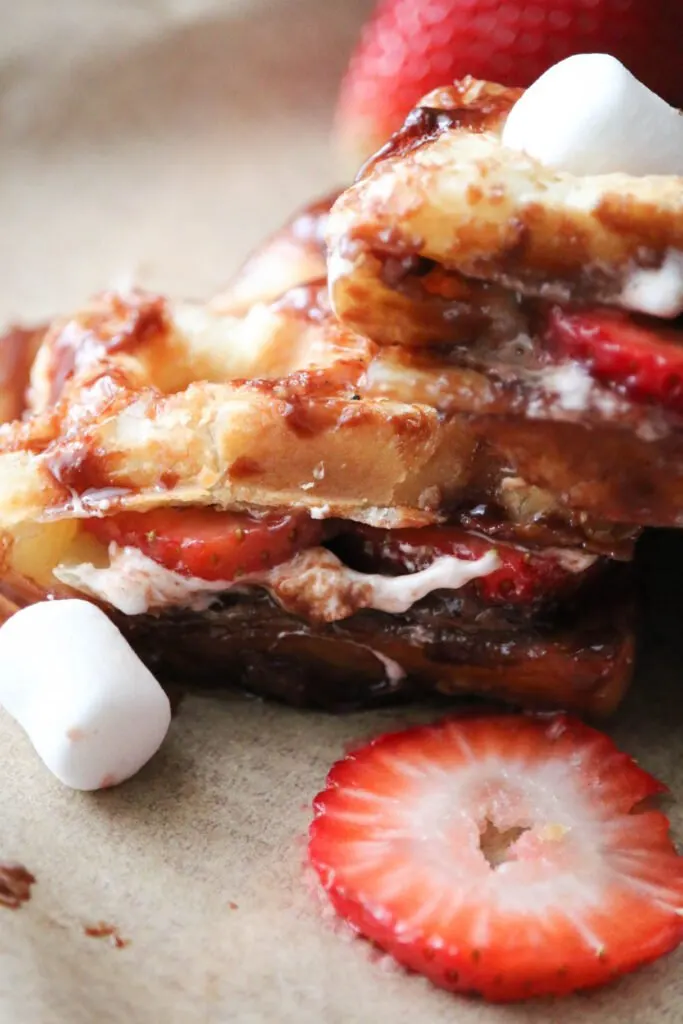 How to Make Nutella Strawberry S'more Puffle
To make your Nutella Strawberry S'more puffle you'll need a few ingredients:
1 Box Pepperidge Farm Puff Pastry
Nutella
Strawberries
Mini Marshmallows
Cooking Spray
Two bowls or cups of different sizes
Waffle iron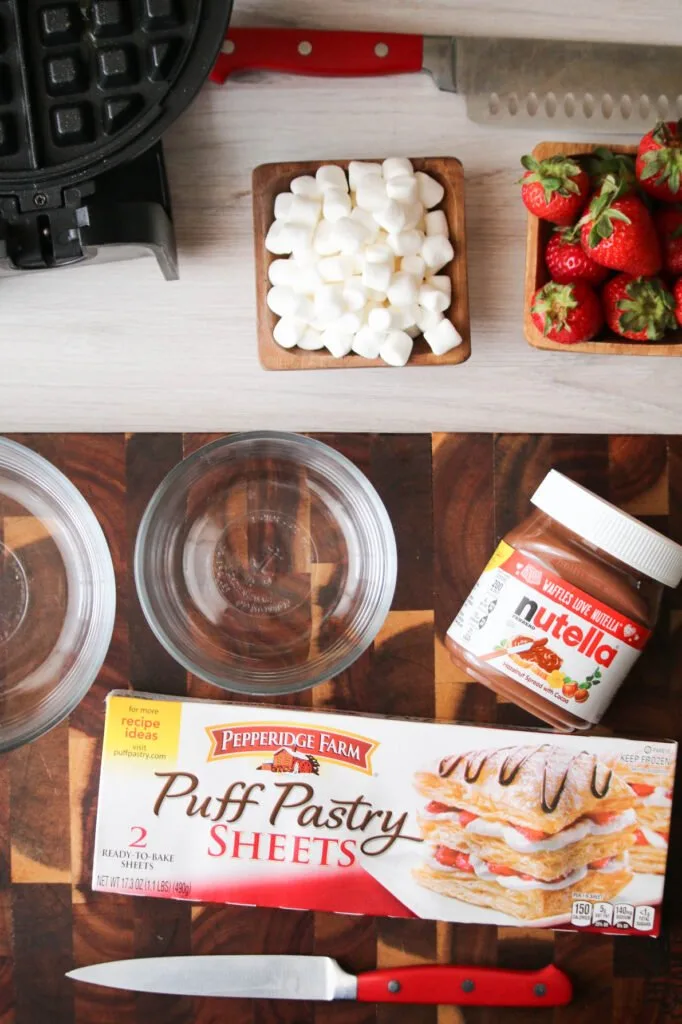 Here's how to make a Nutella strawberry s'mores puff pastry waffle:
Thaw out puff pastry.
Heat up the waffle iron and spray with cooking spray.
While the waffle iron is heating up, roll out puff pastry.
Use two bowls or cups of different sizes to press into the puff pastry. I used a 4 cup bowl and a 2 cup bowl.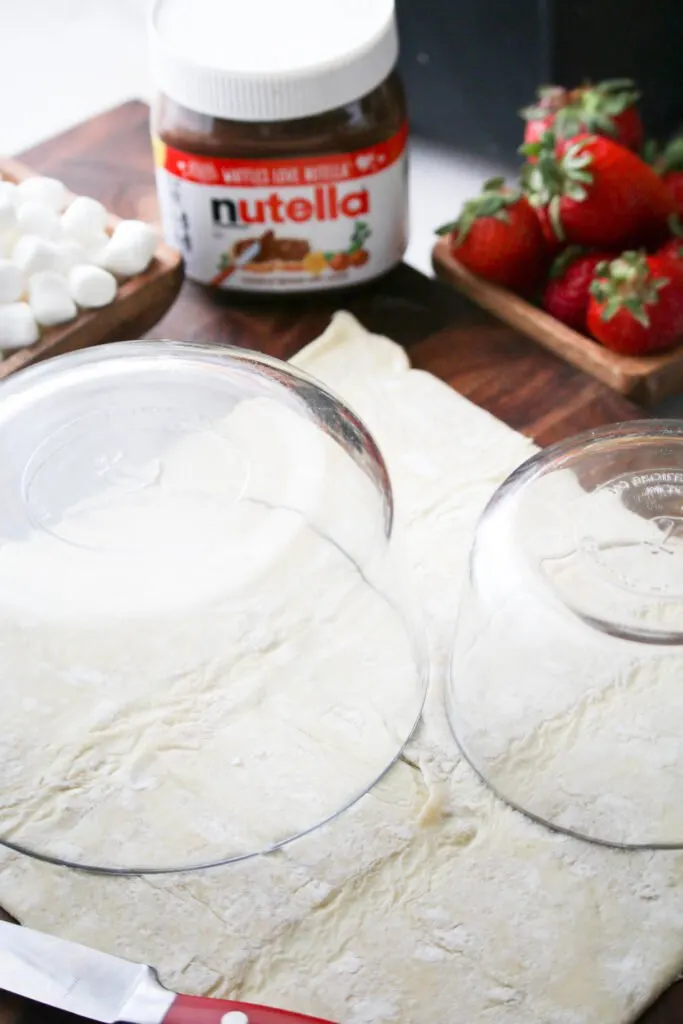 Cut out the two circles of puff pastry.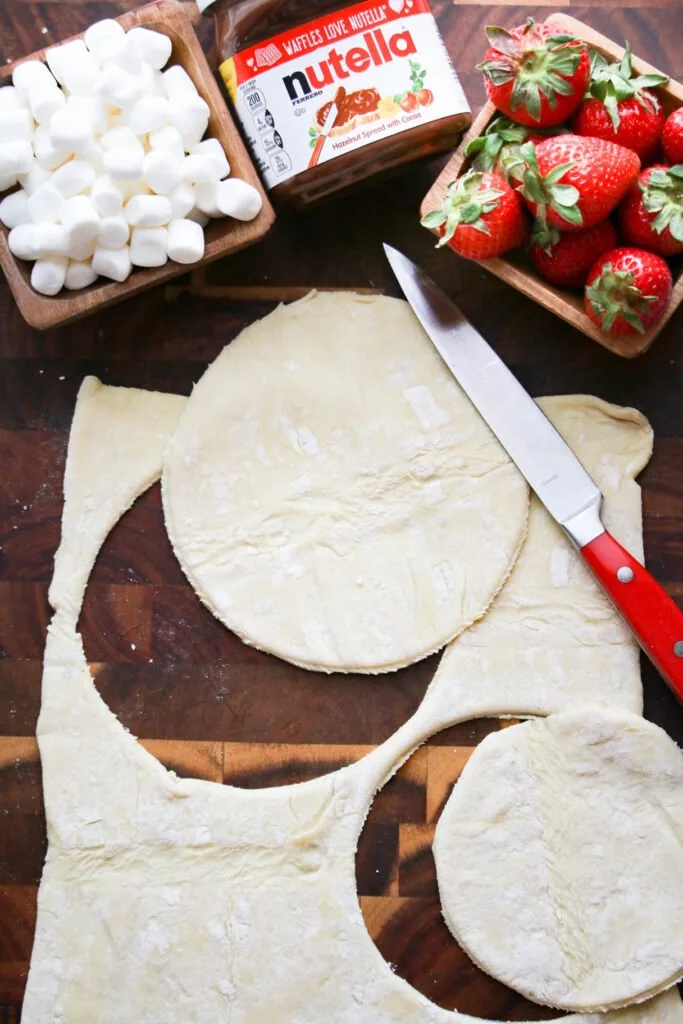 On the larger circle of puff pastry, spread a tablespoon of Nutella in the center. Follow with thin slices of strawberries and several marshmallows. The puff pastry will rise in the waffle iron, so be mindful about not over-packing it with your fruit or filling.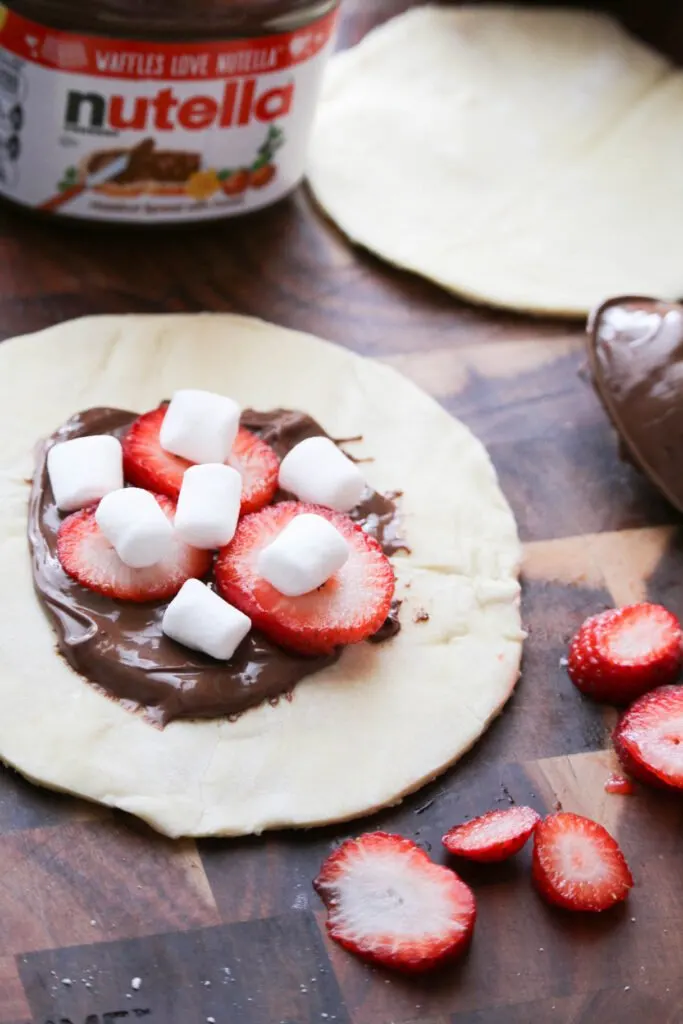 Place the small circle of puff pastry on top of the s'mores center. Pinch to seal.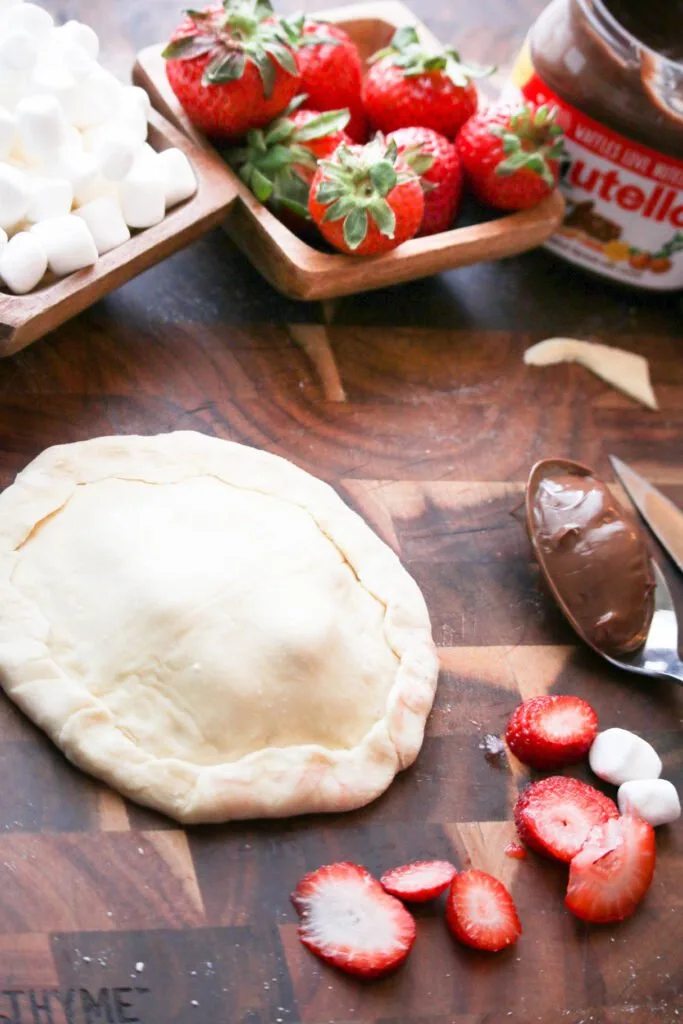 Fold the edges of the larger circle of puff pastry around the smaller to create a sort of nest.
Gently place the stuffed puff pastry onto the waffle iron and gently close it.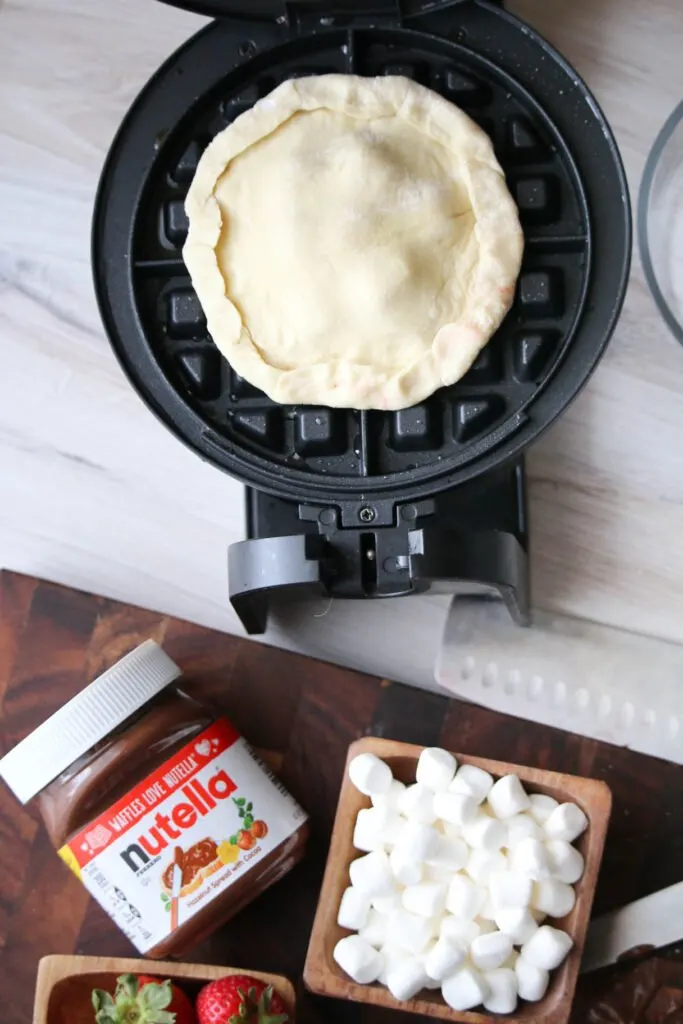 The puff pastry will need to expand in the waffle iron, which means the lid will rise up, so if your waffle iron has a locking latch on it do not use it
Cook until golden brown for 5-10 minutes, checking often once it has expanded.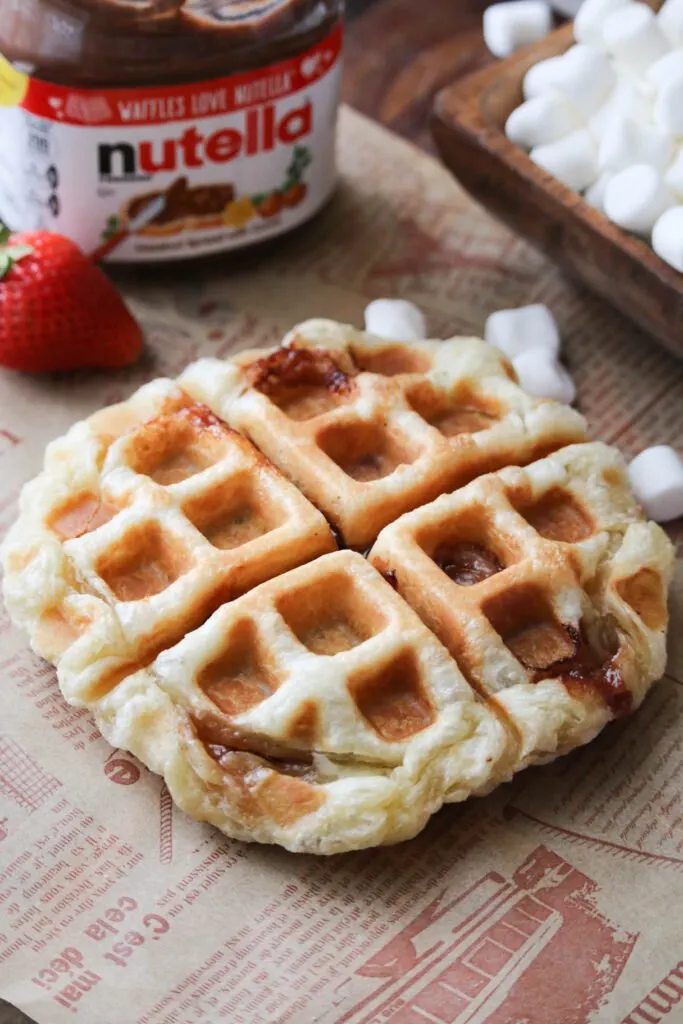 Cover in your preferred toppings and enjoy! Some crushed graham crackers would be delicious.