A simple, but easy Elf on the Shelf arrival box idea that features a box and vintage Christmas postage stickers. Elf on the Shelf arrival ideas with this cute North Pole shipping box.
To download Free Elf on the Shelf Stickers scroll to the bottom of this post and find the green box!
When I saw this cute idea for our Elf on the Shelf arrival in a postage-covered box I knew it was how our elf needed to arrive. With just a simple box and stickers, your elf has a new arrival box that can be used year after year. The stickers can also be used for special deliveries from the North Pole with your Elf. Maybe s/he's bringing a new book, movie, or a small treat.
Elf on the Shelf Arrival Box
To make your box you'll need:
7.5 x 7.5 box (or any box you can find) – I grabbed mine at Michaels
Sticker Paper, with Christmas postage stamps printed on it
Scissors
Red Satin Ribbon 1.5″ (optional) – got ours at Michaels
Here's how to make your Elf arrival box:
The first thing you'll want to do is print out your stickers via the box at the bottom of this post. Follow the directions per the sticker paper and your printer. Once your stickers are printed you'll want to cut them out. If you don't want to use sticker paper you can print the pages out on regular paper and use glue or a tape runner.
When printing out the page with the label I printed mine at an 8×10 size. The other sheet was printed as a full sheet.
Add your family or child(s) name to the printed label and attach it to the top of the box. You may need to trim the sides down some so they don't hang over the side of the box.
Cut out the various other Christmas labels, vintage Christmas postage, and Christmas stamps. Apply them to the sides of the box.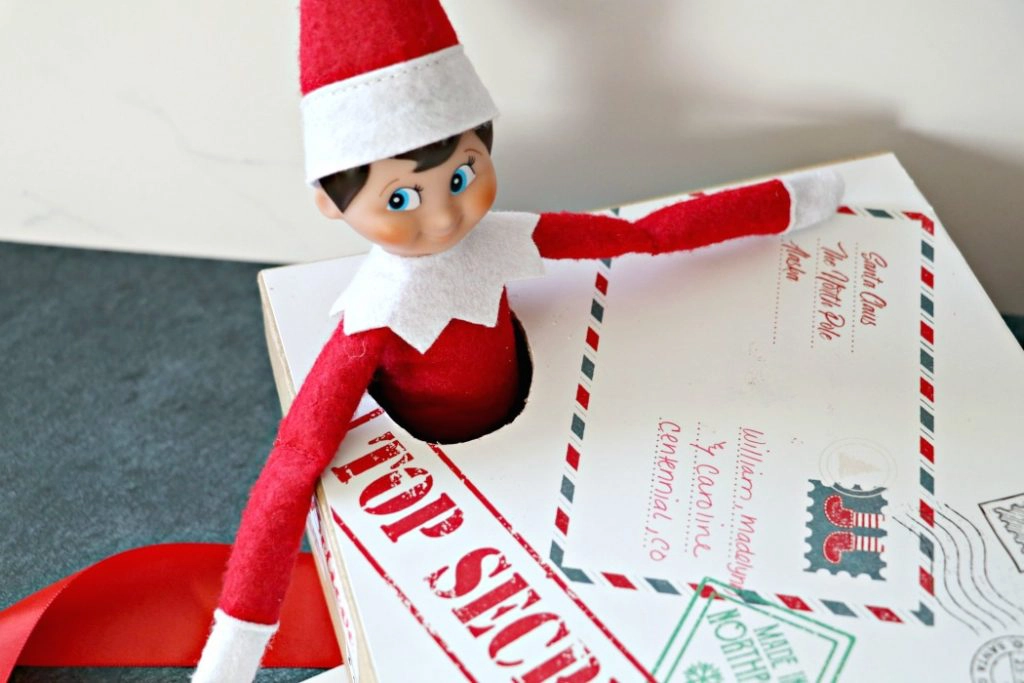 You'll want to carefully take your X-acto knife and cut a circle on the lid of the box. I cut mine just a little bit bigger than the side of my elf's head.
Place your Elf inside of the box and pull his head and arms through the hole in the box. Tie a ribbon around the box and set him out to arrive in style.
You can also place an Elf on the Shelf adoption letter (if this is your first year) or an Elf on the Shelf arrival letter with the box.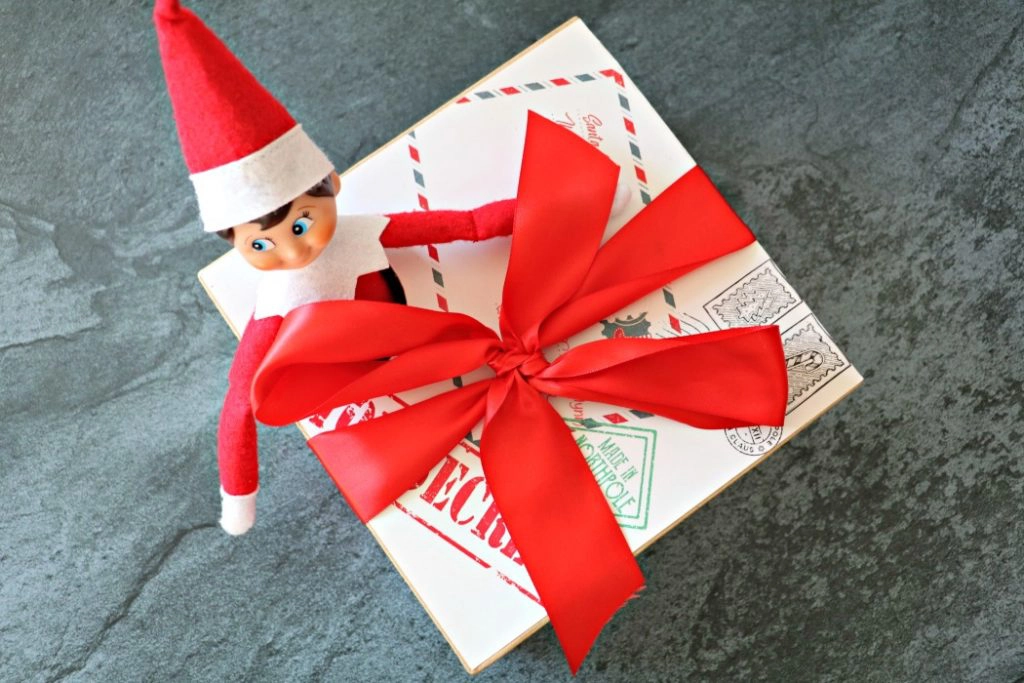 Download FREE Printable North Pole Stickers
If you're looking for fun antics for your elf to do or an Elf on the Shelf Calendar check out our 24 Days of Elf on The Shelf Antics and arrival letter from Santa.