Thank you to Happy Planner for sending some of their Holiday collection to help me stay organized over the Holiday season.
I can't remember when I first learned about The Happy Planner, but it was a couple of years ago. I bought my first planner and sticker book and I was HOOKED. So hooked that I have a whole cart full of Happy Planner supplies to make staying organized fun.
When it comes to life my motto is "you only live once, so make it fun". Life is hard, it's stressful, and days as a mom can be overwhelming, so if I can find the fun in something I am all for it. Like using my Happy Planner. It makes cleaning, errands, blog posts, and other day to day tasks a little bit more fun. There is something joyful about opening your planner, seeing your tasks for the week, and seeing bright colorful pages to make those tasks a little bit more enjoyable.
When Happy Planner reached out to me I was so thrilled to work with them and share with all of you how I'm using their products to act like my life is together over the holidays. There is so much to do this time of year that if I don't write it all down, I'll forget 75% of it. From cookie decorating parties for the kids, family winter activities, gifts to buy for those we love, and our everyday tasks that don't stop this time of year. I'm making sure my Happy Planner supplies are getting put to good use.
Happy Planner Christmas Collection
Christmas is my favorite time of year and when I saw Happy Planner's Christmas extension pack I knew it was what I needed to stay on track. The Christmas extension pack comes with tabs and pages for:
Menu
Party
Cookie Exchange
Cards & Gifts
Memories
Notes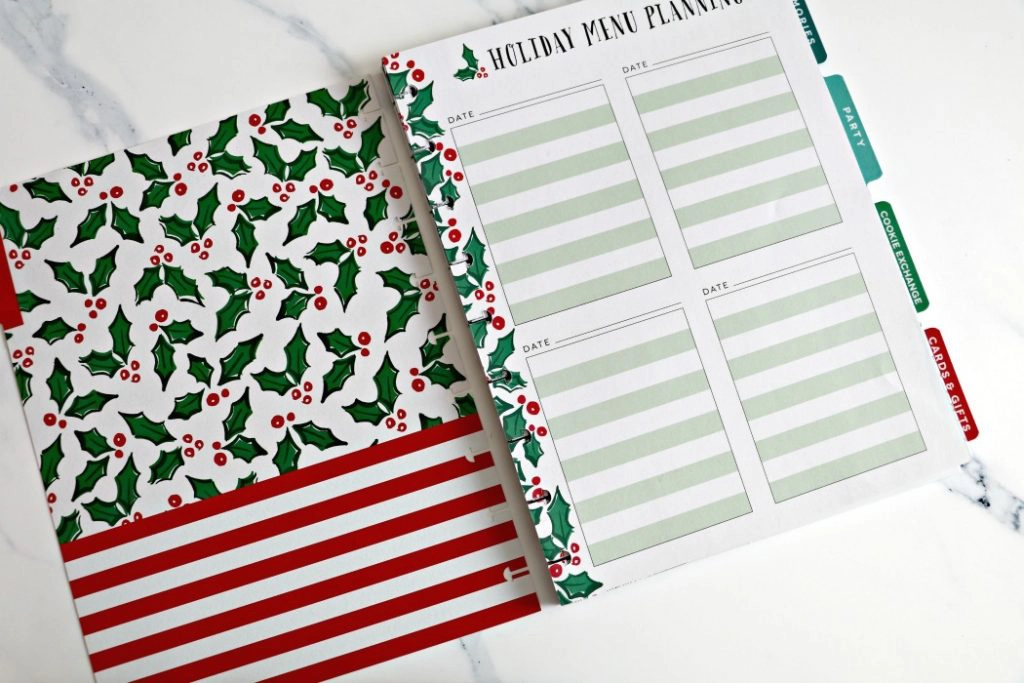 Each tab has a few pages that fit the theme of the tab. The Menu tab has a meal planner and recipe pages. The Cookie Exchange offers baking tips and cookie exchange tips in addition to recipe pages. Each tab has a theme with helpful pages to stay on track this holiday season.
My favorite tab is the memories tab. Since we aren't big on throwing parties our holidays are all about making memories as a family and with the memories tab I used stickers from the Christmas Joy, Winter, and Seasons sticker books to make our Winter Bucket List. Then I can add some photos and journal about that day. It will be a nice addition to the Memory Keeper I plan on doing for 2020.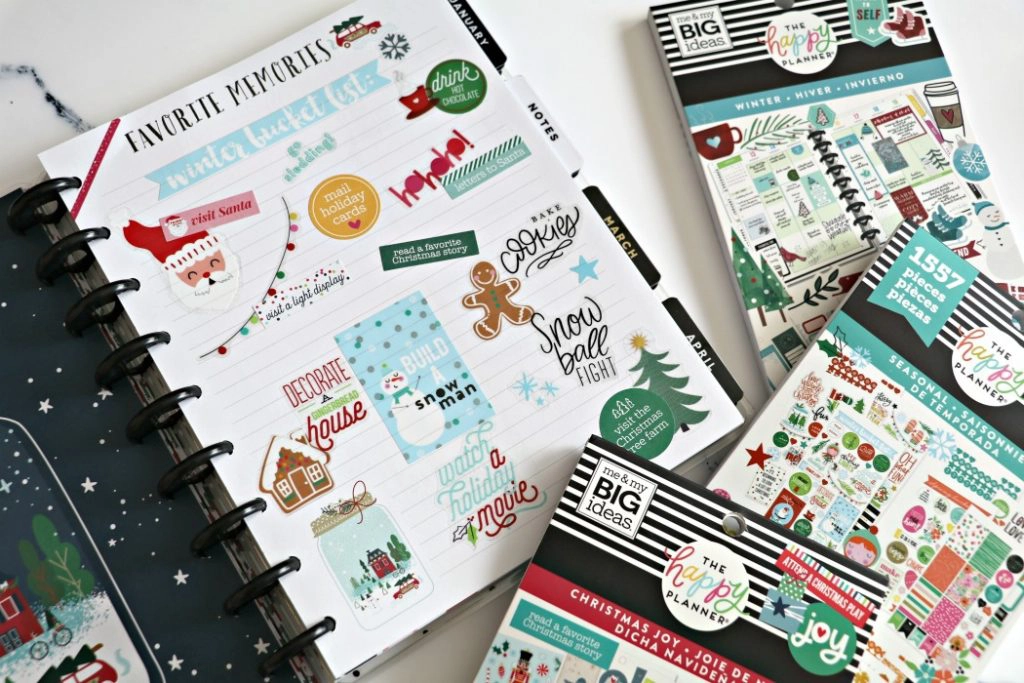 Even though we aren't having parties the other tabs still really come in handy. The Menu tab is great for keeping all our favorite holiday recipes in one place and menu planning for Christmas Eve and Christmas Day. The Cards & Gifts tab helps me to keep track of who I'm sending holiday cards to and who I am buying gifts for, what they're getting, and from where. Like neighbors, teachers, the kids, and our parents.
The Christmas Extension pack can be added to your existing planner or you can turn it into its own planner with some Happy Planner discs.
Happy Planner 2020 Planner
Now is the time to start getting ready for 2020. Get yourself a new planner for the 2020 year and plan a happy year. I took the December month out of my 2019 planner and put it into my 2020 planner so everything for winter break is all in one place.
Happy Planner has some really cute designs for 2020. I went with an inspirational theme for 2020 with the Teresa Collins – Be Grateful Planner. I'm loving all of the positivity it radiates and I want that for my year.
No Happy Planner is complete without stickers, washi, and colorful pens. Planning my weeks is more fun and brighter when I use my Happy Planner stickers. When I'm planning for the week I get a little bit of me time and time to express my creativity, which is soothing for me.
Another thing I really love about the Happy Planner system is the discs. It makes planning out my week so much easier because I can easily remove the pages to fill them in and my hand isn't hitting the discs while doing so. I also love how customizable the system is. You can add in meal planner pages, shopping lists, change your disc colors, swap out covers, and there are planners and accessories for all aspects of life like health & wellness, teachers, students, kids, mom life, crafting, food, fitness, and faith. You can combine different planners and accessories to make the planner that is best for your life!
Happy Planner products can be found at TheHappyPlanner.com, Michaels', Joann's, and Amazon.