Looking for something new to do with your kids around Denver? Whether you're looking for some solid bonding time with your kids or looking for something new for them to do I am sharing 100 Things to do around Denver with kids. From delicious eats, to learning experiences, and lots of fun – there is something for everyone!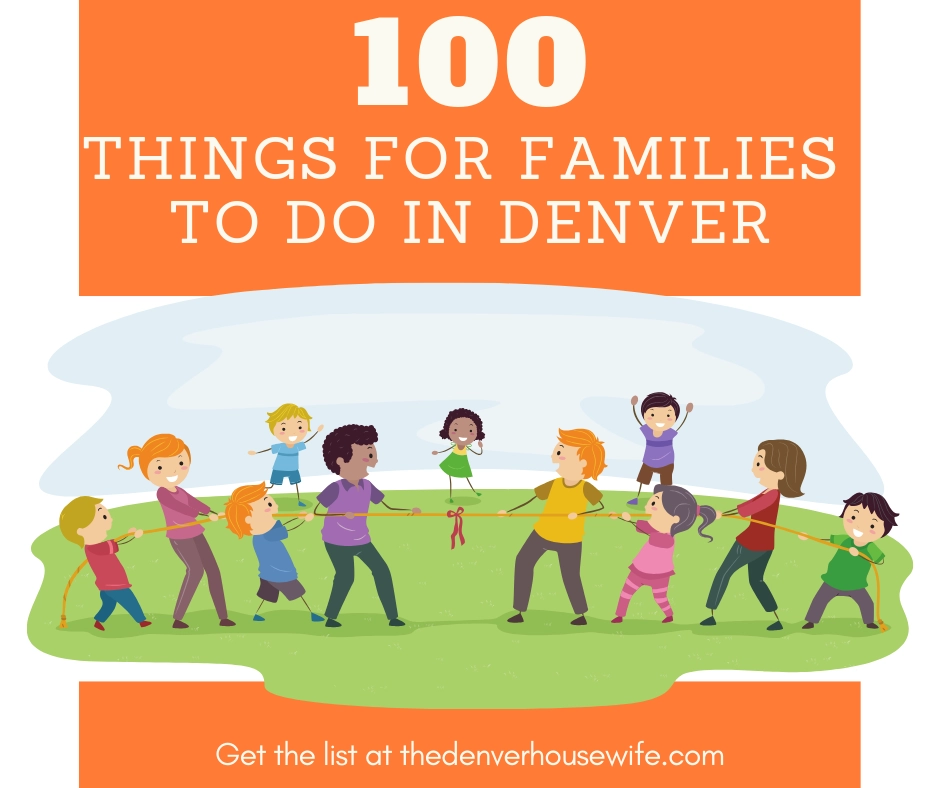 Best Places to Eat with Kids
Denver is home to many delicious and unique eats and the food scene is growing rapidly in Denver. Check out a new restaurant or food spot for some delicious family fun.
Casa Bonita – Yes, THAT Casa Bonita. Casa Bonita is an experience worth taking. While the food isn't the best you'll ever eat, the sopapillas are delicious and the show is so much fun. Casa Bonita has a 30ft waterfall with cliff divers, arcade, shows, and so much more.
Voodoo Donuts – The best Donut I've had in Denver, so far. With a mix of traditional donuts and crazy donuts like donuts covered in froot loops, m&m's, and bubblegum it's fun to let the little ones pick out their favorite donut.
Board Game Republic – Board Game Republic is home to more than 700 games, with something for all ages. You can enjoy one of their many board games while feasting on nachos, mac & cheese, subs, and milkshakes.
Rusty Taco – Rusty Taco is a super chill place with yummy tacos. Enjoy some tacos while playing games like connect 4. If you visit the Littleton location you can head into the mall after for a trip to the play area.
Downtown Aquarium Restaurant – After a trip through the Downtown Aquarium (not necessary to visit the restaurant) you can head over to the restaurant for a meal with a view. The restaurant has a floor to ceiling aquarium with more than 100 different species of fish. Depending on when you go you can also view the mermaids swimming.
Little Man Ice Cream – Little Man Ice Cream is a Denver staple. Their ice cream is freshly made with a variety of toppings so you can create your perfect ice cream.
The Cereal Box – The Cereal Box has over 120 different cereals from around the world. You can create your own perfect bowl of cereal by mixing cereals, toppings, and milk. On Tuesdays and Thursdays, they have game nights where you can play classics like Uno, Battleship, and more.
Punch Bowl Social – Punch Bowl Social has 2 throughout the Denver metro (Denver & Stapleton). Enjoy delicious eats and then bowl, play mini-golf, sing karaoke, and much more.
Adams Mystery Playhouse – Adams Mystery Playhouse is dinner with a twist. Fun for the whole family you can enjoy a buffet meal while watching a murder mystery. Visit their Calender for a list of shows & times.
The Game Lounge – Another family-friendly spot with food + a ton of board games. Tuesdays are family night and kids eat FREE!
Educational Experiences for Kids
Denver is filled with a variety of museums and learning experiences for kids. Here are just a few of the awesome museums that are available for a fun day of learning with your little one.
Denver Museum of Nature & Science – There is so much to learn here from back to the dinosaurs to exploring space and everything in between. There are hands-on exhibits, movies, and much more.
Take a cooking class together.
Visit your Local Library
Children's Museum of Denver – Filled with hands-on exhibits, an awesome playground/fort, and so many opportunities to play, explore, and learn.
WOW! Children's Museum – Educational hands-on exhibits in science, art, and life. See how big of a bubble you can make, make art projects with a variety of materials, play with/on a variety of spaces, and so much more.
Denver Mint – Learn the rich history of the United States Mint and how they produce billions of coins each year for the American public with a free, guided tour of the Denver facility. Ages 7+
Denver Firefighters Museum – The Museum is to educate the public about fire safety and the history of firefighting in Denver from its inception to the present.
Wings Over the Rockies Air & Space Museum – Filled full of iconic aircraft, space vehicles, artifacts, military uniforms and much more. Visitors can also experience thrilling flight simulators, discover various education programs and participate in dozens of exciting museum-sponsored events.
Colorado Railroad Museum – Learn about Colorado's railroad history with a museum, library, explore old trains, and more.
Colorado Women's History – The Center for Colorado Women's History at Byers-Evans House focuses on scholarship, research, lectures, tours, and exhibits that expand the understanding and collective memory of the history of women in Colorado.
Museo de las Americas – Museo de las Americas is the premier Latin American art museum in the Rocky Mountain region. There are workshops, art galleries, and many opportunities to learn about Latin culture and art.
Littleton Museum has three exhibition galleries, a children's interactive gallery, a research center, a lecture hall, and two 19th-century living history farm sites with live animals.
Forney Museum of Transportation see, learn, and touch planes, trains, and automobiles!
Learn all about Buffalo Bill at the Buffalo Bill Museum & Grave.
Volunteer Opportunities for Kids in Denver
Teaching our gives to give back to their communities is so important. Here are some ways you and your child can give back together.
Hold a lemonade stand and give the proceeds to a charity you pick out together.
Make goodie bags for the homeless and hand them out. Take a brown paper bag and fill it with things like a bottle of water, granola bar, fresh fruit, and nuts. You could even use the proceeds from the lemonade stand to fund the bags.
Teach them about donating old, but in still good condition, clothes to shelters. Go through their closet together and pick out items that are no longer wanted or outgrown and then donate them together.
Clean up a park or street together.
Check with local places about reading to people. Sometimes the local library or retirement home with have kids come in and read. Our library has events where kids can read to service dogs.
Check with local shelters about volunteering with animals.
Check with local Urban Farms about opportunities to Volunteer, like the one in Stapleton.
Check with local food banks and soup kitchens.
Check on Volunteer Match for ways to volunteer around Denver.
Get Active
Getting active with your kids helps to instill healthy habits for them. Get active as a family, whether indoors or out.
Take a hike. Colorado is home to so many family-friendly trails.
Visit an indoor play space like Urban Air or Spider Monkey and jump the day away.
Spend the day swimming at a local rec center.
Take a yoga class together.
Run a race. There are so many themed races each year like the bubble run, candy run, and glow run.
Go Rock Wall Climbing.
Go Ice Skating.
Sing Karaoke and Dance at places like Punch Bowl Social, Muse Cafe, Family Karaoke, and Round 1.
Head out to a local park and play catch, soccer, or frisbee.
Take out a pedal boat or rent a family bike.
Go Skiing, snowboarding, or sledding together. You could even take a class together.
Animals
Most kids love animals and there are so many opportunities to learn, explore, and see animals in Colorado.
Visit the Downtown Aquarium.
Visit the Butterfly Pavilion.
Check out Dinosaur Ridge and learn about the dinosaurs.
Take a walk and look for birds, bugs, plants, and animals. Try to identify them with the Colorado Nature Set Guide.
Visit the Denver Zoo.
Visit the Wild Animal Sanctuary.
Visit Rocky Mountain Arsenal and look for Bison.
Visit a local shelter and adopt a new friend. (If you're up for the responsibility).
Go fishing.
Get Creative
Visit a Farmer's Market, pick out some fresh foods, and make a new to you dish.
Paint Pottery.
Take a cake decorating class together.
Take a painting class together.
Walk around RiNo in Denver looking for street art. Pick out your favorite one.
Take a sewing class together. There are a few sew studios in Denver like Sew You Studio.
Visit Michaels for a slime workshop.
Visit the Art Museum and then come home and create your own artwork.
Go on a nature walk and find rocks to paint. Then leave them on the trail for others to find.
Explore Denver
Learn how Hammond's makes their candy with a candy tour.
Take a ride on the Denver Trolley tour.
Visit Red Rocks Amphitheater. Learn the history, listen to music, dance, and explore the area.
Tiny Town – spend the day among our kid-sized buildings, riding the train, enjoying the fresh air while the kids frolic on the playground, and then relaxing with your picnic lunch or something from our snack bar while the sound of the breeze in the tall pines washes your stress away.
Go for Afternoon tea at the Brown Palace.
Ride the Carousel of Happiness.
Play Mini Golf with Monsters.
Visit a new park. There are so many to choose from!
Play in a Jungle at Lava Island.
Play with Dinosaurs at the Cheery Creek Mall play area.
Visit 16th street mall, ride the train, grab some lunch, and ride the carousel.
Go to a sports game. Check out the Broncos, Nuggets, Rockies, Avalanche, or Outlaws.
Visit Union Station and attend one of their events.
Get a new book to read together from the Tattered Cover.
Head down to the springs for a stay at Great Wolf Lodge.
Ride Go-Karts at Boondocks.
Take a day trip to the mountains.
Attend an outdoor movie (in the summer).
Go swimming at the beach (in the summer). Swim beaches include: Bear Creek Lake Park, Boulder Reservoir, Chatfield State Park, Cherry Creek Reservoir, and Aurora Reservoir.
Dig in the sand at Kids Dig.
Take a scenic ride through Denver on the light rail.
Check out a new toy at the Denver Toy Library.
Watch a movie and have lunch at Alamo Drafthouse.
Enjoy an amusement park indoors at Lollipop Park.
Watch a Puppet Show at the Denver Puppet Theater.
Go Bowling at Celebrity Lanes.
Enjoy a day of arcade fun at Gameworks.
Spend a night at the Curtis Hotel in one of their theme rooms.
Ride the Sky Coaster at Urban Air.
Visit the Botanic Gardens.
Hunt for gnomes/elves at the Museum of Nature & Science.
Play Archery Dodgeball. Ages 7+
Take a trip to the Dairy Block. Let everyone pick out something for lunch and share.
Have an afternoon of space theme fun at KidSpace.
Visit a local festival.