Rocky Mountain Oysters are a Colorado delicacy. Grilled Rocky Mountain Oyster Po'Boy is a non-traditional twist on a traditional sandwich. Crisp bread, meat, and fresh veggies combine to make a great tailgate or game day recipe.
This post is sponsored by Kingsford.
Last week I received an email about working with Kingsford. I skimmed the email and was excited about the partnership because Kingsford is my go-to charcoal brand. I have fond memories of my uncle firing up the grill in the driveway and there was always a bag of Kingsford charcoal by his side. So once I became an adult and started doing my own grilling, it only made sense to carry on the tradition of using Kingsford Charcoal in my home.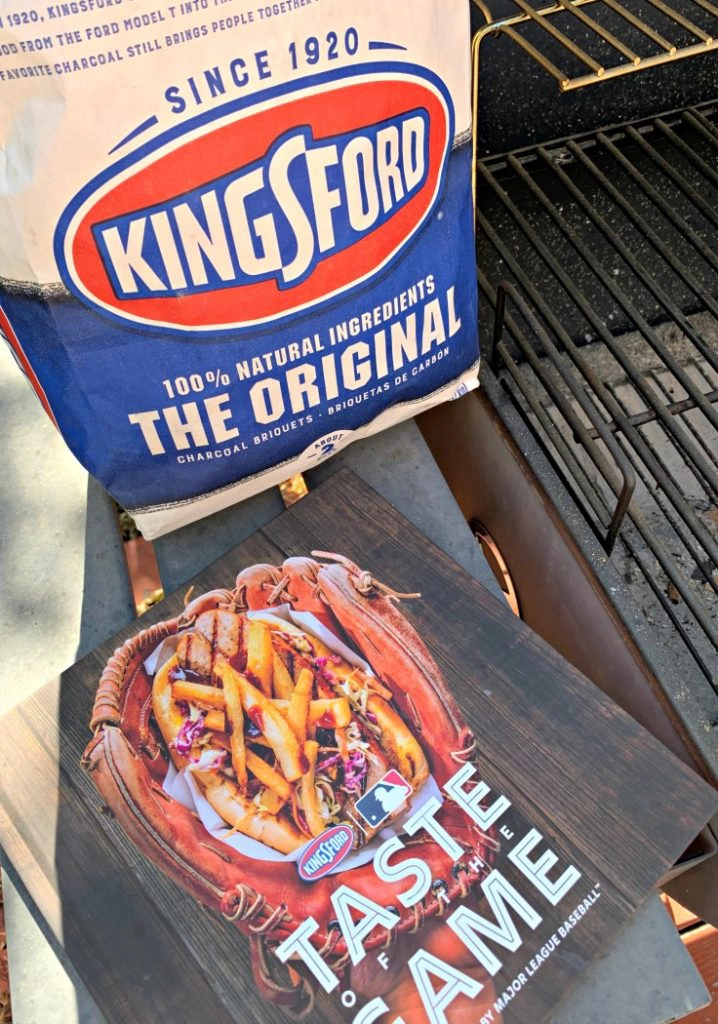 What are Rocky Mountain Oysters
Later that night I sat down and fully went over the email, when I wasn't in the midst of kid chaos and carpool lines, and quickly became more excited.
Kingsford has put out a Taste of the Game cookbook with recipes inspired by favorite MLB teams. I like baseball (GO ROCKIES!) and cooking so this is right up my alley.
The more I read the email, the more thrilled I became. Then I got to the part where they assigned my recipe. Rocky Mountain Oysters. I thought to myself, I can work with oysters. I'm not a huge seafood fan, but my husband likes seafood and I like making special meals for him on his day off. A rocky mountain oyster po'boy sounds like a great day off meal. Now at this point, I'm sure you're scratching your head and thinking SEAFOOD. What is this crazy girl going on about? Rocky mountain oysters aren't seafood…
By this time I am googling rocky mountain oysters so I can learn more about them. This California girl hears oysters and automatically thinks seafood, but boy o boy was I severely misinformed. I had heard about rocky mountain oysters before on the food network, but it was one of those shows on in the background and I wasn't really paying attention. I do remember there being a big restaurant on a river and thinking that they just plucked the oysters out of the river. Yes, this story is completely ludacris because oysters only live in the ocean. When I finally realized that rocky mountain oysters are in fact bull testicles I was in complete shock. After some chatting with friends about my total fail moment and hours of laughs about how uninformed I am I decided to give this recipe a go and try a new food.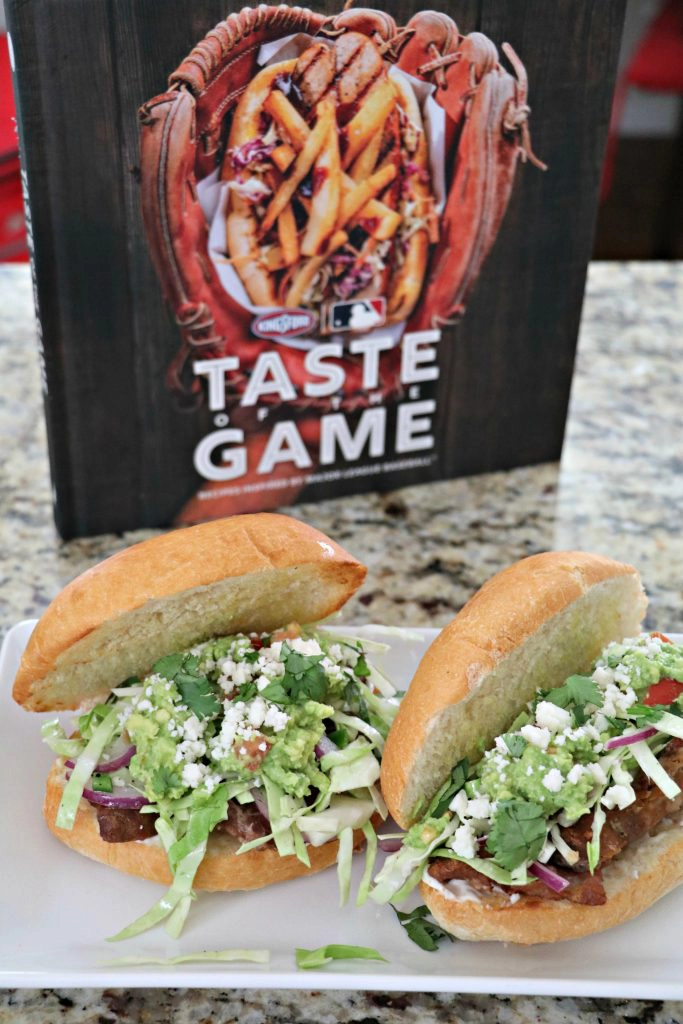 Grilled Rocky Mountain Oyster Po'Boy
So I present to you – Grilled Rocky Mountain Oyster Po'Boy, a colorado delicacy. If you like rocky mountain oysters you'll love this recipe. It's simple, it's easy to make, and combines a lot of fresh ingredients for a flavorful po'boy.
To get started you'll need to find some rocky mountain oysters. If you're local to Denver you can find some at your local Tony's Market. Call before going because some locations need to order them, which can take a day or two. Once you have your rocky mountain oysters in hand you'll want to peel the membrane off and slice them in half lengthwise. Once that is done soak them in dark beer* for an hour. Whatever dark beer you fancy will work.
While your oysters are soaking make your coleslaw and avocado mix. Cover them and let them sit in the fridge.
Next up it's time to fire up the grill with your Kingsford Charcoal. I've found that the easiest way to light my charcoal is with a chimney starter. It's a total gamechanger when it comes to grilling.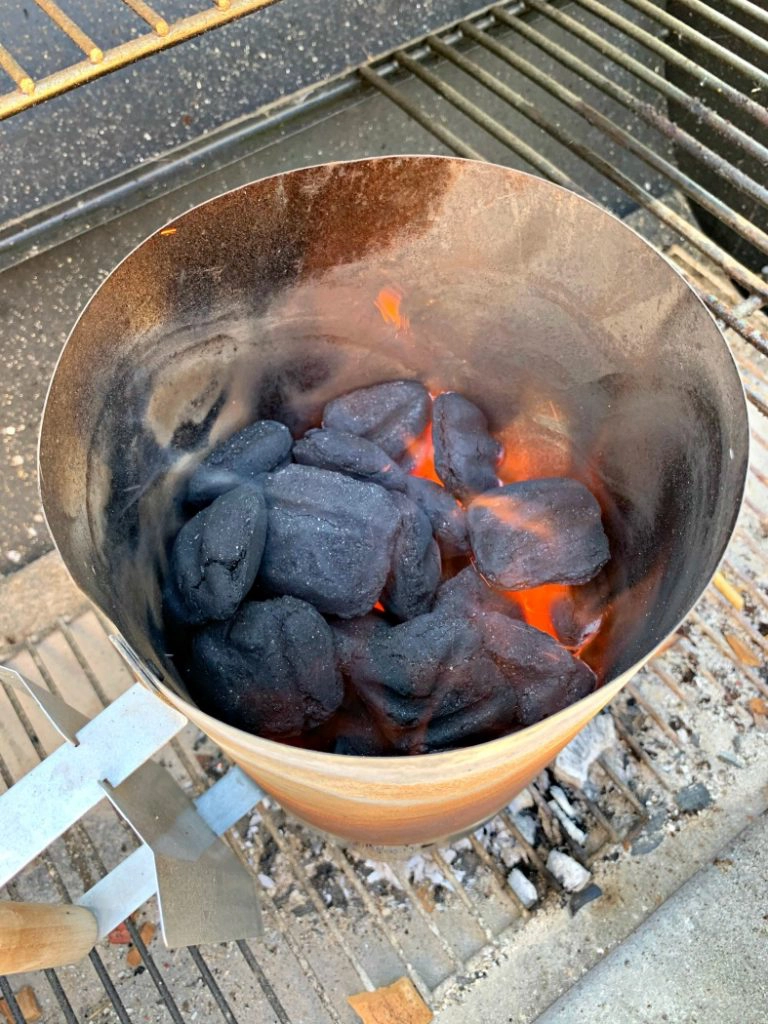 Once your coals are nice and hot you'll want to get your grill to 350 degrees. Oil your grates to prevent sticking and grill your rocky mountain oysters for about 8-10 minutes per side.
Then it's time to build your sandwiches and enjoy them. Preferably with a Rockies game on and a cold drink.
Remember how I said I have fond memories of my uncle using Kingsford Charcoal with the grill? Well, I also have fond memories of baseball. I've been watching it since I was a kid and still remember my aunts and uncles taking me to my first game. Anytime there is a family gathering during baseball season, there is a baseball game on. Since moving to Colorado I've started rooting for the Colorado Rockies and love attending local games. We usually attend a local game each summer and it's the perfect family activity, but it's also great to sit at home, fire up the grill, and watch a Rockies game on TV. I miss the noise of my uncles screaming at the TV but watching the kids get excited over the Rockies scoring runs is just as exciting.
You can find more game day eats via the Kingsford website which is filled with more delicious recipes like burgers, wings, chili, and so much more. You can also grab your own copy of the Taste of the Game cookbook so you'll always have new recipes on hand.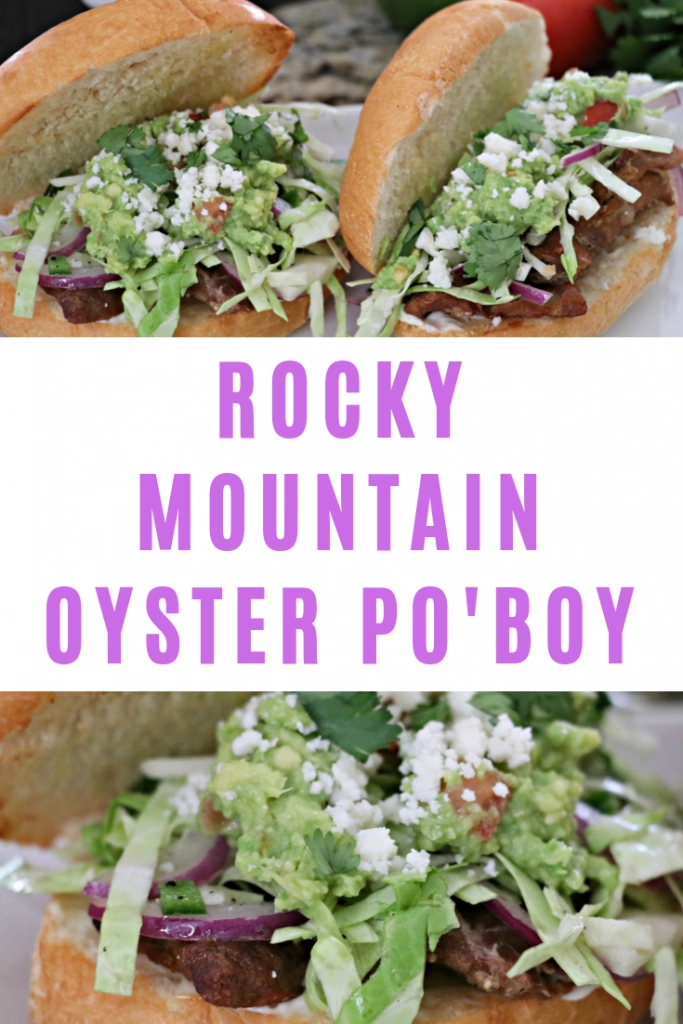 *Recipes containing alcohol are intended for those 21 years of age and older only. Please drink responsibly.
Rocky Mountain Oyster Po'Boy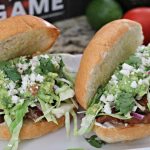 2 lbs Rocky Mountain Oysters
2 cups Dark Beer
Kosher salt, to taste
Ground black pepper, to taste
2 large Avocados
2 large Tomatoes, diced
1/4 cup Lime juice
3 cups Green cabbage, shredded
1/2 small Onion, julienned
1/2 Jalapeno
5 tbsp Olive Oil (extra virgin)
4 long Sandwich rolls, lightly toasted
1/3 cup Mayonaise
1/2 cup Cojita Cheese, crumbled
Fresh cilantro
Using a sharp knife, gently peel the membrane off the Rocky Mountain oysters, and split in half lengthwise. Cover with the beer and let sit for one hour.

While the oysters are soaking, mash the avocados. Stir in the diced tomatoes, 1 tablespoon of the lime juice and plenty of salt to taste. Set aside.

In a separate bowl, make the slaw. Combine the cabbage, onion, jalapeño, 2 tablespoons of lime juice and 2 tablespoons olive oil. Season to taste with salt and pepper and set aside.

Using Kingsford® Original Charcoal, build a charcoal fire for direct grilling, and preheat to 350°F. Oil the grates to prevent sticking.

Remove the oysters from the beer, dry, and place in a bowl. Toss in the remaining olive oil. Season to taste with salt and pepper.

Place on the grill and cook until both sides are slightly charred and the insides are cooked through, about 8–10 minutes per side. For your safety, please reference the USDA safe cooking temperatures. Remove and sprinkle with remaining lime juice.

To build the sandwiches, lightly toast the sandwich rolls and spread an equal amount of mayonnaise on the inside of each. Divide the Rocky Mountain oysters between the rolls, and top with the slaw and guacamole.

Sprinkle with Cotija cheese, and garnish with cilantro, if desired. Serve immediately.

*Recipes containing alcohol are intended for those 21 years of age and older only. Please drink responsibly.