As a mom of 4 I've been trick-or-treating for 16 years now and along the way I've picked up a few tricks that help to make sure our kids are staying safe while visiting houses around our neighborhood. Things from making sure they can be seen by cars on dark streets to staying in groups.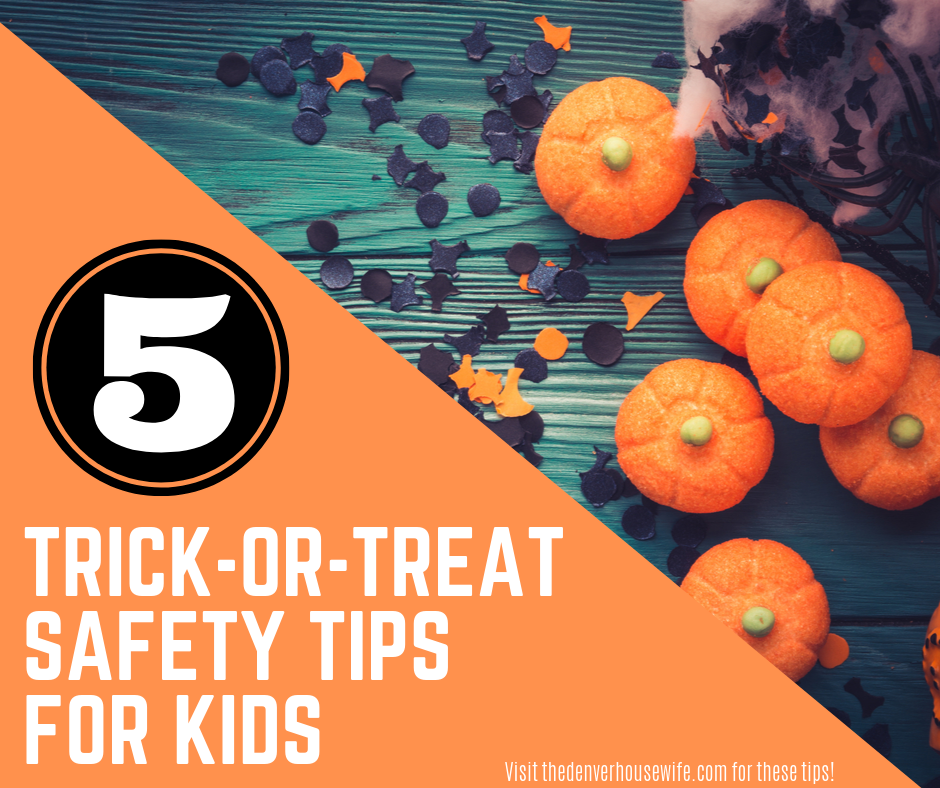 5 Trick-or-Treat Safety Tips
Lights – Our neighborhood can get really dark and we don't have a lot of street lights. To help make our children be seen they always have glow stick necklaces, a small flashlight, and light-up shoes. Adding reflective tape to their costume can help too.
Buddy System – We always go out trick-or-treating with our kids and while we don't walk to the door with them (unless they're infants or toddlers), we always stand where we can see them. We make sure that our kids know to stay together and not go into someone's home. It's very important for me to teach our kids independence but in a safe manner. Our hope is that teaching them to stick together in a group and leave no one behind at an early age will carry over into adulthood.
Proper Costumes – Make sure your child's costume fits correctly and that if they're wearing a mask that they can see properly out of it. Costumes that are too long can be trip hazards and if they can't see properly out of their mask they can walk into something harmful. A good alternative to a mask is using face paint and make-up.
Choose Wisely – If a home isn't well lit, is hidden, or not decorated and showing signs of celebrating Halloween we skip it. You don't have to hit every house in the neighborhood.
Wait Til You get Home – I know it's exciting to get all those yummy goodies, but checking candy is important. Let's teach our kids the importance of checking their candy to make sure it hasn't been tampered with but also to make sure there isn't anything you could be allergic to in it.
Safety First – It's important to stay out of roads, on sidewalks, not enter someone's home, and to have a cellphone on hand for an emergency.
What tips do you have for making sure your kids have a safe Trick-or-Treating experience? Share below!