The sun is shining (as it does for about 300 days a year in Denver) and the kids are antsy to get outside. Colorado loves the outdoors and you can't blame them. The sun shines more days than not, the skies are a gorgeous blue, and the views are gorgeous. Now is the perfect time to get outside, take in some fresh air, and explore a new playground.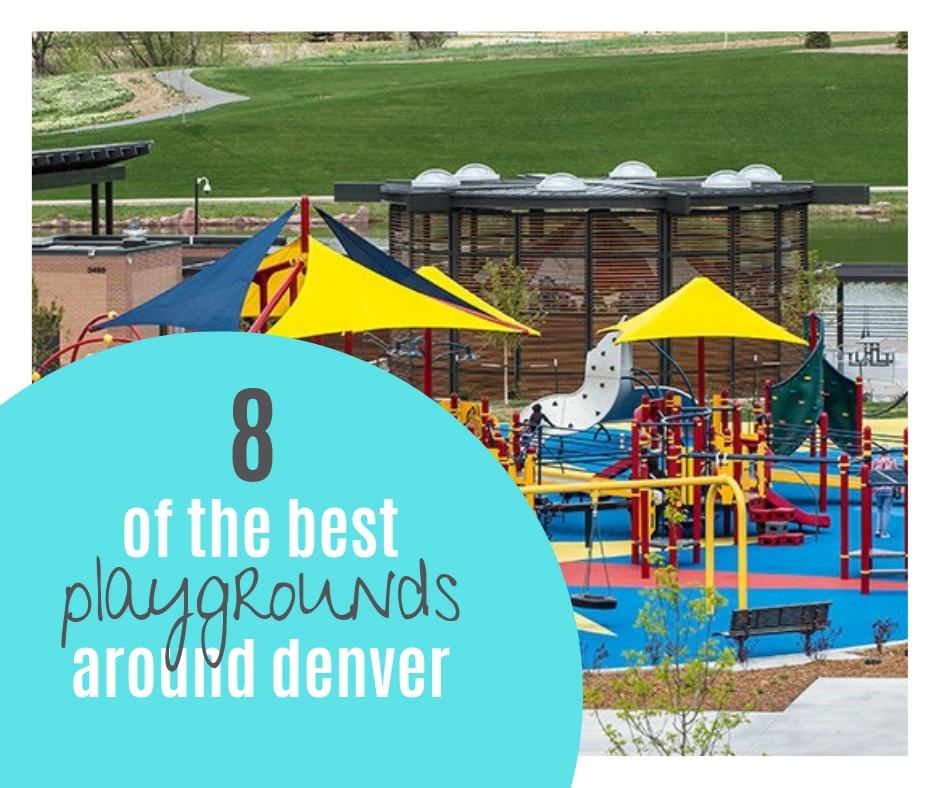 Denver is home to a lot of playgrounds, over 750 of them to be precise, but some of them are a truly unique experience and provide hours of endless fun. Here are 10 of the Best Playgrounds around the Denver metro, all of them are FREE to visit.
Denver Premium Outlets Playground – Thornton
The Denver Premium Outlets, located in Thornton, opened last year and with it, they brought a fun playground with climbing towers, very tall slides, bridges, tunnels, and ropes galore. Whether you're taking a break from shopping or just visiting for a fun afternoon outdoors their park is one that can't be missed.
Located on the North Side of the Center near Old Navy. 13801 Grant St, Thornton, CO 80023
Paco Sanchez Park – Denver
Paco Sanchez Park is designed after a 1950's microphone to honor local DJ Paco Sanchez. Beautiful and bold colors help bring this music inspired park to life. The park features musical references throughout the playground, like the nets that are shaped like sound waves. There's a giant slide inside, lots of ropes to climb, spinners, swings and so much more!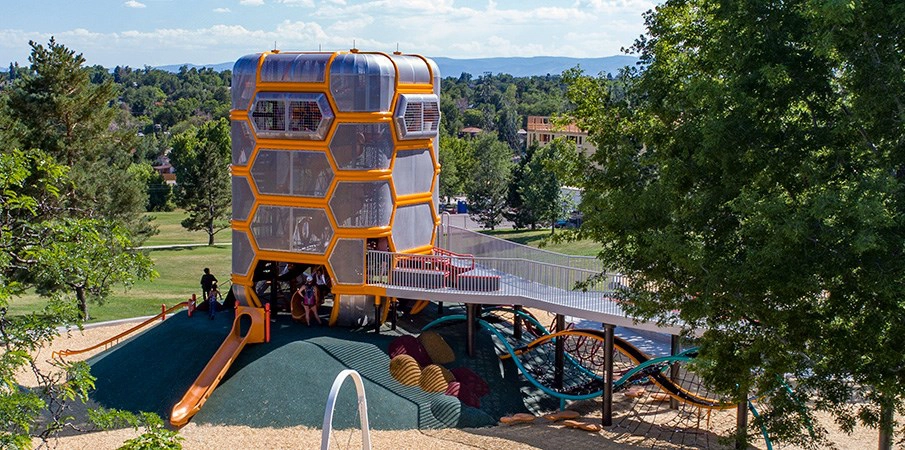 Located at 1290 Knox Ct Denver, CO 80204.
Peter Pan Park – Westminster Center Park
Peter Pan Park, which is it's nickname, is another truly unique park located just outside Denver. The park has a Peter Pan theme with Captain Hooks pirate ship jungle gym, tower bridge, clock tower, rocks to climb on, a tiny home, and even a splash pad and shallow stream to cool off with on hot days.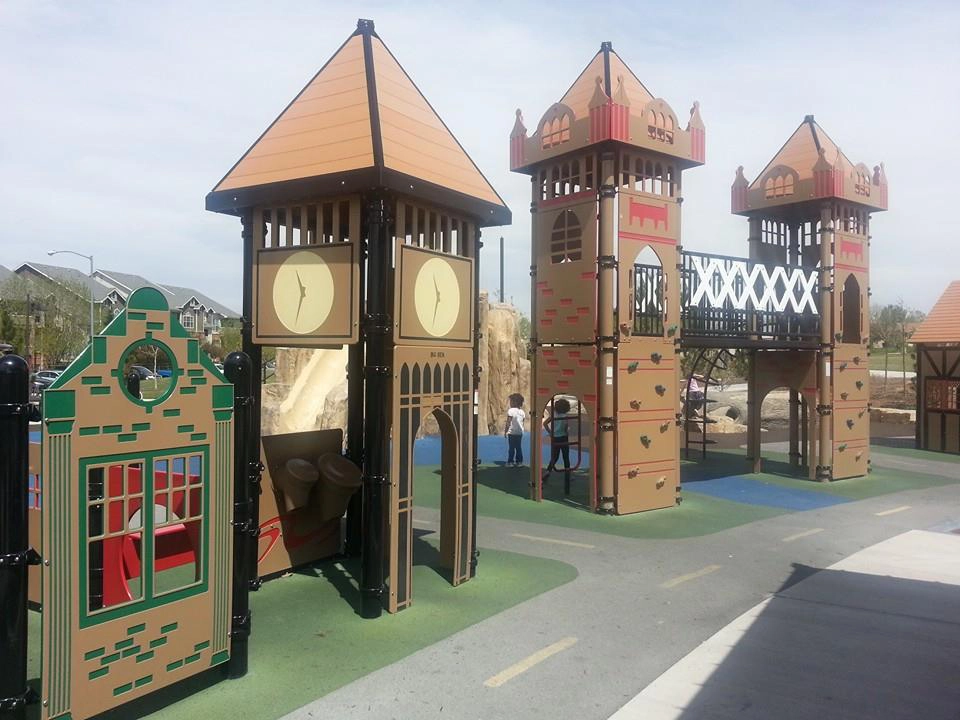 Located at 4901 W 93rd Ave, Westminster, CO 80031
Centennial Center Park
Centennial Center Park is one of our favorite parks. We could spend the whole day here during the summer between the playground and splash park. The playground boasts a rock wall, giant climbing net, swings, giant play structure and so much more. There are giant grassy fields to sit in and a fun splash pad. This park provides hours of fun and during the summer they have a lot of fun events like movies and concerts in the park.

Located at 13050 E Peakview Ave Centennial, Colorado 80111
Arvada Volunteer Firefighters Park
Does your little one love firetrucks? Arvada's Volunteer Firefighters Park is just the place for you. With it's fire engine red color this park provides lots of fire truck themed fun. From slides, to swings, and playing in a fire truck your little one will have lots of fun.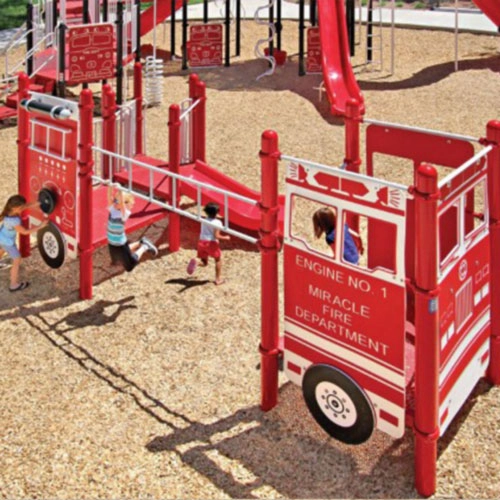 Located at 8351 Club Crest Drive Arvada, Co
Margaret Carpenter Park – Thornton
Margaret Carpenter Park located in Thornton is massive and has something for everyone. Their playground has 8 slides, 11 swings, a merry go round, and so much more. Located next to the playground is a splash park and there's even an indoor carousel.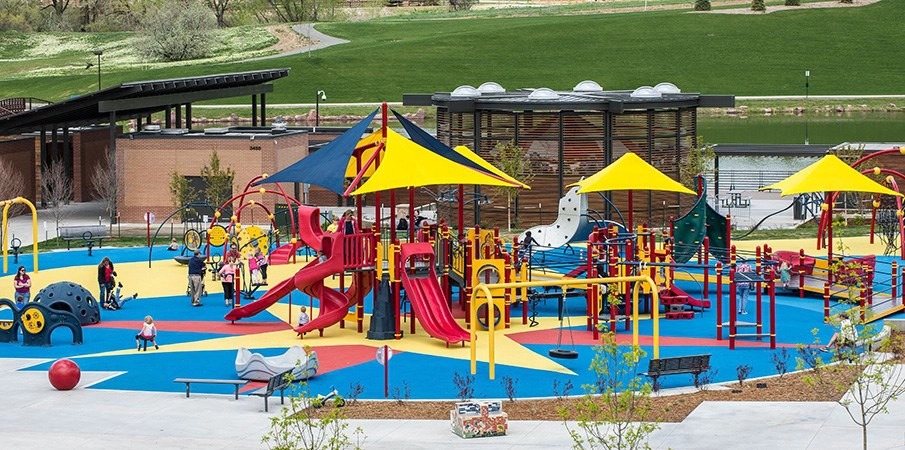 Located at 3498 E 112th Ave, Thornton, CO 80233
Carmody Park – Lakewood
Carmody Park in Lakewood is a unique park because it's an all-inclusive park. An all-inclusive park means children of all abilities can enjoy the fun that the park has to offer. There aren't too many of these parks around, but hopefully, Colorado will keep adding more. Carmody playground has mounds, ramps, and structures that children of all ages and abilities can play in. There are wide swings and slides, playground spinner, musical instruments, sandbox, climbing challenges, sensory play and beams, and so much more. There's even workout equipment so parents can work out while their kids play.

Located at 2200 S Kipling St, Lakewood, CO 80227
Westlands Park
Westlands Park in Greenwood Village features three play areas sized for toddlers to teens. There are two large climbing structures, a beginner skateboard area, a natural water sculpture, a pond, and a hike/bike trail.
Located at 5701 S. Quebec St. Greenwood Village, CO