Looking for the perfect graduation gift for your child? Want to give your child a college gift on their first day? This College Survival Gift Card Book is filled with ways to bring a smile to your childs (or a child you love) face when they're away from home, sick, tired, need a pick-me-up, or stressed out.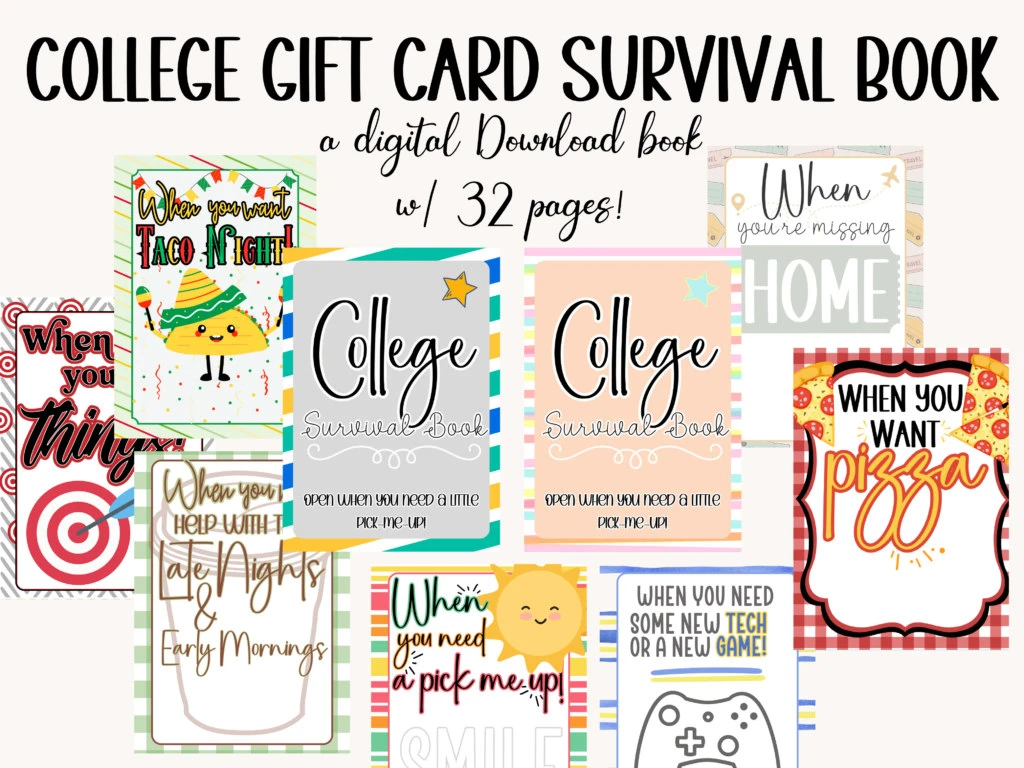 What is a College Survival Gift Card Book?
A college survival gift card book is a book you fill with gift cards. Each page has a different theme like wanting pizza, wanting comfort food, gas money to travel, new clothes or school supplies, and much much more.
This book comes in a printable PDF which you can then have turned into a book. On each page, you can add a gift card that your child can use when they need a little pick-me-up.
Why give a College Survival Gift Card Book?
Why not? Of course, you can always Venmo or Cashapp them money when they're away from home, but the book is a cute reminder that you love them and miss them. It's something they can look back on and they can even send you a selfie of them enjoying the gift card so you have those for your memories!
Where to buy a College Survival Gift Card?
You can buy your digital download from my Etsy shop!
How to Assemble the College Survival Gift Card Book
There are 2 options when it comes to putting together your college survival gift card book. You can print and assemble it at home or you can send it off to a printer to print and spiral bind. I'll walk you through the steps for both!
How to Send Your College Survival Gift Card Book to a Printer
For this tutorial, we are going to use FedEx since that is who I used to print the book, but the steps are pretty similar via other places like UPS Store, Office Depot, or Staples.
Step 1: Head to Fedex Online Printing.
Step 2: Click copies and custom documents.
Step 3: Upload the PDF file you downloaded.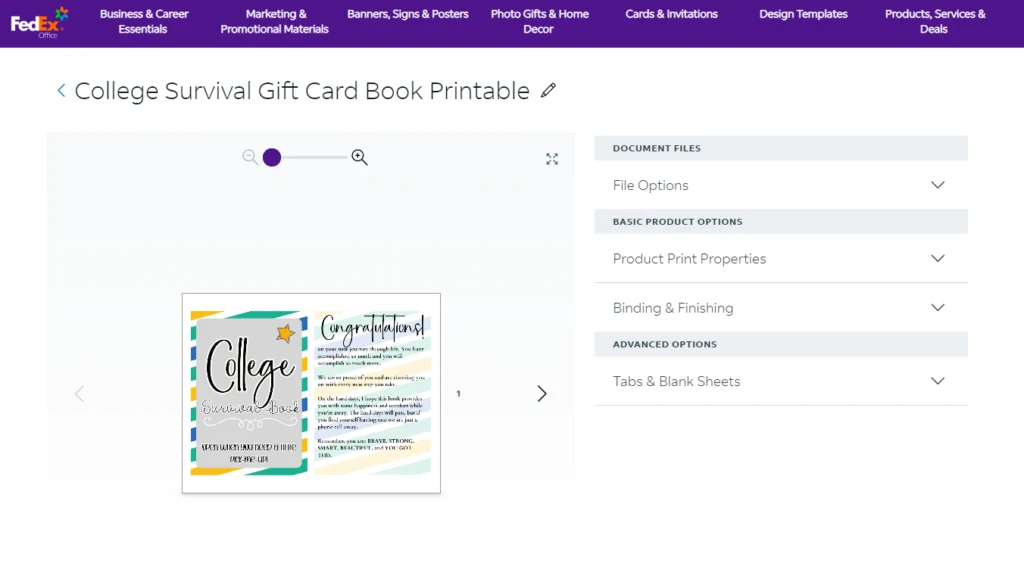 Step 4: Pick your printing options. Under Product Print Properties you'll select the following settings:
Size: 8.5″x11″
Paper: Card Stocks and Specialties > Ultra Bright White (Card, 80lb)
Color/Black & White: Full Color
Sides: Single Sided
Orientation: Landscape
Prints Per Page: 1
Add to Cart.
You can have Fedex bind it, but since this is for a 5×7 book you'll need to trim the pages down. This might be something they can do for you so make sure to ask! I only used them for printing.
How to Assemble Your College Gift Card Survival Book
If printing your pages at home print them via a color printer.
Now that you have all of your pages printed let's assemble your book.
Step 1: Cut Your Book to Size – You will want to cut your pages down to size. You can do this with scissors or a paper cutter. I like to use a paper cutter. You can use a Paper Trimmer or a bigger Paper Trimmer. For the images with a white background, they have a grey cut line around them. You want to make sure to cut the grey cut line off.
Step 2: Bind your Book – There are a few ways to do this. You can use a 5×7 Binder or you can bind it yourself with a cinch machine. I am going to use a cinch machine since I have one on hand already.
You could even add the pages to cards with words of encouragement and label the envelope with what is on the page – ex: "When you are sick".
Step 3: Add Gift Cards – I know this might seem like an expensive gift to give depending on your budget, but this is something you can start building a year in advance. If you know your child will be going to college you can start buying gift cards months before graduation or prior to when they start college and put them aside. You could also have family and friends contribute a gift card as a gift and make it a collaborative gift. Make sure to use gift cards that your child can use locally to them or online.
There are also ways to earn gift cards online through rewards programs like Fetch Rewards, Swag Bucks, etc. You can turn in those rewards to help fund the gift card book.
FAQ
What amount should I add to the gift cards? Add whatever your budget allows. I'd say a good amount would be $25 each, but you can do more or less depending on the place. For places like clothing, shoes, and tech I would add more since those tend to be pricier items.
Do I have to use all the pages? Nope! The best thing about this book is you can use 5 pages or all 30 pages. Do whatever fits your child's likes/wants/needs and your budget.