These top gift card reward programs are easy to sign up for and even easier to start earning rewards through. You can't go wrong signing up for any of these fantastic free programs!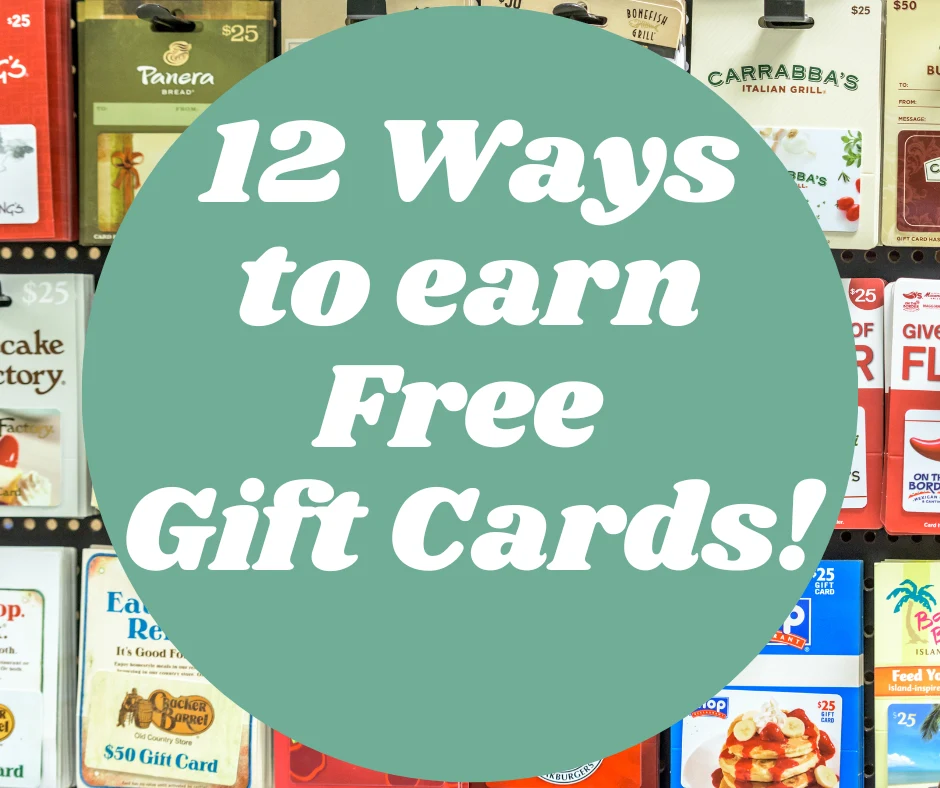 Earning free gift cards may sound like a gimmick, but tons of rewards programs allow you to earn gift cards! Whether you're looking for gift cards to spend at Amazon or you are looking for a little extra spending power, these gift card apps will help you do just that! Let's take a look at the top places to earn these gift cards.
Fetch Rewards
One of the top gift card reward programs that are known is Fetch Rewards. This program allows you to scan your receipts for things you have already purchased and from there, you can get free gift cards. This isn't an overnight reward sensation, but it is another way you can get something extra for the money you've already spent. Many people love this program because there are thousands of gift cards to choose from!
I've been using Fetch Rewards for several years now and you can even link your Amazon and Email to the app so it auto-pulls your receipts with online purchases, earning your points. Even if you don't have qualifying purchases that earn points you can still get around 25 points for scanning in your receipt.
Swagbucks
Another gift card rewards program that has been around forever is known as Swagbucks! This is a one-stop shop for money-saving gurus because you can find coupons, paid online surveys, and free gift cards. When you shop online, play video games, search the web, and even answer surveys, you can gain access to free gift cards. This is a points-based system, so feel free to save up your points for gift cards or you can even get cash back from PayPal!
MyPoints
One of my favorite places to get gift card rewards is from MyPoints. This is another all-in-one place for coupons, promo codes, rewards, and more. You earn points and then cash them in for gift cards. There are three ways to earn and those ways are by shopping for items online, you can also take surveys to earn points, and then you can also play games and take daily challenges to earn points! All of those points can be turned into gift cards from places like eBay, Sephora, Starbucks, and even Target!
Ibotta
Most people have heard of iBotta, but have you? This is one of the more popular ways to earn gift cards. Ibotta is more known for getting cash back on offers from the web and everyday shopping trips. This money-saving app can be downloaded on your phone or it can be attached to your browser for tons of money-saving opportunities! Ibotta is unique in the fact that you can also BUY gift cards from them and earn cash back from doing it! So, you may not get exact gift cards, but you can get cash back, which is just as awesome!
YouGov
If you're looking to expand your free gift card redemption capabilities, then give YouGov a try! You simply take surveys and then you can choose your reward. YouGov is unique in the fact that they are constantly adding new reward options. It's just like other gift card reward opportunities, you take surveys for points and then you can cash in those points.
Branded Surveys
Branded Surveys is known for giving you gift cards in exchange for your time! You can complete tasks and surveys and cash them in for gift cards to your favorite stores. If you find yourself with a little extra time, this is a good place to spend it. Branded Surveys has gone through a few name changes over the years, but they are still one of the top places to earn free gift cards!
Survey Junkie
A unique gift card site is Survey Junkie, it's a rewards program where you can complete a survey and earn virtual points. Although some of the surveys only give you a few dollars, you will find that other surveys pay you up to $50. Add this one to your list, so that you can start earning even more gift cards!
More Gift Card Reward Programs to Check Out
Earning extra gift cards in this economy may not seem like an easy thing to do, but when you have all of these top gift card reward programs to try out, it's a whole lot easier. Have you used these rewards programs before, what did you think? Let me know!