Looking to make an Easy Turkey CHarcuterie board for thanksgiving or fall? This fall charcuterie board is filled with crackers, meat, and cheese for a simple, but easy snack board.
A turkey-shaped charcuterie board can be an appetizer centerpiece at a Thanksgiving dinner or is great for a Thanksgiving potluck. However you choose to serve it a Thanksgiving turkey charcuterie board is a fun way to serve snacks on Thanksgiving.
Thanksgiving Charcuterie Board
This Thanksgiving charcuterie board is easy to make, and affordable, and the kids will love it. You can make it as big or as small as you want, it can be customized to meats and cheeses you like, and you can add a different variety of items to the board.
What to place on a Turkey Charcuterie Board
The base of this board is simple crackers, meats, and cheese, but depending on what you want to use you could use fancier items or simpler ones. We used wheat things, pepperoni, swiss cheese, and cheddar cheese, but if you wanted a fancier turkey snack board you could use salami and prosciutto, cranberry pumpkin seed crackers, and fancier cheese like gouda or flavored cheeses.
You can even add fruits, veggies, and whatever else you think would be a fit, but I wanted to keep ours kid friendly.
How to Make a Turkey Charcuterie Board
Turkey Charcuterie Board Ingredients:
Pepperoni
Crackers
Cheddar Cheese
Swiss Cheese
Basil
1 Pear
1 Red Jellybean (can use bell pepper cut in a triangle instead or another red or orange candy)
2 Candy Eyes
Round Serving Tray
How to Assemble a Thanksgiving Charcuterie Board
Cut the pear in half and place one half on the bottom center of the serving dish.
I prefer to use sandwich slices of cheese since they slice into the perfect sized bites for crackers, so you would now want to slice the cheese's.
Lay out the cheese's, pepperoni's, crackers and basil in a circle pattern to create Turkey feathers.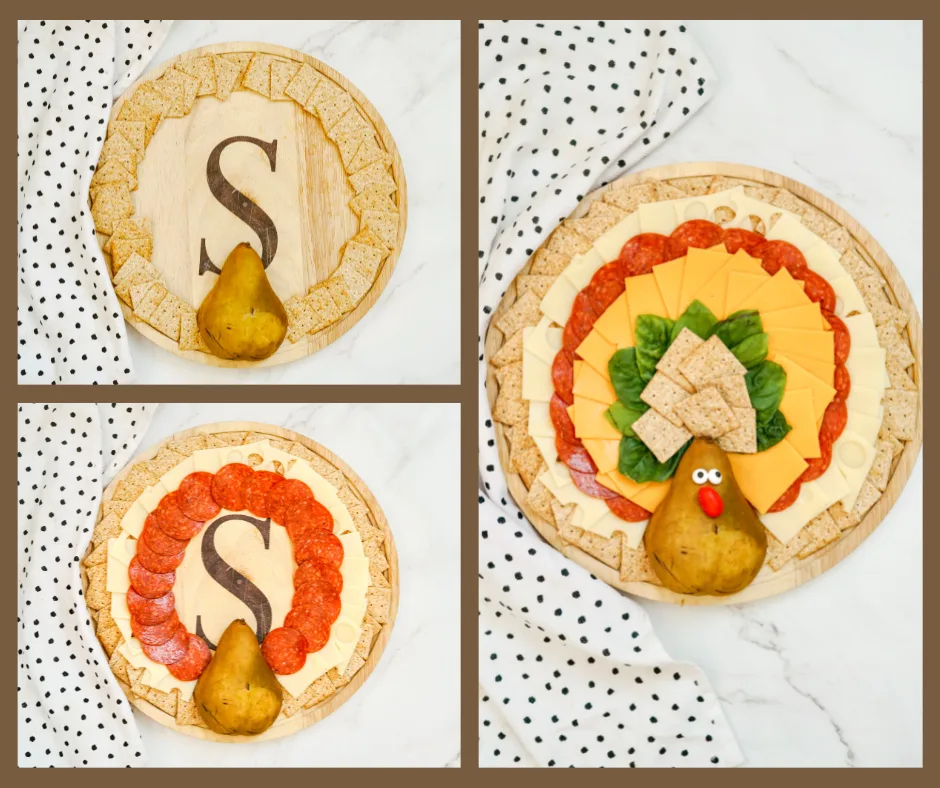 Stick two candy eyes onto the pear.
Slice the red jellybean in half and place it on the pear under the candy eyes.
Need more Charcuterie Board Ideas for Thanksgiving?
Here are some other easy ideas!
This Holiday Party Platter has a little something for everyone. It was so much fun to make and put together! Umm… Hello, cheese, hummus, veggies, and fruits.
A fall-inspired Thanksgiving Charcuterie Board is great as an easy appetizer for the busiest cooking day of the year. A simple-to-assemble cheese board with easy to find ingredients is a great make ahead appetizer that also travels well.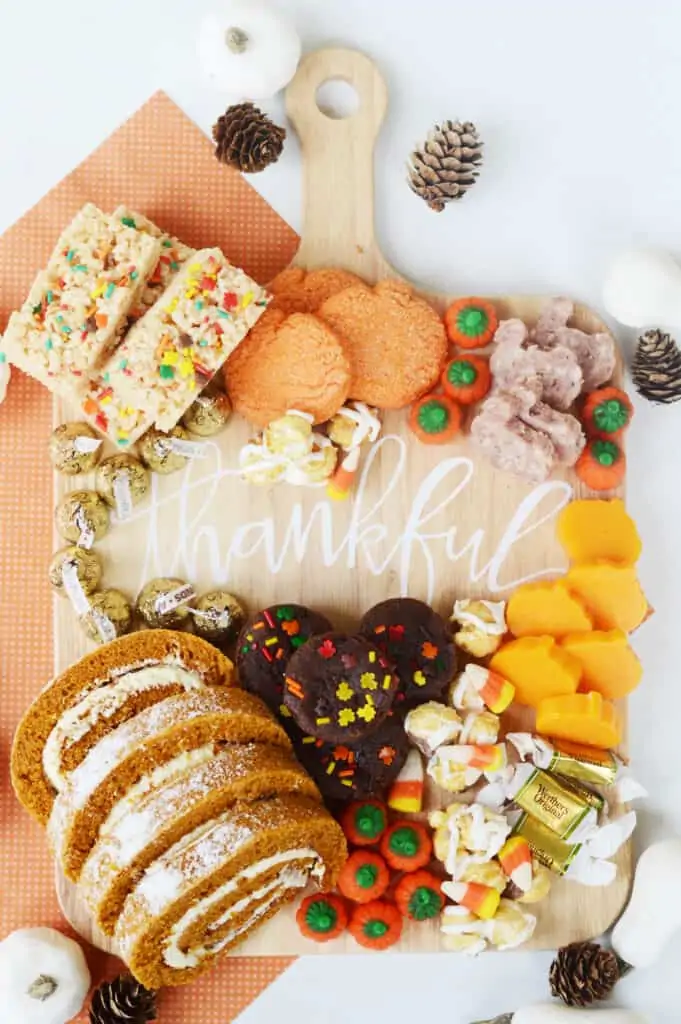 This adorable Thanksgiving snack board is perfect to keep everyone happy while waiting for the main course!
Keep entertaining easy with a beautiful Vegetarian Autumn Cheese Board filled with a variety of fresh fruit, crackers, dips, and cheese. Ready in just minutes, pair a selection of cheeses with a few of your favorite wines, and get the Thanksgiving party started!
Here's a veggie version of a Thanksgiving charcuterie board that all the guests, including the kiddos, will love!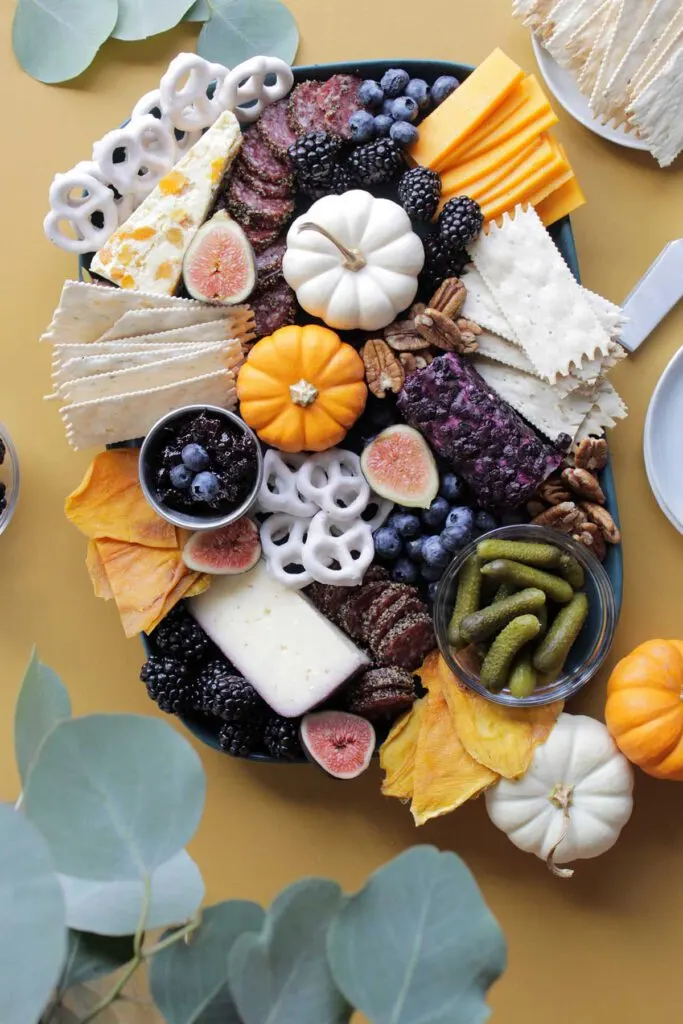 This elegant cheeseboard is full of various kinds of cheeses, fruit, salami, and jam all themed around fall colors. Add some decorative pumpkins for a beautiful garnish.
This recipe can be made and ready to serve as your Thanksgiving appetizer in 20 minutes. This Thanksgiving themed charcuterie board is full of fall flavors like cranberries, walnuts, fig jam, and more!