Movie night snack trays are perfect for a family movie night. Not sure what movie night snacks to serve? Looking for family movie night snacks? Then a movie night snack board is perfect. Filled with candy, popcorn, and nachos that are turned into a tray of snacks.
The best part of Movie night is the snacks. Am I right? The second best part about home movie nights is that you can eat any snacks that you want and aren't stuck to just what is served at the movie theaters, comfy pj's, and cozy blankets.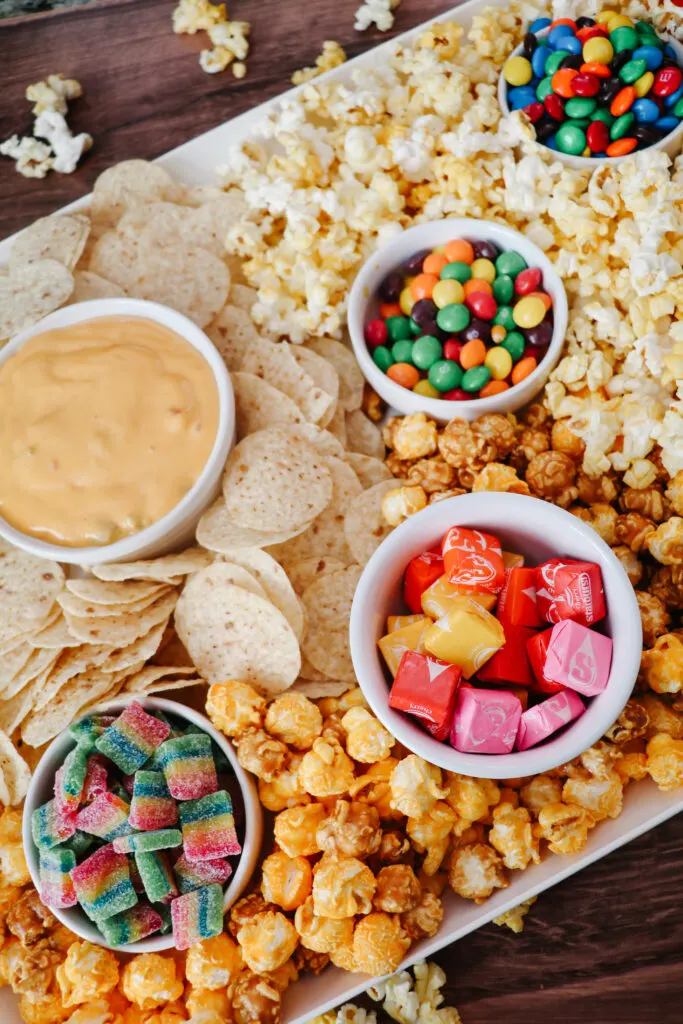 Snack boards are a family favorite in our home so a movie night charcuterie board just makes sense. Whether you're having a movie night party, a night of movie marathons, hosting friends, family, or neighbors, or just having a movie night alone a movie night snack board is easy and delicious.
For our movie snacks, I went with some of our family's favorite items at the movie theater which are nachos, popcorn, and candy. It was a huge hit with my kids and they are asking if they can have this tray for every movie night!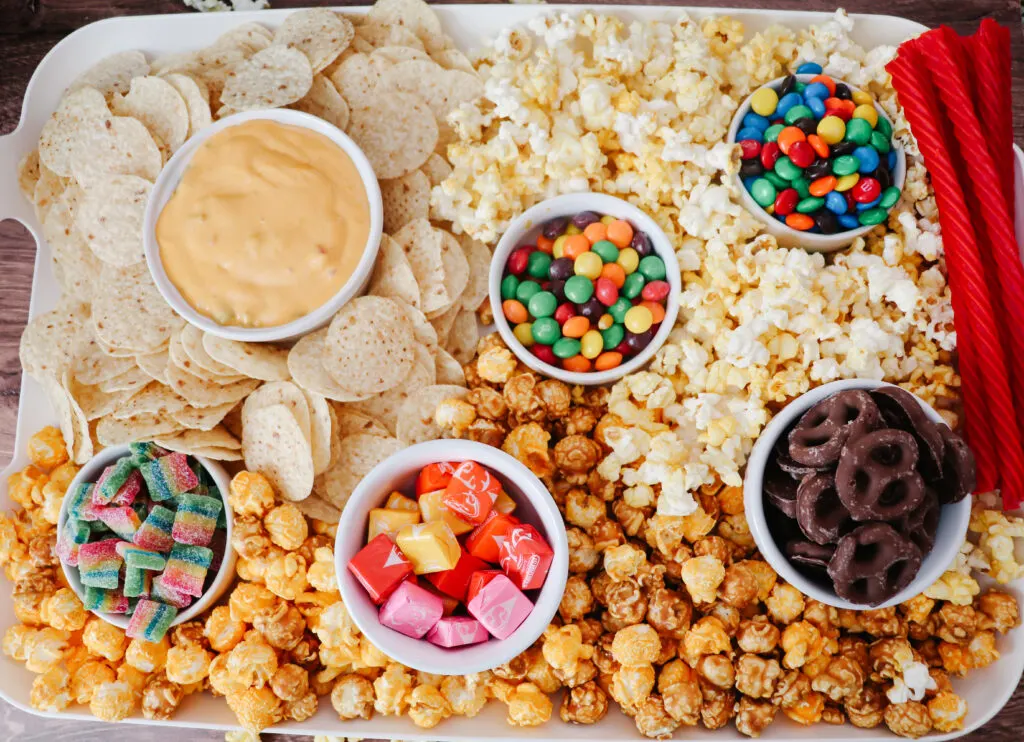 The Best Snacks for Movie Night
What are good movie night snacks for families? When it comes to making your snack board you can put virtually anything you want on it. Adjust it to your families likes. You don't have to be stuck with just popcorn and candy. You can also add in meats, cheeses, fruits, veggies, and so much more.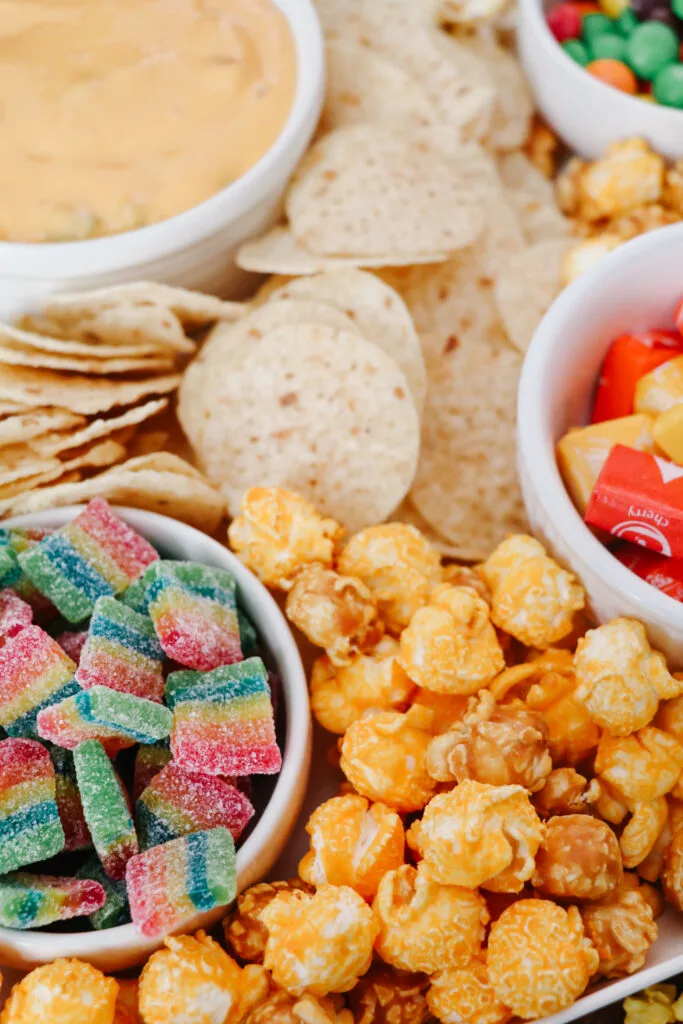 While our snack board was filled with popcorn, nachos, and candy and not very healthy you can add in some healthier options to your movie night snack tray like nuts, fruit, veggies, and other healthier snack options your family likes. You can also do different types of popcorn or add popcorn seasonings to the board.
Popcorn (Caramel, Butter, Cheese, Kettle, ect) you can even add several different flavors
Pretzels (Plain, Yogurt, of Chocolate covered)
Soft Pretzels with Cheese Sauce
Tortilla Chips with Nacho Cheese Sauce
Chips
Crackers
Candy – Any type of candy will work. I love to head to the dollar store and grab the box candy, but you can also find those at Target and Walmart
Fresh Fruit – Strawberries, Grapes, and Apples are favs around here
Nuts
Cheese slices or cubes
Meat like Salami, Pepperoni, Chicken Nuggets, Little Smokies (cocktail weiners)
Pizza Rolls or Bagel Bites
Pigs in a Blanket
Mozarella Sticks
Dried Fruit
Snacks for movie night with friends: Are you going to a movie night and wondering what to bring? Bring a movie night snack tray of course! Cover the tray tightly with plastic wrap or store it in an air tighter container to keep the freshness. They're good movie snacks besides popcorn!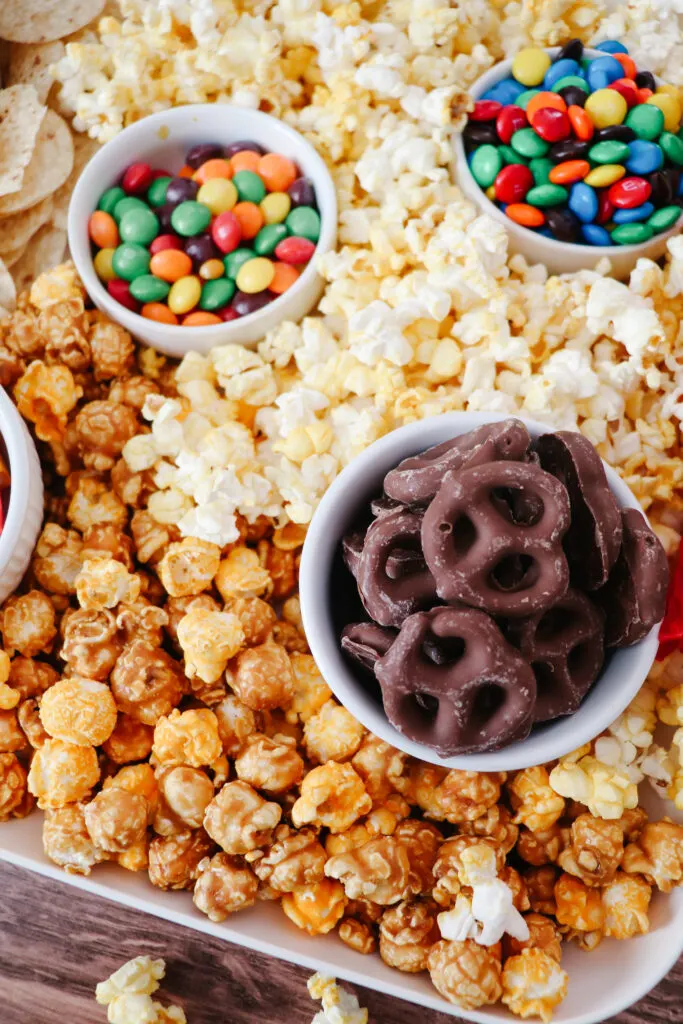 A movie night popcorn board is also great for things other than movie nights. They are great for awards shows, tv show binge sessions, sports games, game shows, and more. Whatever you're watching on TV, a snack board is perfect for.
How to Arrange a Snack Board
To make your snack board you're going to need a sheet pan, serving tray or platter, baking dish, or something to place all of your items on. My favorite snack board platter is from Target (19.5″ x 13.5″ Plastic Serving Platter – Made By Design). It's only $15 and a really good size for a snack tray. In fact, I got my snack tray and movie night snacks all from Target using the drive-up option, winning.
You are also going to need some small bowls to hold the candy. This give the board depth, but also keeps your candy from getting mixed into the popcorn and other foods. For our nacho cheese sauce I used a rameken since it's bigger and then these dip bowls for the candy.
If you are eating with other people it's a good idea to have small plates or bowls for them to place their snacks in. I like to use disposable paper boats. You can find colorful ones and patterened ones at places like your local party store, TJ Max, Home Goods, and Target with the sesonal decor.
To arrange your movie night charcuterie board place the bowls onto the platter first. Around the bowls fill in your popcorn, chips, and any other items you're adding. Then add 1 type of candy to each bowl. Enjoy!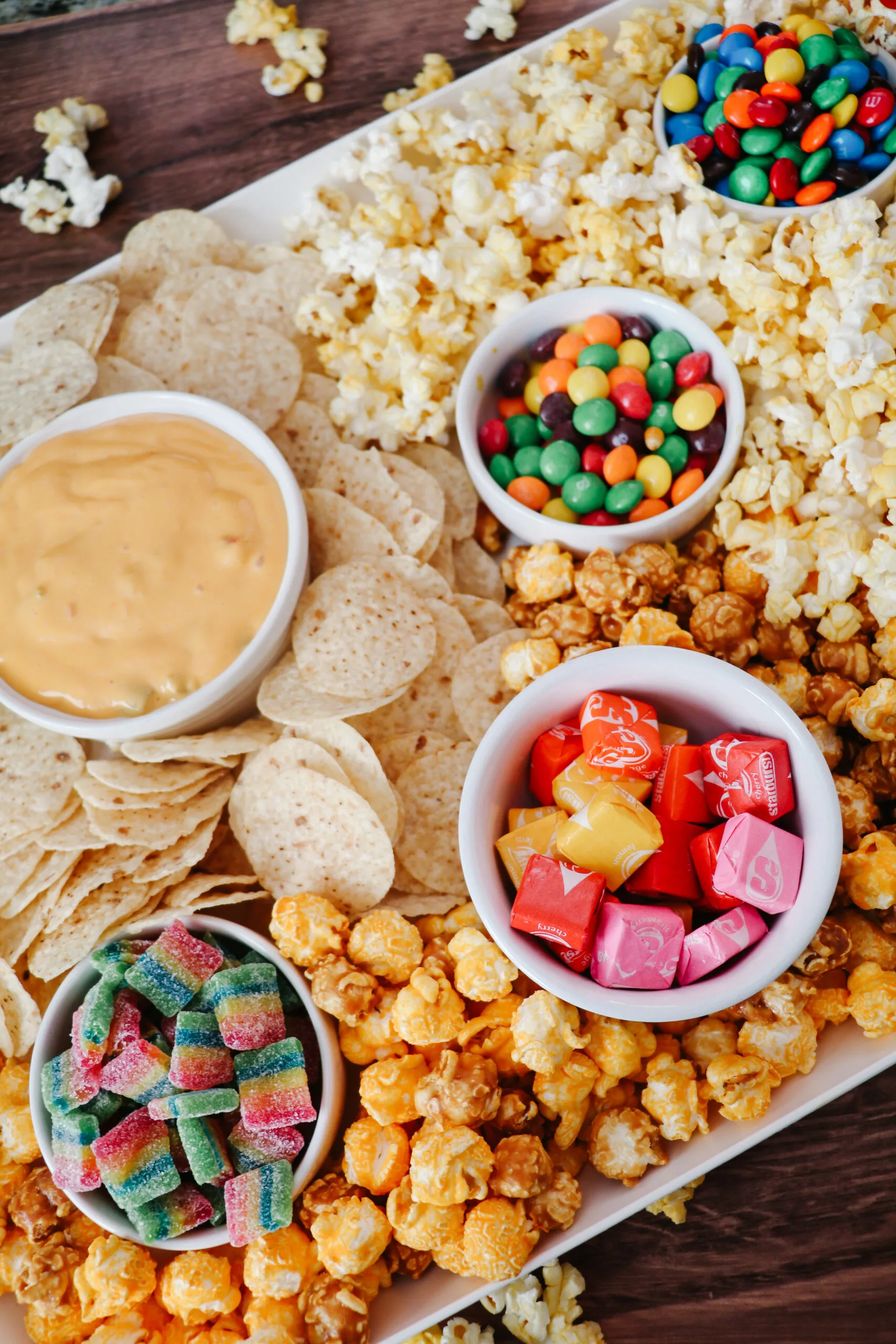 Movie Night Snack Tray: Nachos, Popcorn, & Candy
An easy and fun snack board for a movie night at home. Snacks and Candy fill a charcuterie board.
Ingredients
Popcorn
Tortilla Chips
Nacho Cheese
Candy
Instructions
Get a large serving tray and place small bowls around it.
Arrange the popcorn, chips, and any other items around the bowls on the tray.
If adding nacho cheese to your board warm it up for 30 seconds to 1 minute before placing it in a bowl.
Fill the bowls with candy or other snacks.
Enjoy!
Notes
You can add any items to your snack board that you please. Make sure to store in an airtight container until ready to serve and if using perishable items store them in the refrigerator until ready to serve.
If serving nacho cheese warm it up before placing in a bowl.