An Elf on the Shelf Hot Cocoa Board is a fun hot chocolate charcuterie board filled with cookies, candy, hot chocolate bombs, hot cocoa mix, and hot cocoa toppings. Add in some Elf on the Shelf cookies, elf on the shelf marshmallows, and elf on the shelf cake to give this board an Elf on the Shelf snack board look. Elf on the Shelf easy ideas!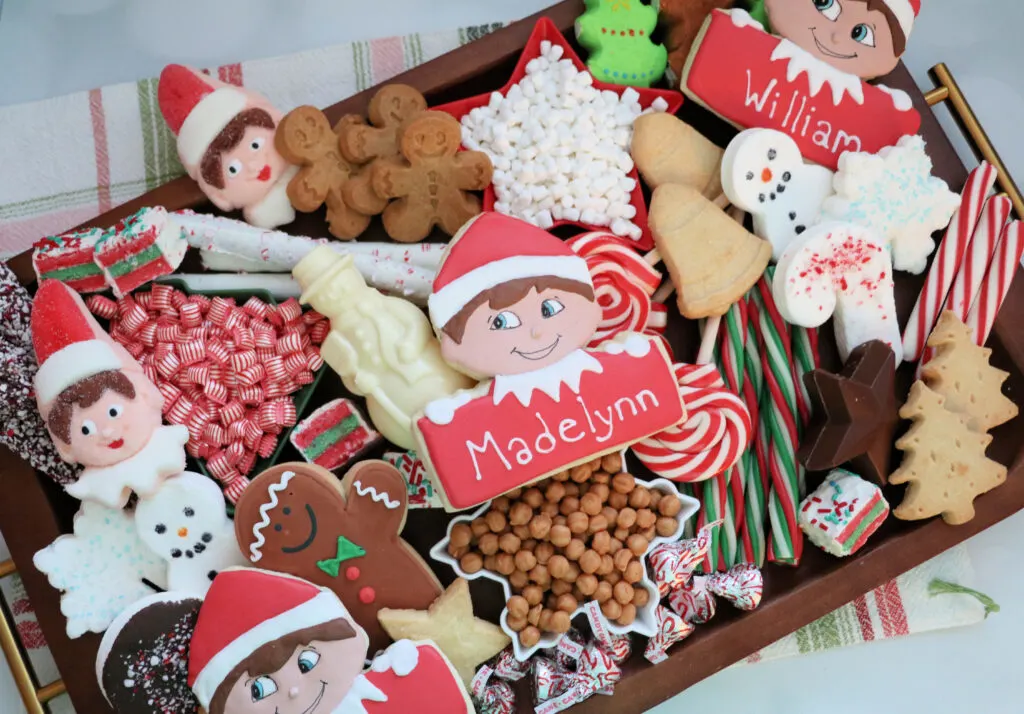 You Elf on the Shelf can bring this hot cocoa board or you can just place it out for a movie night or holiday party, but either way, it's so much fun. My kids love when I make them snack boards and our Elf is bringing for this for its arrival this year. The kids can enjoy it for breakfast while they put out Christmas tree decorations on the tree.
Elf on the Shelf Hot Chocolate Board
When it comes to making your Elf on the Shelf hot cocoa board you can fill it with whatever toppings you like. The possibilities are ENDLESS.
Here is what I placed on my Elf on the Shelf Hot Chocolate Board and where I got the items.
Elf on the Shelf Sugar Cookies – a local to me bakery made these for me.
Marshmallow Mug Toppers – I got these from Target, but cannot find them online.
Gingerbread Cookies – Target
Sugar Cookies – Target
Peppermint Sticks – Target
Elf on the Shelf Cake Bites – Got these from Big Lots, but Target and Walmart also have them.
Elf on the Shelf Marshmallow Pops – Got these from 5 below
Caramel Bits – Target
Mini Marshmallows – Target
Peppermint Pillows – Target
Christmas Peeps – Target
Hot Cocoa Bombs – Target
Elf on the Shelf Hot Cocoa Mix – Big Lots
Pretzel Rods – Target
Peppermint Cookie Sticks – Target
Lollipops – Target
Christmas Licorice – Target
Candy Cane Kisses – Target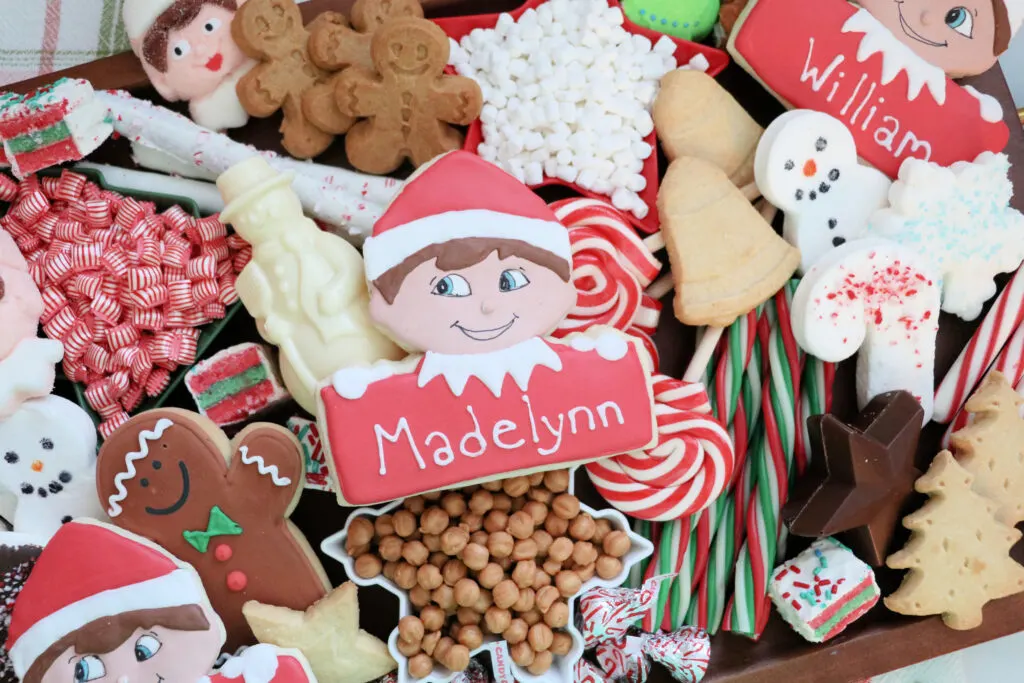 If you're looking for more ideas on what to add to your Hot Chocolate Charcuterie board you can add:
Fruit like strawberries and bananas
Brownies
Rice Krispy Treats
Variety of Cookie Types
Hot Cocoa Toppings – Whipped Cream, Cinnamon, Peppermint Bits, ect
Christmas Candy
Candy Canes
Chocolate Covered Pretzels
Baked Goods
You really can add anything that you like to enjoy with hot cocoa. Make it fun and to fit your family's taste buds.
Don't want to make a hot chocolate board? That's ok too. You can also have your Elf arrive with just hot cocoa and a cookie. There is even a cute Elf on the Shelf mug set that would be perfect!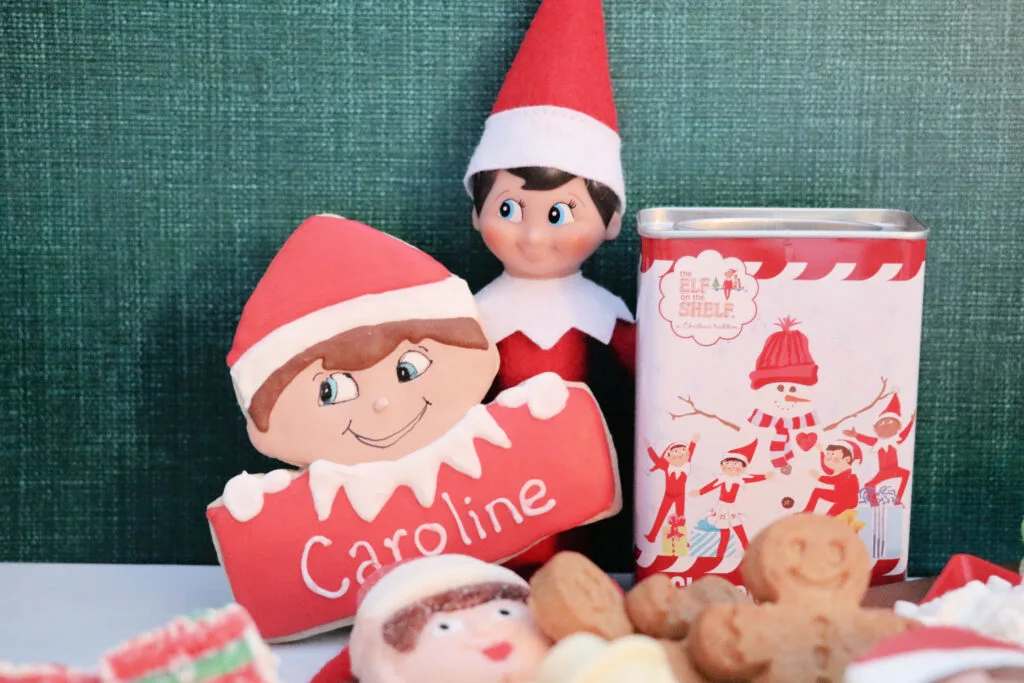 Looking for more Elf on the Shelf Ideas? Check out my post with Easy Elf on the Shelf Ideas. I know this hot chocolate board looks like it was alot of work, but the hardest part was opening all the wrappers. The board was ready to go in under 10 minutes and there is no baking or cooking involved. Just lay everything out on a board or tray and leave it out.
Tip – If you set this out the night before cover the tray with plasticwrap to try and keep the marshmallows, cookies, and cakes from getting hard. Otherwise place it out shortly before you know the little ones will be up.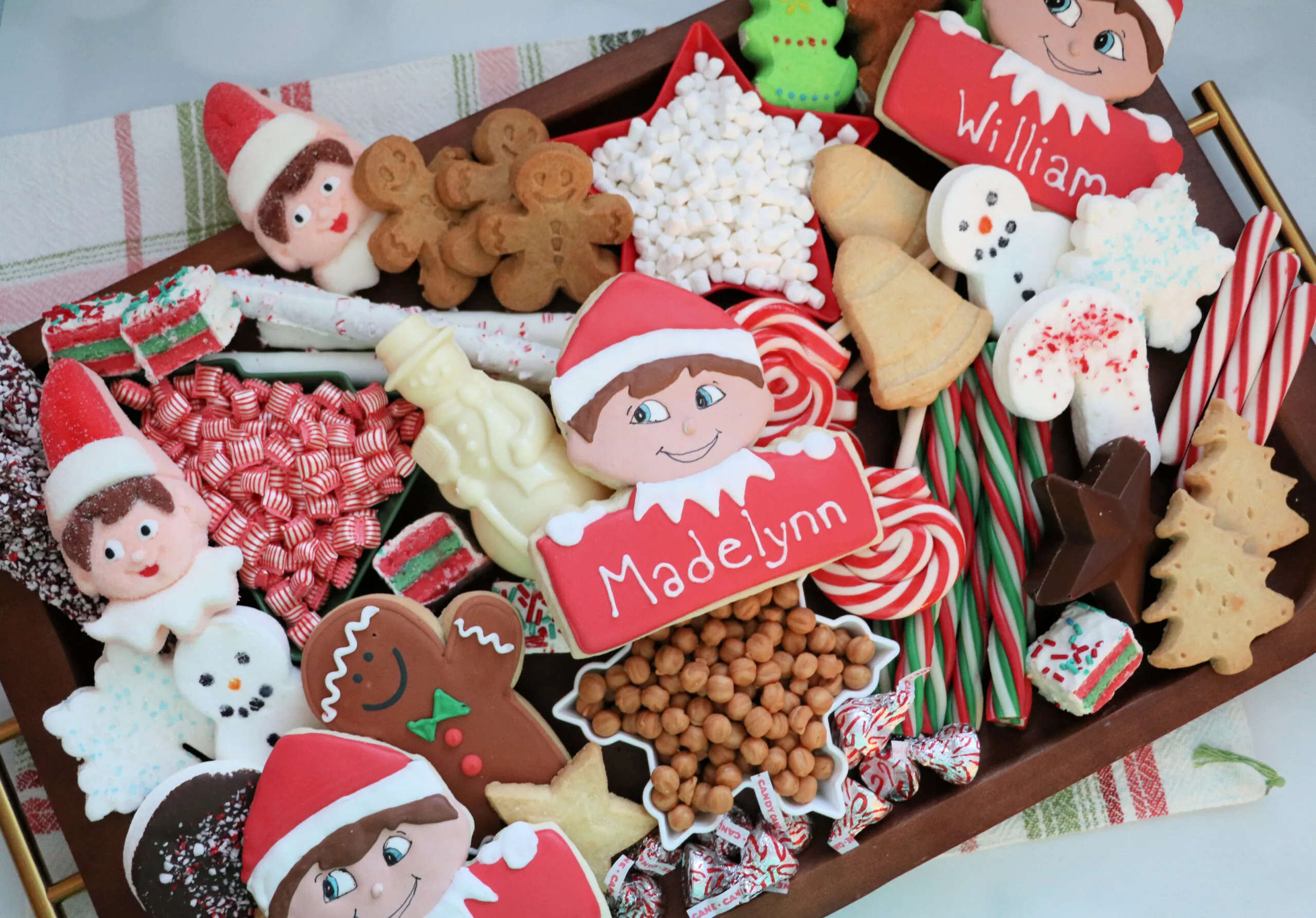 Elf on the Shelf Hot Cocoa Board
Make hot chocolate fun with a Hot Cocoa Snack board filled with sweet treats and hot cocoa.
Ingredients
Marshmallows
Hot Cocoa Mix
Hot Cocoa Toppings - whipped cream, cinnamon, peppermint bits, or caramel
Baked Goods like Cookie, Cake, Brownies
Holiday Snacks - chocolate covered pretzels, candy, ect
Instructions
Assemble all of your favorite snack and hot cocoa toppings onto a serving tray or board.
Notes
If leaving out overnight cover the tray with plastic wrap to keep marshmallows and baked goods from getting hard. Make sure to only leave out shelf stable items, otherwise pull the items out right before serving.