Free Printable Elf Scavenger Hunt is a free downloadable scavenger hunt for kids. Elf scavenger hunt can be used with your Elf on the Shelf or as a fun way to keep kids busy for a little while during the holidays.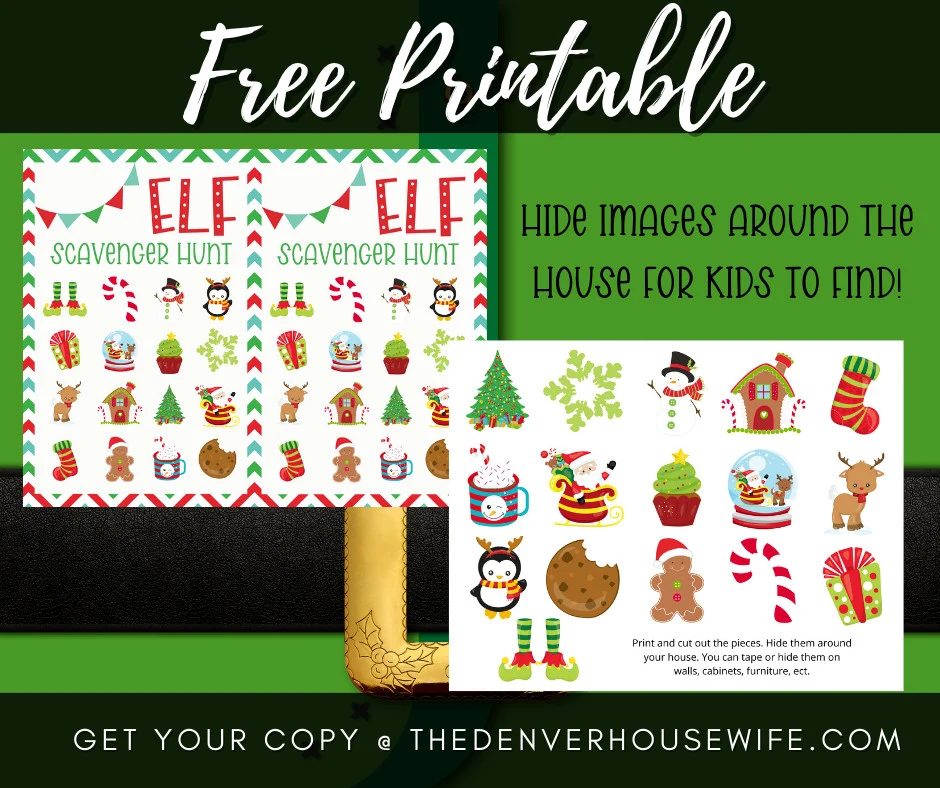 Are you looking for fun, but affordable ways to feature the Elf on the Shelf in your home? Elf Scavenger hunt can be a fun option, but even if you aren't doing Elf on the Shelf you can still do an Elf Scavenger hunt. Whether you're using the scavenger hunt as a game for a classroom party, at home with the kids, or at a holiday party. It's free, fun, and will keep the kids busy for a little while.
How to Have an Elf Scavenger Hunt
Let's get started on our Elf on the Shelf treasure hunt! There are a few ways you can play this fun Elf scavenger hunt:
Let your Elf on the Shelf take all the glory – Hide the images around your home and leave the cards next to your Elf on the Shelf. I even included a little card for the Elf to hold explaining how to play the game.
Turn it into a Treasure Hunt – Hide the images around the house and place little prizes near each one. Small items like candy. You could also make one image harder to find and put a bigger prize near it or once kids are done you give them a prize.
Hide the Images just for Fun – hide the images around your home and tell kids to have fun. Prizes and elves don't need to be included.
Download Free Printable Elf Treasure Hunt
To get your Elf Scavenger Hunt, enter your information in the box below.
Download the files. (download here)
Print the files out.
There are only 2 scavenger hunt cards included in the file so print out as many copies as you need for those.
Cut the images out and tape them to places or objects around your home.
Give the kids their scavenger hunt cards and something to write with. For each item, they find they can cross it off their card.
Included in your Elf Scavenger hunt are 16 images to hide around your house, 2 scavenger hunt cards, and a small sign for your elf to hold. All files are for personal use only and cannot be shared, sold, or redistributed.
Where to hide Scavenger Hunt Images
Here are some places to hide your scavenger hunt images around the house:
on walls
in the bathroom
in the fridge
in the pantry
on furniture
on a pet bed
on shoes
on doors
on mirrors
on windows
on the ceiling
on a christmas tree (turn them into ornaments)
Depending on the size of your home and the ages of your kids you might want to limit hiding the images to 1-2 rooms in your home.