Dulces Enchilados Mexican Spicy Candy is both spicy and sweet for the perfect candy with a kick. This easy-to-make recipe requires only 4 ingredients and can be made in minutes. Also called Pica Pica Candy, chamoy covered candy, or enchilados candy.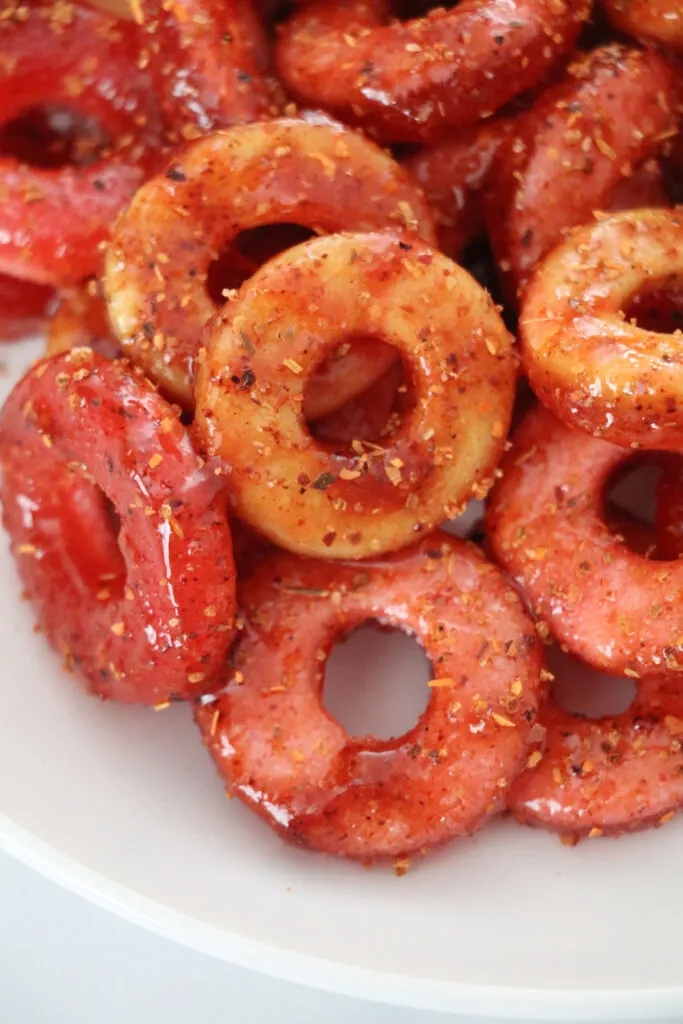 Sometimes you just want candy for a snack or during movie night. Whatever the reason for your candy snacking these dulces enchilados are the perfect sweet and salty snack to try. Made in a matter of minutes and with as little as 4 ingredients you can quickly whip these up to enjoy for yourself or give as gifts.
Dulces Enchilados aka Mexican Spicy Candy
Dulces Enchilados have been all over Instagram and TikTok and I just had to give them a try. While I am not a spicy lover, these candies were really yummy and had me going back for more and more. You mix together candy, chamoy, and Tajin for a delicious treat.
What are Dulces Enchilados
Dulces Enchilados means is basically candy with chili. Dulces means sweet and enchilados in Spanish is used to describe food made with chili or spice. Dulces Enchilados are candy covered with chamoy sauce and tajin to give it a sweet and spicy taste.
What is Chamoy
Chamoy is a savory sauce or condiment used in Mexico. It's typically used in Mexican fruit cups or on the rim of a cup for a drink called a Michelada. It pairs nicely with fruit and is made from a combination of lime, chile peppers, and fruit such as apricot or mango. It's sweet, spicy, and a little bit sour.
Where to buy Chamoy – You can find Chamoy in most Mexican grocery stores and sometimes in your local grocery store like Walmart. You can also grab it on Amazon.
What is Tajin
Tajin is a staple in Mexican snacks and I love it on an elote or cucumber slices, but you can also enjoy it on fruit and other foods. Tajin is a Mexican blend of spices like lime, chiles, and salt. It comes in a few different varieties from original to extra spicy. Tajin is sold pretty much everywhere and we always have some on hand.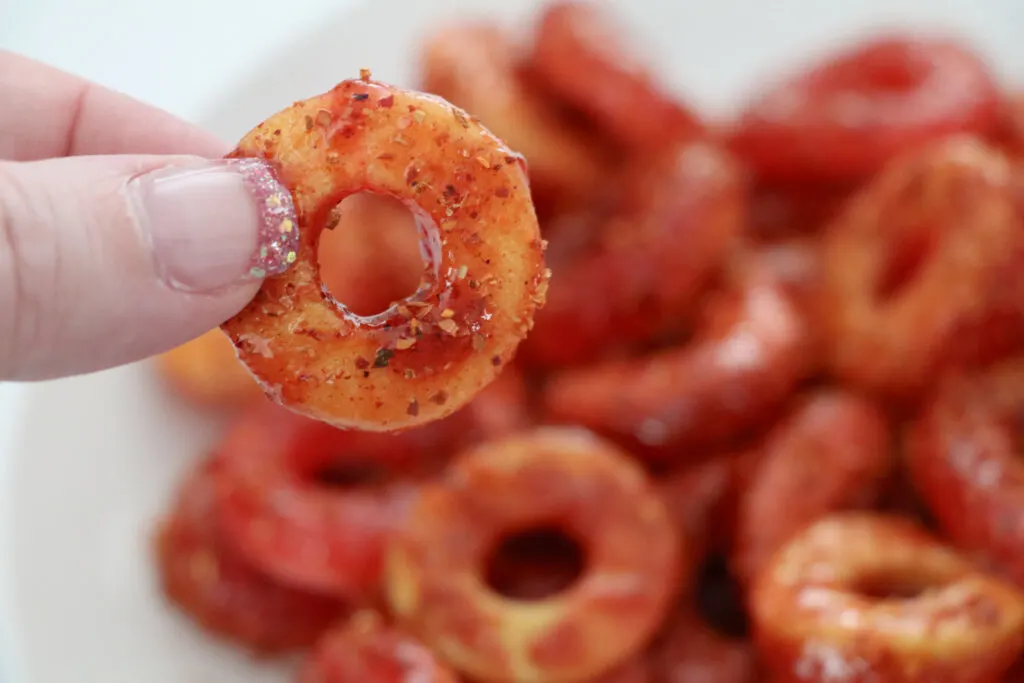 What Candy to Use for Dulces Enchilados
When it comes to making dulces enchilados it's typically made with gushers or peach rings, but you can make it with any fruity candy you like.
You can use the following candy either regular or sour:
Peach, Apple, or Watermelon Rings
Gummy Bears
Gummy Worms
Skittles
Twizzlers or Red Vines
Any Gummy Candy
Watermelon Slices Candy
Sour Ropes
Fruit Roll-Ups
Nerds Ropes
How to Make Dulces Enchilados
Let's get started on making our dulces enchilados recipe. You'll need just a few ingredients:
Candy
2 1/2 tablespoons Chamoy
1 tablespoon Tajin + some for garnish (you can use more or less depending on your tastes)
5 tablespoon Powdered Sugar
To make your dulces enchilados you are going to mix together your chamoy and powdered sugar in a bowl with a whisk.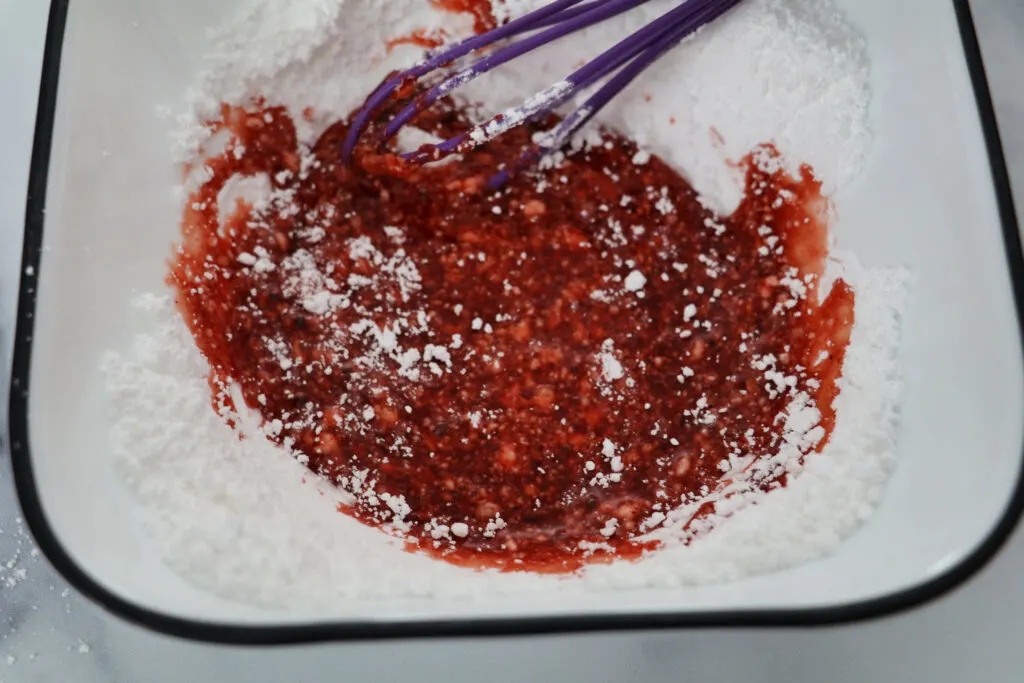 Mix well and try to get all the lumps out while mixing.
If you can't get the lumps out, that is ok. Place your bowl in the microwave for 10 seconds. This will help to melt the powdered sugar a little bit.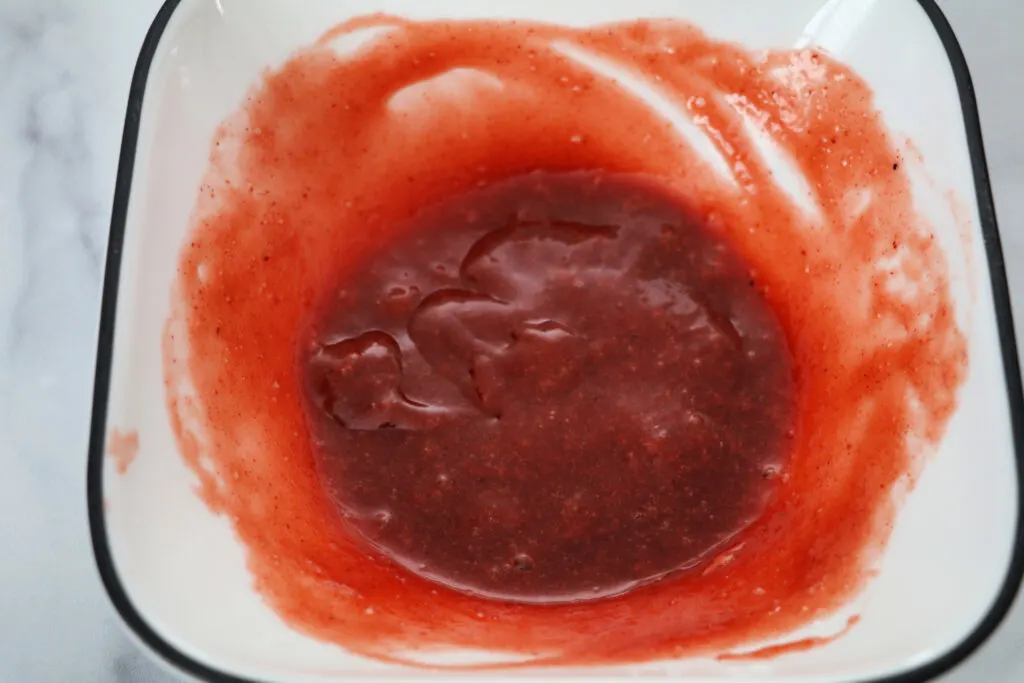 Remove your bowl from the microwave and mix some more. I got all of my lumps out with the microwave. I also found that using a whisk worked better than a fork.
Once your chamoy and powdered sugar is mixed together well you are going to place your candy in a bowl and pour the sauce over it.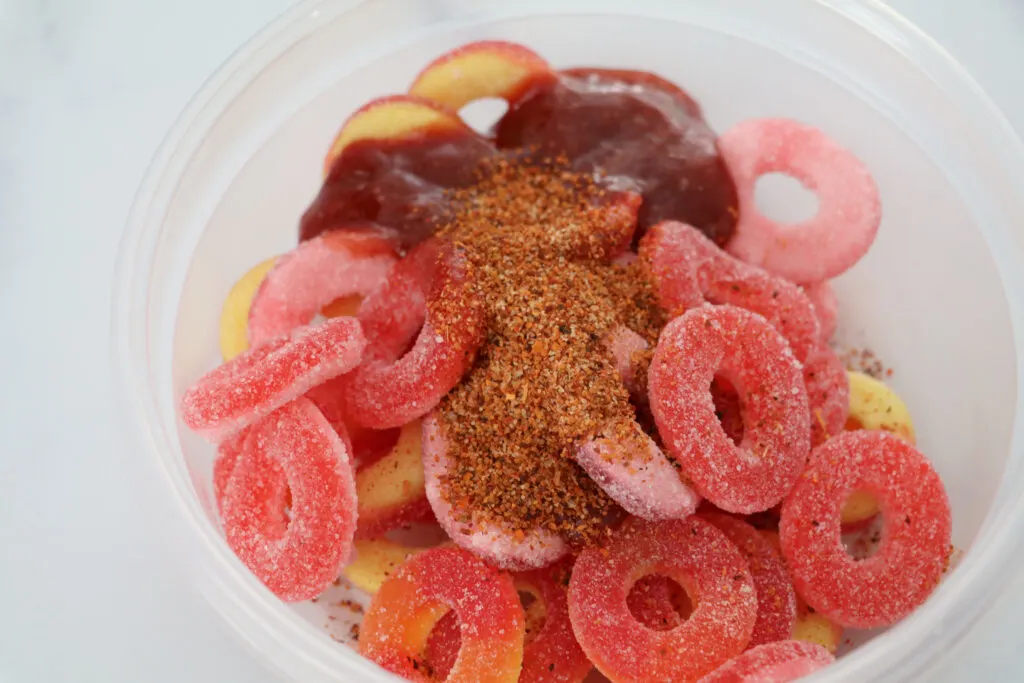 I used 1 bag of peach rings and 1 bag of watermelon rings in my first batch. In my second batch I did a mix of different candy and just kept adding candy and mixing until there wasn't a lot of excess sauce in the bowl.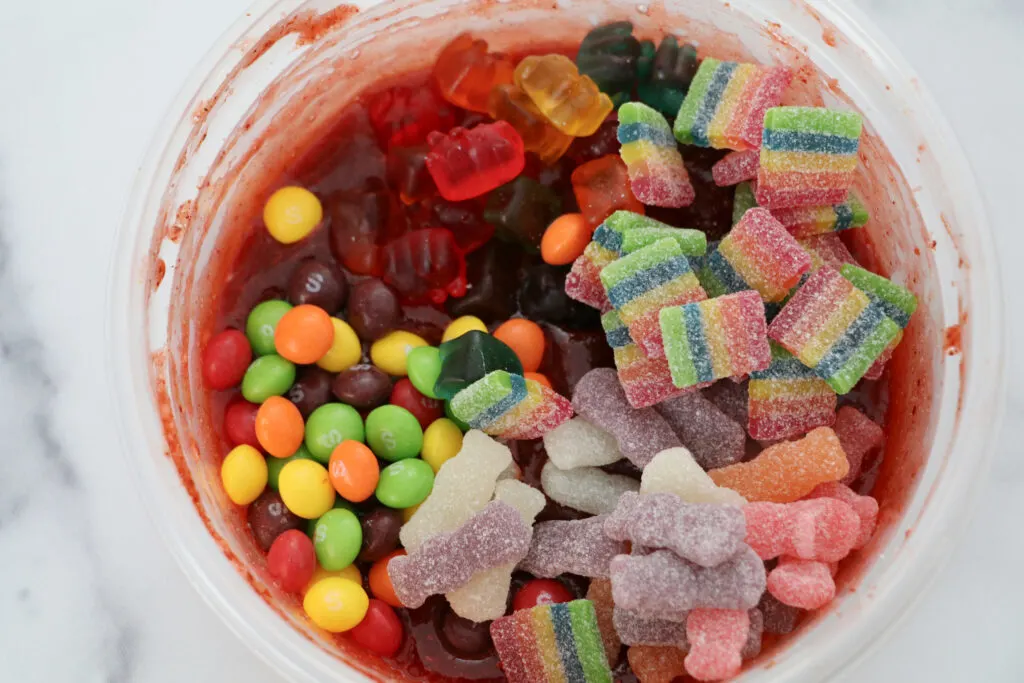 You can use a bowl with a lid and shake it until your candy is fully coated or you can use a spoon and mix the candy and sauce together.
Add your Tajin and mix together.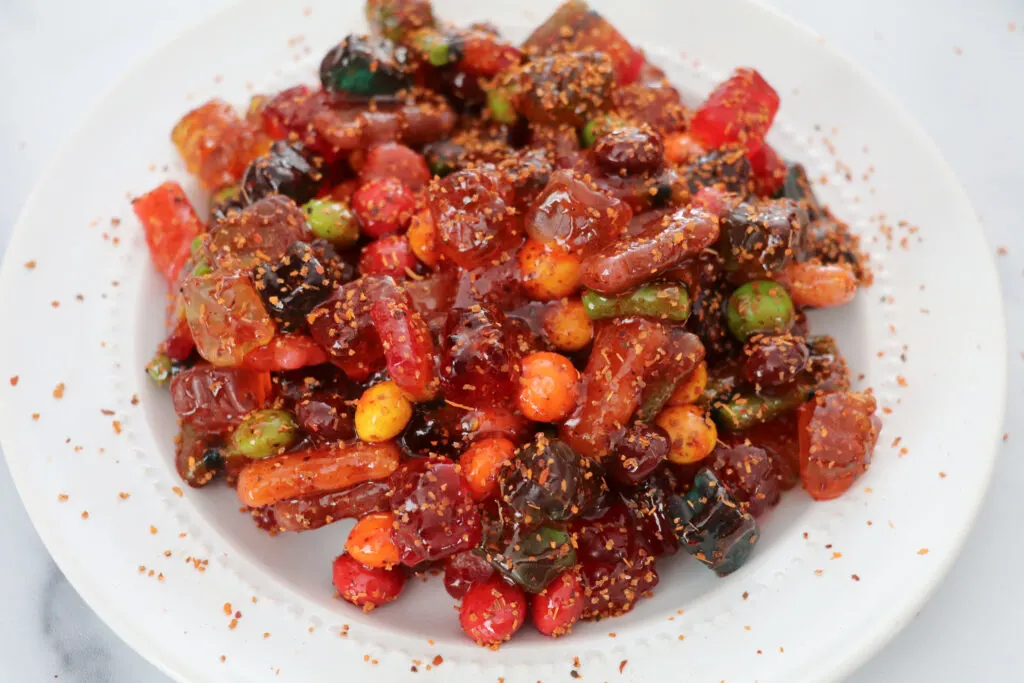 When it comes to the Tajin you can add more or less. This is going to be based on your taste buds. Try a piece of candy and if you feel like it needs more Tajin, add more. Shake that jar until you feel like stopping.
Sprinkle some more Tajin on the top of your candy as a garnish.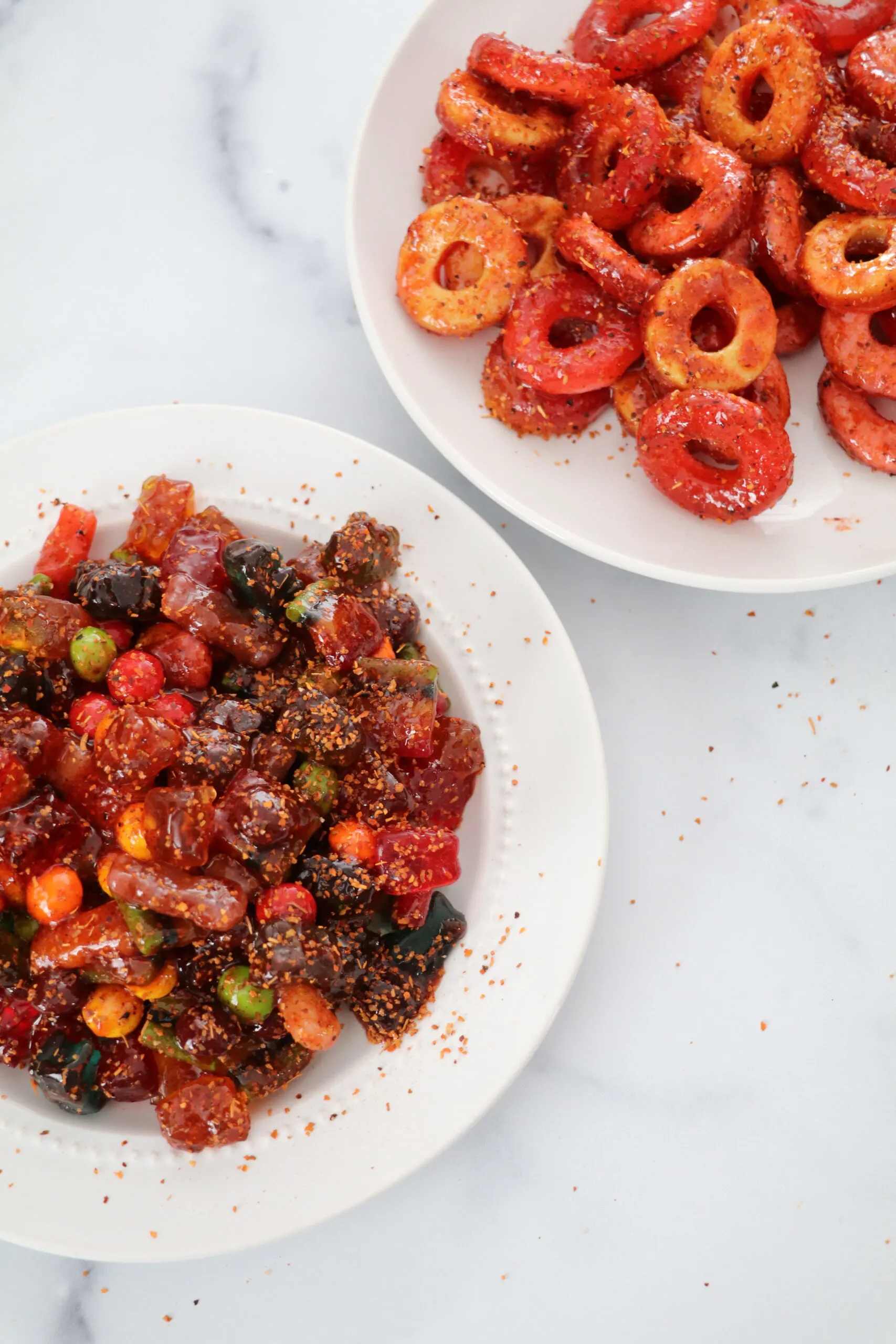 How to Store Dulces Enchilados
I place all of my dulces enchilados candy into an air-tight bowl with a lid to store. You can store dulces enchilados, Mexican spicy candy for a few weeks in an airtight container. You could also place it in your fridge in an air-tight container. However, I doubt it will last long enough to store. Enjoy!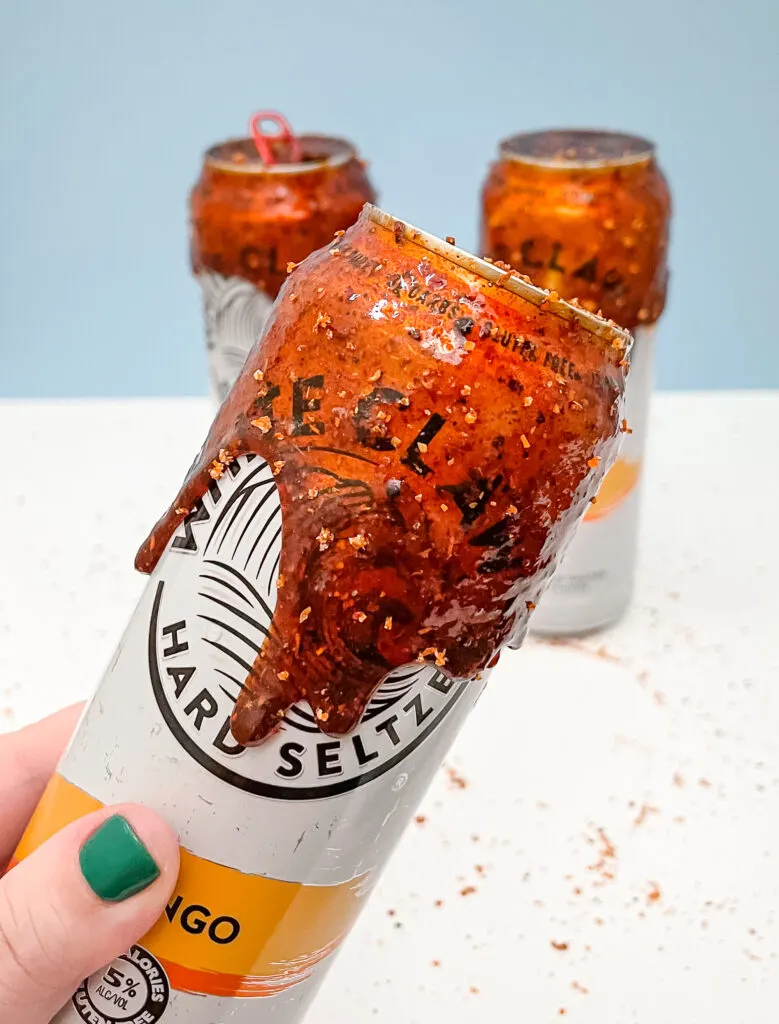 Dulces Enchilados Mexican Spicy Candy
A sweet, spicy, and sour candy coated in Chamoy Sauce and Tajin seasoning.
Ingredients
Candy - about 14-16 oz.
2 1/2 tbsp Chamoy
1 tbsp Tajin + some for garnish (you can use more or less depending on your tastes)
5 tbsp Powdered Sugar
Instructions
Mix together chamoy and powdered sugar in a bowl with a whisk.
Mix well and try to get all the lumps out.
If your sauce is lumpy place it in the microwave for 10 seconds.
Remove from microwave and mix until sauce is smooth and lump-free.
Place desired amount of candy into a bowl and pour sauce + Tajin over the candy.
Mix together so all of the candy is coated in Chamoy sauce.
Sprinkle more Tajin onto the candy.
Store in an air-tight container for up to a few weeks.
Notes
The amount of Tajin you use is going to depend on your taste buds. You can add more or less. If you want your candy to be spicier you can use a spicier version of Tajin like the Habanero Tajin.
You can use any type of fruity candy you like. Skittle, Gummy Candies, Licorice, Sour Candy, and Fruit Snacks all work well.