Jicama wrap Mexican fruit cup tacos are a fun spin on a classic snack, Mexican fruit cups. Trader Joe's jicama wraps, chile lime seasoning, chamoy, and fruit make this easy and delicious snack.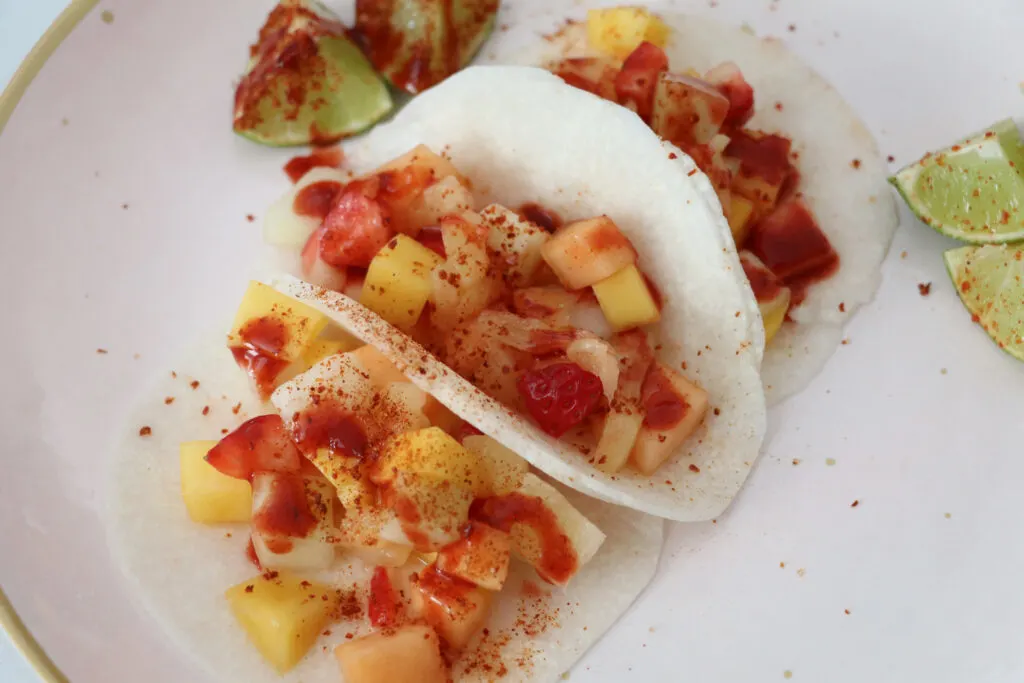 Mexican fruit cups are a delicious snack. Traditionally they contain fresh fruit, chile lime seasoning, and chamoy sauce and they're served in a cup or bowl, but we're turning them into wraps or tacos with the jicama wraps from Trader Joe's.
Since Mexican fruit cups traditionally have chunks of jicama in them we swapped that out for jicama wraps instead. You can either buy your wraps or make your own.
Mexican Fruit Cup Tacos
These jicama Mexican fruit wraps are done in a matter of minutes and the hardest part will be dicing up your fruit.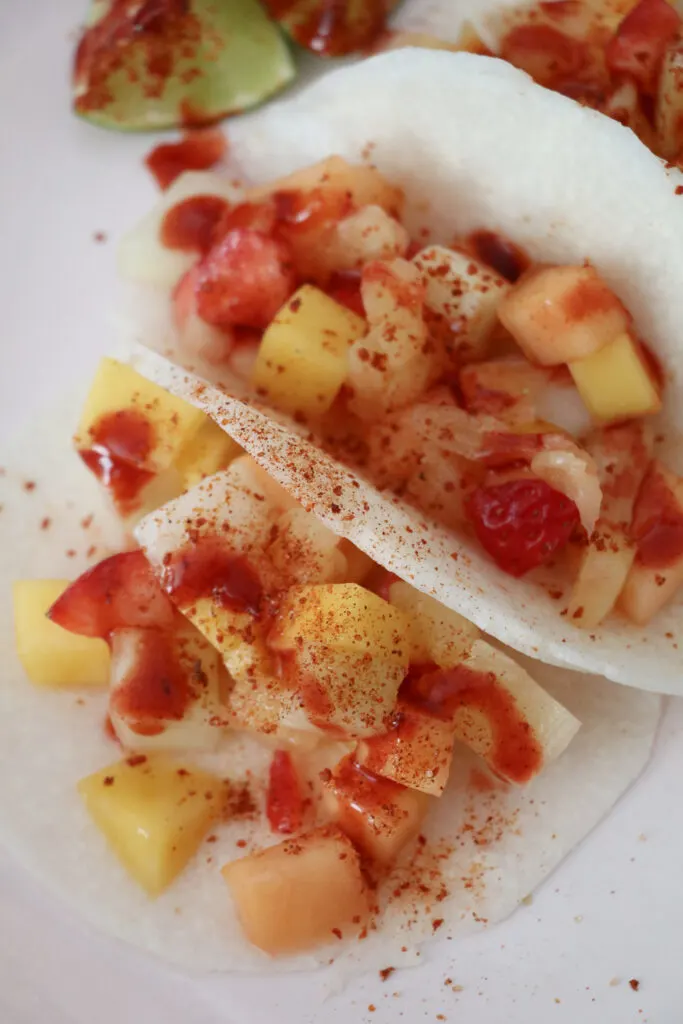 Where to buy Jicama Wraps
You can buy Jicama wraps at Trader Joe's, Sprouts, and Whole Foods.
Jicafoods.com has a store locator available.
If you don't have either of those stores locally you can always make your own. Gourmet Done Skinny has a good tutorial on how to make them.
What is Jicama
If you've never had jicama (hi·kuh·muh) before it's a root vegetable sometimes called a Mexican potato. It's crunchy and starchy with a slightly sweet taste sort of like a potato mixed with an apple or pear. It's low calorie and low carb, so it's a healthier food option.
What Fruit to Use in Mexican Fruit Cup Wraps
When it comes to fruit in Mexican fruit cups traditionally you'll have a mix of mango, watermelon, jicama, and cucumber. Sometimes you'll find it with papaya or pineapple as well.
You can use whatever fruit you have on hand, is easy to find, and that is currently in season. It's best to use fresh fruit.
Fruit and Vegetable options include:
Papaya
Mango
Watermelon
Pineapple
Jicama
Cucumber
Strawberries
Cantelope
Honey Dew Melon
Apple
Pear
Oranges
Berries
Peach
What is Chile Lime Seasoning
For these fruit cup wraps, we're going to use a chile-lime seasoning. You can use either Tajin, which you can find at any grocery store or Trader Joe's Chile Lime Seasoning. Trader Joe's Chile Lime Seasoning is similar to Tajin, but their own version.
Chile lime seasoning has dried chiles, lime, and salt. Some people find it has a mild spice to it, but I don't think it has very much spice.
What is Chamoy
Chamoy is a savory sauce or condiment used in Mexico. It's typically used in Mexican fruit cups or on the rim of a cup for a drink called a Michelada. It pairs nicely with fruit and is made from a combination of lime, chile peppers, and fruit such as apricot or mango. It's sweet, spicy, and a little bit sour.
Where to buy Chamoy – You can find Chamoy in most Mexican grocery stores and sometimes in your local grocery store like Walmart. You can also grab it on Amazon.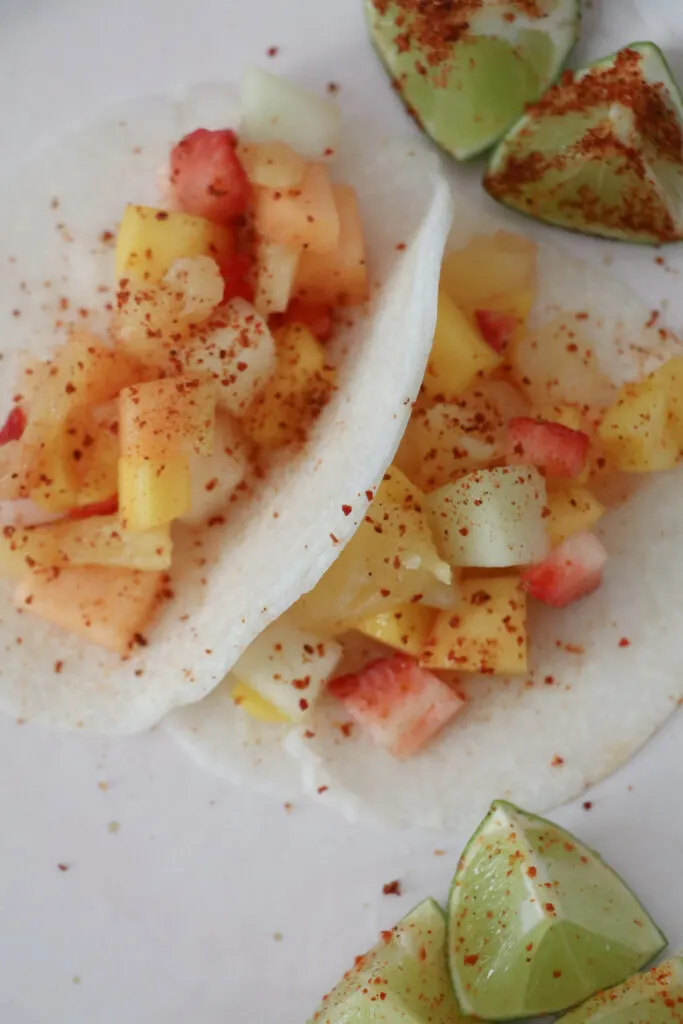 How to Make Mexican Fruit Cup Tacos
First your going to need to gather your ingredients. There are no measurements in this recipe.
You'll need:
Jicama Wraps
Fresh Fruit
Tajin or Chile Lime Seasoning
Chamoy
Lime (optional)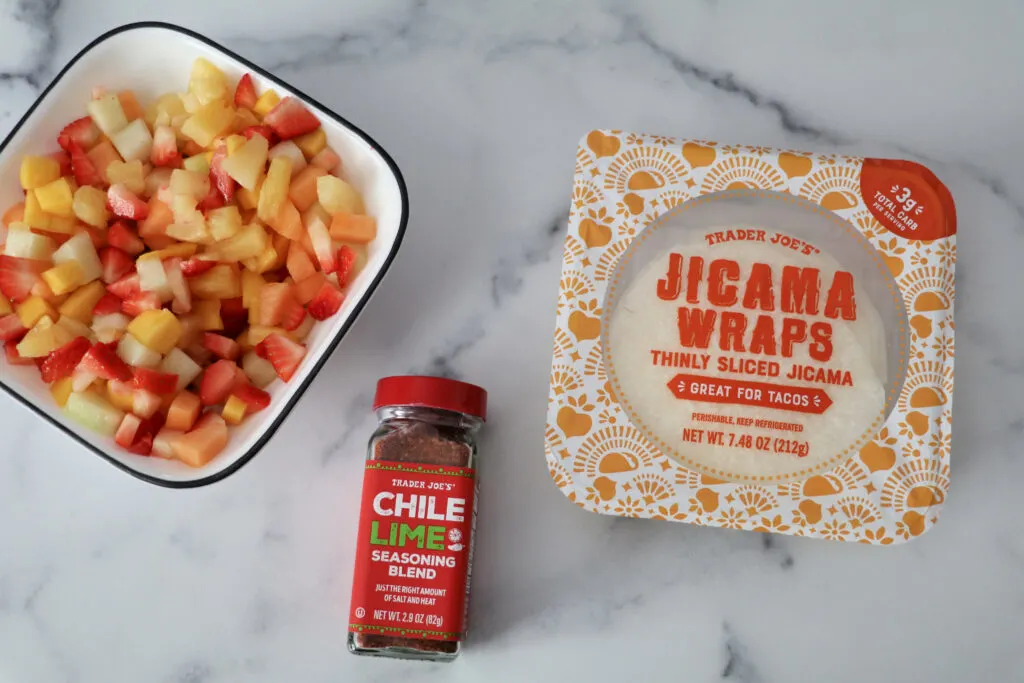 Wash your fruit and dice up your fruit into small chunks.
Open your Jicama Wraps. They will be a little wet, you can either pat them dry with a paper towel or leave them alone.
Place your jicama wraps onto a plate and top with 1-2spoonfuls of fruit.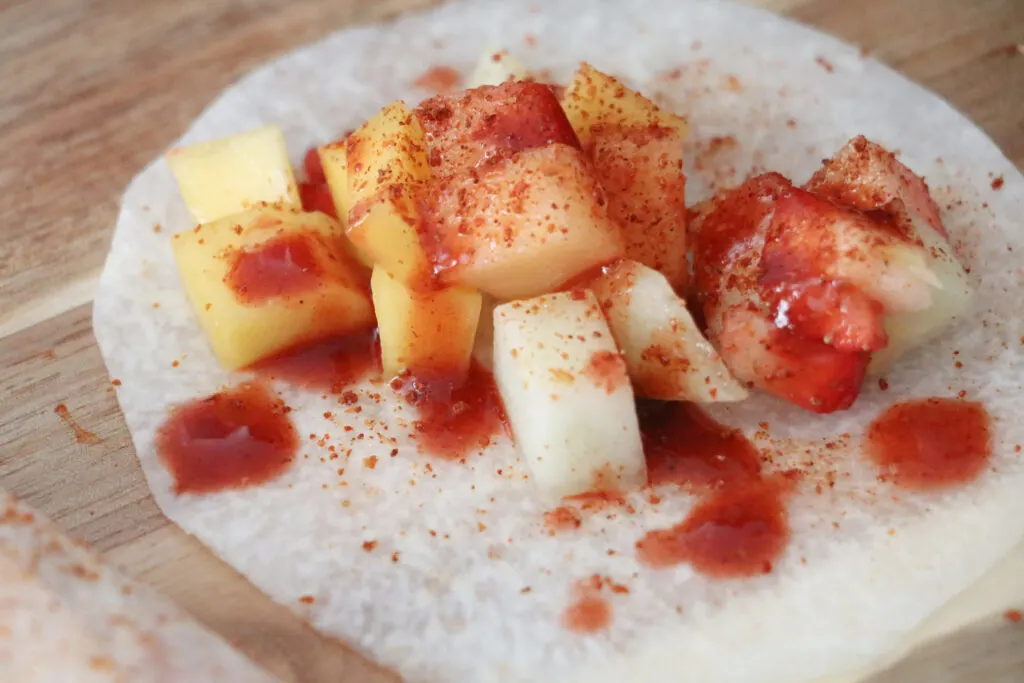 Drizzle chamoy sauce over the fruit.
Sprinkle with Tajin.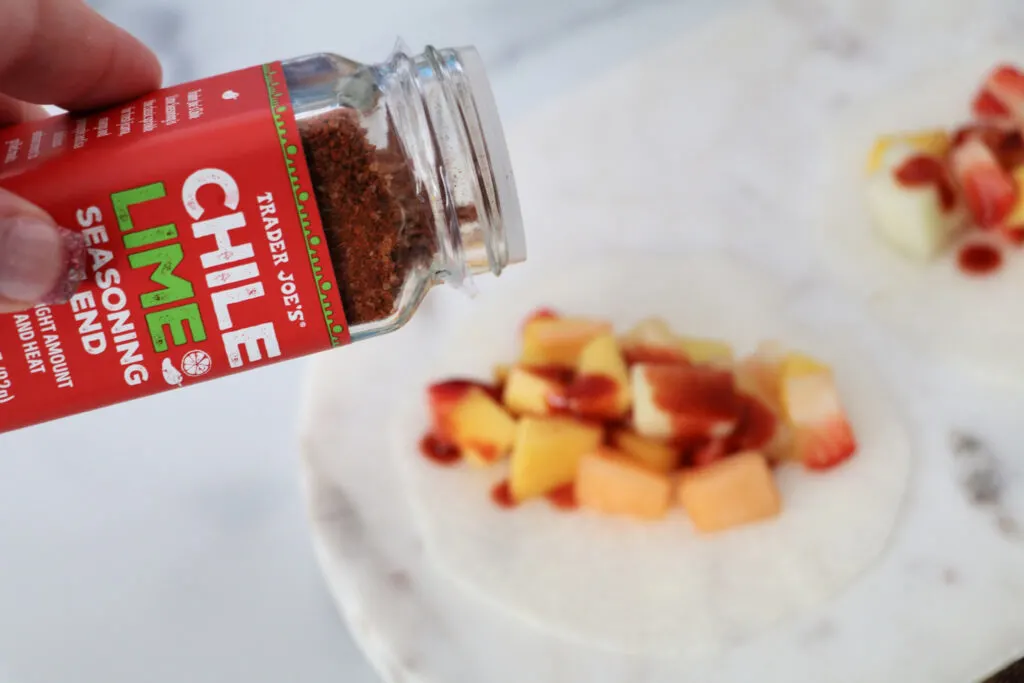 Enjoy!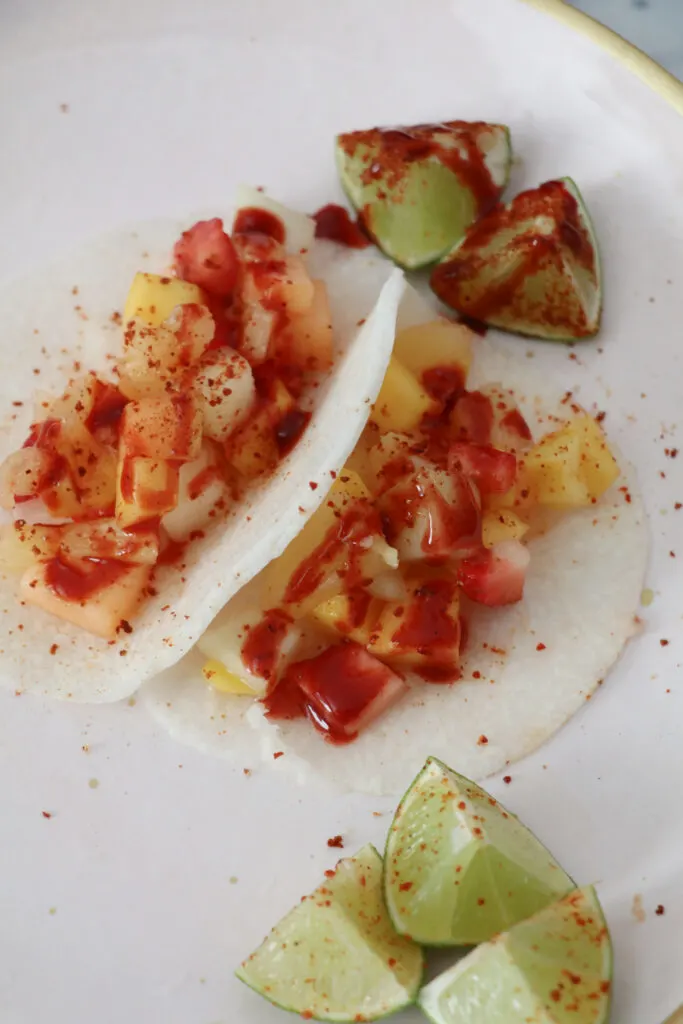 How to Store Mexican Fruit Cup Wraps
This is the type of snack that you make and then eat within a short time. If you wanted to make these ahead store them in an airtight container i the fridge for up to a few days.
Looking for more Chamoy and Tajin recipes? Check out these Dulces Enchilados or Mexican Spicy Peach Rings.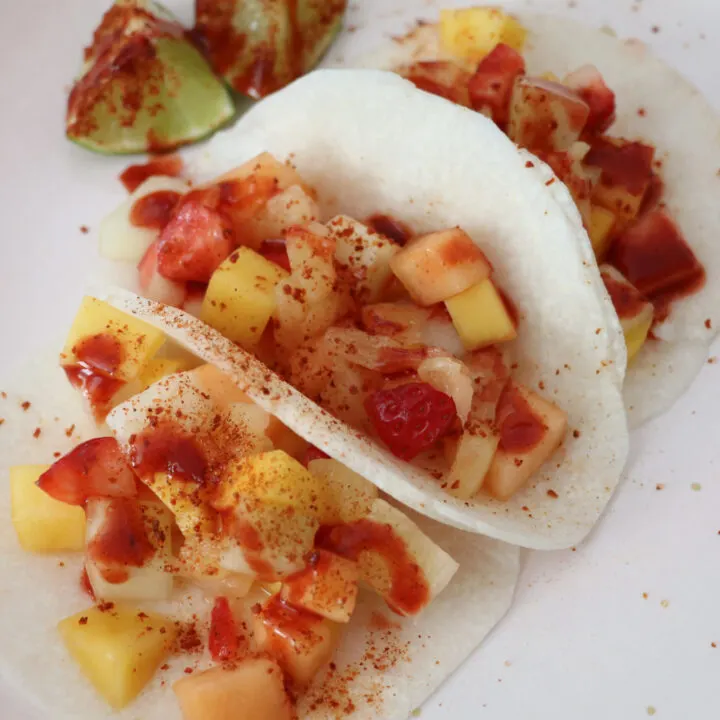 Mexican Fruit Cup Tacos
Sweet and slightly spicy Mexican Fruit Cups turned into wraps or tacos.
Ingredients
Fresh Fruit, diced
Jicama Wraps
Chamoy
Tajin
Lime, optional
Instructions
Wash and dice your fruit into small chunks.
Remove Jicama wraps from the package and place them on a plate.
Place 1-2 spoonfuls of fruit onto the jicama wrap.
Drizzle chamoy sauce over the fruit.
Sprinkle Tajin over the fruit.
Notes
You can use any combination of fruit with this recipe. Mango, Pineapple, Watermelon, and Cucumber are traditional fruits used in Mexican Fruit Cups.
You can store these in an air-tight container for 1-2 days, but they're best when eaten immediately.