If you love red velvet cake then you'll love red velvet cake batter dip. With just 4 ingredients this dip is perfect for holidays like Christmas and Valentine's Day. parties, family nights, and more.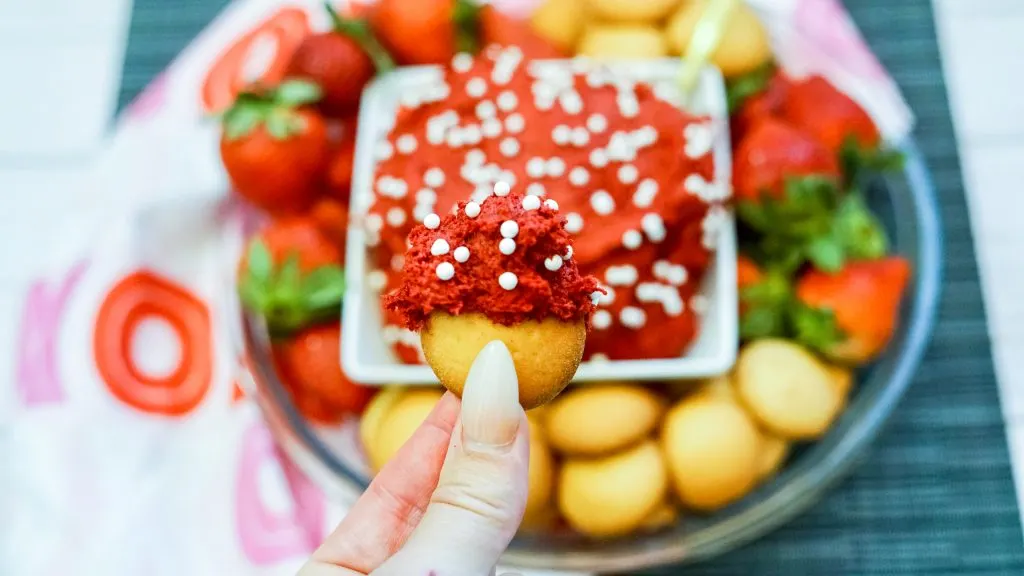 Red Velvet is a family favorite cake, but you don't always want to bake a cake, wait for it to cool, and frost it. This Red Velvet Cake Dip is the perfect alternative to red velvet cake. It's easy to make, uses just 4 ingredients, and can be whipped up in a matter of minutes.
Red Velvet Cake Dip is also perfect for kids to help make. Kids can help measure out the ingredients, pour them into a bowl, and mix it all together.
Dips are the perfect dessert because they go with a variety of different foods, they're easy to make, and people love them. Serve this at your next potluck, family gathering, or even make it for a night on the couch with Netflix.
What to Eat Red Velvet Cake Dip With
Red Velvet Cake Dip can be eaten with a variety of different foods like:
Fresh fruit – strawberries, bananas, blueberries, raspberries, apples, and cherries.
Cookies – Oreos, Nilla Wafers, Sugar Cookies, Waffle cones, Shortbread, and Wafer Cookies.
Crackers – Graham Crackers (honey, regular, chocolate, or cinnamon), Animal Crackers, and Pretzels.
How to Make Red Velvet Cake Dip
Red Velvet Cake Dip is easy to make and only requires 4 ingredients: milk, cool whip, cream cheese, and red velvet cake mix.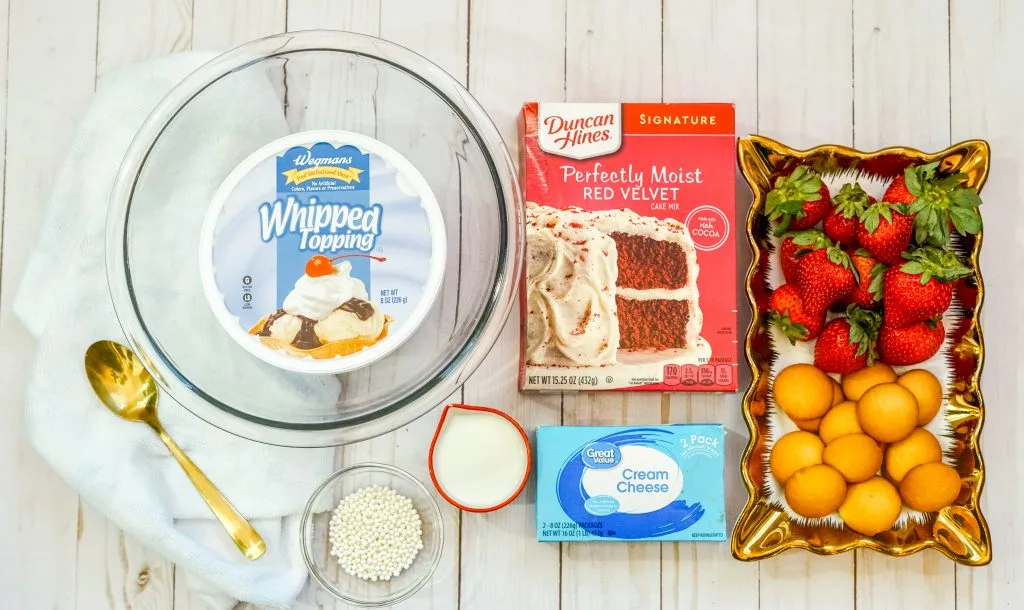 When working with raw cake mix you'll need to heat it before making the dip. You can either microwave the cake mix for 1min 30 seconds in the microwave or you can spread it onto a baking sheet and bake at 350 for 5 minutes. Sometimes raw flour, which is in cake mix, can contain bacteria and this helps to kill any off and prevent you from getting sick.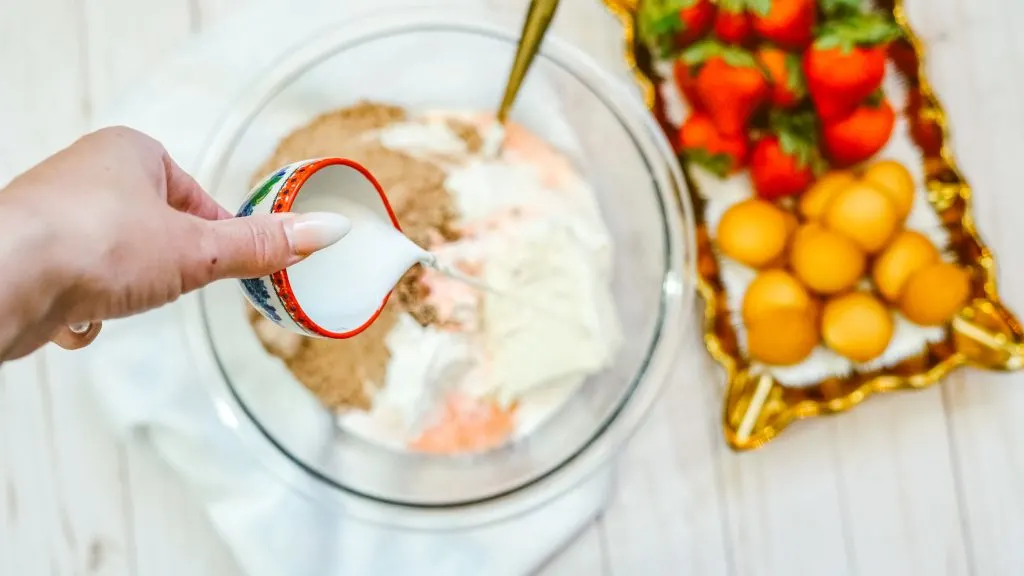 To make the dip you'll measure out your ingredients and combine them all in a bowl. Mix everything together really well.
Once everything is mixed together you'll place all of it in a bowl and serve with your choice of fruit, cookies, and/or crackers.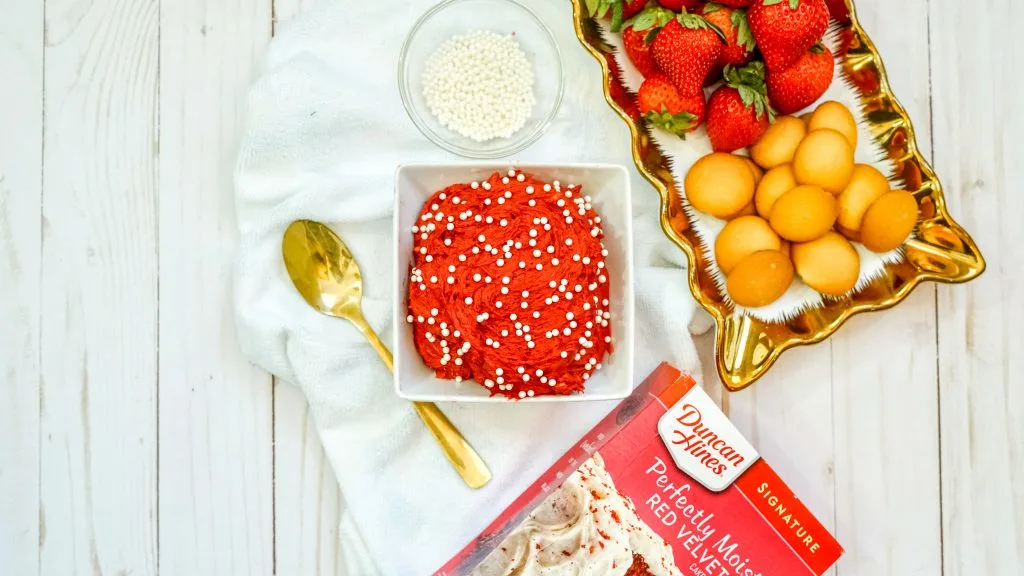 You can top your red velvet cake dip with sprinkles, chocolate chips, or mini marshmallows.
Keep chilled until you're ready to serve your red velvet cake dip
You can make this dip ahead or the day you're going to use it. Store in an airtight container for up to 2 days. I do not recommend freezing your cake batter dip.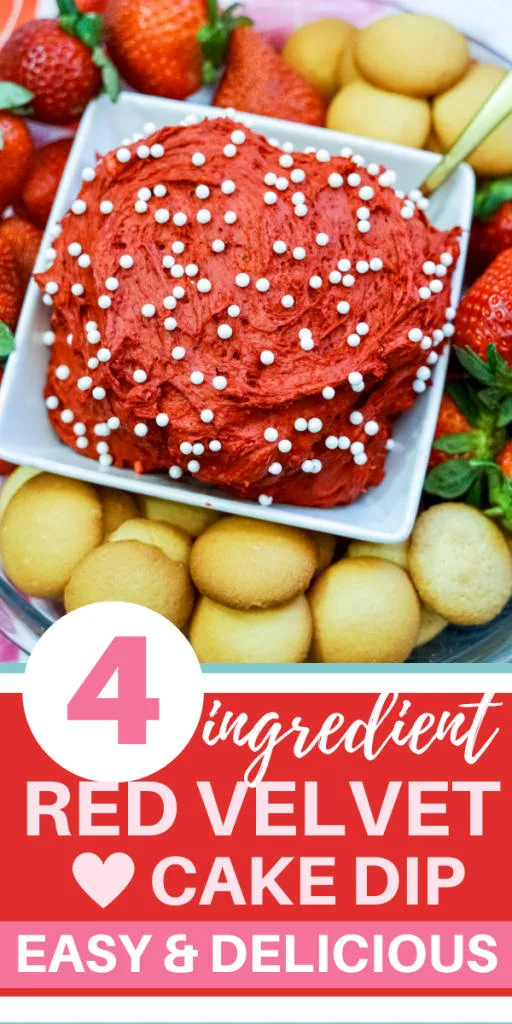 Red Velvet Cake Dip
Red Velvet Cake Dip perfect for cookies, crackers, and fruit.
Ingredients
8oz Whipped Topping
15oz Box Red Velvet Cake Mix
8oz Cream Cheese
1/4 Cup Milk
Cookies & Strawberries(For Dunking)
Sprinkles (optional)
Instructions
In a large mixing bowl heat red velvet cake mix for 1 minute 30 seconds in the microwave to heat treat the flour.
Combine whipped topping, cream cheese & milk with the heated red velvet cake mix.
Mix well.
Serve with sprinkles, cookies & strawberries and dunk away!!