30+ Oatmeal bomb flavors and combination ideas for a delicious breakfast.
Food bombs are so popular and there are so many fun ways to do them. From hot chocolate bombs, cotton candy glitter bombs, tea bombs, and oatmeal bombs. Oatmeal bombs are edible, use a chocolate shell, oatmeal, and flavorings of your choice to make a delicious breakfast or snack that is quick and easy.
What is an Oatmeal Bomb
I am sure you're wondering what an oatmeal bomb is, but it's very similar to a hot chocolate bomb. You take a chocolate shell, either white, milk, or dark chocolate, and fill it with oatmeal and toppings or flavors of your choosing. The possibilities are endless. Then you add your hot chocolate bomb to a bowl, pour hot milk or water over it, and watch it melt into a delicious breakfast.
How to Make Oatmeal Bombs
Making an oatmeal bomb is similar to making a hot chocolate bomb. You're going to use a sphere mold. Use either 70mm or 90mm. I prefer to use a 90mm mold since it's bigger and oatmeal is usually for breakfast. Make a chocolate shell. You can use white, milk, or dark chocolate for your shells. Then you'll fill them with oatmeal and any flavoring or toppings of your choice. Think of all the different flavor combos of oatmeal available and choose some you like.
To make your shell you'll melt your chocolate and coat your mold evenly with the chocolate. Let the chocolate harden in the fridge for 5 minutes and then repeat the process. You'll want 2 layers of chocolate for your shell. Once your bombs are hardened you'll add your oatmeal.
Add 1/4 cup of oatmeal mix to your hot chocolate bombs. 1/4 cup of oatmeal fills the sphere perfectly. If you plan to add any flavoring or sugar to your oatmeal bombs add 1 tsp to the top of your oatmeal. With oatmeal bombs you can also add things like chia seeds, dried fruit, nuts, powder peanut butter, and even marshmallows or sprinkles.
Once your oatmeal bomb half is filled with your oatmeal and toppings you'll take a warm plate and place the empty side of the sphere on it for 5-10 seconds to melt the edges. Place the melted sphere half on top of the oatmeal sphere half and close your oatmeal bomb.
To enjoy your oatmeal bomb you'll place your oatmeal bomb in a bowl and pour 1/2 cup of hot milk or water over your bomb. Watch the explosion and then mix it all together. If you find that your oatmeal is a little runny you can pop it in the microwave for about 30 seconds to thicken it up.
What mold to use for Oatmeal Bombs
When making your oatmeal breakfast bombs you'll want to use a silicone sphere mold. You can use a 70mm mold which is around 2.5 – 2.7 inches, but I really recommend using a 90mm mold which is 3 – 3.5 inches. You'll want to use something bigger for these so you can fit all the oatmeal and toppings inside. This is the mold I use. Here is another one. Molds can still be hard to find and can take a while to arrive. Make sure to check the shipping time when checking out and if you order a mold with a longer shipping time it might be coming from China and arrive late. If buying on Amazon look for the 5 Cavity Semi Sphere Molds. These tend to be 3″ or bigger. Make sure you buy silicone grade for baking and to read the description to make sure you're buying the right size.
Can I add Fresh Ingredients to an Oatmeal Bomb
When you make your oatmeal bomb you'll want to use dried ingredients – dry fruit, peanut butter powder, honey powder, ect. When using fresh or wet ingredients it can cause condensation or mold inside of the bomb. If you were going to eat the oatmeal bomb right after making it then fresh ingredients could be ok, but to keep things safe use dry.
What Kind of Oatmeal to use for Oatmeal Bombs
When it comes to oatmeal there are a variety of types. I find that quick oats are the best kind of oatmeal to use for oatmeal bombs, but you could use old fashioned oatmeal or overnight oats. You can even use the premade oatmeal packets in your oatmeal bombs.
What Toppings or Flavors Can I add to Oatmeal Bombs
Your oatmeal bombs will have a chocolate shell so keep them in mind when making your flavorings and toppings for your oatmeal. You'll want to pair things together that will taste good. Inside of your oatmeal bombs you can add things like:
Seeds – Sunflower, Flax, Chia, Pumpkin, ect
Powder Honey
Powder Peanut Butter
Various Nuts
Dried Fruits – Apple, Banana, Strawberry, Raspberry, Blueberry, Mango, Raisins, Cranberries, Cherries, ect
Coconut
Powder Vanilla
Protein Powder
Sugar – Brown, Maple, Vanilla, Flavored Sugar, ect
Spices – Cinnamon, Nutmeg, Cardamom, Ginger. ect
Flavored Coffee Creamer Powder – 1 tsp
Pudding Mix (dry mix) – 1 tsp
What Chocolate to Use
When it comes to making oatmeal bombs they're very similar to hot chocolate bombs. The easiest chocolate to use is melting wafers or almond bark because it doesn't need to be tempered. You can use real chocolate, but you'll need to make sure to temper it properly. Tempering is something I don't have any experience with so I stick to using melting wafers. I like the Ghirardelli ones (check your local Sam's Club they sell big bags of them). They taste good and are easy for me to find. Merkens is another good brand to use.
If you're going to sell these there are laws to follow around real chocolate use. Check your local cottage laws on what those laws are, if you can use real chocolate, and if you can use candy coatings or melting wafers.
Other Shell Options
In addition to chocolate shells, you can make yogurt and peanut butter shells. You'll need yogurt or peanut butter chips and you would melt them the same way that you do for the chocolate. Neither one needs to be stored in a refrigerator and they make for a chocolate-free and a little bit healthier option. You'll need to make sure you use chips or melting wafers and not actual peanut butter or yogurt. Here are some options:
Flavoring your Chocolate
To give your oatmeal bombs more flavor you can flavor your chocolate shells with chocolate flavoring oil. Lorann's is a great brand of chocolate flavoring oil to use. Follow the directions per their website to flavor your chocolate. Do flavors like cheesecake, cake batter, rum, peanut butter, toffee, orange cream, and so much more.
What Kind of Milk to Use
You can use water or milk to make your oatmeal bombs. As for the type of milk, you can use any type of milk you wish in your oatmeal. Almond, Oat, Cow, Goat, Coconut, or whatever other milk you like.
Oatmeal Bomb Toppings
When it comes to decorating your oatmeal bomb I would keep things simple. Do a chocolate drizzle and sprinkle some oatmeal on top of the bomb. You could add sprinkles or finely chopped ingredients from inside the oatmeal bomb like fruit, nuts, and seeds.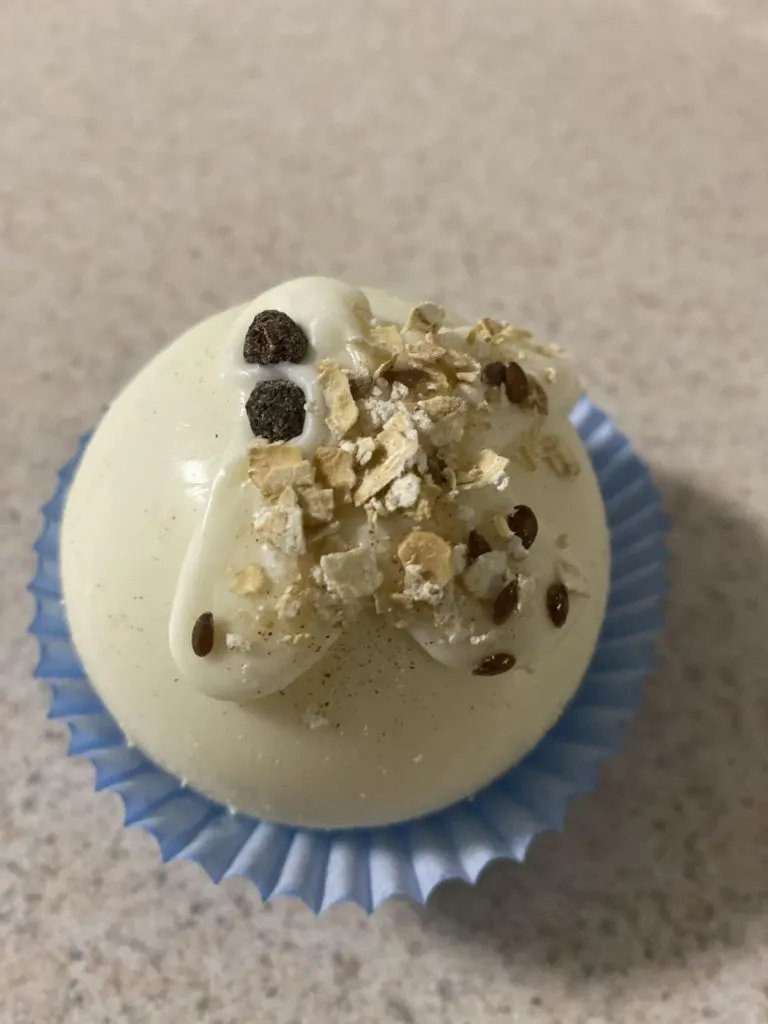 Oatmeal Bomb Flavors to Make
When it comes to making oatmeal the flavor possibilities are endless. You'll add 1/4 cup of oatmeal to each bomb and then anywhere from a pinch to 1tsp of seasoning and then fruit, flavors, sugar, etc. All these flavor ideas will need oatmeal and here are some topping and flavoring ideas.
Oatmeal Mix-Ins – This is a fairly new product, but they're seasoning for your oatmeal called Tasty Shakes Oatmeal Mix-Ins by Kernel Seasonings. Sprinkle some into your bomb and you can add dried fruit that pairs with the seasoning flavor. For all of those flavorings, I would do a white shell.
Apple Cinnamon – White Cinnamon shell, dried apples, cinnamon. brown sugar. To make a cinnamon shell sprinkle a little cinnamon into your melted chocolate.
Peanut Butter Cup – Chocolate Shell and Dried Peanut Butter. If you want it chunky add some chopped peanuts. Or use a peanut butter shell with chocolate chips inside.
Pumpkin Pie – White shell, Powdered Pumpkin, and pumpkin pie spice. Pecans and brown sugar would also be good additions. Sub pumpkin powder for Pumpkin Pudding.
Strawberries and Cream – White shell, dried strawberries, a pinch of sugar. You could flavor your shell with strawberry oil or add strawberry Nesquik to the oatmeal.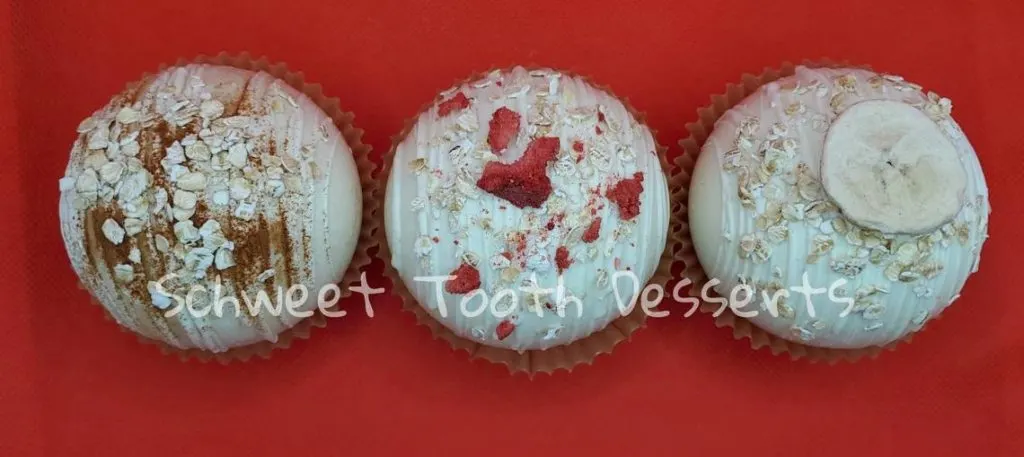 Banana Nut Muffin – White or Chocolate shell, dried Bananas, chopped walnuts, and a sprinkle of cinnamon.
Carrot Cake – White shell, dried carrots, raisins, cinnamon, allspice, walnuts, dried pineapple, and brown sugar.
Salted Chocolate Caramel – Chocolate shell, caramel bits, and a pinch of sea salt.
Almond Joy – Chocolate shell, shredded coconut, and Almonds.
Caramel Apple – White or chocolate shell, dried apples and caramel bits.
Maple Brown Sugar – White shell, Brown Sugar, and Maple Powder. You can also add some chopped nuts to this. You can even flavor your shell with maple oil.
Honey and Almonds – Honey power and almonds.
Apple Cranberry – White shell (you could do a cinnamon shell), dried apples, dried cranberries, nutmeg, cinnamon, ground cloves, and a pinch of sugar.
Protein Bar – Dark Chocolate shell, a trail mix of your choice, and a pinch of cinnamon. When choosing a trail mix you can make your own or buy a bag from your local store. Look for the trail mix that doesn't have m&m's and peanuts. Get the fruit and nut combos.
Peaches and Cream – White shell, dried peaches, cinnamon, brown sugar, and a little bit of vanilla powder.
Cranberry Almond – Chocolate shell, dried cranberries, almonds, and a pinch of cinnamon.
Raisin, Date, and Walnut – Chocolate shell, raisins, dried dates, and walnuts.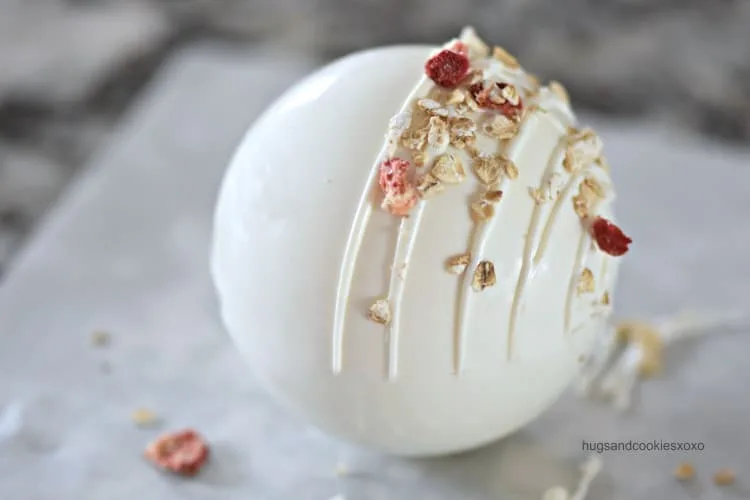 Strawberry White Chocolate – Get recipe
Caramel Coconut – White shell, caramel bits, and shredded coconut.
Bananas Fosters – White shell, dried bananas, and caramel bits.
Acai Bowl – White shell, Acai powder, dried berries, shredded coconut, chia seeds, and dried banana.
Blueberry peach – White shell, dried blueberries, dried peaches, cinnamon, and vanilla powder.
Birthday Cake – White shell with cake batter flavor and sprinkles.
Pina Colada – White rum shell (use rum oil in the chocolate), dried pineapple, and dried coconut.
Dark Chocolate Pomegranate – Dark Chocolate shell and dried pomegranates. You could also add some nuts and chia seeds to this one.
Peanut Butter Banana – Chocolate shell, powder peanut butter, and dried bananas.
French Toast – White chocolate or chocolate shell, cinnamon, vanilla powder, and maple sugar. Dried berries would be a fun addition to this one.
Cheesecake – Shell of your choice and cheesecake pudding mix. Some nice additions would be dried fruits, graham cracker crumbles, and cookie crumbles.
Cookies and Cream – White shell with crushed Oreos.
Turtle – Chocolate shell, pecans, caramel bits, and brown sugar.
Fruit and Yogurt – White shell, yogurt powder, and a mix of fried fruit. Or skip the white shell and use a yogurt shell.
Fruit and Honey – Yogurt shell, dried fruits, cinnamon, and powder honey.
Matcha – Yogurt shell, chia seeds, coconut, matcha honey powder, and dried fruits.
Tropical – Either yogurt or white shell, coconut flakes, and tropical fruit mix. This would pair nicely with coconut milk.
Gingerbread – Shell of your choice, gingerbread spice, brown sugar, pecans, and raisins.
Eggnog – White shell, nutmeg, walnuts, dried cranberries, and powder eggnog. Skip the powder eggnog and heat up real eggnog and use that instead of milk.
Cranberry Orange – Yogurt or white shell, dried cranberries, cinnamon, brown sugar, and dried orange slices.
Lemon Poppyseed – White or Yogurt shell, lemon juice powder, sugar, and poppyseeds. Sub lemon juice powder for Lemon Pudding.
Where to Buy Oatmeal Bombs
Looking to buy some oatmeal bombs? I could only find 2 stores on Etsy selling oatmeal breakfast bombs but check on your local buy sell trade pages on Facebook. Ask your local hot chocolate bomb makers if they're selling any. Make sure you are buying an edible oatmeal breakfast bomb and not an oatmeal bath bomb.
Got a flavor idea I didn't add? Leave a comment below and I'll add it to the list!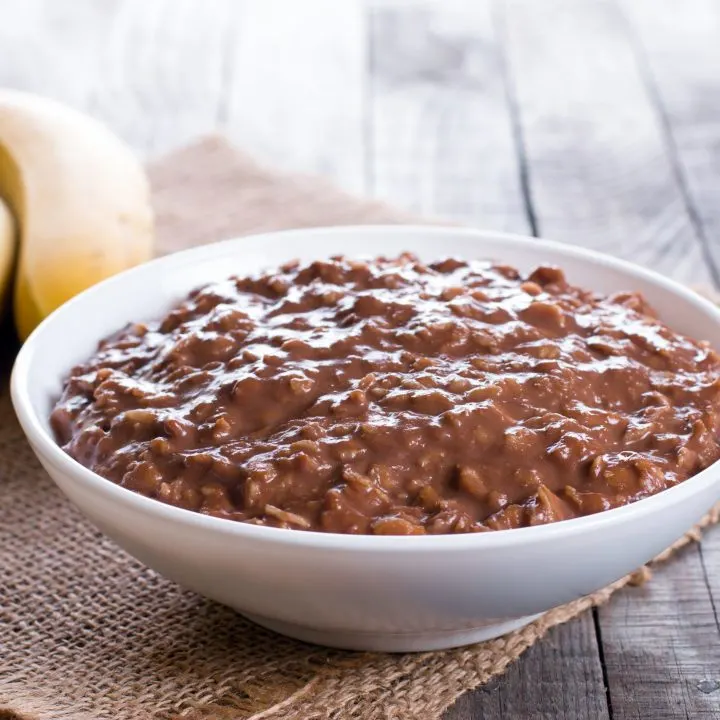 Oatmeal Bombs
Oatmeal bombs take a chocolate shell, oatmeal, spices, and fruit or nuts to make a delicious and fun breakfast.
Ingredients
Chocolate Melts, like Ghirardelli or Candy Melts
Oatmeal, I like quick cooking
Spices, Seasonings, and Toppings of your choice
Silicone Mold
Instructions
Melt your chocolate melts per the package directions. I like to start at 30 seconds, stir, and do 15-second increments until chocolate is melted.
Add 2 spoonfuls of melted chocolate to your silicone mold. Use a spoon or basting brush to spread the melted chocolate around your silicone mold. Make sure you get up to the top rim of the mold.
Place your mold(s) into a fridge or freezer for 5-10 minutes so the chocolate can harden.
Remove molds from the fridge and apply another layer of chocolate. Make sure to fill in any thin spots you can see.
Place back into the fridge or freezer for another 5-10 minutes.
You'll only need 2 layers of chocolate, but if you take your chocolate out after the second layer and see some thin spots you can add a little chocolate to that area and chill again.
Once your chocolate has hardened gently peel the silicone mold away from your chocolate. Be careful not to touch the mold for too long or the chocolate because it can become soft or start to melt.
Add 1/4 cup of oatmeal to your chocolate shell and add flavorings and toppings of your choice.
Place a plate in the microwave for 2 minutes to get it warm.
Take an empty chocolate piece and place it on the warm plate for a few seconds so the rim starts to melt. You'll place the melted rim piece over the piece with the cocoa mix.
Press together gently.
Let cool.
Store your oatmeal breakfast bombs in an airtight container until ready to use.
To use your oatmeal breakfast bombs heat up 1/2 cup of water or milk until hot.
Place your oatmeal bomb into a bowl and pour hot milk or water over the bomb.
Stir.
If you find our oatmeal bomb is a little watery microwave it for about 30 seconds to thicken it up.
Enjoy!
Notes
Check thedenverhousewife.com for flavor and topping combinations.
Store your oatmeal bombs in an airtight container until ready to use.
Do not store in the refrigerator since this can cause condensation and mold.
Do not place wet or fresh ingredients into your oatmeal bombs because this can also cause condensation and mold. Use powders and dry ingredients only unless going to be consumed right away.