If you're looking for Hot Chocolate bombs with a Christmas-only theme and flavor here is a list of hot chocolate bombs to make for the holidays!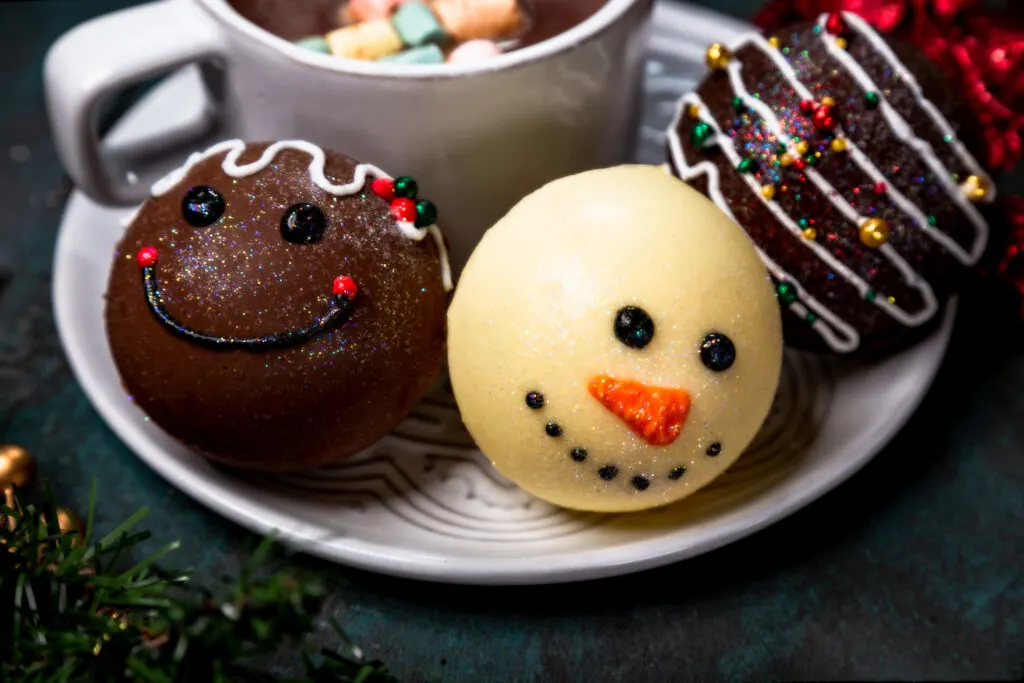 Christmas Hot Chocolate Bombs
Check out my Tips and Tricks for Making Hot Chocolate bombs!
Celebrating Christmas with hot cocoa is a must in my book and since hot chocolate bombs make enjoying a cup of hot chocolate so much fun these Christmas ones are the perfect addition to your Christmas cocoa collection.
Rudolph the red nose Reindeer – Rudolph comes complete with a red nose, chocolate pretzel antlers, and he's filled with cocoa mix and marshmallows. Get the full tutorial.
Melting Snowman – This melting snowman is so cute. He's fitted with a carrot nose, earmuffs, scarf, and filled with cocoa and marshmallows. When he melts he leaves you a delicious surprise. Get the recipe.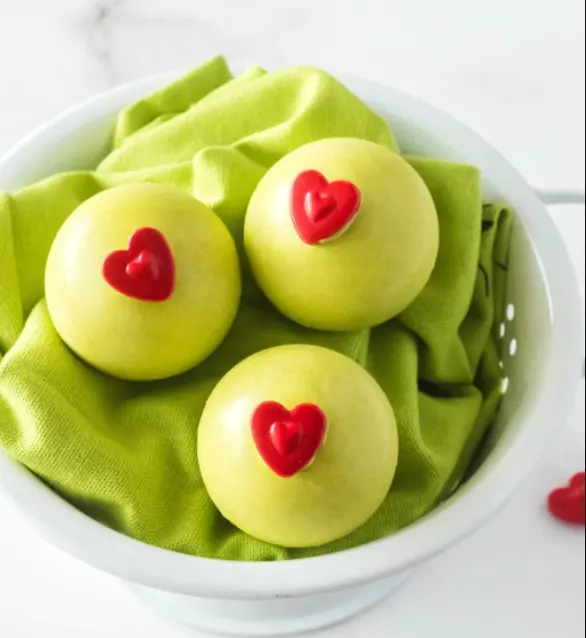 The Grinch – It's just not Christmas without The Grinch. Take a green shell with a heart, fill it with cocoa and marshmallows, and you've got a cocoa bomb fit for any Grinch this holiday season. Get the recipe.
Snowball – Take a white chocolate shell, white hot chocolate (you could even use white chocolate peppermint), and make it how you could a regular hot chocolate bomb. Then you're going to cover the hot chocolate bomb in white sanding sugar. To do this you can drizzle the whole bomb in melted chocolate and then roll the bomb around in the sanding sugar or you could apply a very thin layer of corn syrup over the top of the cocoa bomb and roll it around in sanding sugar. Tutorial coming soon.
Snowflake Peppermint Bark – Peppermint Bark is another wintertime staple. Turn it into a warm cup of hot chocolate with this yummy recipe.
Peppermint Hot Chocolate – Peppermint hot chocolate is a holiday classic. Turn it into a hot cocoa bomb and garnish it with lots of crushed candy canes. Get the recipe.
White Peppermint Hot Chocolate – Just like regular peppermint hot chocolate, but made with white chocolate and cocoa. Get the recipe.
Eggnog – If you love eggnog over the holidays you'll love this eggnog hot chocolate bomb. Get the recipe.
Snickerdoodle – While snickerdoodles are an all-year treat I just love them around the holiday. Take the cinnamon and sugary taste of a snickerdoodle cookie and put it into a warm cup of cocoa. Get the recipe.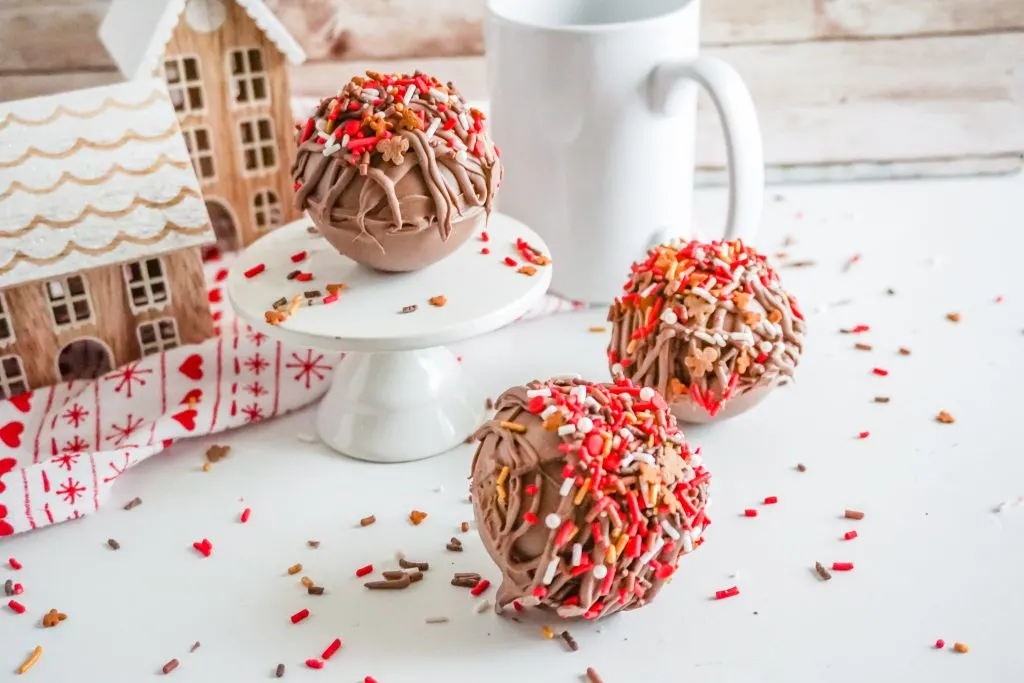 Gingerbread – You can't have Christmas without Gingerbread. We're combining the spices of a gingerbread cookie into a warm cup of cocoa. Get the recipe.
Gingerbread Man – This is a Vegan recipe, so if you're not vegan you can swap out ingredients to make this gingerbread man hot chocolate bomb. The design would go great with the gingerbread cocoa recipe above. Get the tutorial.
How to Decorate your Hot Chocolate Bomb for Christmas
If your decorating skills aren't great or you don't have the time there are a few ways to decorate your hot chocolate bombs with a Christmas theme.
Use different colored candy melts for your drizzle like red, white, and green.
Add fun holiday-themed sprinkles like Gingerbread Man Sprinkles, Christmas Tree Sprinkles, or these "elf" themed sprinkles. Place the sprinkles on while your drizzle is still wet.
Add icing decorations. You can add these on top of a drizzle with sprinkles or add them to a "plain" hot chocolate bomb. Add a glob of melted chocolate to the back and attach them to the top of your hot chocolate bomb. Make sure to get edible Christmas icing decorations.