Valentine's day is a holiday that embraces chocolate and it's the perfect time to snuggle up with loved ones and enjoy a warm cup of hot chocolate. Whether you're making these for kids or adults these flavors are perfect for Valentine's day.
If you're looking for even more hot chocolate bomb flavors check out my post of over 50+ ideas for hot chocolate bombs and coffee bomb flavors.
In this post I am going to share hot cocoa bomb flavors that I think are perfect for Valentine's day, molds to use, and chocolate.
Valentine's Day Hot Chocolate Bomb Molds
Wondering which molds to use for Valentine's Day hot chocolate bombs? Here are my top picks!
Valentine's Day Hot Chocolate Bomb Decorations
Decorating your hot chocolate bombs is so much fun. Here are a few ideas!
Red, White, Purple, and Pink candy melt drizzles
Use Luster Dust. Make sure the one you get is edible! You can brush it into your mold to give your chocolate color and a metallic shine or you can mix it with a little vodka and use it to splatter on your valentine cocoa bombs. This is the one I like.
Crushed dried fruit. Use freeze-dried fruit like cherries, strawberries, and raspberries as a garnish on top of your hot chocolate bombs.
Use edible icing decorations like x's and o's, hearts, and roses.
Add gold leaf flakes to the outside.
Add heart-shaped marshmallows inside of the cocoa bombs or pink and white twists.
Valentine's Day Hot Chocolate Bomb Flavors
Red Velvet – There are a few ways to do red velvet.
Strawberries and Cream – White chocolate shell with Strawberry mix (Nesquik) and marshmallows.
Strawberry Cheesecake – White chocolate shell or pink shell, 1 tsp cheesecake pudding, and 1 tsp strawberry Nesquik. Garnish with crushed graham crackers. If you can find strawberry flavored candy melts you can use those for the shell and fill the inside with just 1 tbsp of cheesecake pudding. I've found the strawberry melts at Walmart or you can use the strawberry cheesecake melts.
Raspberry – Dark chocolate shell with raspberry hot cocoa mix and marshmallows inside. Drizzled with white chocolate.
Chocolate Heart Hot Chocolate Bombs – These chocolate and pink hot chocolate bombs are so cute. Decorate them with a giant red heart and mini heart sprinkles. Get the recipe.
Chocolate Strawberry – Chocolate sell, strawberry Nesquik, and grind up freeze-dried strawberries and add some inside the bomb. You can even use them as decoration on top of the bomb.
Chocolate Cherry – Dark chocolate and add cherry flavoring to your melted chocolate, use chocolate cocoa mix, and add dried crushed cherries as a garnish on top. To use the flavoring follow the directions on their website.
Chocolate Cherry Mocha (coffee bomb) – Dark or Milk chocolate shell, cherry mocha mix, and add dried crushed cherries as a garnish.
Double Chocolate – Chocolate shell and double chocolate hot chocolate.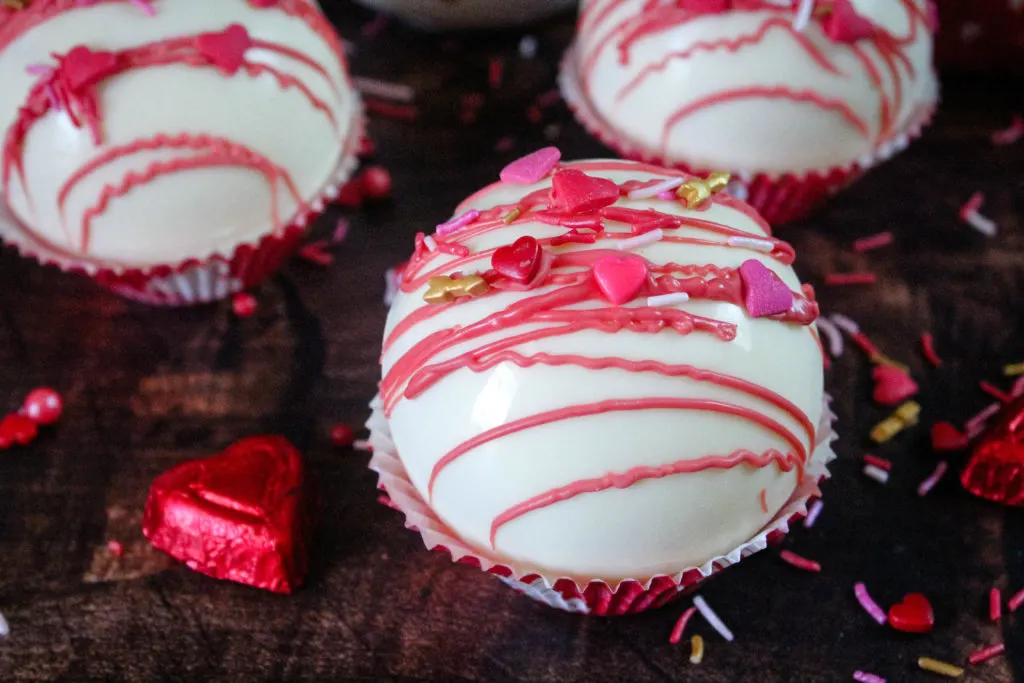 Pink Hot Cocoa Bombs – These fun hot chocolate bombs melt into a pink surprise. Get the recipe and make your own pink hot cocoa.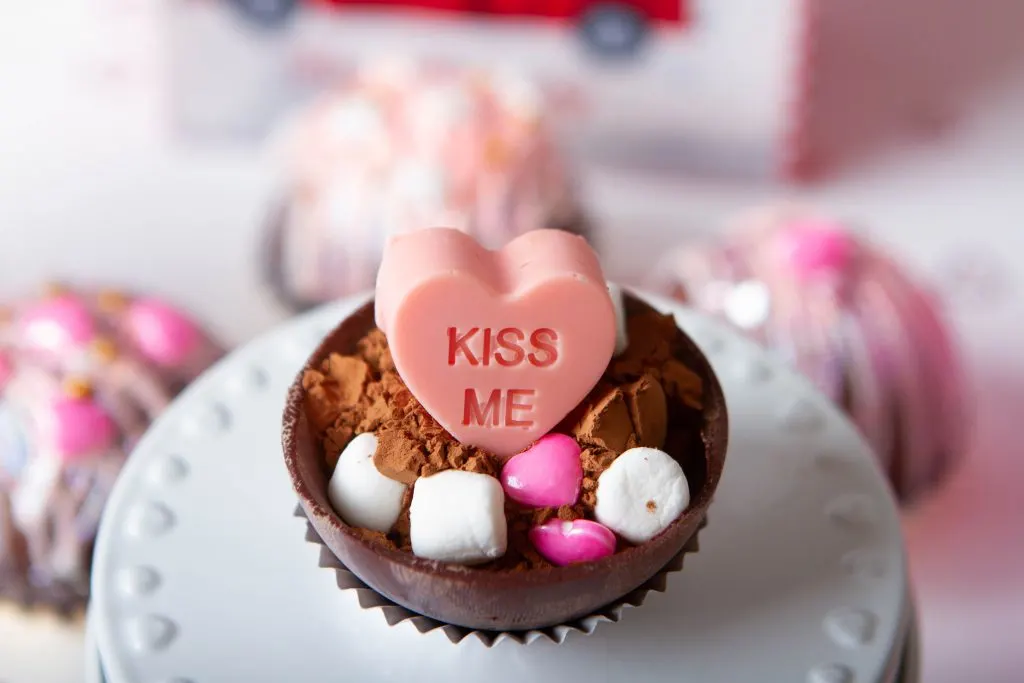 Surprise Message Hot Chocolate Bombs – How adorable are these secret message hot chocolate bombs? Use chocolate conversation hearts to leave your valentine a surprise message. Get the recipe.