Patriotic Bingo cards game with Free Printable is the perfect summer game for families and kids. Perfect for memorial day, labor day, 4th of July, and any summer BBQ, Picnic, or get-together. Patriotic Bingo cards game is entertaining and a fun way to keep the kids busy all summer long.
This summer is different from other summers because we aren't traveling or visiting our favorite local places, so I'm hearing a lot of "MOM! I'm bored" cries. I'm running out of ways to keep the kids entertained, but these Patriotic Bingo cards add another game to our collection to keep the little ones busy and having fun.
If you love free printables make sure to check out my free printable library filled with bingo games, activity sheets, and more!
4th of July Snacks
If you're looking for a fun Patriotic snack for the kids to enjoy while playing Patriotic Bingo check out our Patriotic Dunkaroo Dip!
Red, White, and Blue Pasta Salad
Red, White, and Blue Strawberries
Red, White, and Blue S'mores Dip
Patriotic Bingo
There are 10 cards included in this Patriotic Bingo cards game free printable that can easily be printed out from your printer.
I like to print out bingo cards on cardstock and laminate them so they're sturdier and last longer, but that is totally optional.
How to Play
There are 5 pdf pages and each page has 2 bingo cards on it. In total there are 10 different 4th of July Bingo cards.
Print out the bingo pages and cut them in half.
Give each player 1 bingo card. If there are more than 10 players you can print out the same bingo cards again, it will just mean that if 1 bingo card wins there will be multiple winners.
Pull one bingo calling card out and show it to the players. Each person who has that image on their card will mark it off.
Make sure everyone marks the free spot in the middle!
Repeat this until someone has Bingo.
To get bingo someone needs to have 5 in a row either horizontal, diagonal, or vertical.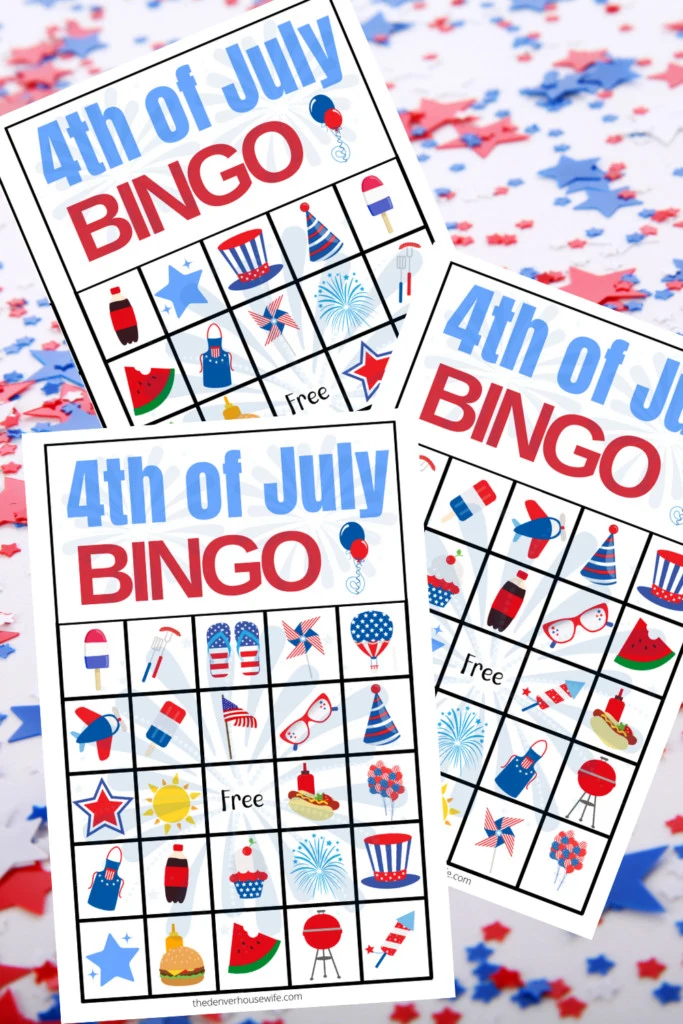 Supplies needed for Patriotic Bingo
Here are some supplies I find are handy when it comes to printables!
Printer – You'll need a printer to print out your free printable bingo cards. This is an affordable printer that would be great for printing out printables. However, this is my favorite printer and it's great if you're also into crafting.
Printer Paper or Cardstock – Personally I like to print my printables out on cardstock since it's thicker and more durable, but regular printer paper works as well.
Paper Cutter or Scissors – Paper cutters save so much time and help give you straight lines with cutting. I use one all the time when cutting out printables or items that need a straight line.
Laminator – I love to laminate my printables. It makes them last longer with sticky little hands, I can wipe them clean, and it makes them so they can be enjoyed over and over again. This is the laminator I use and love. Don't forget the laminating sheets!
Download Patriotic Bingo
To download the 4th of July Bingo enter your info via the box below. Once you're done you'll be redirected to a download page.
Free printables on The Denver Housewife are for personal use only and cannot be sold or redistributed.