Thank you to BabbleBoxx.com on behalf of ECOVACS for sponsoring this post about their robot vacuum for our smart home, the DEEBOT OZMO 950 review. I'm going to share how the DEEBOT OZMO 950 is helping to clean up after kids, cats, on hardwood, carpet, and area rugs.
Mom life is hard y'all.
Whether you stay at home or work mom, life is a struggle. There is never enough time in the day for the things you need to get done and it's hard to clean when you have kids and pets following you around the house and creating new messes or you're busy working.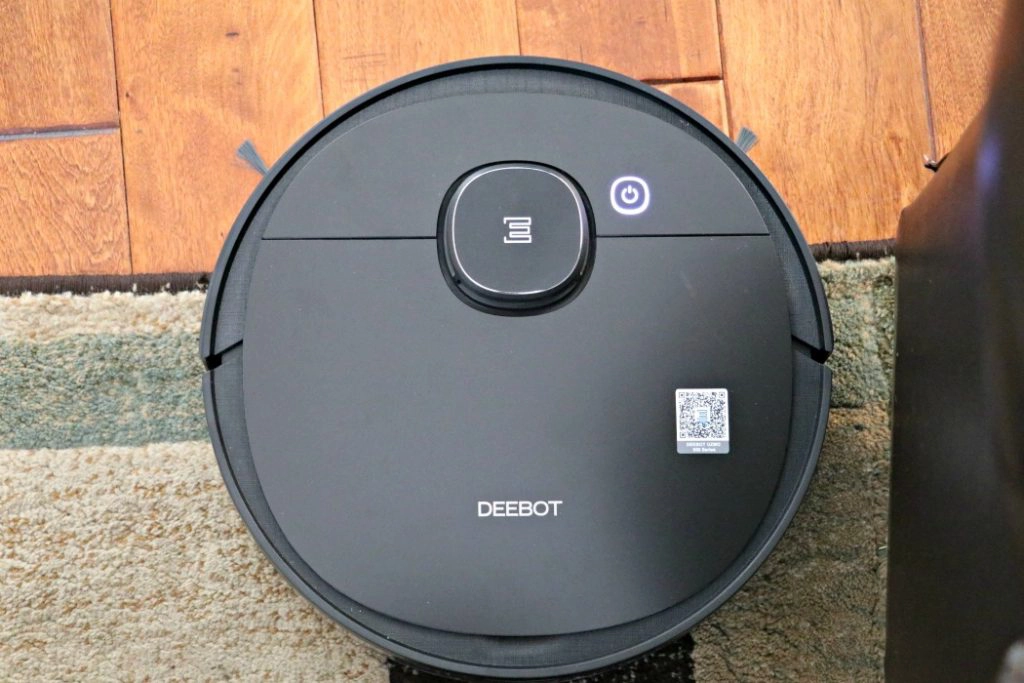 A robot vacuum has been on my want list since they came out. I struggle with keeping our floors clean. It seems like as soon as I clean them they are dirty again. Repeat daily. Between messy kids and cats, someone is always spilling something, dragging something in on their shoes, and the list is never-ending.
When I was asked to check out the new ECOVACS DEEBOT OZMO 950 I squealed and jumped at the chance. Was this the appliance I needed to help with my sanity and dirty floors?
The whole main level of our home is hardwood floors with an area rug. It's a decent size area with a kitchen, bathroom, living room, and dining room. I sweep daily, but with kids and cats, I feel like most days you wouldn't even notice. With the holiday season being a busy time of year for me work-wise and wanting to spend time with our family doing fun things the last thing I want to worry about is cleaning floors. Add in that cleaning our floors is one of the things I hate to do – I was ready to jump on the robot vacuum bandwagon. If I could ease up one chore around the house I would be thrilled.
About ECOVACS DEEBOT OZMO 950
The DEEBOT OZMO 950 provides consumers with powerful cleaning,
thanks to 200mn battery life (that means 3 hours of run time), Max+ Suction Power Mode for deeper cleaning, SmartNavi 3.0TM with updated virtual boundaries and multi-floor mapping, and OZMOTM technology for two-in-one mopping and vacuuming. The new DEEBOT features ECOVACS' thinnest design yet, to ensure the 950 can access and clean every floor surface with ease. DEEBOT OZMO 950 is a smart home compatible with Google Assistant and Amazon Alexa.
Mom Life with a Robot Vacuum
I couldn't wait to get my DEEBOT 950 out of the box and set-up. Setting it up was a breeze and done within a few minutes. I found a good place for it in our dining room and it quickly went to work.
Having kids means they LOVE to leave things on the floor. You will need to get items up, like snack wrappers, socks, small toys, ect. DEEBOT will vacuum around them or push them out of the way, but you risk it getting clogged. If it gets clogged it will stop and you'll have to check it and push the button on top of it to get it going again. I don't have time for that, so before it's about to run I make sure to do a quick pick-up around the areas it's programmed for.
I've only used our DEEBOT on the main level of our home since the kids vacuum the other levels, but I love that if I wanted to start using DEEBOT on other levels of our home (we live in a tri-split level home) I can because of it's multi-level mapping technology.
I was really curious how the DEEBOT OZMO 950 would do in our dining room where our kids are always dropping snacks. It went around our dining room table and chairs easily and cleaned it up nicely. It looked like I had cleaned the floors myself. This is a huge win for me and I instantly fell in love when I saw it had finished that area. Next, our DEEBOT OZMO 950 went into our living room that has an area rug. It went under our couches, around our coffee table, and on and off the area rug with ease. The more you run the DEEBOT the more it learns your floor plan. That means it will vacuum easier and quicker, as long as all your furniture (like chairs) are put back in their normal places and there is nothing its way.
I have our DEEBOT on the Max setting due to pet hair and it picked up pet hair and crumbs with no issues. With winter weather upon us (hello snow) the mopping feature will really come in handy with wet shoes dirtying up our entryway. You simply add the mopping pad to the DEEBOT and add water. You do not need to use a cleaning solution and they advise against it since adding a solution can cause it to malfunction. The DEEBOT's technology can even stop the mopping feature when it reaches the carpet.
DEEBOT OZMO 950 with Our Smart Home
Having a Smart Home is something my husband has worked towards installing in our home and the DEEBOT fits in perfectly with it. We have Amazon echos throughout our home and the DEEBOT works with Alexa on commands like "Alexa, Ask Deebot to start cleaning". If you don't have an Alexa don't fret. You can also use Deebot with your smartphone. There is a FREE APP through ECOVACS in the apple and google play stores.
Find the ECOVACS app, download it, and create an account. It took less than 2 minutes to do all of that. Then you'll add your vacuum through the app through a few steps it walks you through. Once that is done you can create a cleaning schedule for your DEEBOT, adjust it's cleaning suction, view its map of your home, and various other things.
When there is an issue with the DEEBOT, like it getting clogged on something I missed picking up, the DEEBOT will send an alert to my phone so I can go and fix it.
More Family or Me Time
Cleaning my floors from start to finish on our main level takes me about an hour to sweep + mop. Now that I have DEEBOT that's an hour extra I have to play UNO with the kids, work on craft projects, catch up on shows, get work down, or get other cleaning around the house done like shoveling all the snow that's been falling lately.
Now that I have DEEBOT to do an amazing job on cleaning my floors I need one that will fold my laundry and shovel my snow.