Our family loves any type of video game and that includes arcade games. The younger kids love driving games, while our older one loves anything that will get her the most tickets. As for me, I am a big fan of skee ball and a good racing game. We're so thankful that GameWorks Denver invited us in for an afternoon of family fun.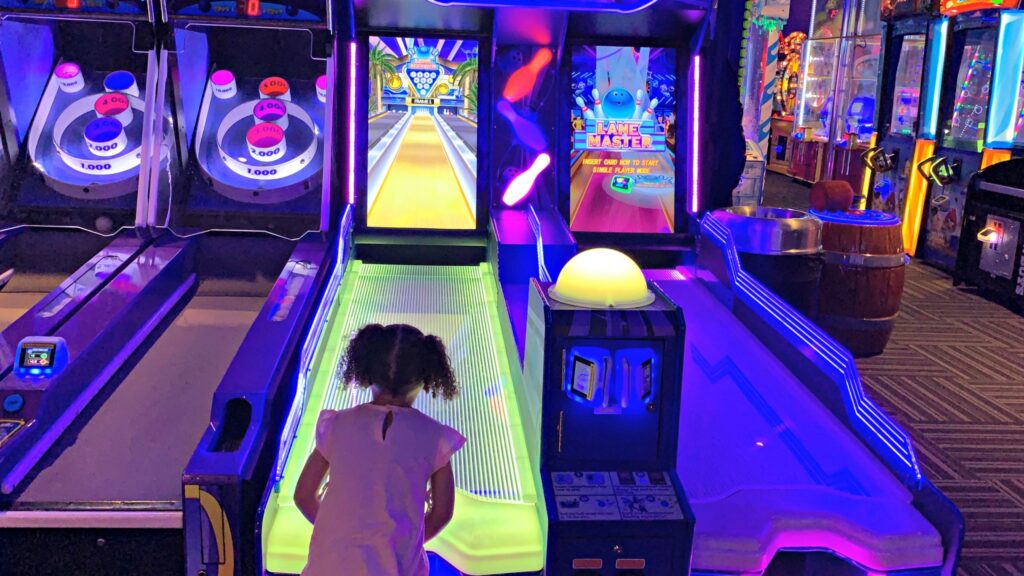 We recently took a trip to GameWorks at their Denver (Northfield Stapleton) location for an afternoon of family fun. When we first arrived we walked around the arcade to see everything that they have. We were instantly impressed with all of the games they have to offer. From the front of the arcade, all the way to the back is jam-packed with fun arcade games. They have something to fit all arcade game styles, plus they have laser tag and an esports lounge where you can play games like Fortnite, Rocket League, and so much more. The esports lounge even has tournaments that you can participate in.
The Works Kitchen
Our first stop on our visit was to The Works Kitchen where we fueled up before playing games. The Works Kitchen menu was created by Tony Leitera. Tony worked with Guy Fieri, helping him to open and expand his restaurant locations.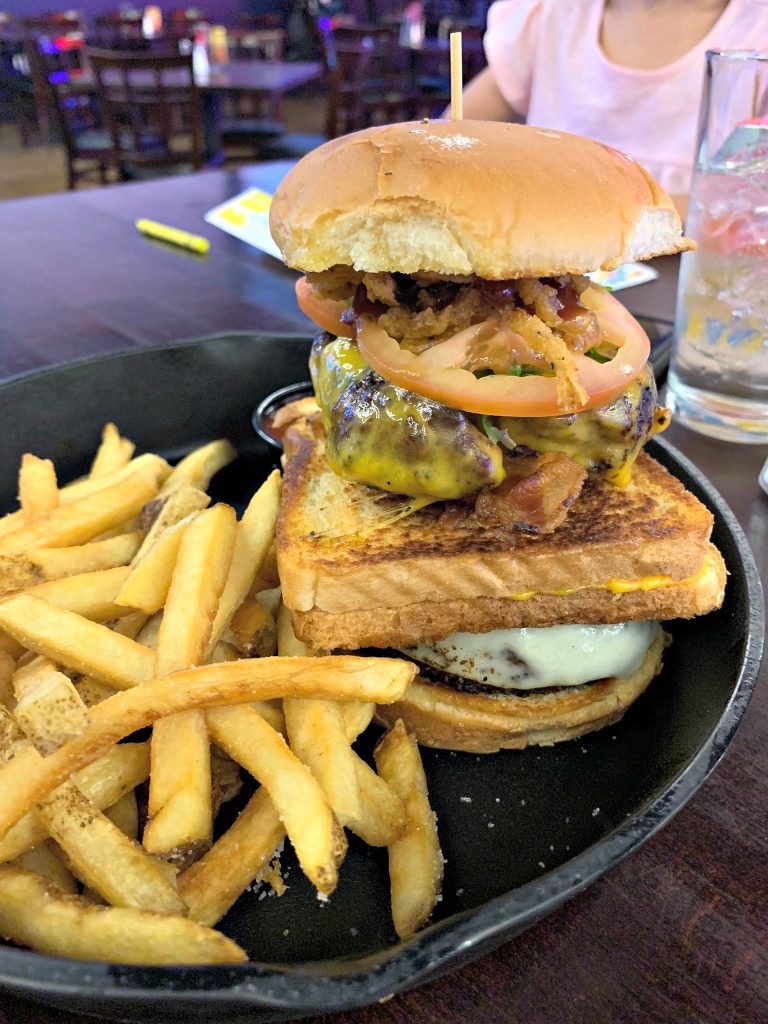 The Works Kitchen has a lot of delicious food on the menu. From an insane Works Burger that has a grilled cheese sandwich stuffed in the middle to crazy milkshakes with things like waffles or cotton candy attached. The food was delicious and the perfect start to our afternoon.
The Arcade
GameWorks in Denver has over 160 different games with everything from racing games, pinball, dance dance revolution, air hockey, shooters, and more interactive games like fruit ninja and skee ball.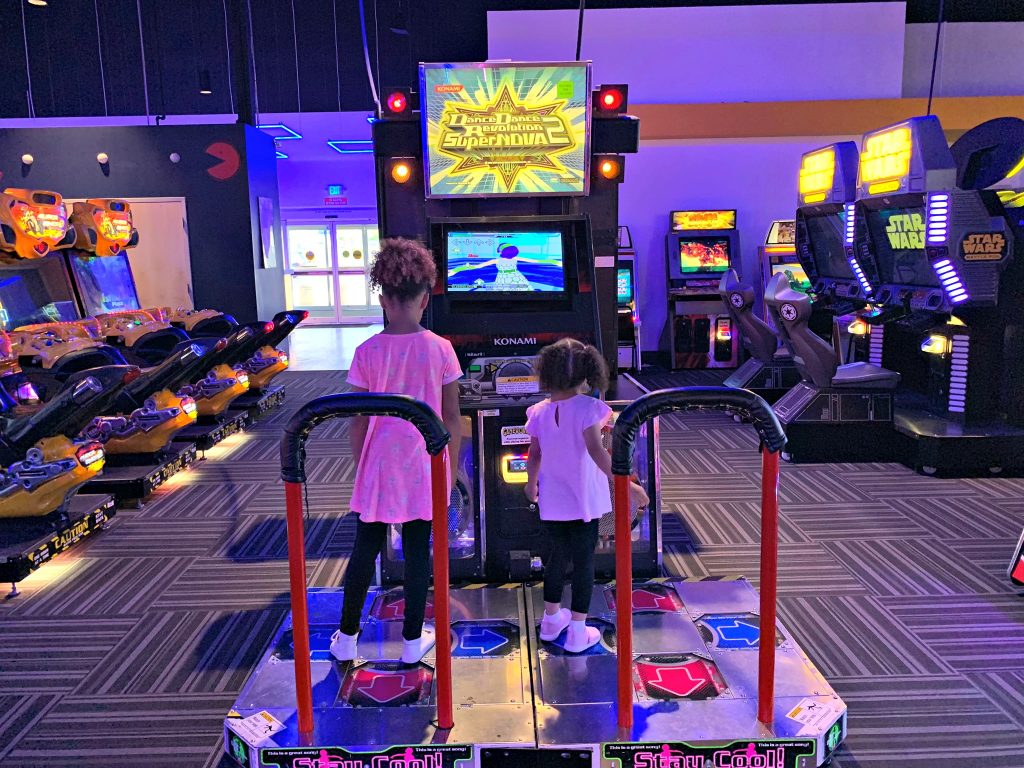 We loved the layout of the arcade because everything was nicely spaced out and there was plenty of room to walk around and play games without being on top of other games or people. The kids ran out like little chickens, giggling and playing games. Our oldest played her first pin ball game and the younger 2 had a blast on the air hockey table.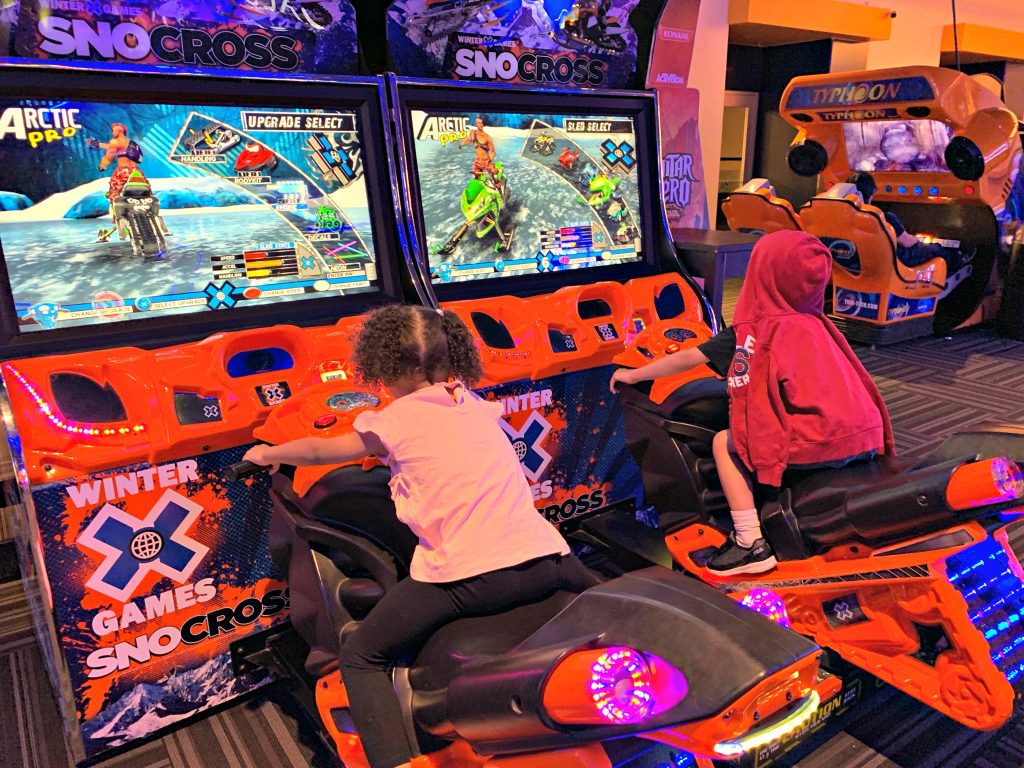 One of the best games in the arcade was the Pac-Man Smash Slimeline. This game was crazy, but so much one. It's air hockey, but elevated. You play regular air hockey, but during your game lots of smaller pucks come out onto the table and its pucks galore. There are only a few Pac-Man Smash's still in arcades and GameWorks Denver is one of the few places with it left. It ended up being a family favorite and we can't wait to go back and play it some more.
Deals for GameWorks Denver
GameWorks Denver always has some type of deal going on and is constantly running specials on Groupon. To see their latest deals you'll have to visit their website, but they do things like half-priced Monday, unlimited games on Thursdays for $20 from 5 pm to close, and the game on combo where you can add an hour of unlimited play for $5 with a meal purchase. Specials are subject to change, so make sure to visit the website to see what they have going on!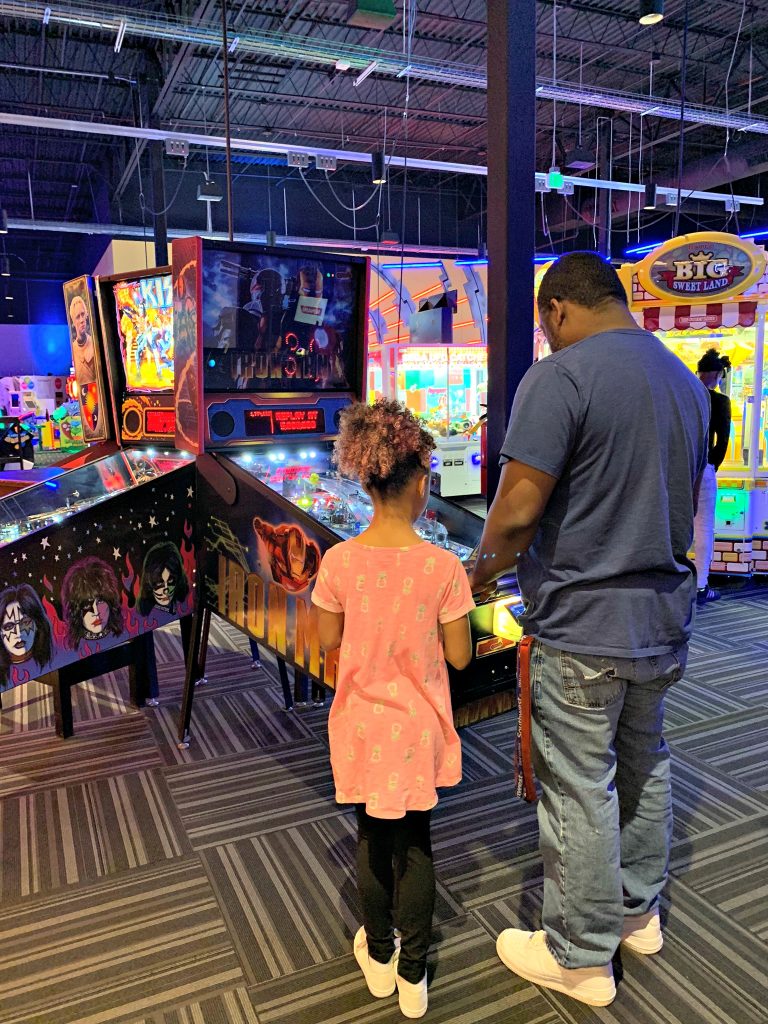 So Much Family Fun
Our family had the best afternoon at GameWorks Denver. We ate delicious food and played so many fun games. They have games for all ages and everyone in our family found games they loved. From our 3 yr old to my husband. We didn't get to play any laser tag since we ran out of time, but we got to peek inside the arena. The laser tag arena was huge, with 2 levels, and looked like so much fun. We'll definitely be playing some rounds of laser tag when we visit again. All in all, it was a wonderful time and we can't wait to head back again soon for another afternoon of family fun.